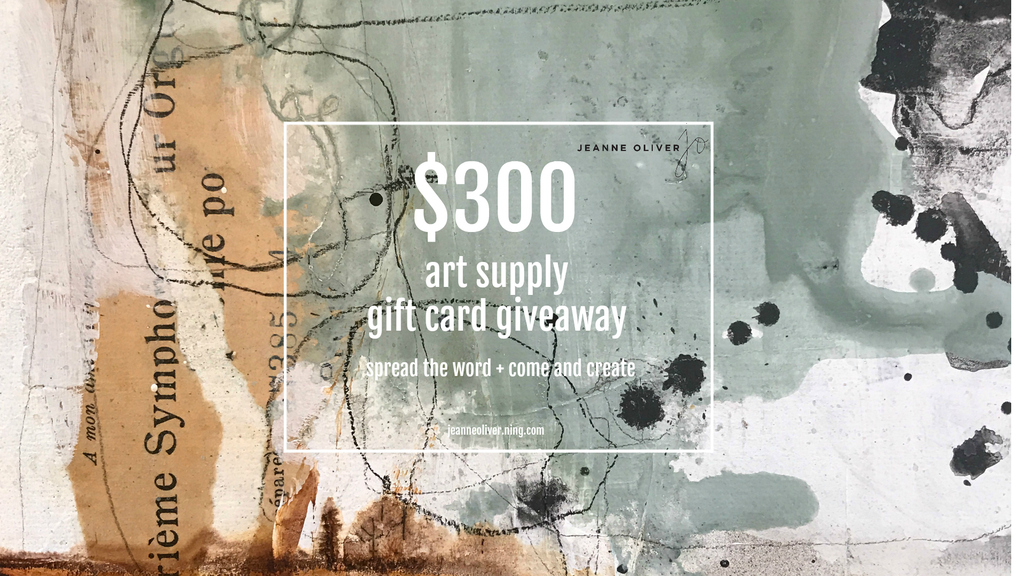 ***THE WINNER IS***
Lisa Noneman commented:
I've been sharing my art supplies with a young girl who lives in my small town. She works at our library, very shy and reserved and we discovered each other through our love of art. I packed up a tote of all my favorite supplies and gave them to her to use and she comes to me often to show me what she makes. It touches my heart to see how grateful she has been and how eager she is to learn new mediums. It's kind of like how I feel when Jeanne shares a video of her playing with art supplies in her classes, I get so excited!
Lisa, congratulations and we are so happy that you won. We hope you and the girl in your town will love the supplies.  Please contact us at contact@jeanneoliverdesigns.com and we will give you all the details.
**THIS GIVEAWAY EXPIRES ON AUGUST 24, 2017 IF THE PRIZE IS NOT CLAIMED**
It has been WAY TOO LONG since we had a giveaway!
With all of the new and beautiful courses launching we wanted to celebrate each teacher and each labor of love that they are bringing to life.
It is such an honor to collaborate with so many outstanding artists and teachers that help to create online courses that are RICH and AUTHENTIC!
So, I wanted to share what is going on RIGHT now on our site and share what you can join or even share with those around you.

Today we just launched the brand new online course Let Us Make with Sheila Atchley! Let Us Make is an artful, playful exploration of creation, theology and story as we rediscover them all in Genesis chapter one of the Bible. This course is for anyone who loves nature, art, and spirituality. Together we will play with techniques such as abstract flow art, botanical art, and expressive portraiture.  If you've ever wished you could have an excuse to spend more time outdoors; if you've ever wished you could gain some perspective on your own story, and come to know for sure why you are alive, this is the course for you.  All these things will be explored through art and scripture, in a safe, nonjudgmental and playful atmosphere. You can watch the course trailer HERE.

This week we opened early registration for Scribblepedia with Rae Missigman! Explore text based mark-making with its power to transform color and layers into deeply personal mixed media art. Define your creative art story letter by letter with text based mark making. Join author, artist and mark maker, Rae Missigman, as she guides you through the process of adding words, text and letters to deepen the impact of your mixed media pieces while interjecting them with your personal style. Create inspirational reference projects to quickly jump start your pieces and paint a colorful multilayered mixed media canvas where you leave a personal set of marks that define your work as uniquely yours. We will delve step by step into the process of layering, defining and marking in the wildly colorful style Rae has made so popular. You can view the course trailer HERE.

Early registration is about to end for Kate Thompson's newest online course Fancy Lassies! The early registration price of $28 will end on August 12th and will go to $48.  In this class, you will be creating fanciful girls using watercolors, pastels, and acrylics. You will make little watercolor paper books where we will explore techniques, prints, and color. Downloadable templates are provided for you to practice the painting techniques. You will learn how to draw the girls and then transform them into fanciful creatures with very different personalities. You will learn how to draw a portrait using charcoal and then layer the charcoal drawing with watercolors and white acrylic paint. You can watch the course trailer HERE.

Paper Palettes | A Color Discovery Course is a mini course with Kelly Hoernig (instantly available) that has had INCREDIBLE feedback. Artists are saying that Kelly's techniques for organizing ideas and color is changing how they approach their art and how they gather what is inspiring them. COLOR? Are you stuck in a rut? Are you confident about your choices when creating art? Want to experiment but not sure how to go about it? Want to be adventurous and step out of your color comfort zone? If you answered yes to one or all of the questions, this fun class will show you an exciting way to create a palette full of confidence! And guess what, you already have the supplies needed to get inspired. A couple of magazines you love, scissors, an adhesive (glue stick, tape) and some pages to glue to, that's it! Excited already? I sure am! You can watch the course trailer HERE.
To enter the giveaway just leave a comment on THIS POST telling us about something beautiful you (or someone you know) is putting out into the world.

For additional chances to win:
*Join our art + lifestyle creative network with online courses at jeanneoliver.ning.com
* Share the new courses and giveaway on Facebook by sharing this post
* Share the new courses on IG and tag @jeanneoliver #jeanneolivercreativenetwork
* Follow us on Instagram
* Blog about the new courses and giveaway
* Pin images from this post to Pinterest
Each time you do one of the above just come back here and let us know.
This giveaway will close on August 8, 2017 at 11:59 pm MST.
The winner will be announced on August 9, 2016.
Thank you so much for sharing, taking courses, sharing your creative lives and allowing us to do what we love!
*******
If you are new to our creative network here are easy steps to get you started…
1. Register at jeanneoliver.ning.com (this is free).
2. Once your account is active you are able to take advantage of our free courses, series and even pay for courses.
3. Go to jeanneoliver.ning.com and along the top header click on "COURSES" and you will be able to view all three pages of online courses and free series.
4. To purchase a course please choose your course, click on the +join in the upper right hand corner, pay and you will be INSTANTLY in the classroom.
5. All videos can be found along the right hand side of the page under "COURSE CONTENT".
6. All of our courses are pre-recorded so you can watch at your convenience. The best part is that you have lifetime* access on all new purchases!  Pretty awesome if you ask me.
*As long as we manage the creative network