This month we offered another free art lesson and it was for Gathered Inspiration Bundles from the course Gathered Inspiration Boards with Jeanne Oliver.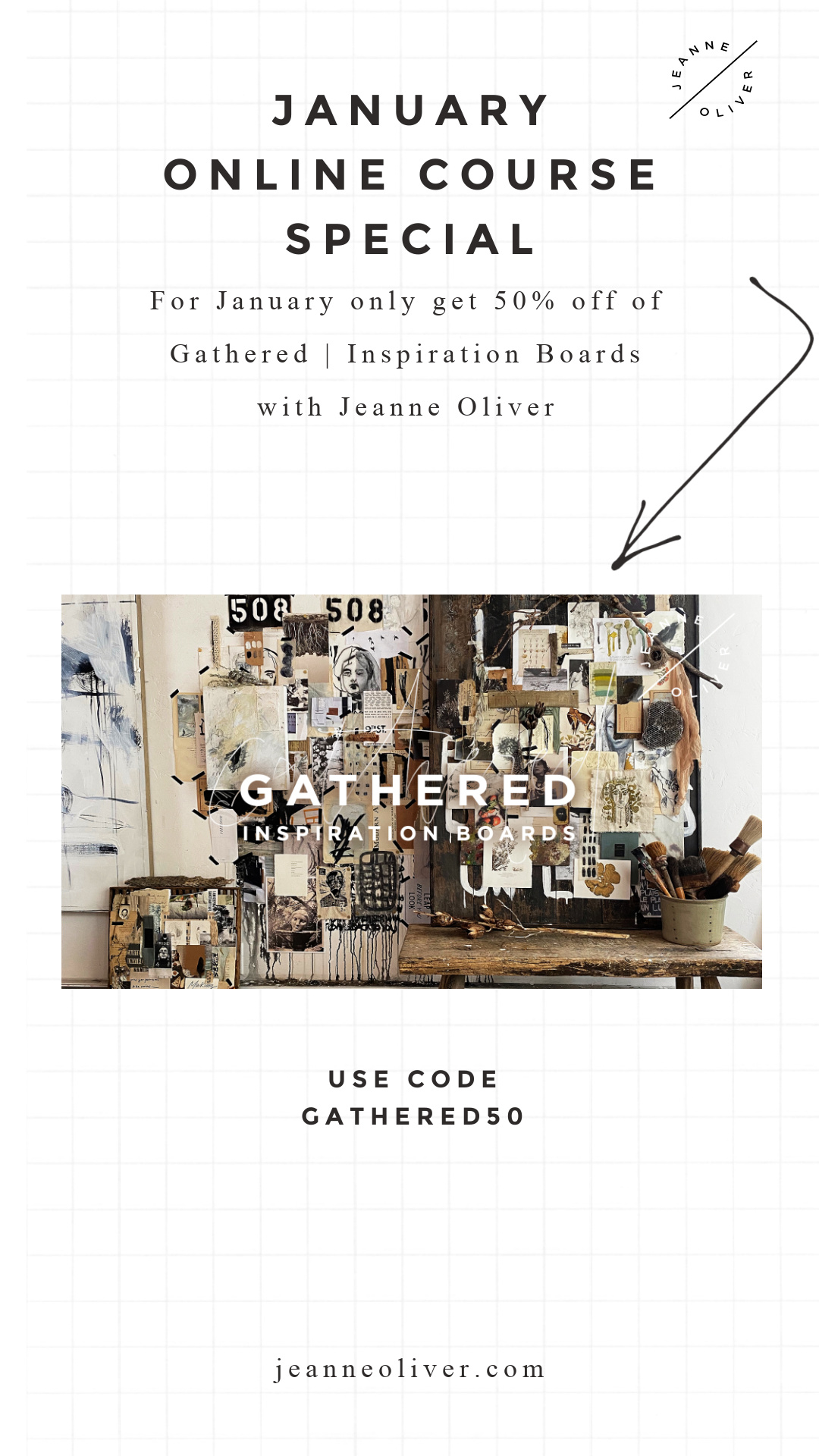 For the month of January, you can get Gathered Inspiration Boards with Jeanne Oliver with the code GATHERED50 at checkout.
I am a gatherer. I gather vintage papers, photographs, leftover bits of my own work, words from magazines, color palettes that inspire, foraged finds and composition ideas wherever I can find them. I often use these gathered pieces in my new works but first they often find themselves layered on my studio wall. With simple artist's tape I begin layering all of the little bits of beauty that I have found. This is how I document ideas, new classes, the palette and marks of a new piece of work and to bring my little collections together in a way that I can see clearer what I am being pulled toward.
In this course I share my process of gathering inspiration, how I organize what I find beautiful, a printable mini workbook so you can document what you find beautiful through your five senses, the order in which I put inspiration boards together and how I use each one to guide intentions, our business and future creative work.
Together we will create an intentions board, future online course board and a board to inspire a new art series.
This course is for anyone that wants to use beauty, intention and visuals to stay intentional and focused in life and work.
Techniques Taught in this Course
Exploring what you find beautiful through the five senses
How to gather inspiration and create inspiration bundles
Gathering a color palette for each board
Creating marks and mini art pieces with paint, ink and more
Creating marks with spray paint
Easy and organic stencil making
Creating wall murals and exploring the space you have
How to use different surfaces for your boards
How to narrow down inspiration
The order I use to create each board
How to use the boards to direct intentions, focus, goals, future work and a series of art
To read more or register click HERE.