OK.  THAT is the weirdest title to a post that I have written in my 4 years of blogging.
Seriously….and I have written about how hot "pa" is on Little House on the Prairie!
As students have been watching the videos from my Creatively Made workshop I have gotten sweet comments and emails about my skin.
Maybe it was really good lighting:-)
I usually just use soap and water and occasionally I have invested in a skincare system.
Unfortunately, I have never stuck with anything.
I am 40 in three months and I am starting to notice that my skin is changing and it is drier than usual.
The feeling of my skin was changing and I could tell that my soap and water routine was not cutting it.
A friend of mine introduced me to Muvazi and I tried it for one month.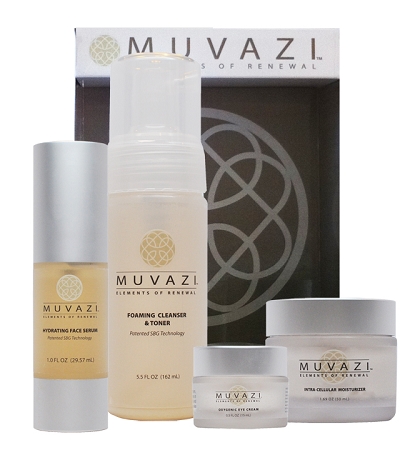 I am now on the second month of using it and I swear I sound like a freaky infomercial right now.
The face serum has changed the texture of my skin.
It is softer and when I use the whole system the lines on my face (not that I have any) are less noticeable.
Because I have so many allergies I love that there are no dyes too.
When I started getting the emails and comments about my skin I wanted to tell the owners of Muvazi about the feedback.
When I told them how much I loved it she asked if I wanted to share it with all of you.
They wanted to offer my readers:-) a significant discount to try their product.
If you have followed my blog for a while you know that I don't have sponsors, I only do giveaways of close friends and that I do not do sponsored ads.
I am making NOTHING for telling you guys about this product.
When I first posted on Facebook that I was trying this product I had others respond that they had tried it and their skin had changed.
I liked that other people I knew had tried it and loved it….even a friend that has extremely sensitive skin.
The regular price for the whole skin care system is $119.95 and they told me that if you use the code "jeanneoliver" that you can get it for $69.95 + free shipping.
They also told me that they have a 100% money back guarantee so if you don't like it you could always send it back for a full refund.
Let me know if you try it and what you think.
If you have already tried it will you please let me know how you liked it in the comments.
Thanks Muvazi!  So sweet of you.