Book of Trees with Roxanne Evans Stout
Course Description
"Go to the trees to explore your questions. Go to the trees to desire and seek. The world will listen as you walk, watch, soften and breathe."
In this class we will delve whole-heartedly into the theme of trees and create a unique mixed media artist book that you will treasure forever!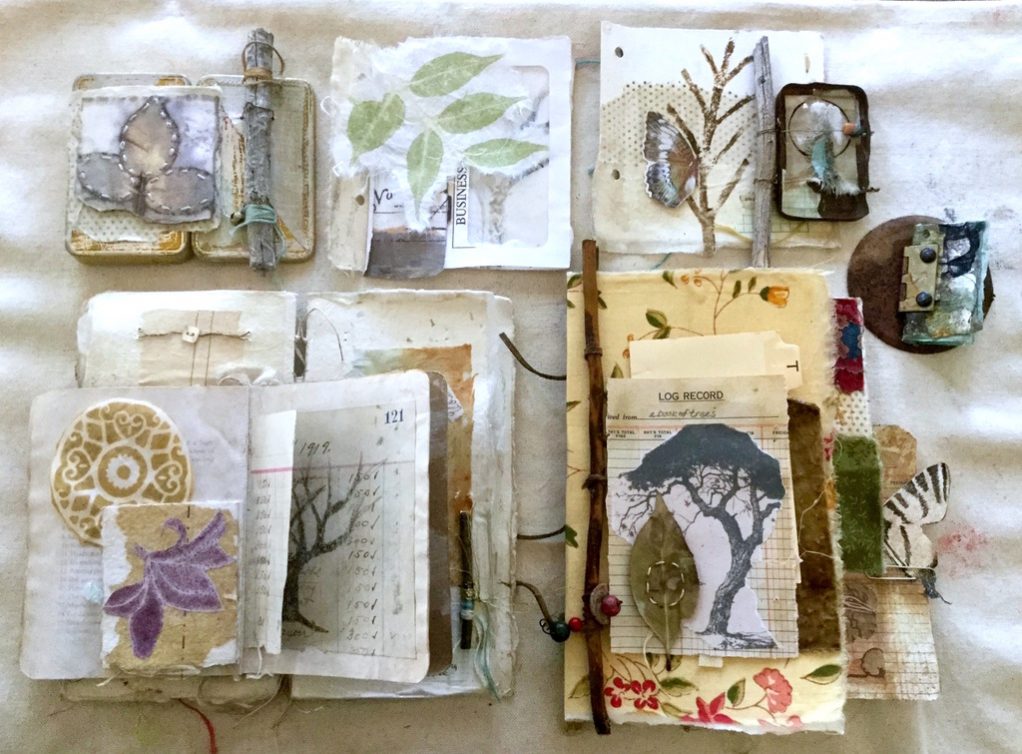 I have always loved trees. As a little girl I would sit under a large eucalyptus tree on the front lawn of out apartment in Santa Monica, California. I would read or work in my journal, writing and drawing… even making nature observations- things I still love. Back then I longed to live in the country surrounded by trees. Now I live in a small country town in Oregon, and my family and I have planted many trees on our land and watched them grow and thrive along side of us.
The gifts a tree can give are endless… their beauty, their strength and resilience, the way they provide us food and homes for wildlife, and the way they clean our air.
Won't you join me as I guide and inspire you in the making of a hand made book… inspired by and celebrating your connection to trees?
Together we will collage with papers and fabrics, create textures and layers, and play with color. We will carve and print our own stamps and use images and quotes on the pages of our books. We will stitch and attach beautiful treasures from nature with threads and wire.
I will share with you my creative processes and favorite techniques that will add magic to your pages and I'll share writing prompts to further your journey of honoring trees.
You will see how… day by day and moment by moment…your handmade book will evolve into a rich compilation of pages that is your very own Book of Trees.