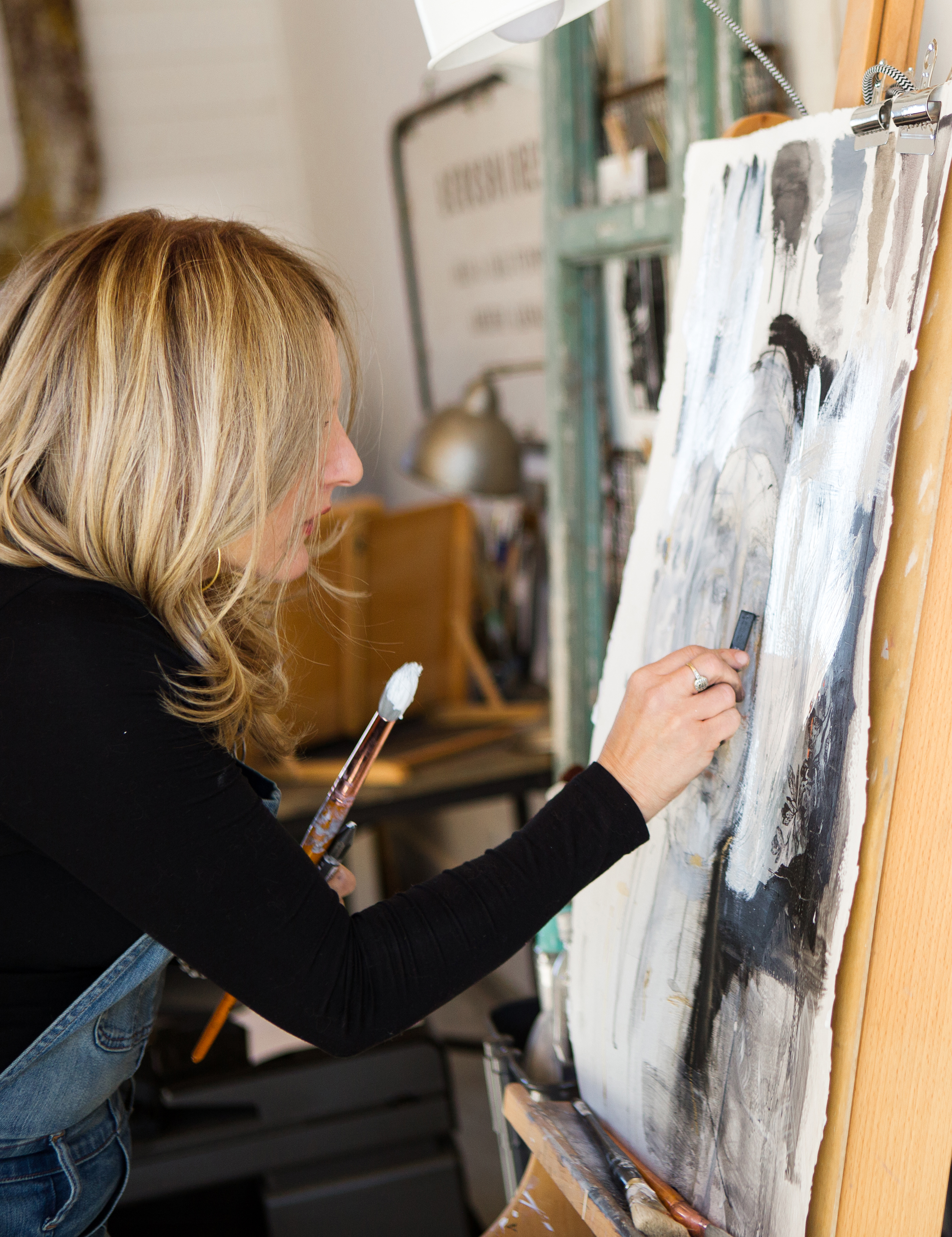 Jeanne Oliver grew up in rural Illinois and now resides in Castle Rock, CO. She is inspired by our personal stories, travel, and nature.
Jeanne uses art to tell her current stories and also those of growing up among gravel roads, cornfields and early life surrounded by open spaces. Through mark making, layers and mixed media, she hopes to convey that we all have a story to tell.
Jeanne is married to her dream maker, Kelly, and the mother of three funny and creative children. She homeschools her children even though she has tried to get out of it a few times. You can often find her hiking, creating in her studio and finding an excuse to have another cup of coffee. She speaks and teaches all around the country and abroad. She was told that she needed to find that one thing but she doesn't like listening to directions so she embraces many loves and that has given her a sweet mash-up of family, art, and travel. Connecting with women and sharing that each of us has been creatively made is one of her passions.
You can join Jeanne here through, her blog posts, taking an online course with her, taking an in person class with her in the US and abroad thru The Living Studio. Visit the Press page for publications and listen below for interviews.
"The Thriving Christian Artist" Podcast with Matt Tommey. It's so easy to fall into the trap of thinking that everything you do creatively somehow has to end up growing your business or advancing your ministry. And while that's a noble idea, there is so much to be said for enjoying the creative process just for what it is; a time where you can enjoy expressing artistically what God has put on your heart while honoring Him with the gifts and talents He's given you. My guest today on the Thriving Christian Artist Podcast, Jeanne Oliver, has a lot to share on this subject. Jeanne is an Artist, Influencer, and like myself, she's been a mentor and encourager to creatives for years.
The Creative Exponent 2.4 Being An Apprentice With Jeanne Oliver. This week's episode of The Creative Exponent welcomes its first guest, Artist, Author and Workshop Connoisseur, Jeanne Oliver. Shaunna and Marian ask her questions surrounding her own creative journey, and find out what makes this creative entrepreneur and teacher tick.
Creative Living with Jamie (episode 266): Interview with Jeanne Oliver. What if good enough was perfect? What if you let yourself learn along the way? That's what artist and designer Jeanne Oliver did as she rediscovered her creative self. On this week's podcast, Jeanne shares how she learned to trust her own gifts and stepped into creating an authentic online business with boldness and faith.
Jeanne Oliver is on episode #58 of Rising Stories Podcast. She is an amazing mix-media artist who shares some great insights for building your business. She shares her story about feeling as though she had missed her opportunity of fulfilling her life long dream. Jeanne gives us so many encouraging truths here. We also discuss how she views failure. Such a great interview you will want to listen to the very end!
Articles