Is your business aligned with how you want your life to look and feel?
Many creative business owners feel trapped and overwhelmed by the business that was supposed to add more freedom to their lives. You didn't take the risk of starting a business just to end up in the same place, or worse – moving in the opposite direction of the life you want.
Your business should be a bridge to the life you dream of, not a barrier.
You deserve someone who's
---
---
We know what it's like to feel like a deer in headlights, searching in the dark for help and direction. It can be overwhelming, frustrating and isolating to feel like you have no help steering a business that isn't taking you where you want to go.
It's possible for you and your business to thrive.
For the last 14 years, we have grown from a small Etsy shop to a large creative network with over 55,000 members - all while insuring our business is a bridge to our dream life, not a barrier.
We've taught thousands of business owners how to intentionally align their businesses with how they want their life to look and feel. We can teach you too. 
---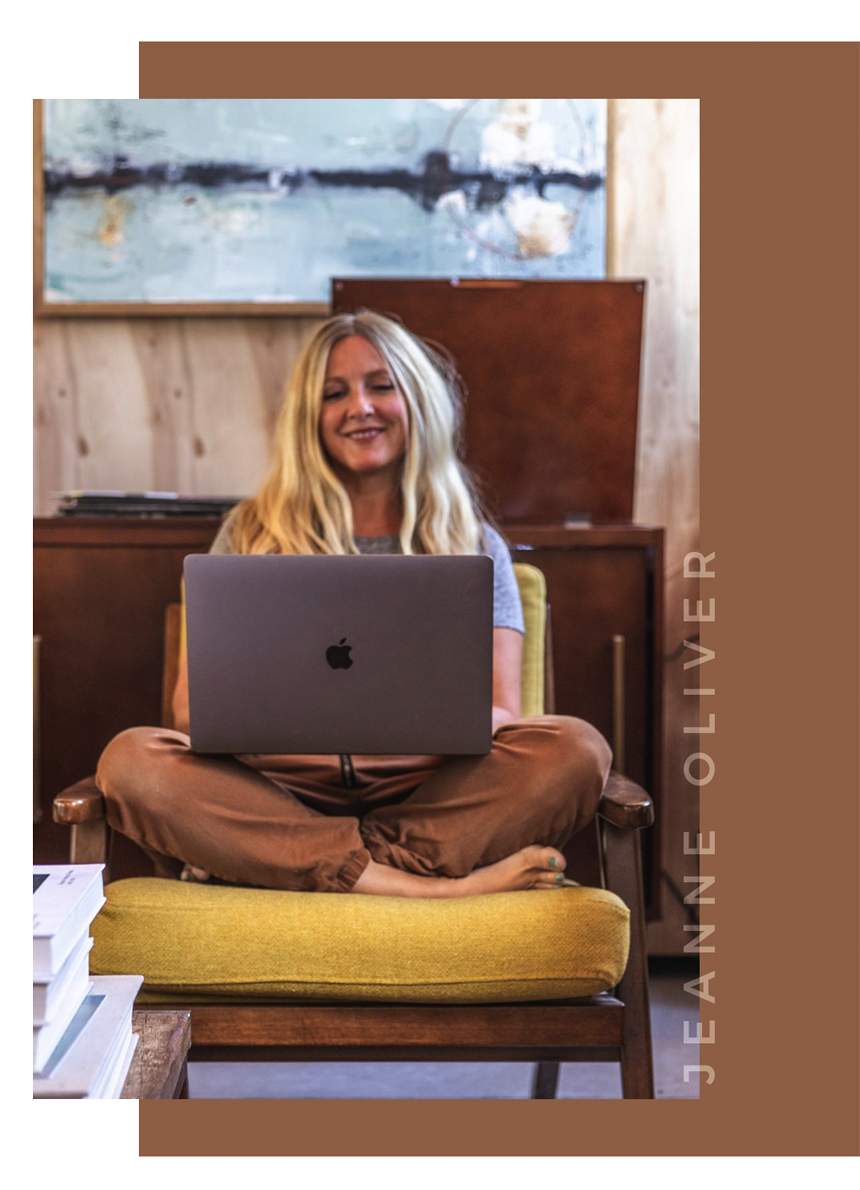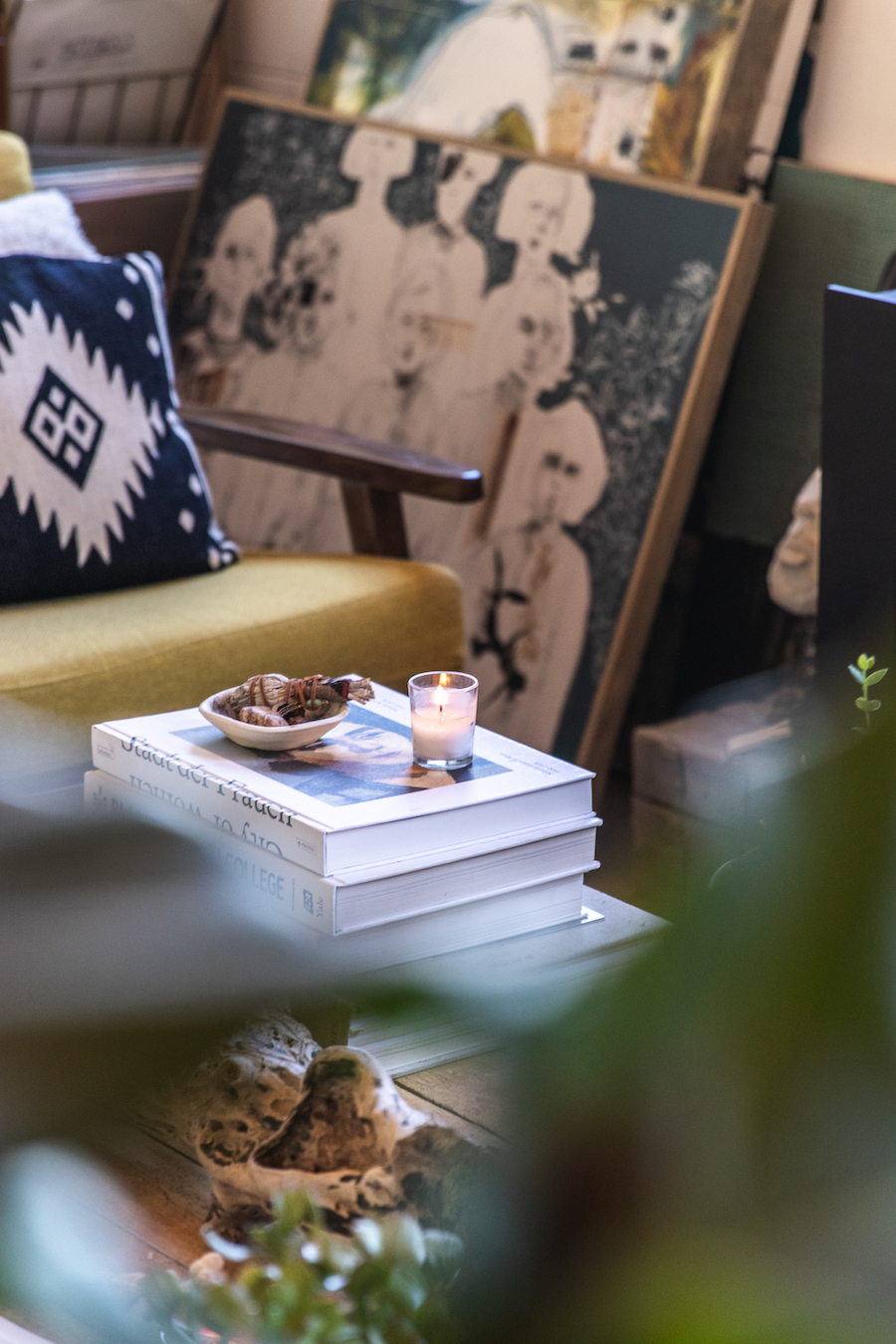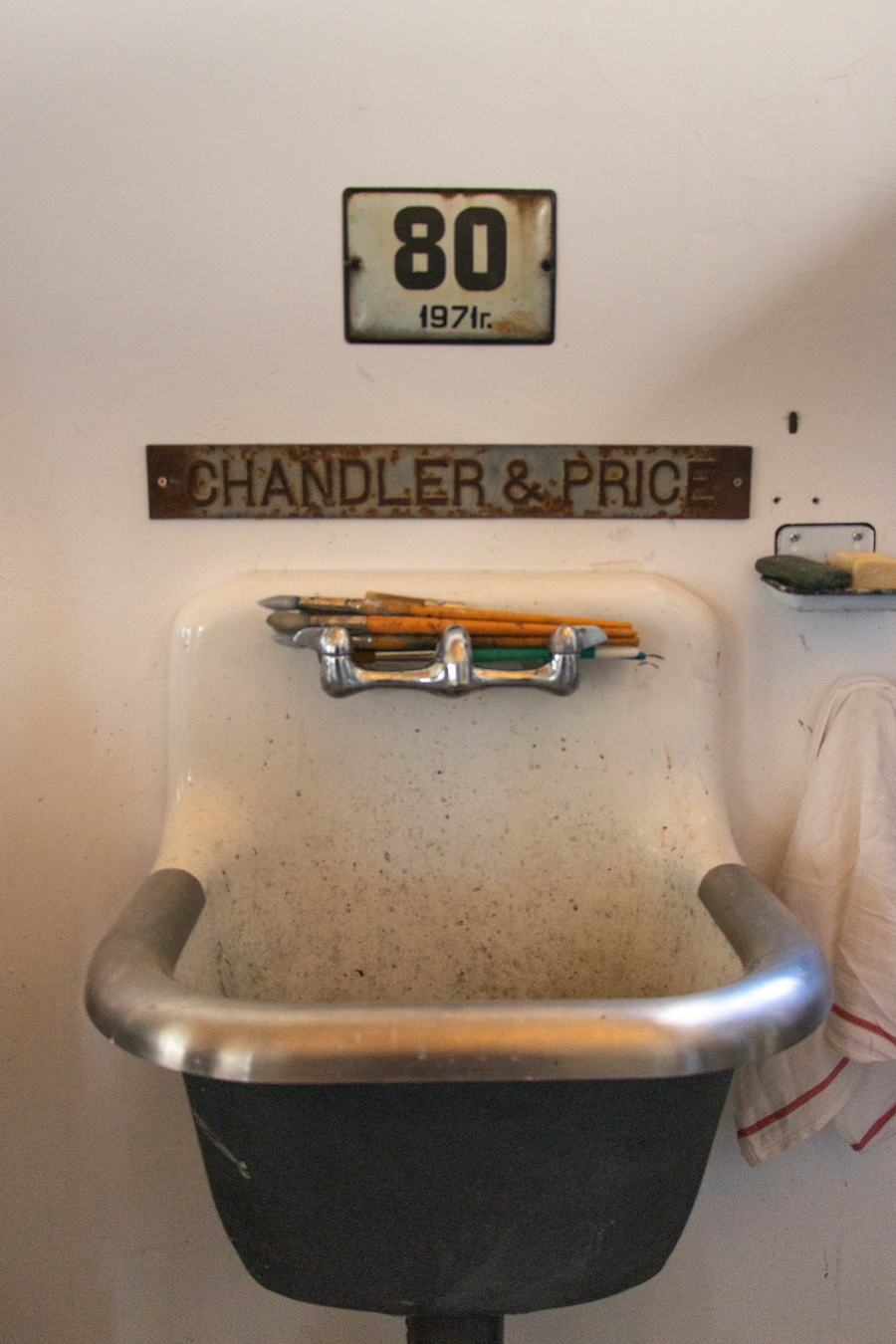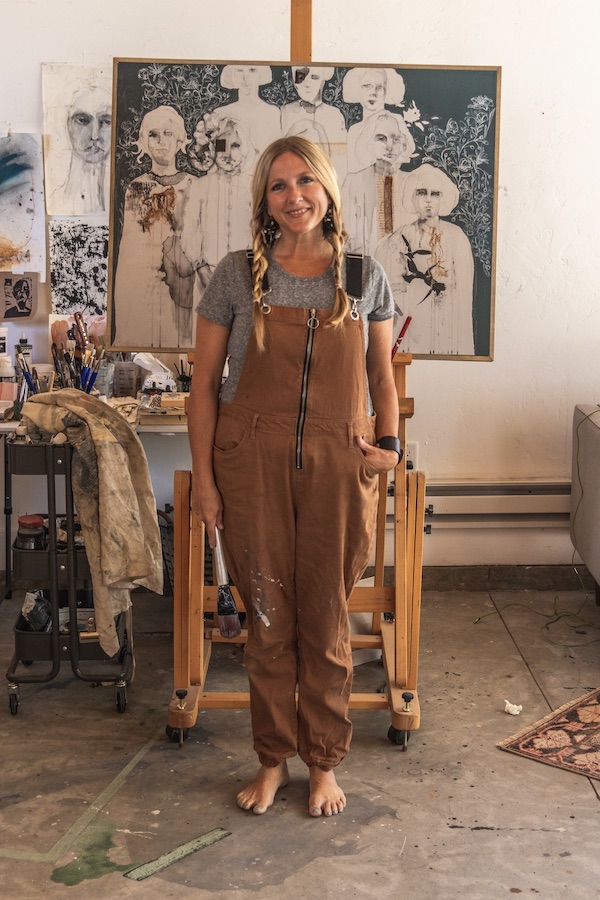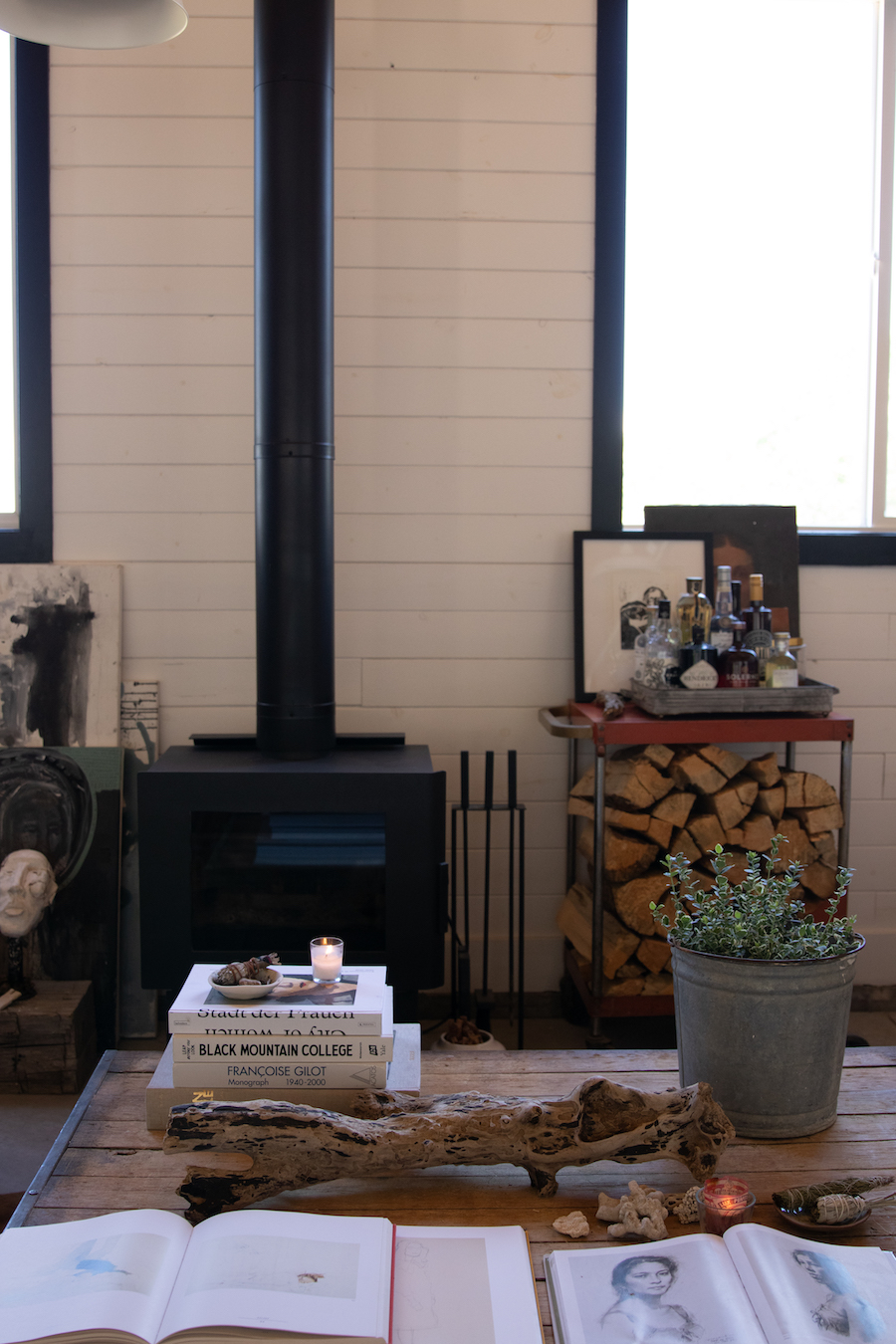 There's a new way to run your business.
Mindset and limiting beliefs can have a huge impact on your life and business.
If you want to create a life and business that thrives then it is time to let go of mindsets that are holding you back.
Have you been believing any of these 7 business myths? These are the top myths that I have had, I hear from business consultants and live business workshop participants.
ARE YOU BELIEVING ANY OF THESE BUSINESS MYTHS?
You can build an intentional business and life! Here's how:

1. Buy the
Course
Instant access and learn at your own pace with a community of business owners.

2. Get 7 hours of
Instruction
Access Podcasts, Worksheets, Community, & more!

3. Build an Intentional
Business & Life
Eliminate frustration and thrive in your business and creativity.
Registration is now open for our newest tool to help you build an intentional life + business.
Registration is now open for our newest tool to help you build an intentional life + business.
---
---
---

$595
7 hours of instruction
Learn at your own pace
Build an intentional business and life

---
Six modules with over 7 hours of training

Powerful podcasts to encourage and inspire

Book suggestions to support each module

Learn at your own pace
Access to CMB Mastermind Community

Worksheets to keep you on track

Printables for daily encouragement
---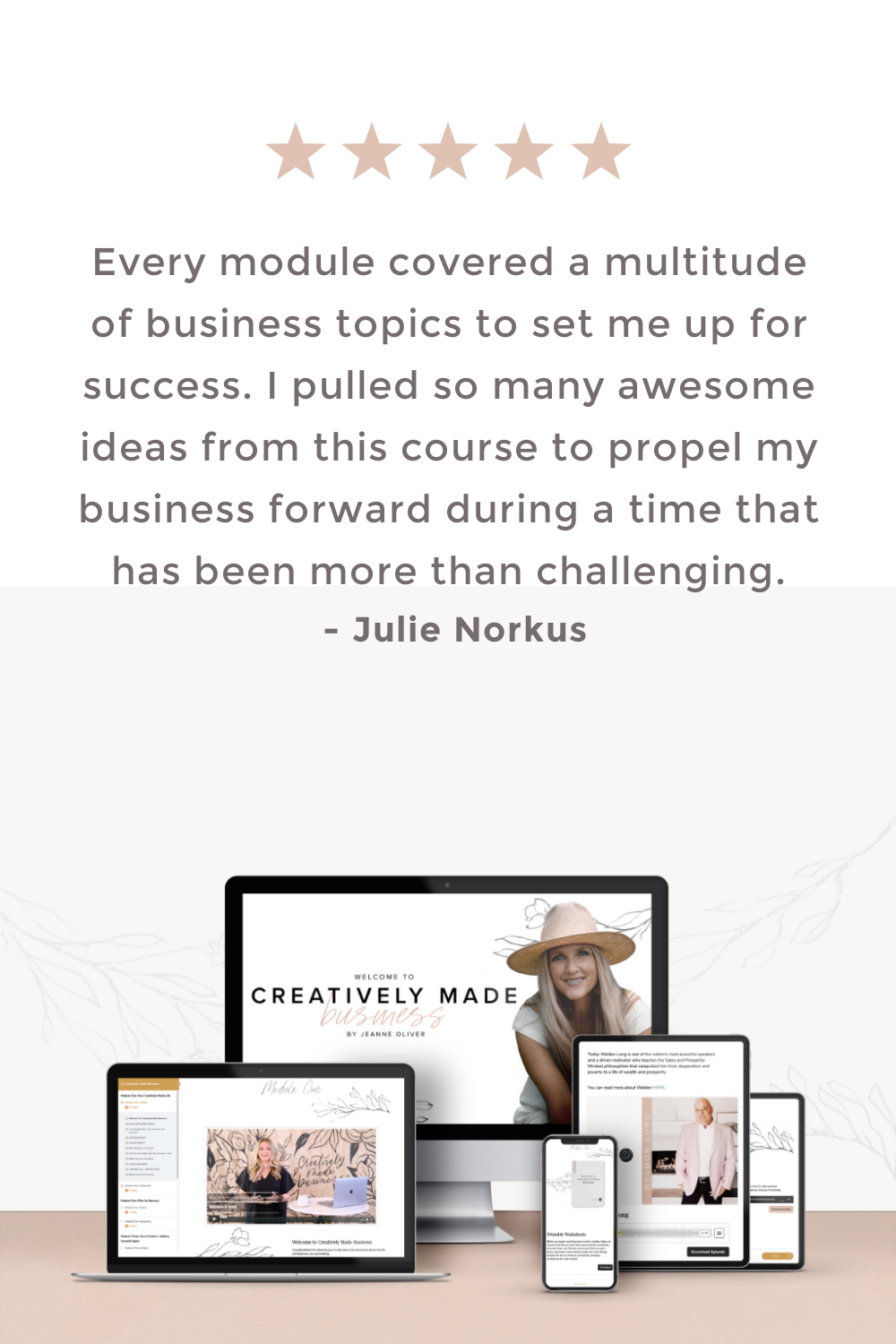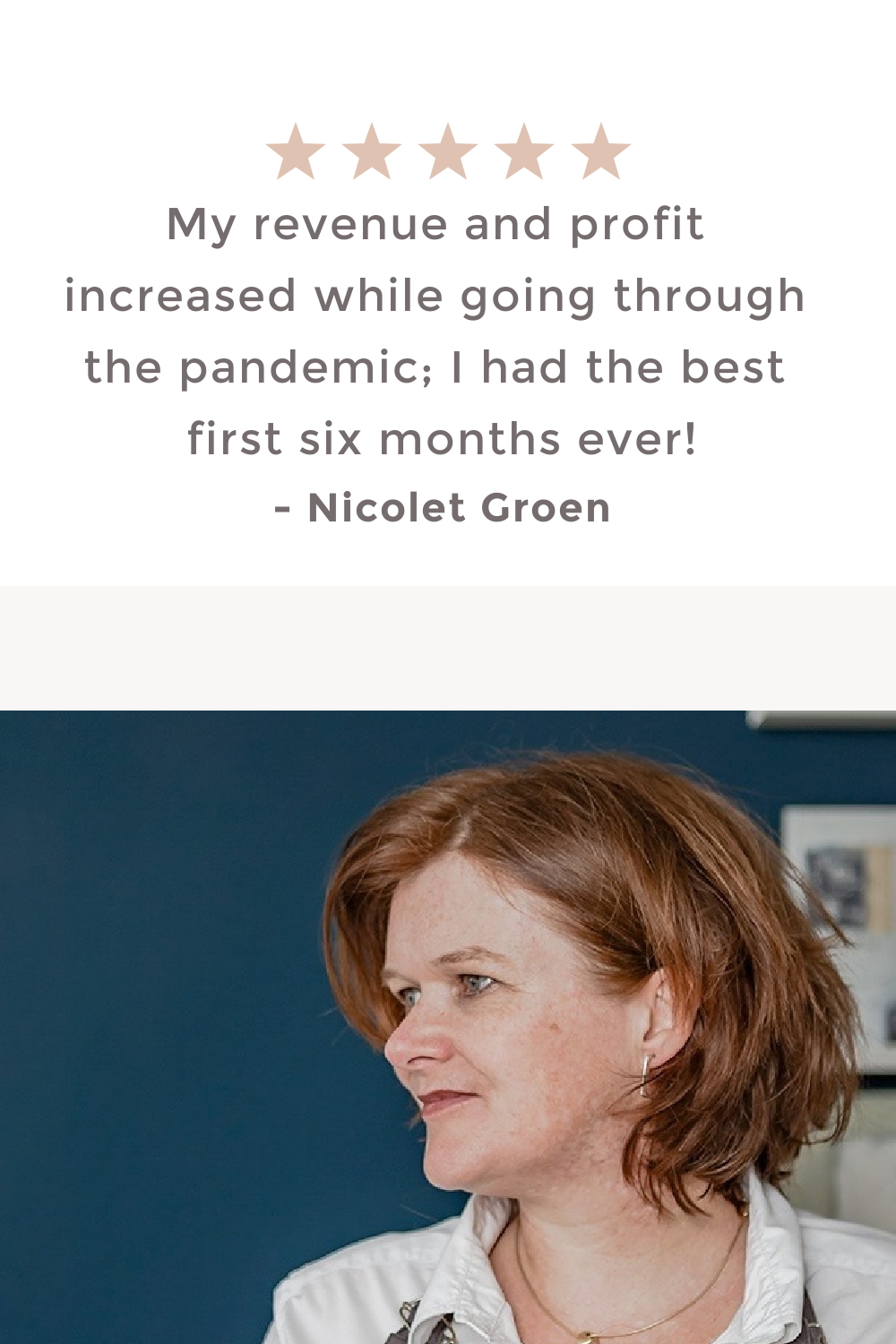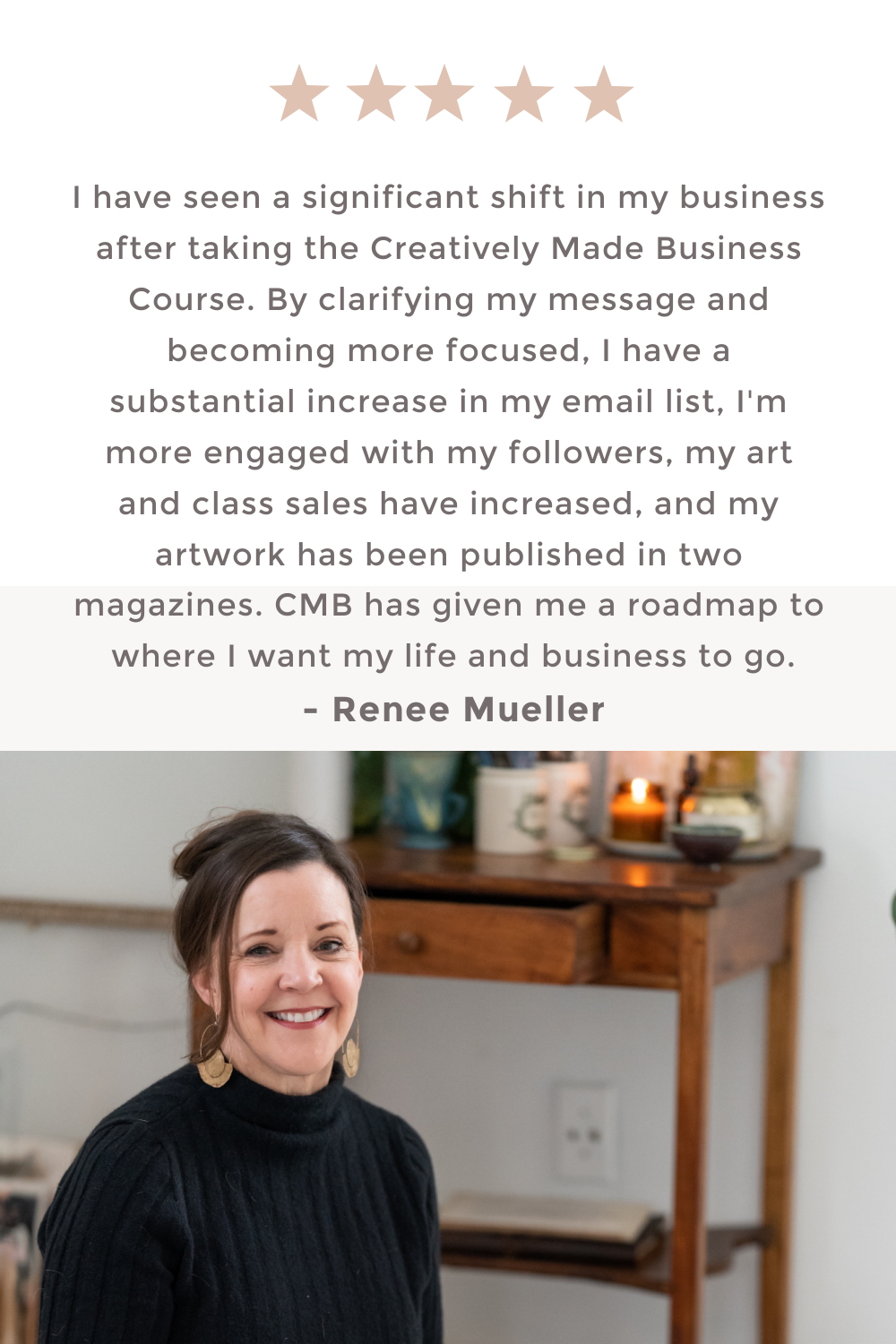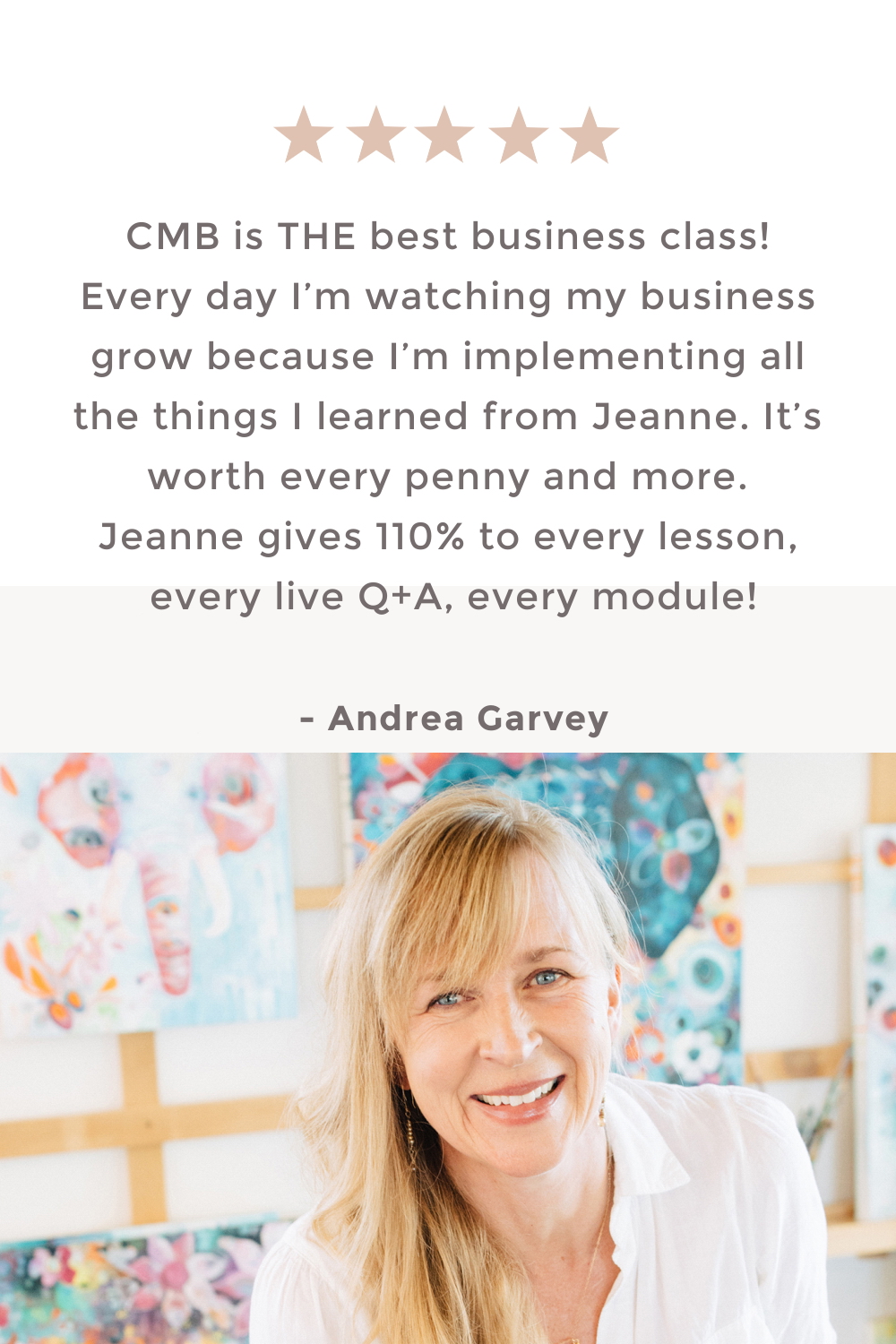 "Creatively Made Business is like no other online business course that I've taken and I am forever grateful for Jeanne's guidance and wisdom as I develop my dream company."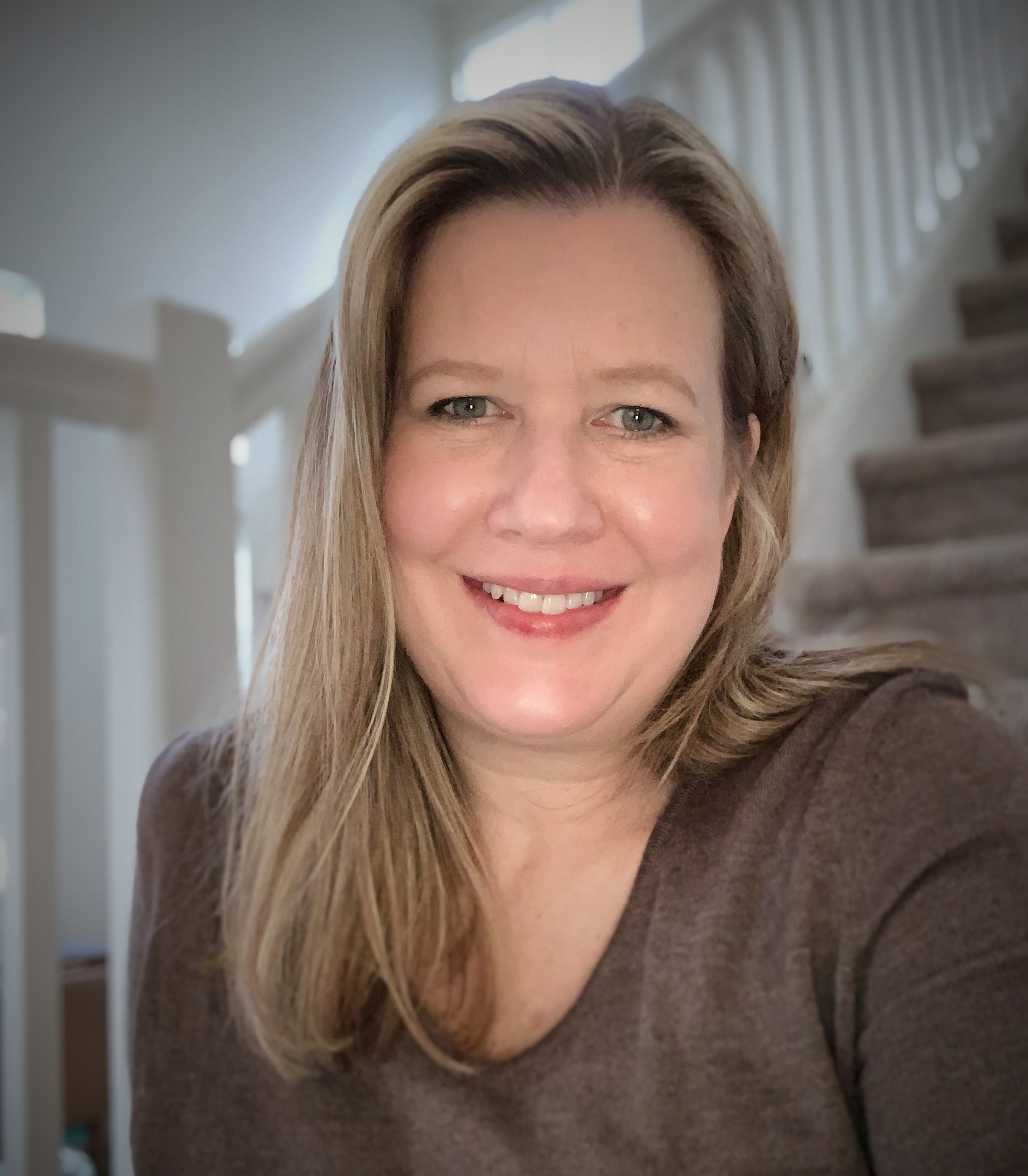 ---
"Since taking Creatively Made Business my art career has grown and my confidence has soared..."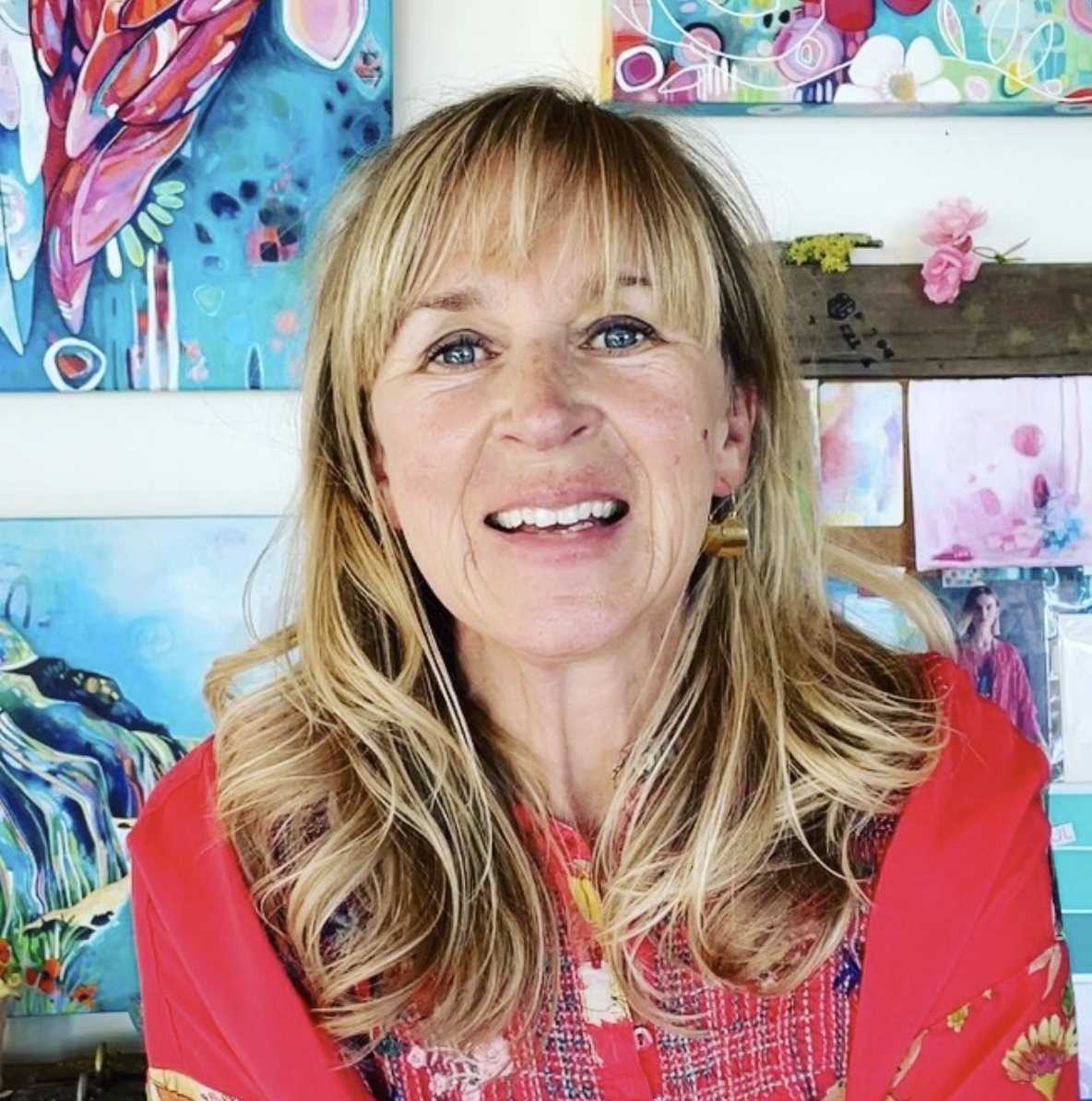 ---
Now is the time...
You started a business to help build a better life, but things can quickly spiral out of control. Without being intentional, your business can become a burden that takes away time from yourself, your family, and the life you desire.
Imagine what your life would look like if your business was aligned with how you want your life to look and feel?
Be energized by your work again
Radiate peace in your business and personal life
Have the freedom to live the life you dream of
Feel in control of your business and schedule
Make business decisions with confidence
Jeanne Oliver grew up in rural Illinois and now resides in Castle Rock, CO. She is inspired by our personal stories, travel, and nature. Jeanne uses art to tell her current stories and also those of growing up among gravel roads, cornfields and early life surrounded by open spaces. Through mark making, layers and mixed media, she hopes to convey that we all have a story to tell.
Jeanne is married to her dream maker, Kelly, and the mother of three funny and creative children. She homeschools her children even though she has tried to get out of it a few times. You can often find her hiking, creating in her studio and finding an excuse to have another cup of coffee. She speaks and teaches all around the country and sometimes she even gets to cross the pond. She was told that she needed to find that one thing but she doesn't like listening to directions so she embraces many loves and that has given her a sweet mash-up of family, art, and travel. Connecting with women and sharing that each of us has been creatively made is one of her passions.
---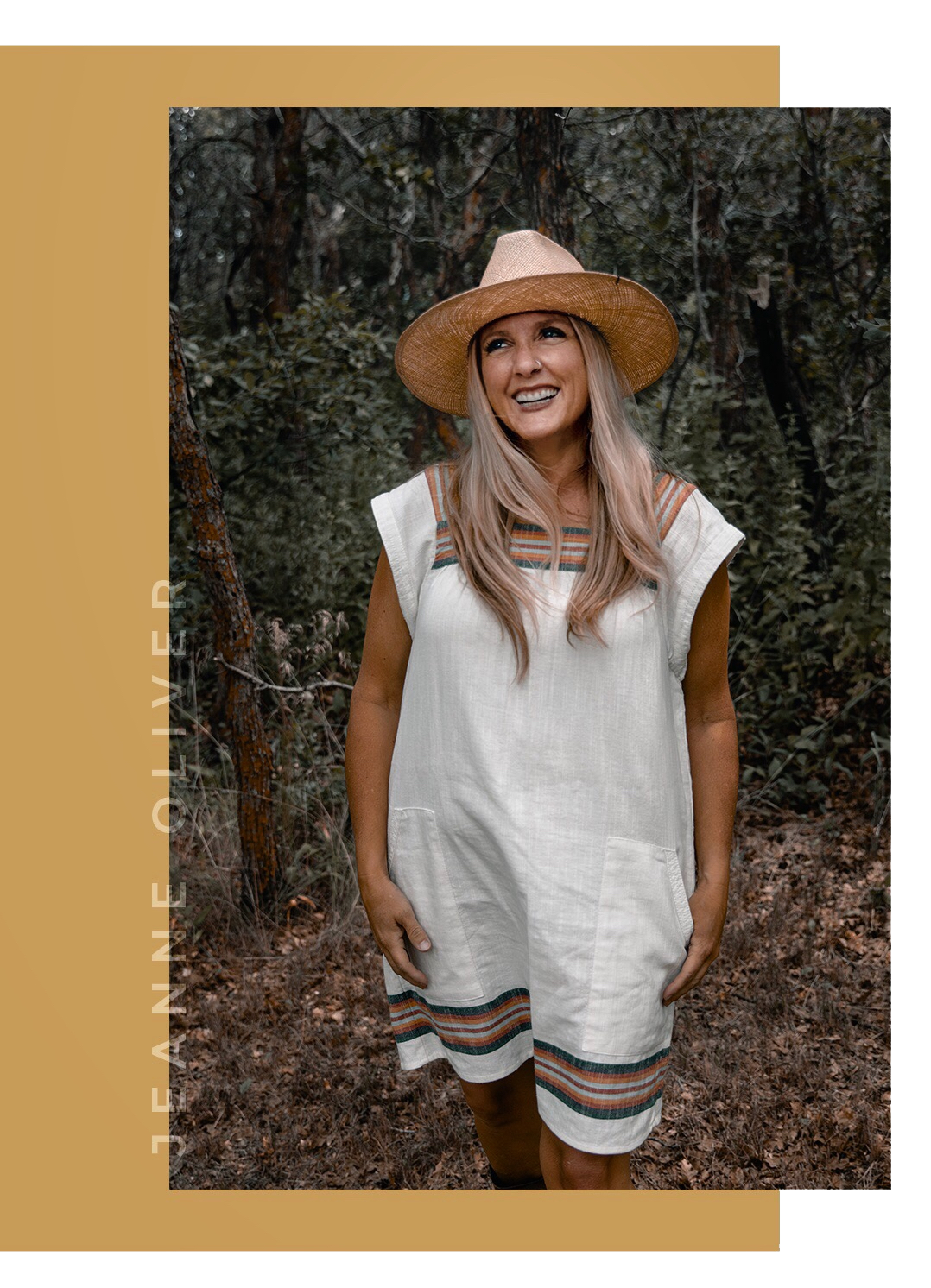 ---
---
Sheila Rumney
Creative Business Owner
Jeanne's workshop was filled with rich content to help you in your creative business, whether you are just starting out or already own a business. From business startup, to website design, marketing tips, and even her guidance in valuing your products and services. Her heart is in helping others create the business of their dreams and giving you the steps on how to do that. The live workshop gathered other like individuals in her beautiful home studio, where we shared our hearts, dreams and fears. By coming together and learning, we walked away with valuable connections as we all start building the business and life of our dreams.
Andrea Chebeleu
Creative Business Owner
Spending time with Jeanne discussing my business encouraged and empowered me to continue on the path I'd already started. Having an established business of 18 years I came to Jeanne with questions like "how do I get it all done" and "am I on the right path?" Well prepared and organized, Jeanne asked the right questions to help me get crystal clear on why I am in business doing what I do. She got me thinking about the "why" and focusing my energy more efficiently. She followed up each session with a bullet point synopsis that became my action plan checklist. After 2 sessions with her, I've implemented ideas that have focused my time and brought more joy into running my business. Jeanne's inspiring personal story still plays back in my mind when I am tempted to worry about a big decision. She walks the walk and I am so blessed to have spent time walking alongside her.
Cherie Wilson
Creative Business Owner
When I attended Jeanne Oliver's Creatively Made Business workshop, I wasn't sure what to expect, honestly. Even though I have been fortunate to have had great mentorship in my art and in business, I knew and respected Jeanne and I wanted to learn more from her. I can tell you that I loved every minute and sure none of us wanted to leave at the end! Jeannes comprehensive information for today's Creative Businesswoman is straightforward and honest and is delivered in her very most nurturing spaces: her beautiful studio and home. My personal favorites from the entire experience are the fantastic workbook and Q and A time, the interaction with other creatives, and the general sense of Love and encouragement that you get from being at the Oliver's. Such a great atmosphere for learning and sharing and also for just being human and allowing our dreaming and growing as business entrepreneurs to take flight. I highly recommend Jeanne's Creatively Made Business workshop to anyone who wants to simply take a peek into their dreams and find the courage to begin, or has traveled a little down the road and would like to give that dream more realistic vision and life in the days to come.
Cathy Penton
Creative Business Owner
I have had a small business for 17 years now. In May of 2015, I was very sick after having an infection in my brain and I didn't work at all for over a year. It was so very hard but I knew I needed to do something about it as creating was so much a part of me. One day in my Facebook feed Jeanne talked about how she was doing business consulting and it was like it was meant for me. A kickstart. I had admired Jeanne and her drive and creative spirit so what did I really have to lose? It was just what I needed. For me, it helped on so many levels from talking about my goals and dreams to making to-do lists, to having a creative sounding board to listen to my ideas and help me make them happen. She helped me to believe in me again which is pretty wonderful.
Donna Martin
Creative Business Owner
I have been participating in business consulting sessions with Jeanne for a couple of months now. I truly believe it has been one of the best decisions I could have ever made for moving my business forward. Jeanne has so many good and practical ideas, tailored for your particular business. She also takes the time to teach you how to implement these ideas in new and innovative ways. She has a heart for encouraging people to follow their dreams and after meeting with her, I believe I can do this. My time with her has been invaluable. I would whole-heartedly encourage anyone with a dream and a willingness to work hard to meet with Jeanne to move their business to the next level. You will not be disappointed

$595
7 hours of instruction
Learn at your own pace
Build an intentional business and life