Clay Sculptures + Forms
Course Description
In Japanese culture, wabi-sabi is the view or thought of finding beauty in every aspect of imperfection in nature. The idea that nothing is perfect and that's what makes it beautiful. Seeing the details in simplistic day to day and accepting the wonky and natural state of things, unrefined.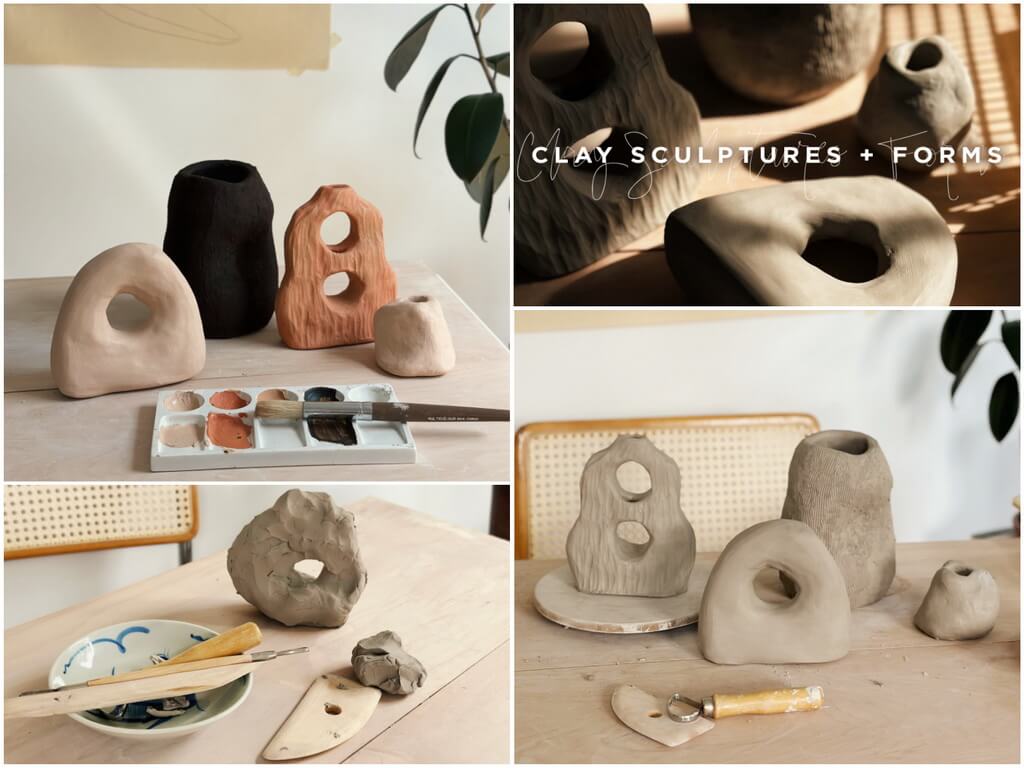 Clay has been around since the beginning of time and is a natural resource that is found all over the world. Hand building techniques have been passed down through generations within ancient native communities. There is something so calming about forming clay with your hands and creating something out of a resource that belongs to the earth. Take a moment to note the color, the smell, the feel and the nature of clay. What a beautiful gift given to us! There is truly no better way to center yourself and allow your mind the space to be creative and remove stressors than to sit and play with clay.
I will walk you through how to create abstract sculptures and other decorative pieces using air dry clay, all without a kiln. I will show you how to use an ancient coil technique to build a piece layer by layer. I will share my process on how to start a new idea, blend and smooth layers and create different textures using tools.
This is a time to let your inner child come out and allow the earthy nature of clay to bring you back to the present moment. I hope that this class feels like a breath of fresh air for you and is a beautiful and intentional grounding experience. I hope it is a reminder of the importance of playing and getting a little bit messy. Building by hand is a slow and meditative process. Allow your thoughts to drift in and out.. welcoming whatever comes your way. The beauty within sculptures and forms is seeing how each moment shapes the next; that can be true for us too. Embracing imperfections, organic shapes and textures, creating with our hands, removing pressures, thanking the earth for its resources and embracing the ways of wabi-sabi. Let's play with air dry clay!
Techniques Taught in this Course
Creating air dry sculptures from home without a kiln
Embrace the beauty of wabi-sabi
See the wonder in handmade imperfect work
Begin new ideas by sketching out abstract shapes
Learn how to create textures with tools
Understand the ancient technique of coil building
Trust your inner guide and create free forms
Sealing and painting clay
Adding dried botanicals for a decorative element
Connect with the natural earth elements of clay
Discover the slow and meditative process of hand building
Take time to play and become grounded in the present moment