Making a Scene with Stephanie Lee
Course Description
Have you ever noticed how the feeling of AWE is so full and surprising that it can't be manufactured. It's a natural response to something that activates a unique joy and wonder in you. True awe is a treasure. I've felt it many times like when I first held my new born daughters, when I heard the echoey gurgle of an Australian Magpie song, and when I stood in the presence of a massive original painting by one of my favorite artist at a museum of art.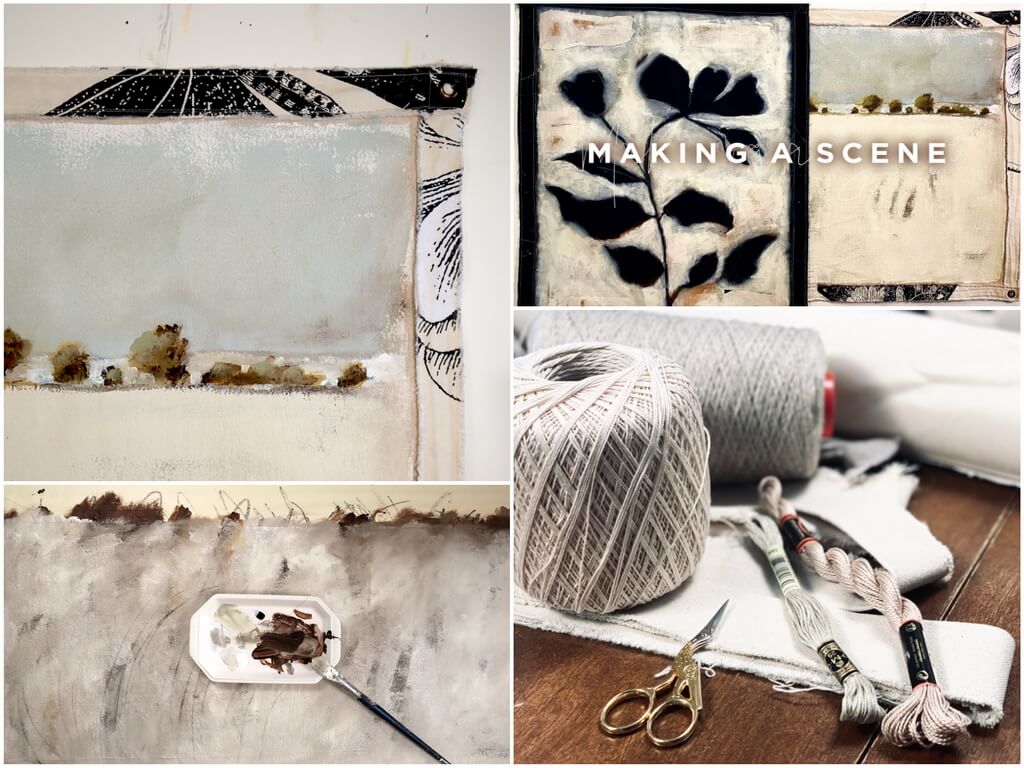 The painting subject matter was beautiful but at nearly 20 feet wide and 12 feet tall, it was the shear scale of the painting that brought the subject matter to life-size awe for me. (I have this same piece as a large print and, though I love it so, it's just not the same.) In that moment, each brush stroke and color in that painting enveloped me in the room and became something more interactive than just a painting to look at. A painting can expand a space with new possibility and and invitation to let in more joy, wonder, and courage.
In this workshop, we are going to play BIG with our art, making large, canvas murals that we can marvel in awe at – both in the creating of them and in the viewing them when they are complete. Unlike a mural painted directly on a wall, these will be murals the you can easily move from space to space – bringing that spark of awe to a variety of settings: a dining room wall during a family holiday meal, the expanse behind your bed where you dream and retreat, or the open air between two tree branches when friends come over to picnic. And when you want a little break from being amazed at the art you've created, you can easily roll your mural up and tuck it out of the way for a time.
The object of this workshop is to bring the expansiveness and awe of murals into your space without the commitment of permanent wall paint or placement. These murals can move with your mood as much as you like. (If you prefer to create smaller pieces, you can absolutely create sweet little baby murals to hang in tiny spaces or share with a friend.) We're going to get creative with wide, sweeping mark making, layering of painted canvas vignettes, stitching and reverse appliqué, incorporating subtle, flexible texture and collage for visual interest. We'll then make sure that our gorgeous murals are sturdy enough to hang with simple supplies and to hold their form over time. (No one likes a saggy mural!)
Consider this your invitation to make room for MORE – more awe, joy, ease, stillness, possibility, and self-discovery – as you create big, beautiful moveable murals!
Techniques Taught in this Course
Painting big on unstretched canvas
Mark making with chalk and paint
Abstract landscape painting
Sewing large canvas murals
Creating graphic murals with rough painting
Painting high contrast murals with a limited palette
Setting grommets for installing murals
Combining color washing with opaque painting
Painting over minimalist collage
Using collage for creating undertones
Combining Latex and acrylic paints
Using vintage fabric scraps to create an interesting frame for your mural