Rhythms and Rituals with Jeanne Oliver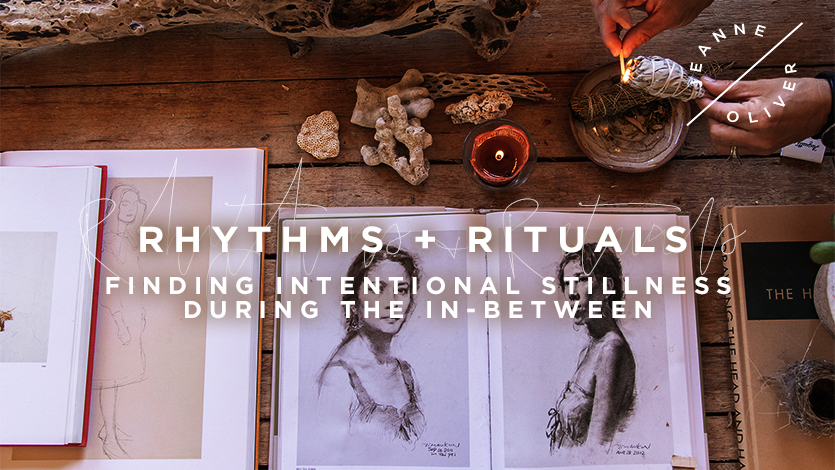 Course Description
As we begin 2021 we want to offer a simple way to gather others that want to start the New Year with intention. With the division of this past year, financial uncertainty for many, and the reality of so many unknowns, I know that this time instead of feeling hopeful for the new year and what's to come may feel more like the in-between. The waiting period.
There were so many unexpected moments in my own life and business this past year (as I know there were with yours) but the one thing that brought hope consistently was the importance of my time with the Lord. The time to be quiet and still. The time to realize I didn't have to figure out all of the problems by myself. These daily rhythms and rituals gave me deep rest and peace during a tumultuous time.
I have gathered some of my favorite people to offer a free online gathering this January.  Each person will share simple ways that we have been able to find intentional stillness during this in-between.
We will be sharing promises that the Lord has spoken over us, daily rhythms and rituals where the Lord met us, and intentions that set our heart on track each day.  Our hope is that we all will find encouragement in sharing how meeting with the Lord gives us hope and rest and reminds each one of us how to rely on Him going forward in new ways.
I hope you will join us as we share the mighty and small ways in which the Lord has met us during the in-between.
Join Nathifa Sligh, Michael Sweet, Stephanie Lee, Meshali Mitchell, Lissa  Whitlock, Aaron Wagner, Jen Wagner, Matt Tommey, Jeanne Oliver and Stephanie Ackerman.