Shelters: Painting Places that House Our Hearts with Mary Gregory
Course Description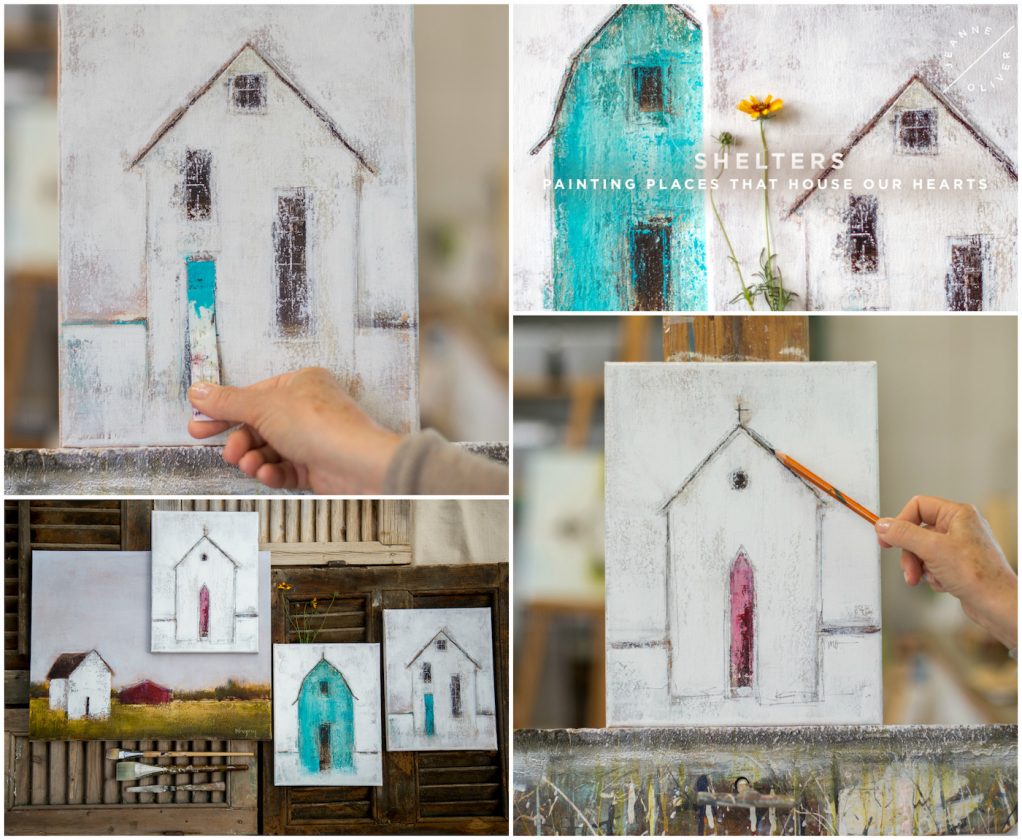 Join Mary Gregory for her first course here at the Jeanne Oliver Creative Network! If home is your happy place, if buildings of all kinds make you happy, join Mary in this structure-painting course.
Think of the places that house your heart — your home or that of a loved one, your church building or one that has special meaning or memories. Or maybe the one you see in your mind's eye — your dream-home or a church building that symbolizes your faith. Perhaps a barn or out-building that holds your beloved animals or the place where you do meaningful work.
This structure-painting course is for those of us who love architecture and for whom there really is no place like home. Keeping the subject and perspective simple so that we can focus on technique, we will sketch and paint those places, either real or imaginary. Building with layers of acrylic paint, using brushes and palette knives among other things, you will learn the value of restraint and the importance of not over-working.
There is great freedom in this painting technique, freedom to play and experiment and paint over, freedom to leave as-is — often the areas we feel we need to "fix" turn out to be the best parts when given a chance. You will be encouraged to leave happy accidents alone and also to take risks; all of those elements have a part to play in the final piece.
This course is appropriate for beginners or artists of any skill level. The techniques you learn here can be applied to any subject matter, not just structures, and you will come away with the skills and knowledge necessary to continue creating as you draw from your own well of inspiration.
Techniques Taught in this Course
-Discover the joy of painting
-Create paintings with a minimal palette
-Rely on texture to create interest
-Allow mistakes and accidents to enhance your work
-Learn restraint and reevaluation before correcting "mistakes"
-Experience freedom in painting with acrylics
-Explore color-mixing
-Recognize the strength in a simple composition
-Work with a combination of tools
-Gain confidence as you work through all stages of the painting
-Recollect the fun of playing with paint
-Get lost in the process