Show Up and Shut Up: Strategies of an Insecure Artist with Carolina Della Valle
Course Description
Show Up and Shut Up: Strategies of an Insecure Artist
Join Carolina Della Valle for her first course here at the Jeanne Oliver Creative Network! Sometimes we need a swift kick to get us moving or a little tough love to shut down those fears that prevent us from doing and being our best. We've all been there.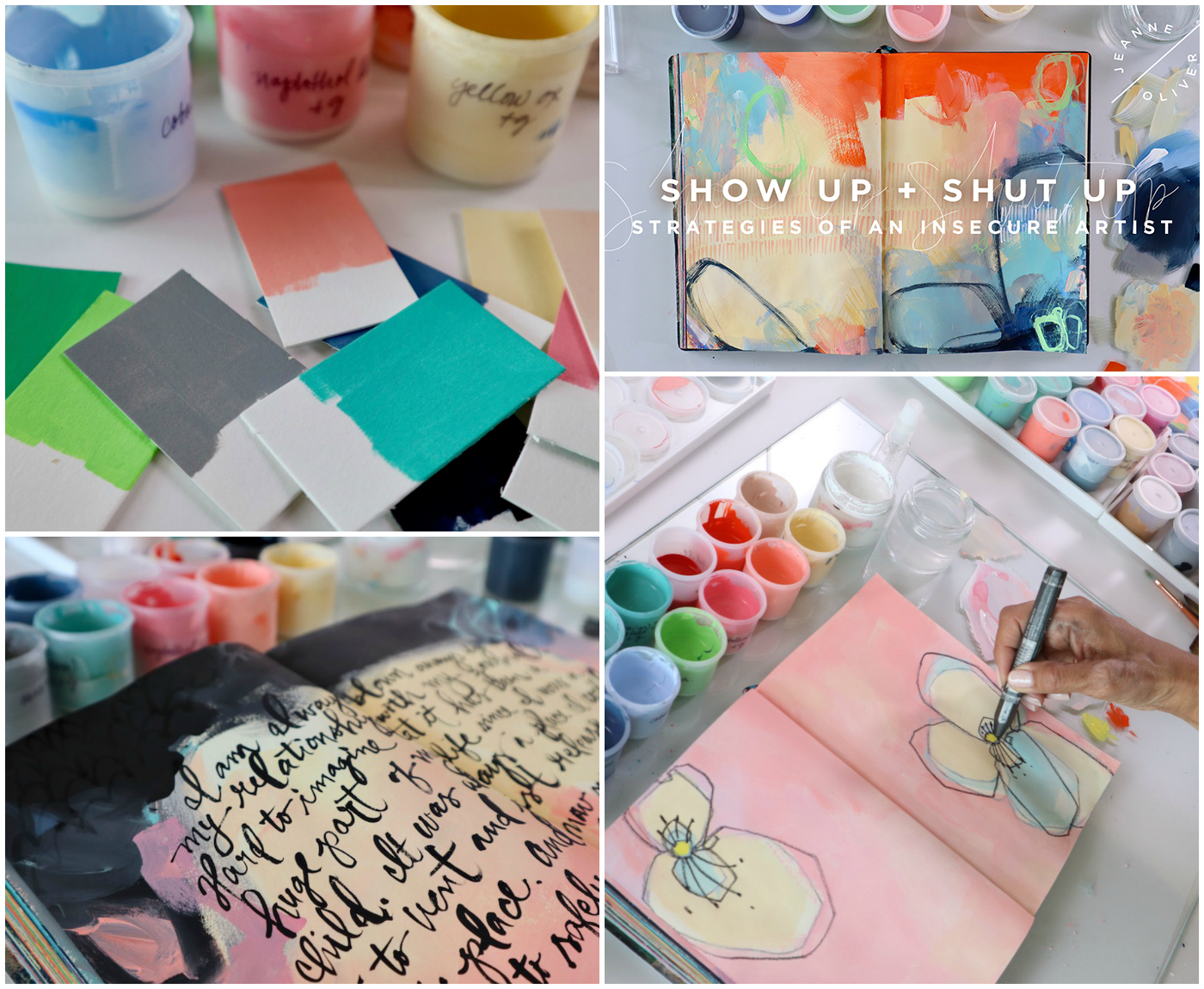 This course is for you if:
– you are a new artist looking for exercises to learn and grow.
– you are a timid artist needing strategies to push past your fears.
– you love the idea of keeping an art journal but can't seem to get it off the ground.
– you are terrified of a blank page.
– you sometimes feel out of control when you paint ( and not in a good way).
– you stare at your journal page and have no idea what to do.
Or, you are none of the above, but are curious to get inside my head while I paint!
As a new artist, I faced many of these issues and more. I wanted to create a course that would allow me to share my struggles and the strategies I developed to gain control and begin overcoming the fears that kept me from being the artist I wanted to be. Bite-size strategies made it manageable to learn a new medium without getting overwhelmed. The art journal changed the way I approached my art, allowing me to accept my process (and my ugly art) while giving me the headspace I needed to finally see results in my work.
Learn about all my favorite, tried and true materials.
Meet my beloved paint pot system! Enjoy playing with paint and color to create your own color palettes and paint swatches.
Discover the value of working small. Practicing your techniques on a tiny scale reduces pressure and provides a surprising amount of room for growth and play.
Peruse my recent art journals as I share with you how my journey evolved.
Explore my abstract process and follow along as I create a variety of journal pages. Observe my techniques and design strategies as I solve visual issues that bring each journal page along it's own journey to completion.
Build your visual library by turning to the elements of design for easy inspiration. Create a lasting relationship with your art journal by using simple pressure-free prompts to keep you coming back.
Embrace your ugly art.
True statement: Showing up is half the battle.
So show up.
I'll be waiting for you.
Techniques Taught in this Course
-Connecting to your art journal
-Paint pot system of mixing and storage
-Creating and utilizing color swatches to plan and document palettes
-Understanding paint and how it behaves
-Gaining control of your medium and tools
-Art journaling
-Mark making
-Taking risks and being ok making ugly art.
-Visual composition
-Visual problem-solving as you paint
-Brush techniques
-Limited color
-Hand lettering in your art journal
-Compositional strategies
-Sketch my abstract Floral
-Creating journal pages to suit our mood.
-Using Linework to create texture and balance
-Using Shape in composition
-Using the elements of design for inspiration
-Building your visual library