Specimens of the Secret Forest with Idania Salcido
Course Description
Join Idania "Danita" Salcido for her first course here at the Jeanne Oliver Creative Network!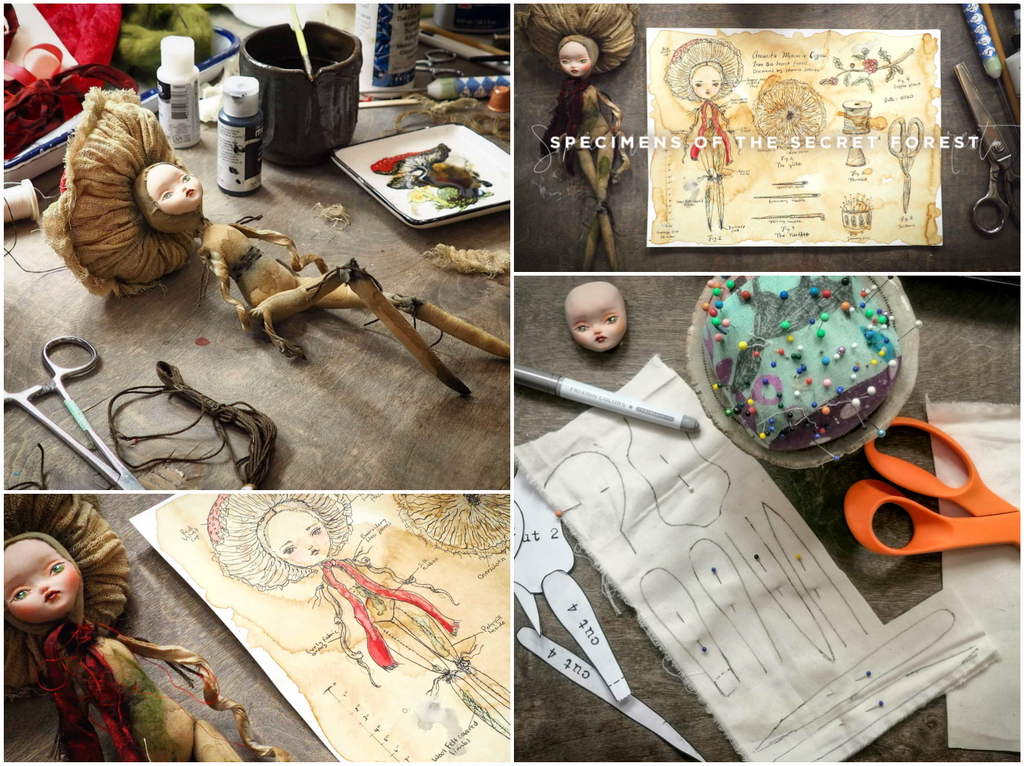 Once upon a time, an artist stumbled upon a great discovery, It was called the Secret Forest. Many creatures inhabited that place, and she became friends with them. Knowing she had to go back home, she began a new adventure of documenting and replicating the creatures she met using thread, fabric and clay. And then documented her discovery with a beautiful ink illustration.
In this course I'll guide you step by step into the process to make a handmade mushroom doll. You'll learn how to transfer the pattern to your fabric, how to sew the doll, some tips and tricks to make the stuffing easier as well and dyeing the fabric and adding the grungy look. For the face we will be using polymer clay but you can also work with air dry clay if you prefer. You'll learn how to sculpt a face and paint it to give it a lively look. Then you'll learn how to give it some finishing touches to make your creation look more authentic. After you have your specimen ready, it's time to document it! Using ink and coffee you'll learn how to draw your doll and it's components to give it an old, authentic look.
For this class you don't need any previous experience, we'll be using a sewing machine but it's not necessary, as the doll can be hand sewn. I'll show you that doll making and sculpting it's fun an easy and oh so magical. Join me in this class and become part of the magical forest exploring guild.
Techniques Taught in this Course
-Sculpting a face using polymer clay
-Painting and sealing polymer clay
-Baking polymer clay
-How to make a doll from start to finish
-Best machine settings to sew your doll
-Making a moveable-parts doll
-Troubleshooting the most common face sculpting problems
-Dyeing fabric to achieve an aged look
-Tips and tricks to make the stuffing process easier
-Drawing with nib pens and ink
-Aging paper
-Add needle felted wool for embellishing