Creatively Made Business
An online workshop to build, launch,
and nurture a business that aligns with how you want
your life to look and feel.
CREATE COMMUNITY
CLARIFY YOUR VISION
IMPLEMENT A PLAN
Is your business aligned with how you want your life to look and feel?
Many creative business owners feel trapped and overwhelmed by the business that was supposed to add more freedom to their lives. You didn't take the risk of starting a business just to end up in the same place, or worse – moving in the opposite direction of the life you want.
Your business should be a bridge to the life you dream of, not a barrier.
You deserve someone who's
been there before
We know what it's like to feel like a deer in headlights, searching in the dark for help and direction. It can be overwhelming, frustrating and isolating to feel like you have no help steering a business that isn't taking you where you want to go.
It's possible for you and your business to thrive.
For the last 16 years, we have grown from a small Etsy shop to a large creative network with over 70,000 members – all while insuring our business is a bridge to our dream life, not a barrier.
We've taught thousands of business owners how to intentionally align their businesses with how they want their life to look and feel. We can teach you too.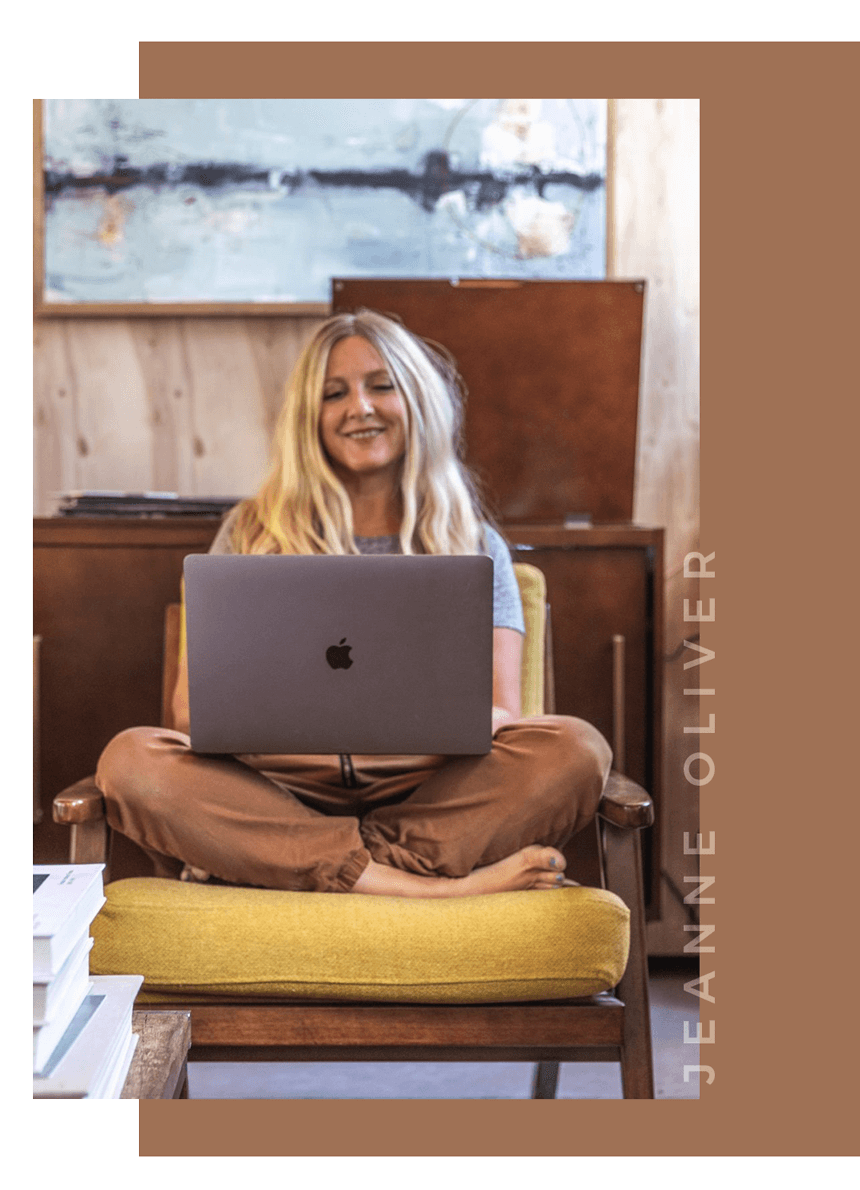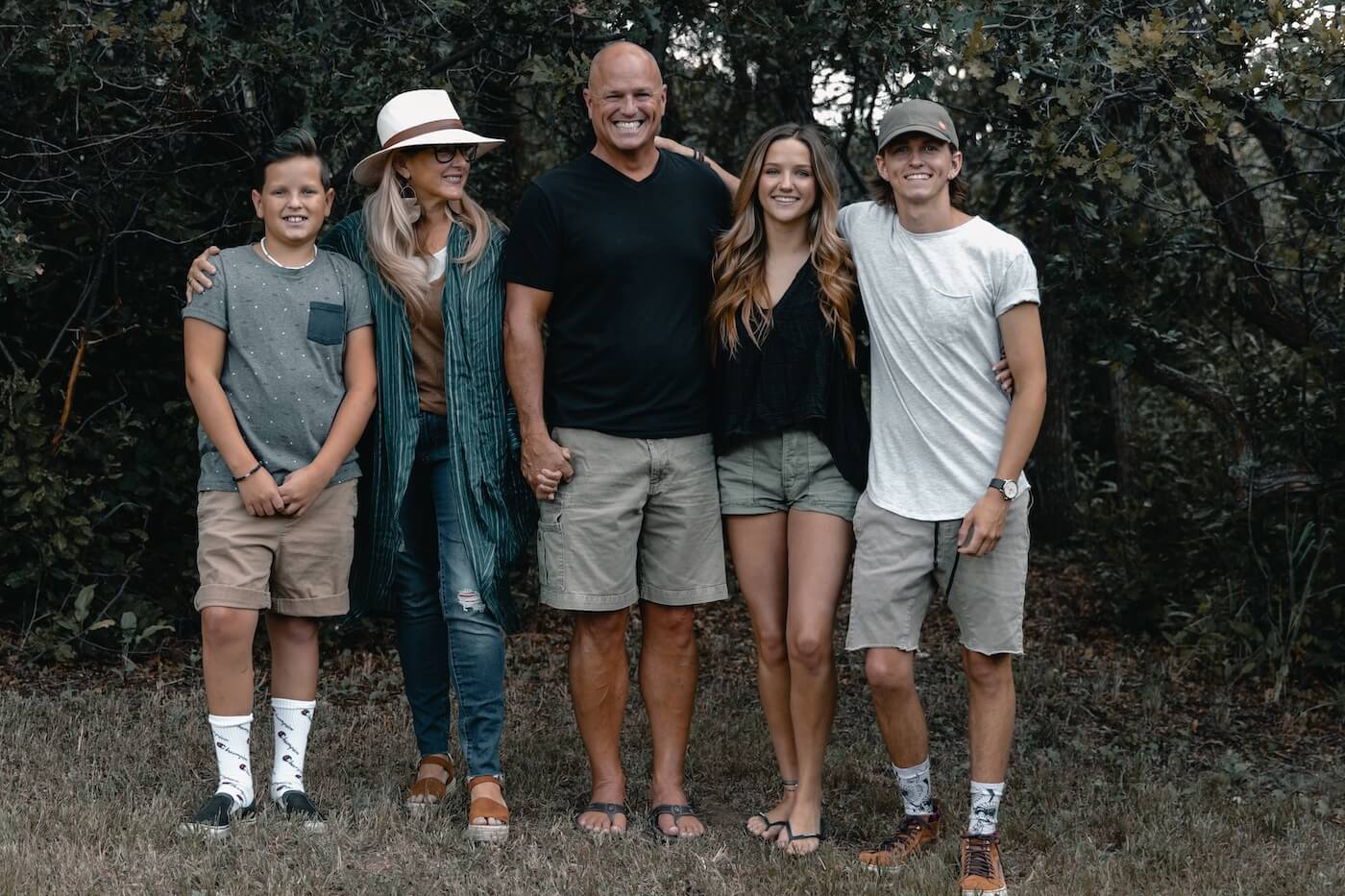 We have built our creative business over the past 12 years. We started with a small Etsy shop, manufactured our own soft goods for many years, created and manage an online creative network with art + lifestyle workshops with over 50,000 members, sell original art + prints, a keynote speaker at large business and women's workshops around the US, teach live art workshops in the US and abroad, collaborate with artists from all over the world and my first book, The Painted Art Journal, through North Light books was a best seller.
Where Do You Need
direction?
Are you missing connections with your customers?
Do you struggle to stay on task and prioritize what's important?
Do you have a strong and engaged email list?
Do you feel overwhelmed by social media?
Are you balancing your personal life and business?
Are you leveraging what makes you unique?
There's a new way to run your business.
Mindset and limiting beliefs can have a huge impact on your life and business.
If you want to create a life and business that thrives then it is time to let go of mindsets that are holding you back.
Have you been believing any of these 7 business myths? These are the top myths that I have had, I hear from business consultants and live business workshop participants.
ARE YOU BELIEVING ANY OF THESE BUSINESS MYTHS?
You can build an intentional business and life! Here's how:

Instant access and learn at your own pace with a community of business owners.

2. Get 7 hours of
Instruction
Access Live Q&As, Podcasts, Worksheets, Community, & more!

3. Build an Intentional Business & Life
Eliminate frustration and thrive in your business and creativity.
REGISTRATION IS NOW OPEN FOR OUR NEWEST TOOL TO HELP YOU BUILD AN INTENTIONAL LIFE + BUSINESS.


YOUR CREATIVELY
MADE LIFE

-How do you want your life to look and feel?
-Your business based upon your gifts, passions and calling
-Balancing home and business
-Implementing daily intentions
-Protecting what matters
-Creating schedules
-Creating a life+business filter


Next Module


PLAN FOR SUCCESS
-Building upon a solid foundation
-Operating within your strengths
-Daily consistency and a priority mindset
-Creating a life/business schedule that works for you
-Keeping on track and giving your best to your creativity
-Does your plan reflect the life you want to build?


Next Module


YOUR PRODUCT +
SETTING YOURSELF
APART

-Know your why
-Leveraging what makes you unique
-Who are your customers? (probably not your friends + family)
-What problem can your product or service solve?
-Product close-up
-Reproducing your product
-Pricing + asking for what you are worth
-The evolution of Jeanne Oliver Designs


Next Module


BUILDING YOUR
BRAND

-Tell your story so your customers can tell there's
-Is the voice of your business clear + consistent
-Why good design is important
-Cohesive branding
-Create a brand guide


Next Module


MARKETING+CONNECTING
WITH YOUR CUSTOMERS

-Your strongest tool is not what you think
-Your product is not for everyone
-Creating a website that makes money while you sleep
-Convert browsers into customers
-Are you losing sales?
-Social media
-What can you offer the world for free?
-Launching your product/service
-Creating consistency in what you put into the world


Next Module


DIVERSIFY, SUSTAIN
+ GROW
-Connecting with your customers
-Creating community within your brand
-Diversifying your brand
-Collaborate | you can't do this alone
-Staying motivated
-Reverse engineer a successful life + business plan
-Creating a long term plan
-Customer service that sets you apart
-SEO, advanced marketing + analytics


Next Module
Get access to
CREATIVELY MADE
business
By Jeanne Oliver
7 hours of instruction
Learn at your own pace
Build an intentional business and life
Six modules with over 7 hours of training
Powerful podcasts to encourage and inspire
Book suggestions to support each module
Access to CMB Mastermind Community
Worksheets to keep you on track
Printables for daily encouragement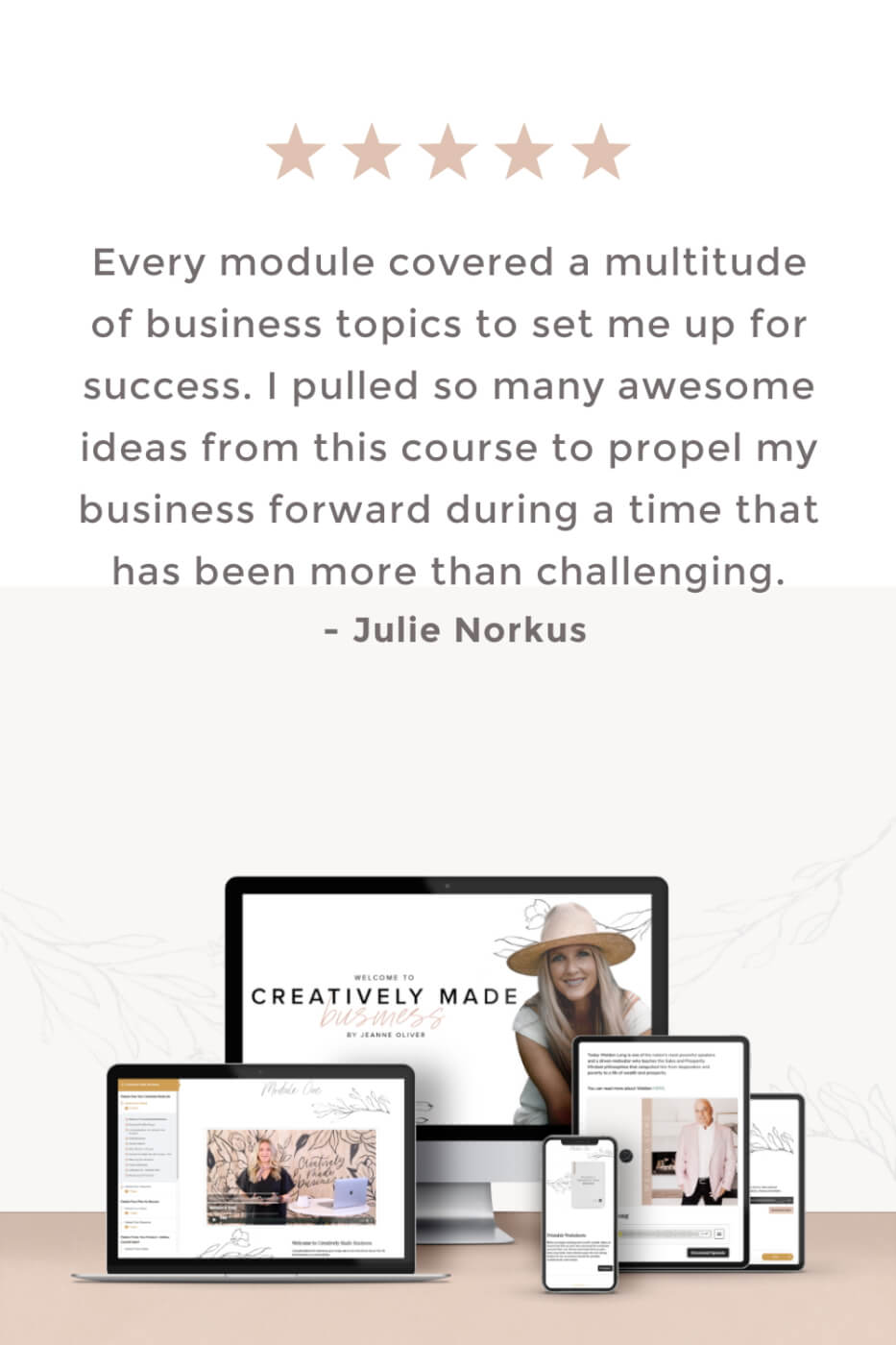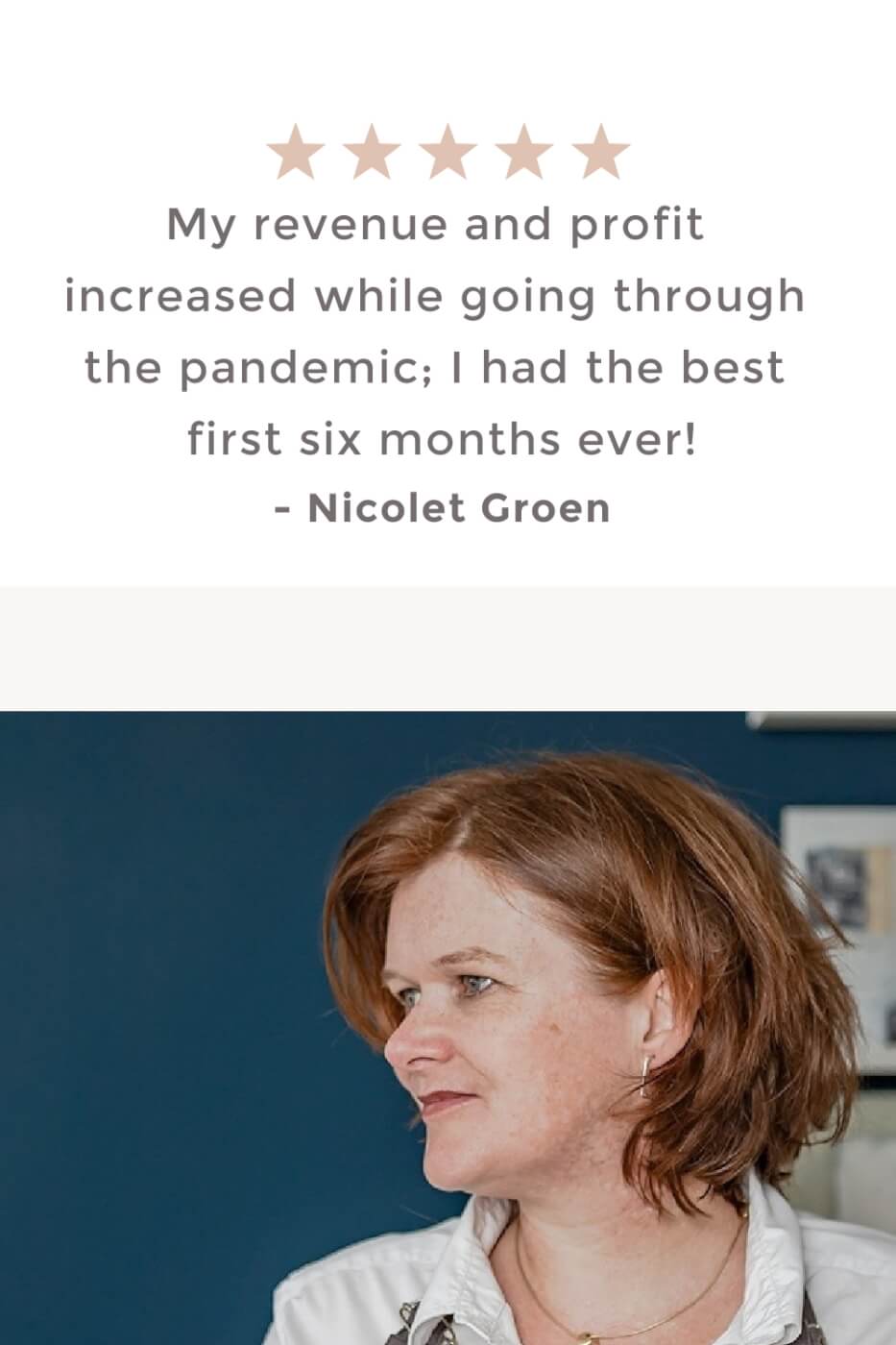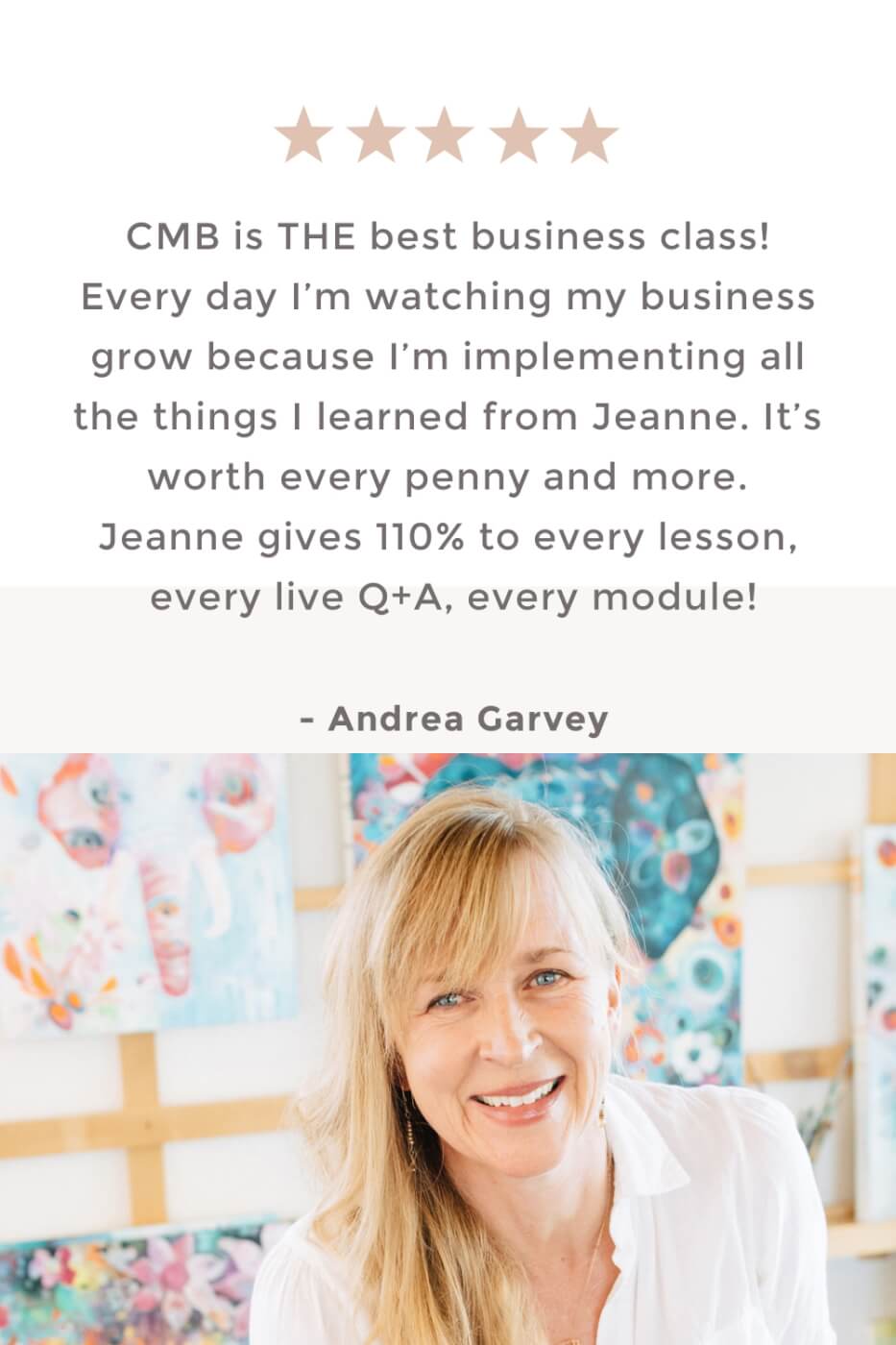 Ann Humes
"Creatively Made Business is like no other online business course that I've taken and I am forever grateful for Jeanne's guidance and wisdom as I develop my dream company."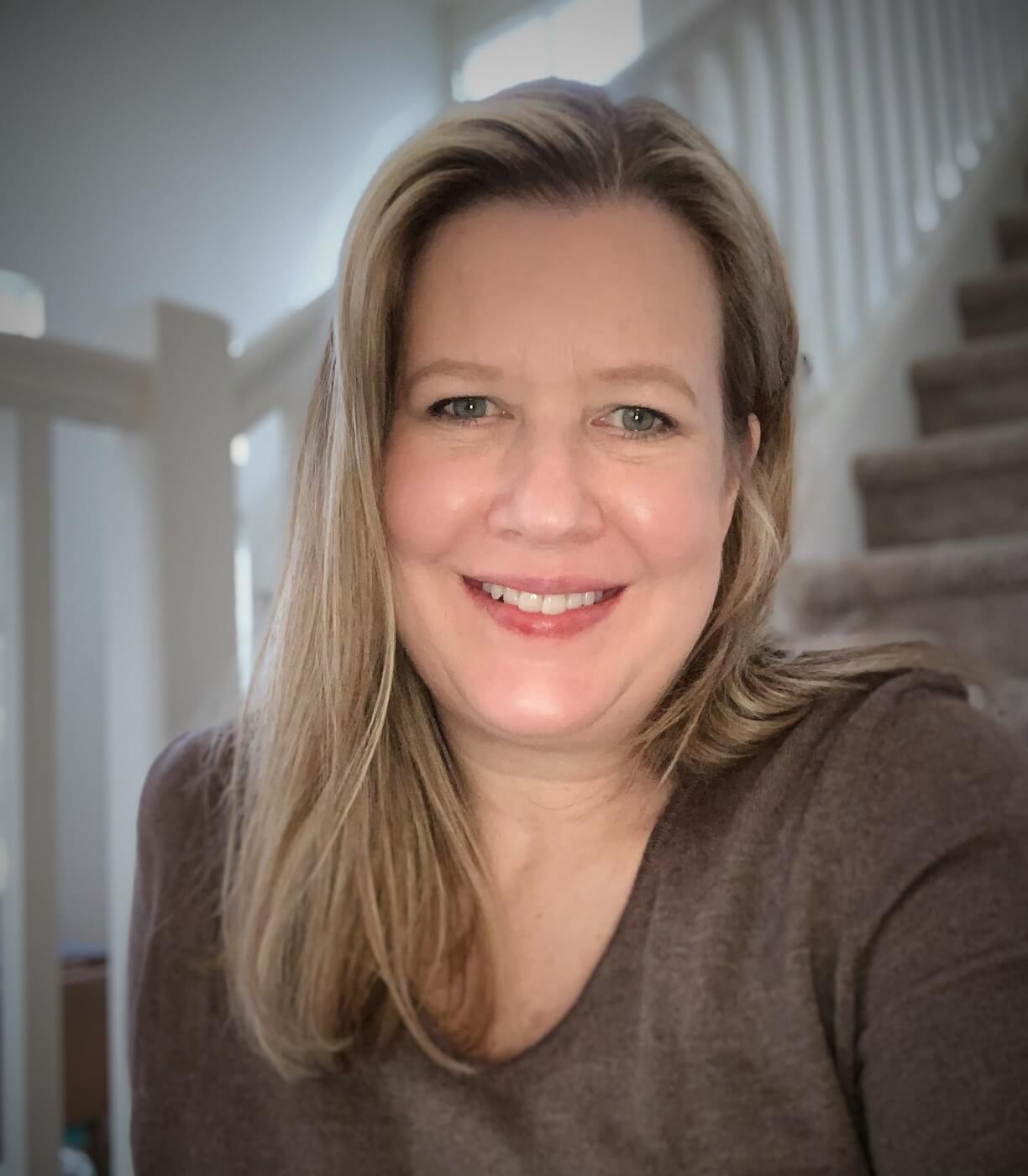 Andrea Garvey
"Since taking Creatively Made Business my art career has grown and my confidence has soared…"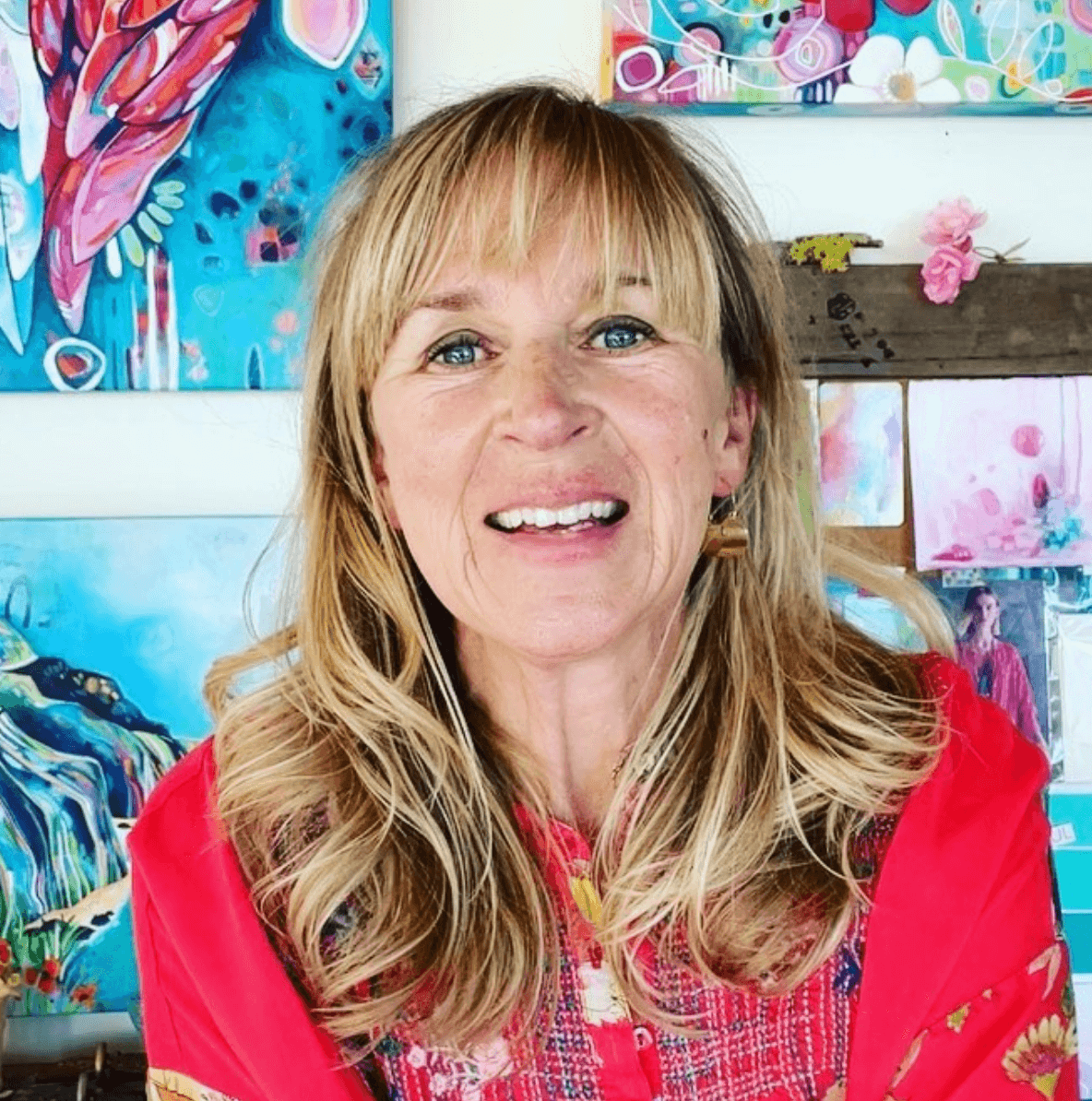 "Prior to joining the Creatively Made Business, my goal was to retire from business consulting by creating an art school. I started offering in-person art classes at local workshops and I hosted a few with some success.
Once the pandemic hit, I was unable to hold the classes in-person and knew I needed to rethink my business
and I was drawn to
Jeanne
's courses and signed up for the waitlist for CMB.
Through
Jeanne
's course,
I was able to rethink my business offering from the ground up.
Her unique approach to creating a business
gave me everything I needed to really land on a plan to move forward with my ideas.
During her class, I created an online shop, a blog, participated in an online craft show, an in-person craft show, partnered with a print-on-demand company to sell several of my designs, and
tripled my mailing-list subscribers.
I'm now working on art commissions and have been approached for several collaboration ideas.
I'm also creating my first online course
designed to help overcome self-doubt and see your unique gifts using neuroscience to unlock your potential! This course combines my fascination with positive psychology and neuroscience (I'm a brain nerd) along with my passion for using creativity as a way to build self-awareness and foster trust in our own capabilities.
Creatively Made Business is like no other online business course that I've taken
and I am forever grateful for
Jeanne
's guidance and wisdom as I develop my dream company.
The reading list alone was worth every penny that I invested in it.
The connections I've made in the class and subsequent mastermind group have been so helpful and supportive too.
It really was the game changer that I needed
to navigate through these uncertain times….and begin to thrive!"
"I am now 3 years into my creative journey as a full-time working artist. At the age of 50 I decided to follow my dream, leave the corporate world and turn my love of art into a business. I wake up every morning energized and ready to start the day dreaming up new ways to share my art and make a living doing so.
As a solo entrepreneur I knew the best and fastest way to reach my goals would be to seek guidance and support from a business community. One of the best decisions I ever made was to sign up for Jeanne Oliver's in person workshop "Creatively Made Business" and then enroll in the online CMB course a few months after that. I left the workshop so inspired and ready to implement the many business practices I learned including those for branding, e-commerce and marketing. But the most important takeaway was that I was able to dive deep into figuring out my "Why" and "Who" my audience was. You can't build a business with this vital information. With Jeanne's guidance and instruction, I was able to come away with a clear vision and hit the ground running.
Since taking Creatively Made Business my art career has grown and my confidence has soared and that is largely due to the community that Jeanne has built. When I originally signed up for this business course a year and half ago, I never expected the outpouring of support and encouragement from Jeanne as well as fellow students. CMB has opened up doors for me in more ways than one. I have developed friendships, formed business collaborations, and continue to learn and educate myself alongside other like-minded creative business owners.
I can't say enough about how much I loved this course, but also about the instructor/mentor/coach Jeanne Oliver. She is so passionate about sharing her wisdom and helping others succeed in their creative journey. Jeanne will give you all the tools you need to walk out your calling, but she is also there to guide you along the way."
You started a business to help build a better life, but things can quickly spiral out of control. Without being intentional, your business can become a burden that takes away time from yourself, your family, and the life you desire.
Imagine what your life would look like if your business was aligned with how you want your life to look and feel?
Be energized by your work again
Radiate peace in your business and personal life
Have the freedom to live the life you dream of
Feel in control of your business and schedule
Make business decisions with confidence
Say Hello to
jeanne oliver
Jeanne Oliver grew up in rural Illinois and now resides in Castle Rock, CO. She is inspired by our personal stories, travel, and nature. Jeanne uses art to tell her current stories and also those of growing up among gravel roads, cornfields and early life surrounded by open spaces. Through mark making, layers and mixed media, she hopes to convey that we all have a story to tell.
Jeanne is married to her dream maker, Kelly, and the mother of three funny and creative children. She homeschools her children even though she has tried to get out of it a few times. You can often find her hiking, creating in her studio and finding an excuse to have another cup of coffee. She speaks and teaches all around the country and sometimes she even gets to cross the pond. She was told that she needed to find that one thing but she doesn't like listening to directions so she embraces many loves and that has given her a sweet mash-up of family, art, and travel. Connecting with women and sharing that each of us has been creatively made is one of her passions.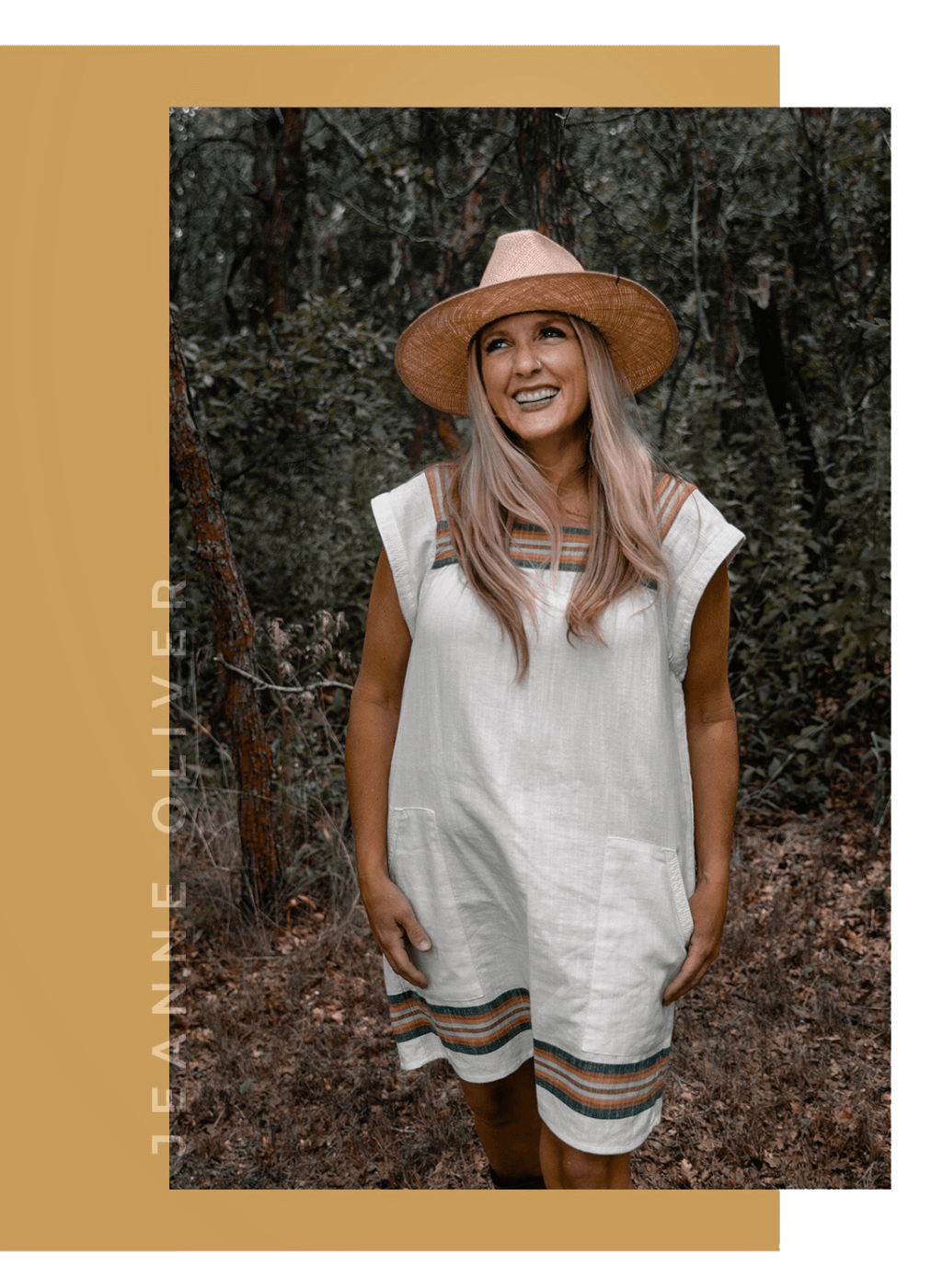 Get access to
CREATIVELY MADE
business
By Jeanne Oliver
7 hours of instruction
Learn at your own pace
Build an intentional business and life
Questions? Click the button below to see our frequently asked questions!
What is an e-course? An e-course in an online class and the class is stored on this website. Creatively Made Business is in it's own private classroom that only people that have registered for the course can access. All videos are pre-recorded and you can watch them at your convenience. All Courses here at JeanneOliver.com have lifetime access (as long as we own and manage JeanneOliver.com).
I am not an artist. Is this business course for me? YES! This business course is for anyone wanting to create a business and life that thrives. Some examples of the business owners that have taken our workshops are brick and mortar store owners, online shop owners, business coaches, writers, painters, photographers, counselors, marketing coaches, event planners, boutique hotel owners, skincare company owners, hobby farm owners, jewelry designers, and women just getting started too! It is for YOU and your business.
I have not started my business yet. Is this course for me? Yes! I wish I had this kind of help when I was starting out! We need one another in all stages of business…especially the beginning. Starting is so powerful and we would be so honored to walk beside you. You will be so far ahead by taking this course before your business is even up and running! I am excited for you!
I have an established business and feel stuck. How can Creatively Made Business help me? Anyone that has been in business for a while has felt just like you! I know we did. There is incredible power and honor in making time for what could be for your life and business. In the day-to-day hustle of running a business we often forget to take the time and energy to keep learning, create community, learn new ways of connecting with our customers and even to gauge whether we have gotten off track. Each module will meet you where you are and be the catalyst that you need for your business.  You will soon not feel stuck with video training modules that will give you instant tools to implement, podcasts that will inspire, worksheets that will help you keep on track and to guide you in creating a plan for what is next, live Q&A each month and community to brainstorm with. Being stuck will be a distant memory!
Can I pay month to month once the course begins? This course has been intentionally designed to build upon itself. Separating one module from the rest of the modules would not have the beautiful impact that we designed it to have. Our hope is that by making the investment with resources and time that you are making the intentional decision to transform your business and life and that takes time and dedication. I know you will reap the benefit of your intention! You are all in!
What if I get to the end of the course and find that it had no benefit for my life and business? We would hate to hear that but we will give you a 100% refund if you complete the program, you are engaged in the community and you have completed all of the worksheets and find that it had no value to you. If this is the case please contact us here and once we confirm that you have engaged in the program we will give you a refund. 
How long is the content available? You have lifetime access! You will receive new content every 10 days over 10 weeks.  Everything has been pre-recorded so you can complete this online course at your pace and convenience. After the 10 weeks the course will be considered a self-study course. 
Is this course downloadable? We have members from all over the world and we understand that not all areas have wonderful internet for streaming. We will also make the videos of this course downloadable take Creatively Made Business with you wherever you go! 
When will registration close for Creatively Made Business? This course is now a self-study and you can register at any time. Keep in mind that this is a 10 week course but once you purchase the course you have lifetime access and you can take the course at your own pace. The content is here for you when YOU are ready.
Tell me more about the live Q&A! We are so excited to include live Q&A into our workshop curriculum. Once a month there is a live Q+A session through Zoom for all past and present CMB students.
How many hours a week can I plan to spend working through the modules? We recommend spending a few hours a week watching the videos, listening to the podcast, intentionally working through the printouts and connecting with the private Facebook group. 
What supplies do I need to participate? You will need a computer or another device to access the video content, internet access to stream or download the modules and a printer for the worksheets.  Most importantly the desire and the honoring of your time to show up and see what is possible!