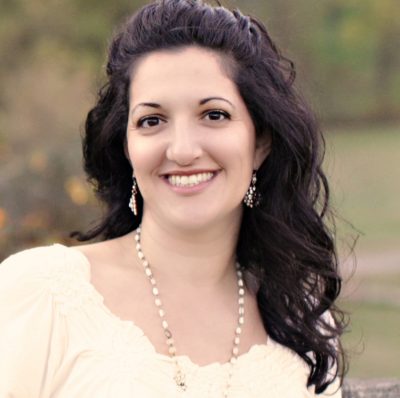 Andrea Singarella is an old soul, hopeless romantic, jewelry designer, wife and mother of three.
As a child, she spent afternoons digging through her Grandmother's jewelry boxes, gathering cast-off beads and fashioning them into all sorts of new creations. Many years later, this love of pretty baubles has evolved into a passionate business of designing and creating jewelry with beautiful details. Andrea's signature look includes pastel gemstones, vintage religious relics, pearls with patina, old rhinestones and antique brass filigree findings. Her designs are a fresh take on romantic vintage-style jewelry.
Andrea graduated from New York's Fashion Institute of Technology with a degree in Fashion Merchandising and a strong desire to lead a creative life. It was in New York that she truly learned the power of aesthetic, and the importance of creativity, beauty and art. Many twists and turns have led her to this point in life, fulfilling a long-time dream of creating year round, nurturing her soul and sharing her time and talents with other women through her website, jewelry workshops and art retreats.
Her designs and blog have been featured in national publications including Country Living, Where Women Create, Mollie Makes, and several Stampington publications.
Andrea's Website