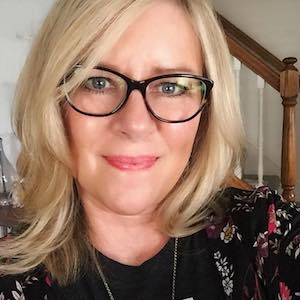 I believe in the limitless opportunity we all have to positively affect one another's lives. My favorite moments are the small ones; the right song playing on the radio, creating the perfect shade of blue, a rich warm latte, long walks which are necessary for inspiration, small kindnesses from strangers, and slow Sunday mornings.
Mixed media painting is my chosen method of play and discovery. I use acrylics, graphite and watercolor to create stories, attitudes and whimsical characters on canvas or paper. My paintings, in their shallow spaces, are often childlike renderings of animals, flowers, and rough-edged splotches of color evoking early 19th century primitive art. Yet, there is symbolic allusiveness, color tension, playfulness of spirit, and poise that make my pieces contemporary.
Painting is my first love, but I studied education at The University of Nebraska Omaha, and enjoy teaching others to find and use their creative spirit.
I live in Omaha, Nebraska with my family (who I am often inspired by). My days are filled with a menagerie of creative pursuits which taken together carve out a happy living – for that I am especially grateful.