I will be traveling, with my wares:-), to Illinois next month to sell at the Na-Da Farm Sale.
I will have all my cloth items from the new line (more coming this week about that), prints, original art and jewelry.
It is fun to head "home" for a sale and get to see my family and old friends at the same time.
The sale has incredible artists coming to sell and Fifi O'Neill will be there signing her new book Romantic Prairie Style.
We have all the details figured out and I am happy to announce that I will be teaching a mixed media art class while on the farm!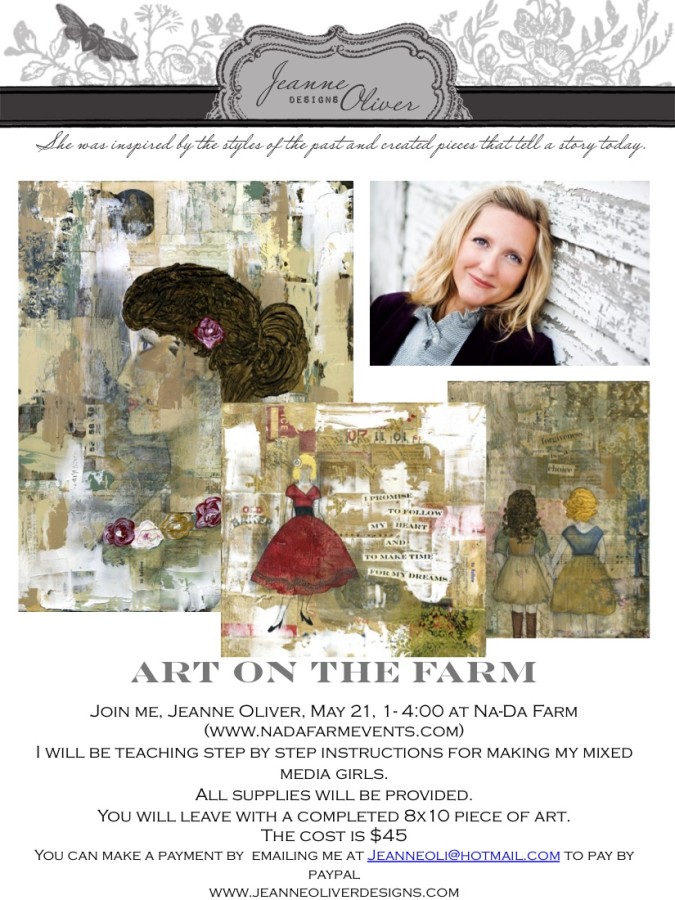 One of the barns has our names written all over it and will soon be filled with tables, brushes, canvases and paints!
The class will be May 21, from 1-4:00.
I will teach step by step instructions for making my mixed media girls.
All supplies will be provided and you will leave with a completed painting.
You can sign up by emailing me at Jeanneoli@hotmail.com and making payment through paypal.
It is going to be an amazing sale.
So, come to shop and then stay for an art class. What a beautiful and fun environment to create in!
I hope to see you there!!!