I sure don't have all of the answers when it comes to running and building a business but I  do want to be as open as possible about my own creative journey and hope you will all do the same.
When I was starting out there were plenty of times when I had women that were farther along in the creative journey hold their own hands out and give me lift. I have also had many women keep their knowledge close and they were afraid to share it.  Over the years I have extended my hand out to those coming up behind me and hopefully I have been an encouragement to those women to also share when they would have an opportunity.  We are so much more powerful when we come together, share our knowledge and support one another. Always.
I recently asked different groups of women if they had any business questions they are struggling with.  I have chosen a small number to share.  The advice below is based upon my opinion and experience only.    I hope we can start a discussion…

QUESTION #1:
I am wondering if I have missed the era of blogging. I have yet to find the exact creative niche (I love so many) and wanted to start a creative blog first, then move into business later. I am afraid I missed the best window of opportunity for that plan. What are your thoughts about blogging as a beginning? Has other social media outlets overtaken the blog?
ANSWER:
I started blogging when it was the main way to connect with your readers and customers. When I started blogging there was no Instagram, Facebook, Twitter etc.. Each blog post I wrote had hundreds of comments and created true connection with those reading.  Things change and I believe you need to change with it but there is something special about a format that gives those that are looking for it…MORE.  Blogging not only gives me a place to share workshops and classes but it also gives me a class to share about our life and my thoughts on a larger format.  I still believe it is an authentic and needed way to connect.  I can't imagine having a website without a blog.  I definitely can not imagine having Facebook, Instagram etc. without a place to send those that want to know more about who I am and what I create. The larger our business has grown I have had to pick and choose what authentically fits with my personality and what social media works for our business.   I guess I had to choose what I could actually keep up with and what would I want to follow through with and do.  My best advice is to build what you love and you will find your audience. It has taken me almost 9 years to build what we have.  9 years of consistently working towards something bigger.  Don't get frustrated and just follow what seems to be the latest and greatest.  Find the best platform to share YOU and go from there. I look forward to hearing what you decide.

QUESTION #2:
Marketing and getting your name out there. I'm working on growing my social media presence and shop views and turning that into sales. I have no idea how to gain momentum.
ANSWER: Everyone has a different answer to this and what works for one doesn't mean it is right for you.  It seems like there is a new way to promote or a new platform being launched all of the time and you can't do them all.  I always think it is wise to find someone doing what YOU are doing (or wanting to do) and watch what they do.  So many people are looking around at what everyone else is doing instead of focusing on what THEY need to be doing.  Focus on what you are drawn to. Be consistent.  That is the best place to start and work from there. I promise that you will soon see what works for you. This is not a formula or guaranteed success BUT when you are being authentic to you and using social media that you actually like you will be more likely to be consistent.  This is just simple truth that I know works in my own life.  I will only continue to do what I connect with.
I am a big fan of local author, speaker and friend Wally Long and his book The Power of Consistency.  I read his book a few years after I created our first business course and I shook my head to so much of what he wrote. If you like my courses and what I have shared I know you will also like what Wally shares and his tips of creating the business that you want.

QUESTION #3:
When you are first starting… and you only have a few products made…. and you trying to start all of your social media accounts, do your branding, work on your website, open an etsy…. and you are just going crazy with your huge to-do list… what would you say the order of importance is… or maybe kind of like a schedule to follow.  I really am not sure of my question really. I just feel so overwhelmed with all the biz side and not knowing where to put my focus first and how much time to spend on that is actually doing your art. It seems so hard at first and it goes so slow trying to build a following.
ANSWER: I spend more time each day connecting, answering questions, promoting and doing the "business" of art than creating art most days.  That is why we have a business though and I have to schedule creative time so we can go to the next level.  When I was starting out I blogged, had an Etsy shop and worked on building relationships with my customers and other creatives.  Your path will consistently change, what you create will change and the direction of your business will change BUT you have to start somewhere and I am a huge fan of starting right where you are with exactly what you have right now.  Open that Etsy shop.  You instantly can find a customer with good photos, a well labeled description and paying to advertise your goods on Etsy.  If you have five items…list five items. Grow from there.  Don't wait until everything is perfect and ready to go because nothing is ever perfect and ready to go.  The next step would be to find one form of social media that works for you and build up relationships.  Use the rest of your time making new product. Focus. Don't make it too complicated or you are more likely to get frustrated, feel like you can't keep up or that you are doing everything wrong.  And the truth is…of course you are (at least some of the things)! You are awesome and brave and are learning as you go! Give yourself some grace.  So many people throw in the towel before they even see what they are capable of and where their gifts can lead them.  Start today doing one thing that will put you on your way.  That one thing may just change everything.

QUESTION #4:
I've been selling my art (acrylic, watercolor, oil) and various other artsy/craftsy items for about 3 years now. Most of my sales have come through fb. I have an Etsy shop (that I've neglected lately) and am on Society6 (since 12/15). I did really well on S6 for the first month with Christmas sales but as you probably know the profit margin is extremely low. I don't really utilize IG for sales. I'm in process of applying to be a vendor at one of our outdoor markets (first time to try this). I really want other avenues of sales so I don't need to rely on social media so much. I don't do this as a hobby. I need the income.  So, anything that you can address that will help me grow my creative biz would be great. Thanks!
ANSWER:
I love that you state that this isn't a hobby.  No one works as hard as you are because it is a hobby and I believe that our gifts can often be our income with the right direction. I would suggest building your website/blog so you have a landing page for your goods.  I would get back to updating Etsy and allowing it to work for you. Even though I have a website I still use Etsy as a good way to direct people to our main site and creative network.  It is inexpensive and has a large following. If Facebook is working for you I wouldn't stop using it.  Allow it to be an extra tool to connect with those that already love your work!  Instagram is a great way to build a following but send them to your main landing page. Society6 is fine but I would hate to see you put a lot of time here. This is extra and allows you to offer your products to your customers in a new and fun way that may not otherwise be possible but the profit margin is small and will only work for you in high volume.
Outdoor markets can go either way so I love that you are trying it but don't be disappointed if it does not generate the sales you are wanting. My experience is that the cost to participate should be equal to the amount of customers coming through.  I mean if a market is $25 to enter then be prepared for little to no sales.  Ask what their traffic is before you make the decision to put your time, money and energy into a show.  A show is a HUGE amount of work and if you are spending money making product that doesn't sell then you are at a loss.  I am a huge fan of larger shows like Vintage Whites Market and Country Living shows.  They have great traffic and they work hard to promote and get you the customers you need.  If you are paying $200 or more to participate you should expect 5,000 + customers to be coming through.
One of the biggest game changers for us early on in our business was to connect with shops in the area and create product for them.  I didn't provide product for more than one retailer per town and this gave us the freedom to create the same thing over and over, create relationships, create an income and eventually to put us on a whole new path.  I highly recommend seeing if your product would work for local retailers.  Let us know what you decide.

QUESTION #5:
Which is more important – getting products out there or developing a cohesive presence (brand)? Did you develop your brand as your built your business or did you know exactly who Jeanne Oliver Designs was before you even started? And how did you maintain consistency in that look?
ANSWER:
Such a wonderful question and there is such a misconception behind this.  I believe the most important thing is to get your product out there and you will develop your brand and style as you go. No, I didn't know who Jeanne Oliver Designs was and I sure as heck didn't have a consistent look until a few years in.  We did everything on Etsy for a few years until our business really grew and we created a website.  I would LOVE for you to go to my Etsy site that has been around since the beginning. I don't do much on it nowadays but you can see for yourself where we started. You can see exactly when our photos and products changed. I can tell you the exact collection when I started to know where I wanted to go.  Come on over HERE and start at the beginning of my sold items. Go to page 77 of the sold items to see the first items I listed. You will see my brand starting to come together around August 24, 2009 and page 57 of the sales.  I share this so you can see for yourself that I truly started where I was, found my way and brand and grew our business slowly and authentically.  The pictures tell the whole story.
I want to also share with you where we are today. And I know we will continue to grow and fine tune our brand.  That is what makes this so fun to be a part of.   Here are some of my previous lookbooks over the past years now that we understand who we are and who are customers are.

If you are interested in building or growing your business I would love to talk with you.  I have a small amount of consulting openings each month and would love to share my rates with you and help you build your own creative business. You can contact me at contact@jeanneoliverdesigns.com.


Building a Creatively Made Business 2.0 is an online course with over 80 videos full of information. This course is instantly available to work through at your own pace and at your convenience. We will cover our creative journey, getting started, websites, balancing your creative life with your home life, photographing your product, pricing, wholesaling,  setting yourself apart, growing your brand, creating lookbooks, e-courses, markets and shows and  SO  MUCH MORE!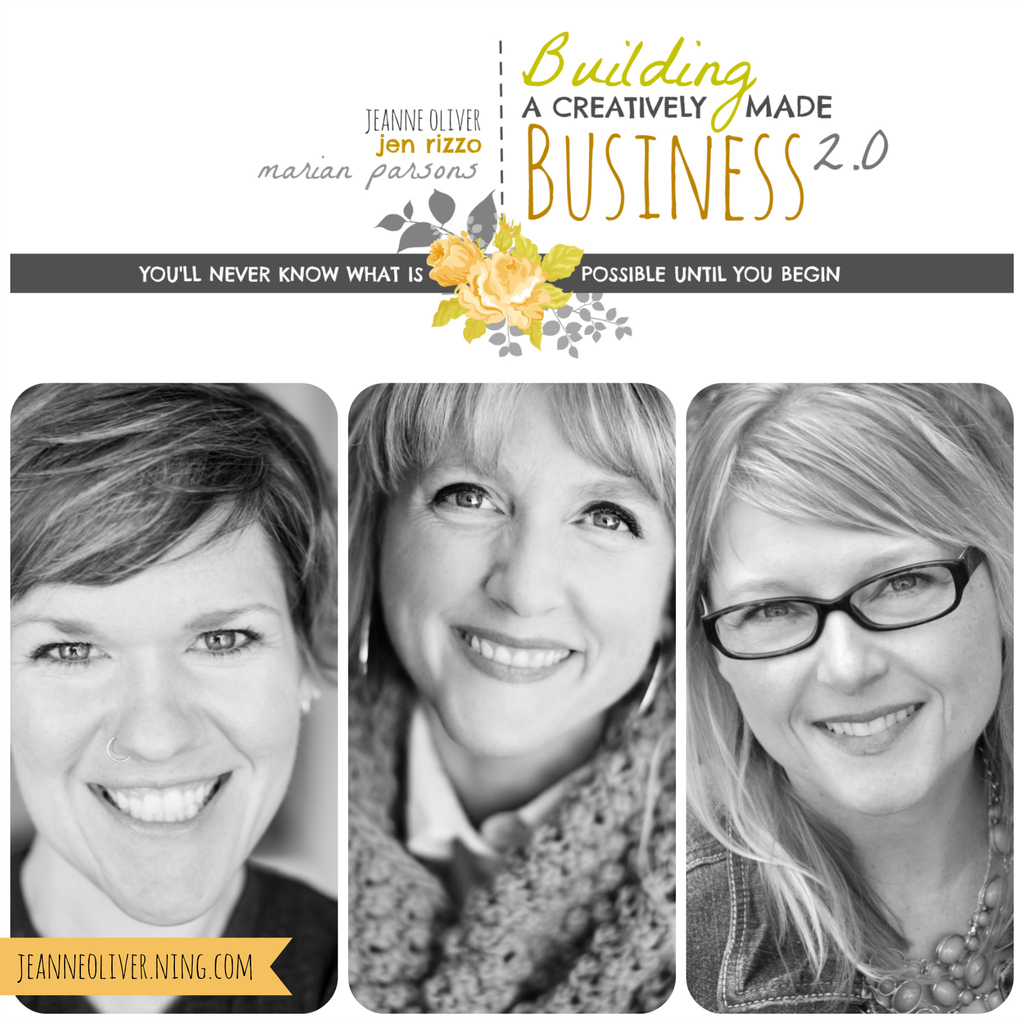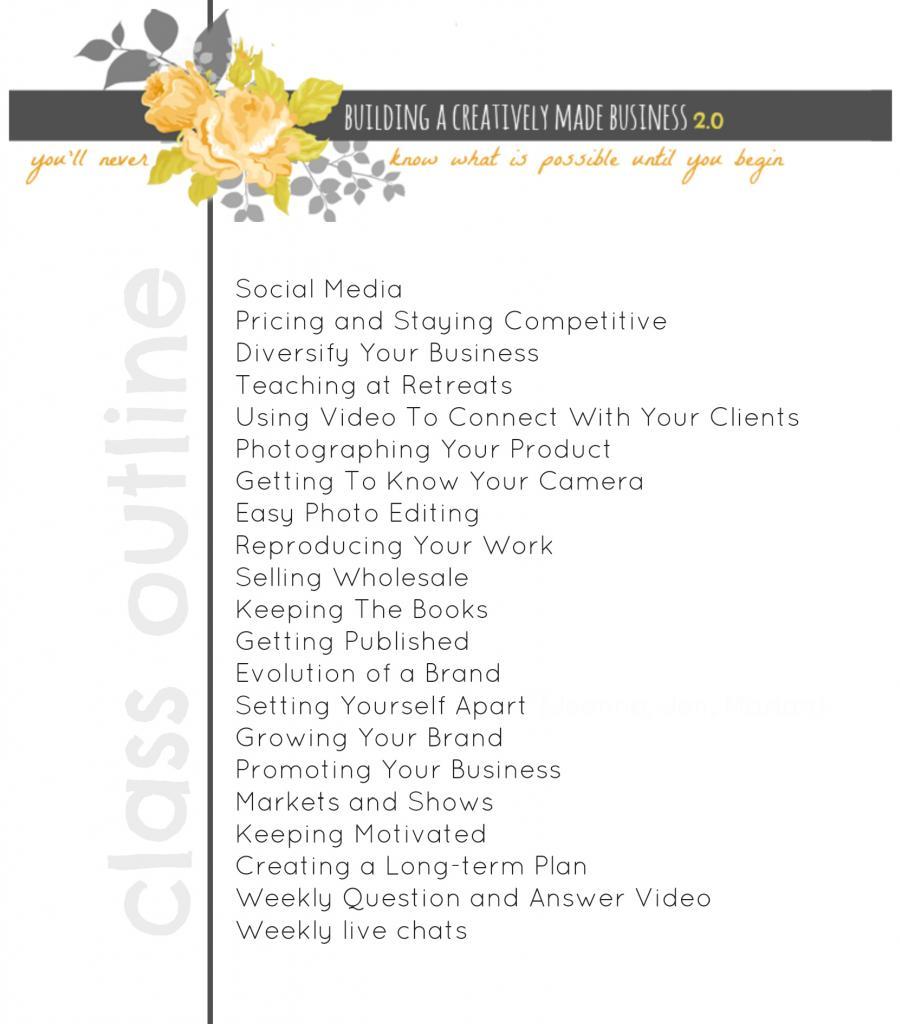 Come on over to our creative network and read more.