Clay Alchemy with Idania Salcido
Course Description
What is the first thing that comes to your mind when you think about ceramics? Idania thinks of magic and beauty. A tactile experience that is also beautiful and functional. Of alchemy and transformation.
Ceramics can be as simple as a rough pot or as complicated as a big figurative sculpture. Ceramics offer a meditative process. Ceramics teach you patience. Ceramics are rooted into our everyday life. Ceramics are history and art.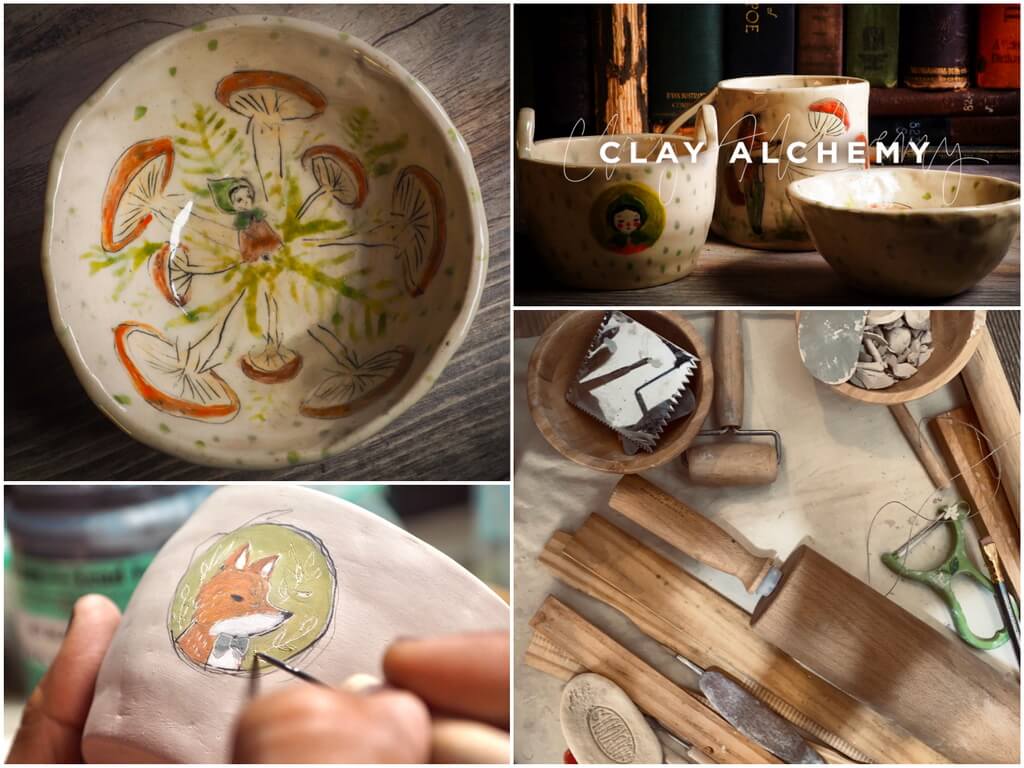 Idania has been intrigued by ceramics forever. It is surprising to her how such humble material as clay, which gets blown by wind and washed away by water, can be transformed into something so permanent, valuable and beautiful just by the addition of the other 3 elements and the human touch.
EARTH: It starts as clay, one of the most common materials in the world.
WATER: Moisture is what makes clay workable and pliable. Without it it's just dust.
AIR: It helps the piece harden enough to fire it.
FIRE: It's the element that transforms the clay and turns it into ceramics.
In this class you'll go back to being a child and get your hands dirty. You'll play with clay and experience the deeply satisfactory feeling of making shapes out of it. You will learn the different types of clay, hand building techniques and decorative finishes. Idania will guide you how to fire the clay and transform it into a functional finished piece of art that you'll cherish forever. Let's get the alchemy started.

Techniques Taught in this Course
Types of clay
States of clay
Handbuilding techniques
Pinching pottery
Slab rolling
Coiling
Attaching handles
Alternatives to sanding
Using underglazes
Glazing ceramic
Prepare clay to be fired
All hand forming techniques taught can be used with air dry clay if you do not want to use a kiln. The pieces will be decorative only with air dry clay.