Cups & Mugs: Everyday Objects as Our Storytellers with Debbie Miller
Course Description
"Where is beauty to be found? …In small things that aspire to nothing, yet know how to set a jewel of infinity in a single moment…." -Muriel Barbery
Join Debbie in her first course at the Jeanne Oliver Creative Network. If you love teacups and coffee mugs, love the idea of art as storytelling, and feel inspired when you let yourself reflect on the sacredness of ordinary things, then this painting course is for you.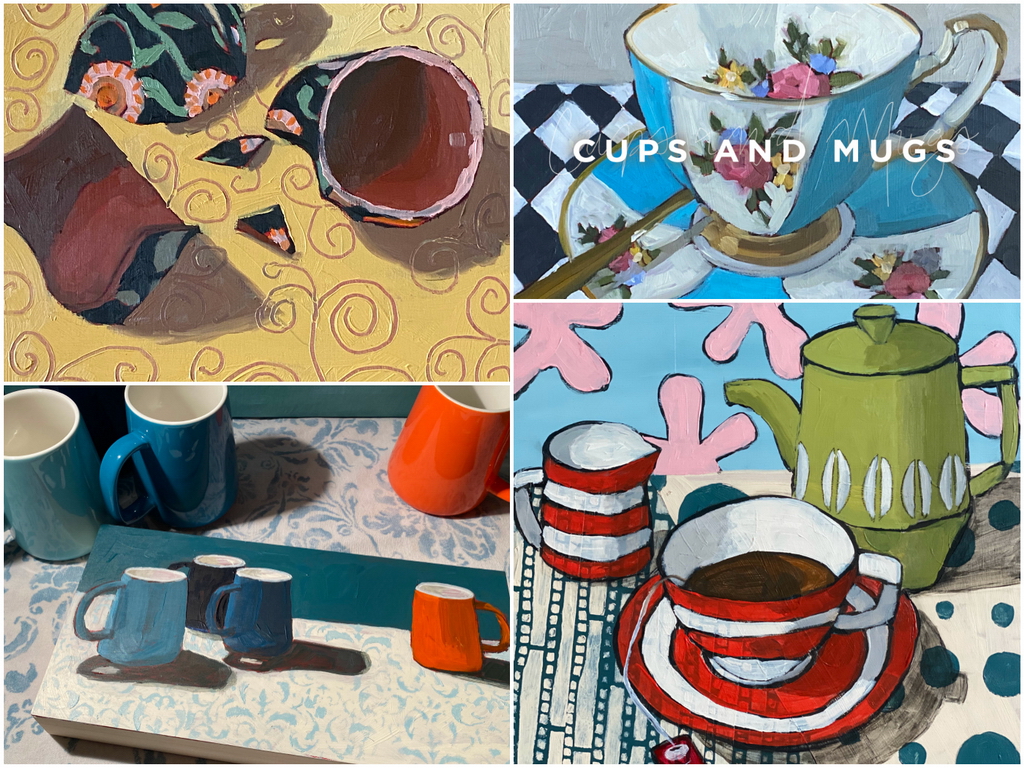 Cups and mugs are objects that we encounter every day. They sit half-full of coffee on the corner of our office desks. They welcome us to a time of connection with friends. They shine from our curio cabinets or clink around in our cupboards. They mark time with us in the big and small moments of our lives. Like so many domestic vessels, they symbolize so much — comfort, endurance, warmth, sustenance, history and potential, emptiness or fullness. These objects, though breakable, are not meant to be disposed, but maintained. They tell a story of the intersection of vulnerability and strength.
This course was being video-recorded in March 2020, when the COVID-19 pandemic made its dramatic way onto the horizons of our lives in the United States. While Debbie was preparing this content, she was under a Stay at Home order, in an unprecedented time of global uncertainty. For months, she had been planning to showcase paintings of cups and mugs and talk about how they symbolize the strength that is hidden in our vulnerability and the importance of owning our fragility. But that message never seemed more powerfully appropriate than when she actually began to record these lessons.
In this class you'll have the chance to tackle three main projects with cups & mugs as the focus – an impressionistic tea cup (acrylic), a whimsical composition of cup, creamer, and teapot in a style similar to Cloisonnism (acrylic), and a dramatic still life of a grouping of mugs (acrylic). You'll also get a bonus lesson on painting the remains of a shattered mug (oils).
For each project, you'll receive step-by-step instructions about how to think about what a still life composition communicates, how to paint that composition in a particular medium and style, and tips for making the most of patterns and colors to create a visual narrative. You'll also receive some thought-provoking quotes and invitations to explore the deeper stories that these compositions reveal. We hope you will not only enjoy these projects, but also be encouraged to create your own still lifes, using your favorite vessels, to tell your stories your way.
Whether you are new to painting or an experienced artist, you will find inspiration and guidance to create some fun and interesting paintings that capture the shape and significance of cups and mugs and celebrate their stories of vulnerability and endurance.
Why not pour yourself a favorite beverage in a beloved cup or mug and sign up now?
Techniques Taught in this Course
-Principles of thoughtful composition for creating visual narratives
-Storytelling and symbolism that enrich the painting and viewing experience
-Still life painting with acrylics and/or oils
-Tips for painting from reference photographs
-Using grids to help with sketching and proportion
-Sketching with charcoal
-The value of value-mapping
-Color mixing and painting with a limited palette
-Techniques for creating a sense of depth in your paintings
-Ways to use mixed media tools to create patterns and surface designs
-How to embrace playfulness and "mistakes" in your process
-Using negative space painting as a second chance to shape objects
-Using metallic paints to create special effects
-Attuning to our hearts and stories throughout the painting process
-Suggestions for finishing your paintings
-Journaling prompts and painting "challenges" to invite continued exploration of everyday objects as storytellers