Soul Doll Sculpture with Kecia Deveney
Course Description
Old baby shoes are so delightful. They hold so much love with every step taken and tenderness for the thought of the baby who wore them. I have a pair of leather boots that belonged to my grandmother and I kept a pair of sneakers that both my boys wore as toddlers. The fact that I still have these shoes are comforting and I reminisce of how things were back then. If a shoe has a sole, why not a soul?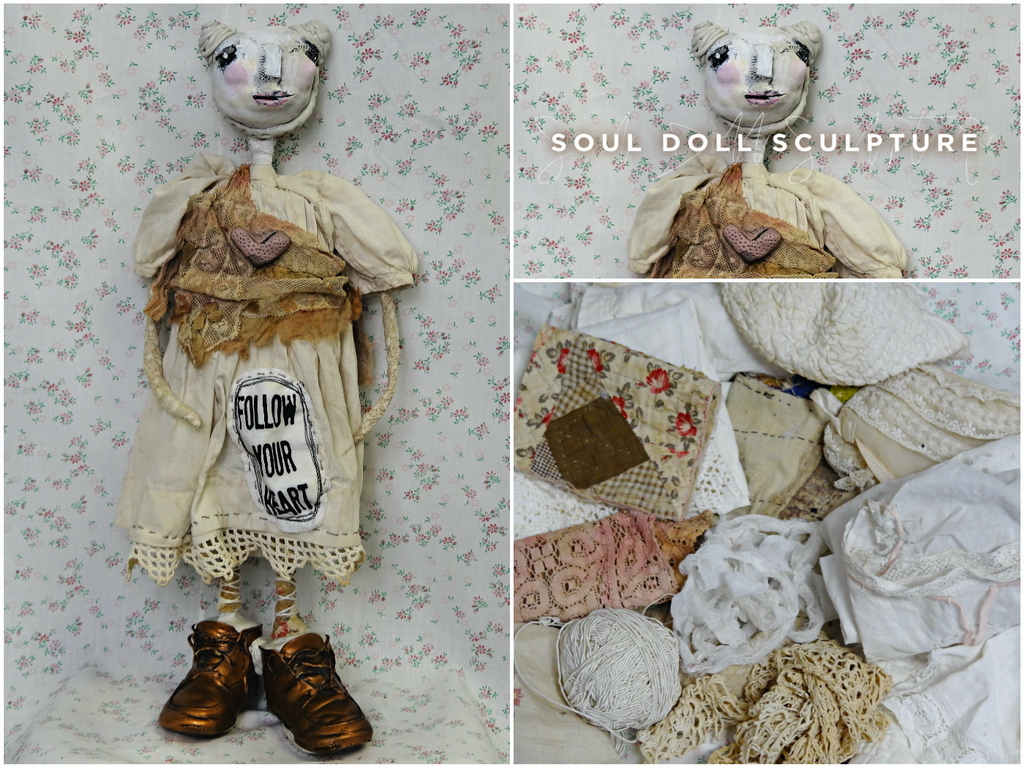 In this class, we will begin with a pair of toddler shoes; building the framework necessary for our artistic creation. All the choices we make during this inspired journey forges unique story telling. Our pieces will stand unassisted thanks to a good foundation and strong shoes. Strength and stability being our objective.
If assemblage is new to you, it is defined as joining incongruous items in unique ways to form art. With this class, it is my hope to get you to think outside of the box and move beyond the familiar by trying something new and different. There will be various stages of bringing our vision to life. With my guidance, each step takes us closer to fruition. The acts of all our choices will define our pieces, create style, all while designing a dimensional narrative. Often when I have finished a doll, I feel in some ways, it is a reflection of myself.
Techniques Taught in this Course
– Gathering and hunting supplies
– How to properly mix Aves Apoxie Sculpt
– Process of filling shoes and adding leg dowels using foil and Aves
– Creating a basic body form with floral foam
– Creating a doll head with aluminum foil
– Covering foil head with paperclay and sculpting face
– How to use an oven to accelerate dry time with paperclay
– Creating fanciful arms with wire and fabric
– Discussing found objects for arms
– Making choices for covering our doll legs (dowels)
– Acrylic painting our clay face
– Attachment of doll parts with Aves apoxie sculpt
– Storytelling when dressing, stitching and accessorizing our doll
– Bonus videos to see the process of another doll