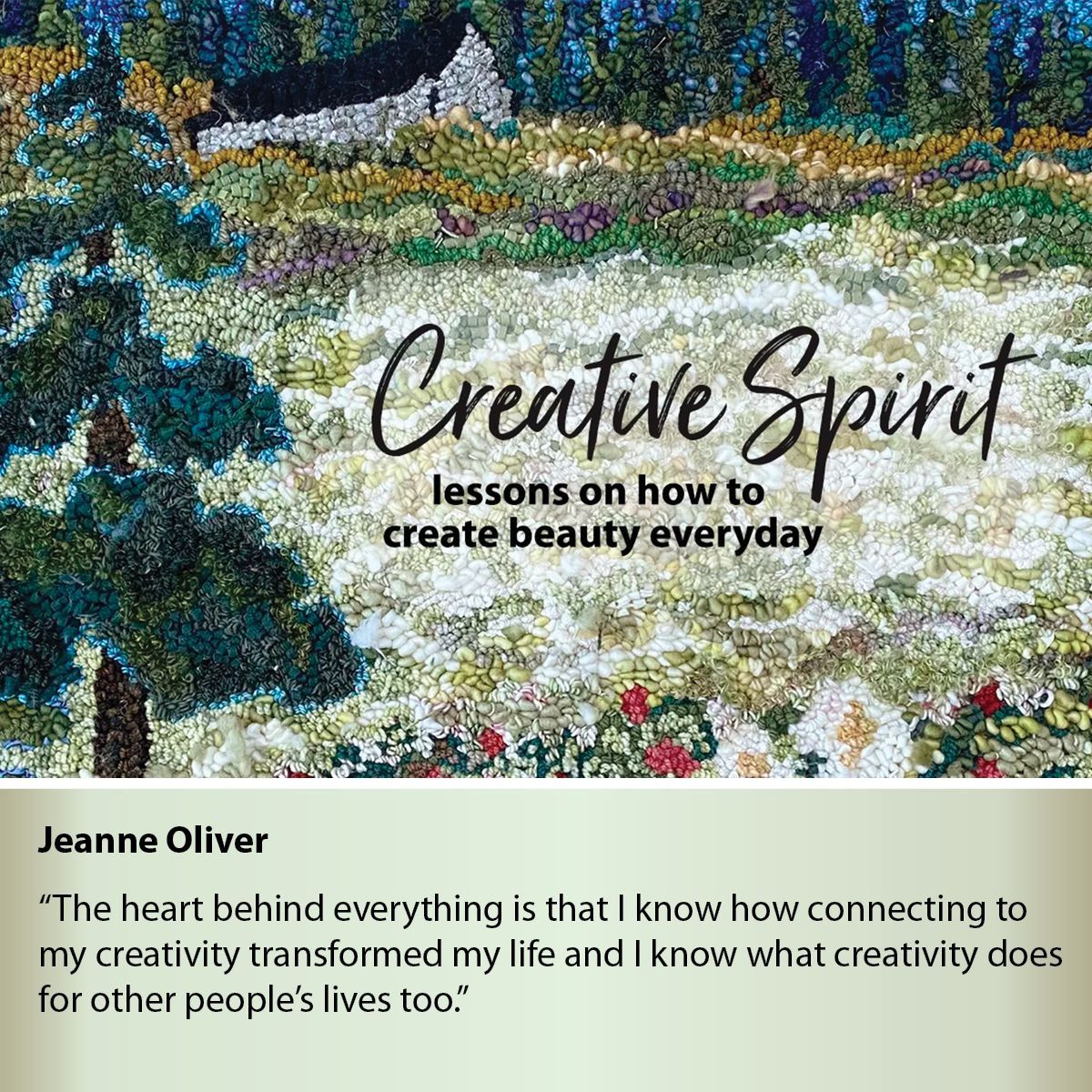 Creative Confidence:
Is about showing up.
It's about ritual.
It's about being there whether the muse shows up or not. 
It's been over 30 years of hooking rugs. It was through hooking rugs that I discovered my creativity. In these lessons, I talk to an array of artists about their relationship with creativity.
I'm hoping this will give you some ideas about creative life, creative spirit, creative community and creative business. 
This is something I want to give you because you have given me so much. I just think when we explore our creativity we explore our lives and I want to help you do that.
Quotes from a few of the artists's featured in the Creative Spirit lessons:
Sheree Fitch
"The artist perspective of seeing things in a new way; A child like wonder is what an artist has to have and an openness to the world. We don't know everything, we're still discovering it. That's what creativity is asking us to do, to stay open." 
Jeanne Oliver
"The heart behind everything is that I know how connecting to my creativity transformed my life, and I know what creativity does for other people's lives too."
Janine Vangool
"People should realize even if they do one creative thing a day, even if its going outside and planting something in your yard, just spending time with something pretty and arranging it is creative. Surrounding yourself with beauty everyday is really important to our mental health and keeping a positive outlook." 
Ruth Gendler
"Beauty will dance with anyone who's brave enough to ask her." 
Olga Houghton
"We all have life stories and adversity in our lives, but I think we come out more beautiful for it actually, and there is beauty in that imperfection."
Lilla Rogers
"Doodle and play and follow your passion. Don't be afraid."
Lori Mirabelli
"Being intuitive and letting the creativity flow can be difficult when you have clients with specific needs. "
Join me in this free series over on Deanne Fitzpatrick's website.