The inspiring and prolific Kate Thompson is back on our creative network with a brand new course!  It is an honor to have had Kate share her techniques and gifts with us over the years and to love the students on our site so lavishly. Kate will be traveling with me May of 2019 for my last The Living Studio abroad (at least for the foreseeable future) because of our joint love of history, imagery, vintage papers and use of texture. This course is a beautiful blend of so many parts of what Kate is known and respected for. This course is an extra special course with extra content just for you!
Kate's course, Sacred Vestments | Expressive Portraits and Figures is opening today for Early Registration at $48. October 4th 10 pm MST it will go to $62 and it will go live on November 4th, 2018. The course is 8+ Hours of Content.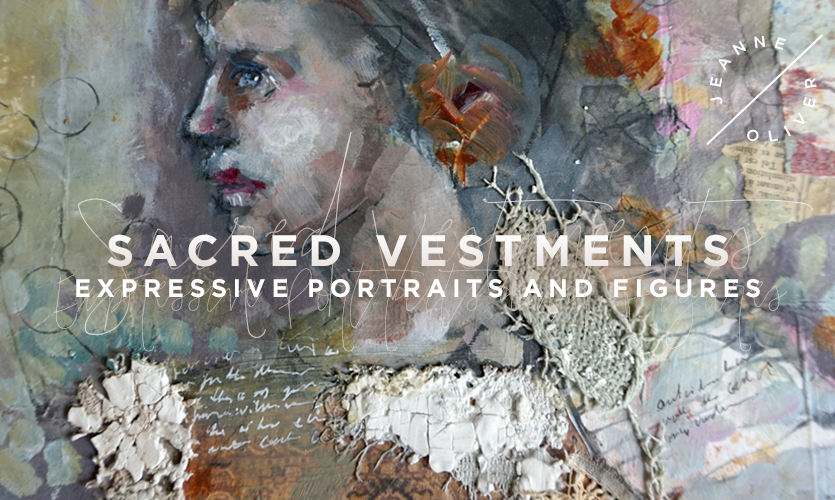 From Kate Thompson…
In this course, we will be creating 3 completed paintings. The focus is on faces with abstract figures. These figures will be adorned with vestments that we make out of all different types of materials; fabric, vintage lace, old vintage papers, plastered vintage fabrics, transfer skins, scribbled and painted abstract pieces, and stenciled pages. Hand stitching and matte medium will help to attach these vestments to the figures. We will use joint compound to create relief techniques for added dimension to the pieces. I show you so many techniques that you can take to make art that is creative and personal to you.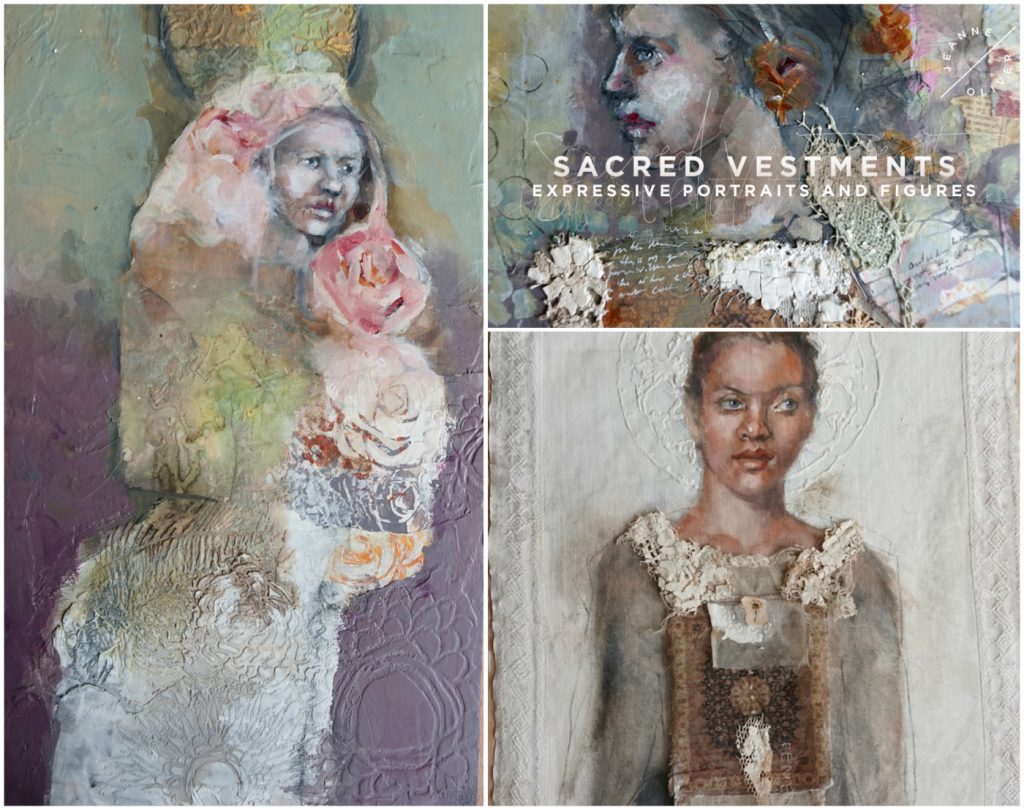 Come and Watch The Course Trailer
[x_video_embed]
[/x_video_embed]
To read more or to register for this course please click HERE.
If you have any questions about the course please contact here at https://jeanneoliver.com/contact
See you in class!

If this is your first course with us or you are a longtime member we want to share how easy it is to find out more, register, see the supply list and share with your friends.
1. Come and read all about the new course HERE.
2. If you think your friends would love this course we would be beyond honored to have you share the promo video. We have included all of the social media links under the video to make it easy. You can also directly share the course page. You do not have to be a member of this site to see what we have to offer!  LOVE THIS!
3. We also have over 100 other courses and to see what we are offering you can go directly to jeanneoliver.com and then click on courses.
4. All of our courses are pre-recorded so you can watch at your convenience. The best part is that you have lifetime* access.
5. If you have any questions about the course please contact here at https://jeanneoliver.com/contact
*As long as we manage the creative network