Sometimes when we see clothing online, in a catalog or in a lookbook we can wonder….what will those pieces look like on ME?
I wanted to show my clothing, bags etc on different people wearing them in THEIR own way.
Different women.
Different unique styles.
Different sizes.
This idea brought about my new series called, "Get the look".
Each week I have asked 3-4 women to show photos of how THEY wear my clothing.
The most exciting part about this new series is that I want to see photos from all of YOU!
If your photo is chosen to be a part of the series…you will get a $100 gift certificate to my shop!
If you want your photos to be considered please email them to me at jeanneoli@hotmail.com.
Each week we will chose a photo submitted by one of you to add to the post.
That person chosen will get the $100 gift certificate to my shop.
I want all sized women!
I want all different styles.
I want my readers to really see how all of you bring my clothes to life.
So, lets get started.
This week I have four women that have graciously agreed to be my guinea pigs.
First up is Estelle Hayes from California.  You can find Estelle writing on her blog Under a Pink Moon.
I love how Estelle wore the tunic with tights, boots and that FABULOUS hat.  Estelle, please share with all of us where you got that.
The Golden Gate Bridge in the background doesn't hurt much either.
Estelle is wearing the Louise Tunic.
 The next photo has Melissa McArdle from Reverie Daydream wearing the Audrey Tunic.
THIS is why I wanted to do this series…….Melissa paired the French inspired tunic with leopard print leggings and high heels!
I love when you take my clothing and wearing them authentic to who you are.
It completely changes the look.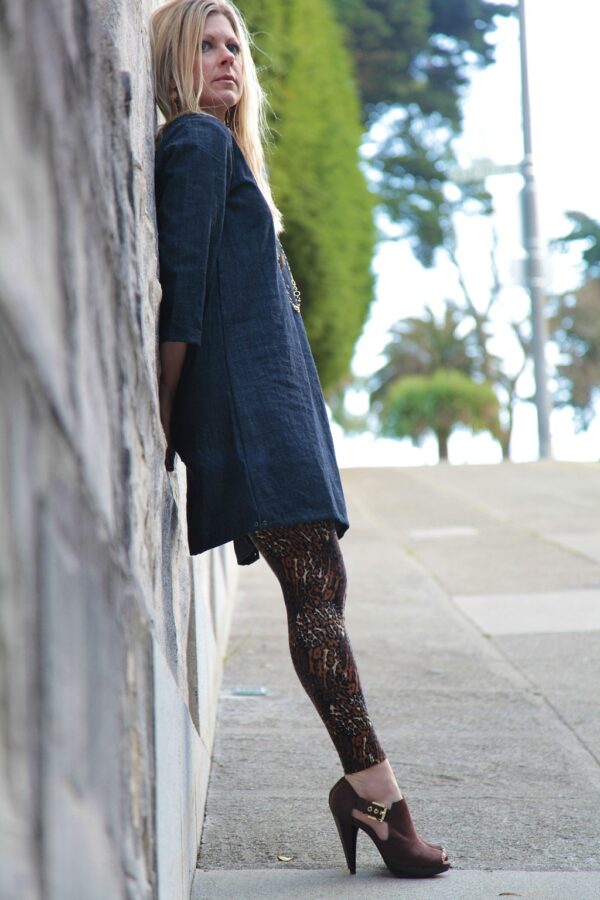 Kimberly Taylor of Kimberly Taylor Images proves that you just need a Frenchie and awesome boots to make a look.
(I love the socks peeking up from the boots)
Kimberly is wearing the Elaine knit dress.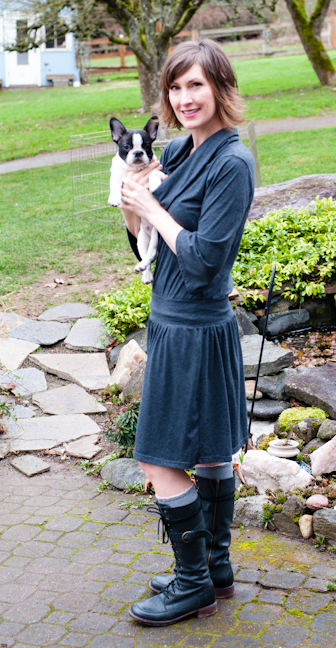 You may recognize the person in the next photos.
Amy Jo is one of my models in the last spring 2011 and winter 2011 lookbooks.
I love how you see our infinity scarf layered with the Audrey tunic and  her wool coat.
She is also wearing the Anne Messenger Bag.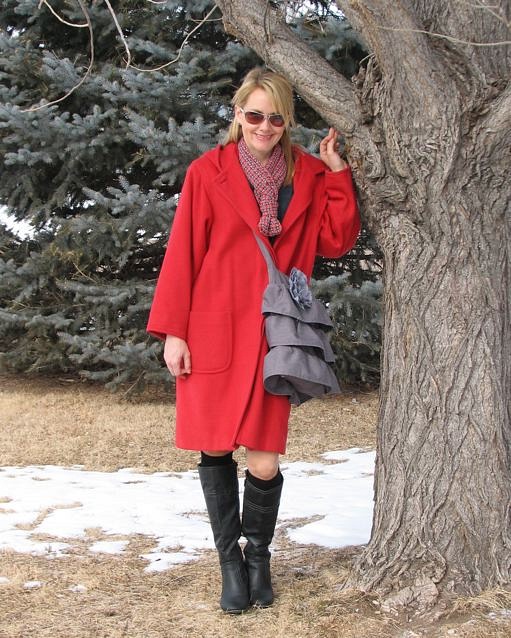 I am going to love this new series.
It has been so fun for me to see how each of these women brought their own sense of style to my clothing.
Now I want to see how YOU put your own style into my clothing.
Please send your photos to jeanneoli@hotmail.com and in the subject line please write "get the look".
We will pick one photo for next week and that person will receive a $100 gift certificate to my shop.