I don't like to buy something just to buy something!
I love when I can find the perfect gift for the people I love BUT sometimes it is hard and I could use some help.
Today our creative team has put together some ideas for the girlie girl, the guy in your life and from small businesses you may want to support.
Jeanne Oliver's Guide Guide for the Girlie Girl
I love to give gifts that I would like to receive. Give me all the books, coffee and cozy gifts! These are all items that I have and LOVE!  These are also items that I use all of the time you will know that these gifts will be well used.
Coziest handmade chunky blanket. Pure yumminess!
My go to place for handmade artisan pottery is Chris Taylor. Each piece is beautifully made and goes with everything. I love to mix and match and it is a gorgeous gift.
This shop is brand new and I just bought way too much BUT check out these marble and wood coasters! Hello!
This is the warmest and cutest hat I own.  Who doesn't want to walk around town with a big fury ball on the top of your head? I thought so.
It you know a creative woman than this is the gift for her! Awesome book that is inspiring and encouraging.  Beautifully made and represents all of us.
Nothing makes me happier than to support another artist and this leather tote is handmade from a local artisan that mixes the finest supplies and design. Bravo!
This lotion is also from another local artisan and it is not only an excellent product but her packing puts it over the top!
When you need to take your French press up a notch! Beautiful and functional.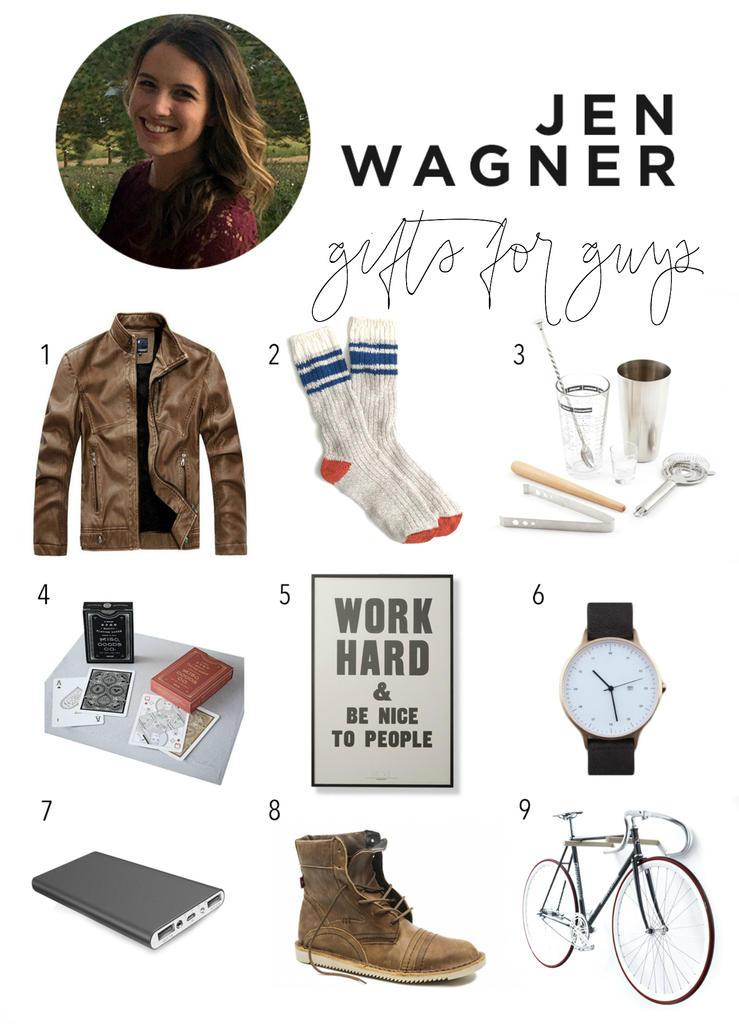 Jen Wagner's Gift Guide for Guys
Having an excuse to spend money on my husband is such a fun part of the holiday season for me! But let's be real for a second, men can be very difficult to shop for. So I love spending time looking around to find things he normally wouldn't buy for himself, but also things that are practical that he'd love and appreciate. He loves great design, minimalism, and leather (you know, man things I guess), so I scoured the internet to find a list of a few things that he and many other men may love to receive this Christmas!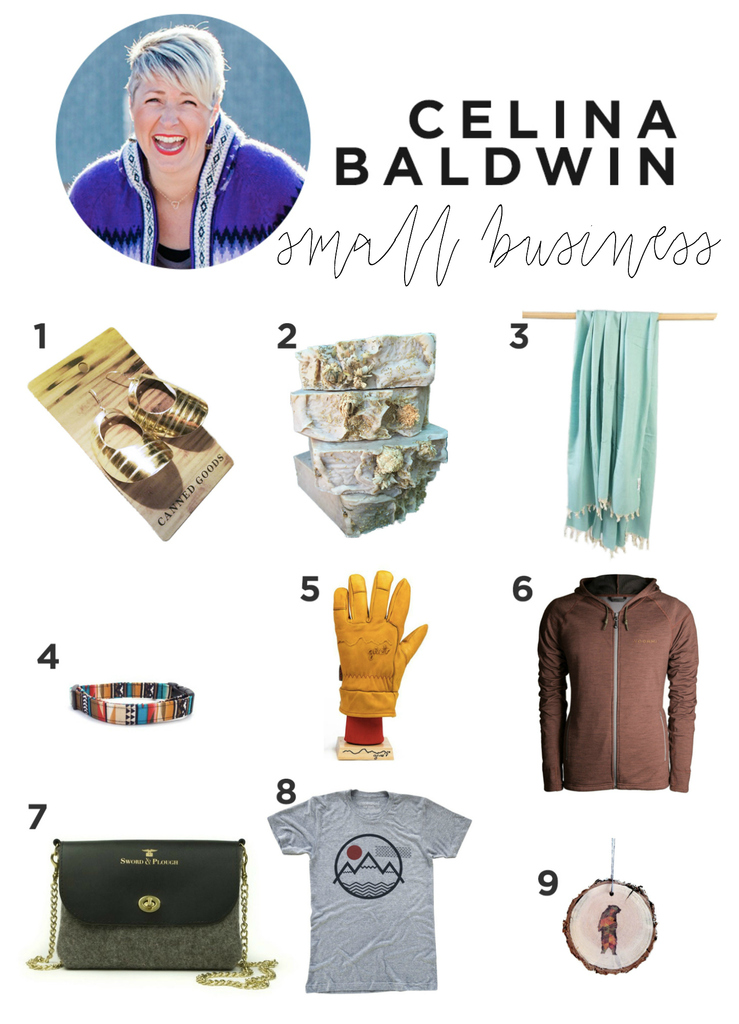 Celina Baldwin's Small Business Gift Guide
As a small business owner, I know the value of "shopping local". I love
to support other small businesses because I know that when you shop
small, you are supporting someone's dream. Why buy gifts from Target
when you can buy something really cool, unique, handmade or local for
someone? Gifts like this are awesome for three reasons 1. You tell your
recipient "I really thought of you!" 2. You supported someONE 3. You
supported the local economy! Win/Win/Win
Here's my list of 9 great local small businesses. All of these
businesses feature either handmade gifts or are local small businesses
in Colorado.
To find your own local small businesses, just head to a craft fair,
market or artisan boutique in your area. Be prepared to spend a bit more
than you might normally spend on gifts because you know that small
businesses are making their goods with their own hands- not mass
producing them and that costs a bit more.
To shop from my favorite small businesses, just click the link and tell
them I sent you!
1. Canned Goods
Canned Goods is one of those awesome give-back companies that we all
love! They upcycle tin cans AND give 1 can of food for every piece of
jewelry sold to a homeless shelter! Win/Win/Win!
2. My Sweet Honeybee Soap
I met Cindy when we were both just getting started building our small
business dreams and I've not only fallen in love with her, but I LOVE
her soaps. It is all we use anymore. The smell is heavenly and of
course, it gets us clean.
3. Hygge Life
I posted about my favorite blanket in my fall finds, but I feel it bears
repeating- the Turkish blankets and towels from Hygge are to-die-for!
And did you know Hygge (pronounced Hoo-ga) describes the feeling of
finding true joy in life's moments- big or small. The blankets are my
favorite, but I love the towels, too!
4. Mutts and Mittens
Dog Lovers Unite! Shannon makes dog collars right here in Denver,
Colorado! Why give your dog a boring old collar when he or she can be
stylin'!
5. Give'r
This one is (mostly) for the boys and men in your life. The guys at
Give'r think you should "give'r all you got; go for it" and the attitude
of excellence shows in their awesome product line. Their leather gloves
(which you can customize with initials!) are a high quality gift that is
built to last!
6. Voormi
This one is for my husband. He is o.b.s.s.e.d. with Voormi. He loves
anything high quality that is made in the USA and that's Voormi in a
nutshell. These guys create and manufacture all weather gear that is
built to last. All of their wool is from the Rocky Mountain region and
all products are made in America. Get the outdoorsman in your life a
gift with meaning that will last!
7. Sword and Plough
I'm a sucker for bags and semi-regularly present my case for a new bag
for special occasions. It's just one of my "things". Anyway, this local
company does good on so many levels! They repurpose military surplus to
make all of their products, they employ veterans AND they give back 10%
to veteran programs. They have lots of wallets and other smaller gifts,
but also- BAGS!
8.Coloradical
Sometimes a snazzy tee shirt is the best gift. This Colorado based
company sells some radical shirts and hats for men, women and children.
If you or someone you know loves, lives or belongs in Colorado, get them
one of these shirts! I got my brother one this year in hopes that he
would finally figure out how rad Colorado is and move here.
9. Sage 8 Studio
One of my favorite gift giving traditions is a special ornament each
year for my kids. Last year I bought what is now known as the "best
ornaments ever". Sage 8 takes slices of pine, bettlekill and other wood
and hand creates amazing ornaments. She also has gorgeous art that
combines bright colors and the beauty found in nature using wood as her
canvas.
If none of these companies have what you are looking for, you can always
Shop Shabby for some awesome alpaca products.
Happy gifting! I hope you can truly enjoy the beauty of giving this
holiday season!
Celina