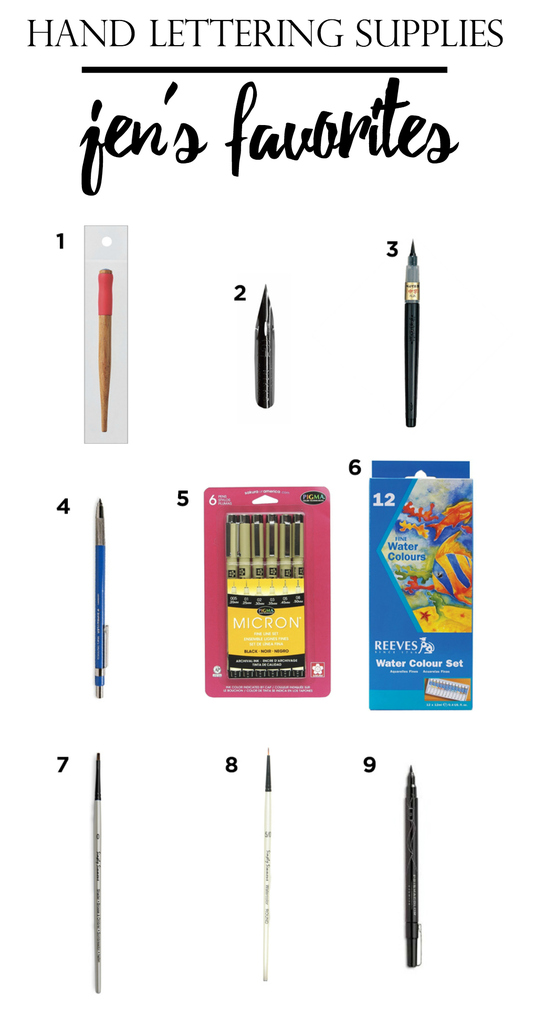 **This giveaway is now closed**
The winner is…
Today Advanced Hand Lettering begins and we wanted to do a giveaway to celebrate!
I know that when you want to learn a new technique it can be overwhelming and hard to know if you have chosen the right tools for the job.
Jen Wagner has pulled together her favorite tools for creating hand lettering projects and we would like to give the collection to one lucky winner.

If you are interested in joining us in Advanced Hand Lettering here is a little bit of the details about the course…
In Advanced Hand Lettering, we will dive into how to create beautiful lettering using multiple mediums (brush, calligraphy nib, brush pen, digital, waterbrush, and pen/pencil), from each individual letter to forming words, sentences, and adding decorative elements. We will also spend some time discussing composition, different styles, and how to make what you've envisioned a reality! Following the teaching portion of the course, you'll have an opportunity to put what you've learned into practice with 7 fun projects (Lettered Globe, Wall Mural, Serving Tray, Yard/Event Signage, Large Poster, Gold Foil Lettered Pillow, & Digitized Poster). I'm so excited to really dive deep into the details of lettering with you!
This course has lifetime access* , all videos are pre-recorded for your convenience and the registration price is $48.
*******
To enter the giveaway just leave a comment on this post telling us what you will be doing this to have a creative summer this year.

For additional chances to win:
* Share the new course and giveaway on Facebook
* Share the new course on IG and tag @jeanneoliver #jeanneolivercreativenetwork #advancedhandlettering
* Follow us on Instagram
* Blog about the new course and giveaway
* Pin images from this post to Pinterest
Each time you do one of the above just come back here and let us know.
This giveaway will close on June 17, 2016 at 11:59 pm MST.
The winner will be announced on June 18, 2016 and prizes must be claimed by June 25th.
Thank you so much for sharing, taking courses, sharing your creative lives and allowing us to do what we love!
*******
If you are new to our creative network here are easy steps to get you started…
1. Register at jeanneoliver.ning.com (this is free).
2. Once your account is active you are able to take advantage of our free courses, series and even pay for courses.
3. Go to jeanneoliver.ning.com and along the top header click on "COURSES" and you will be able to view all three pages of online courses and free series.
4. To purchase a course please choose your course, click on the +join in the upper right hand corner, pay and you will be INSTANTLY in the classroom.
5. All videos can be found along the right hand side of the page under "COURSE CONTENT".
6. All of our courses are pre-recorded so you can watch at your convenience. The best part is that you have lifetime* access on all new purchases!  Pretty awesome if you ask me.
*As long as we manage the creative network