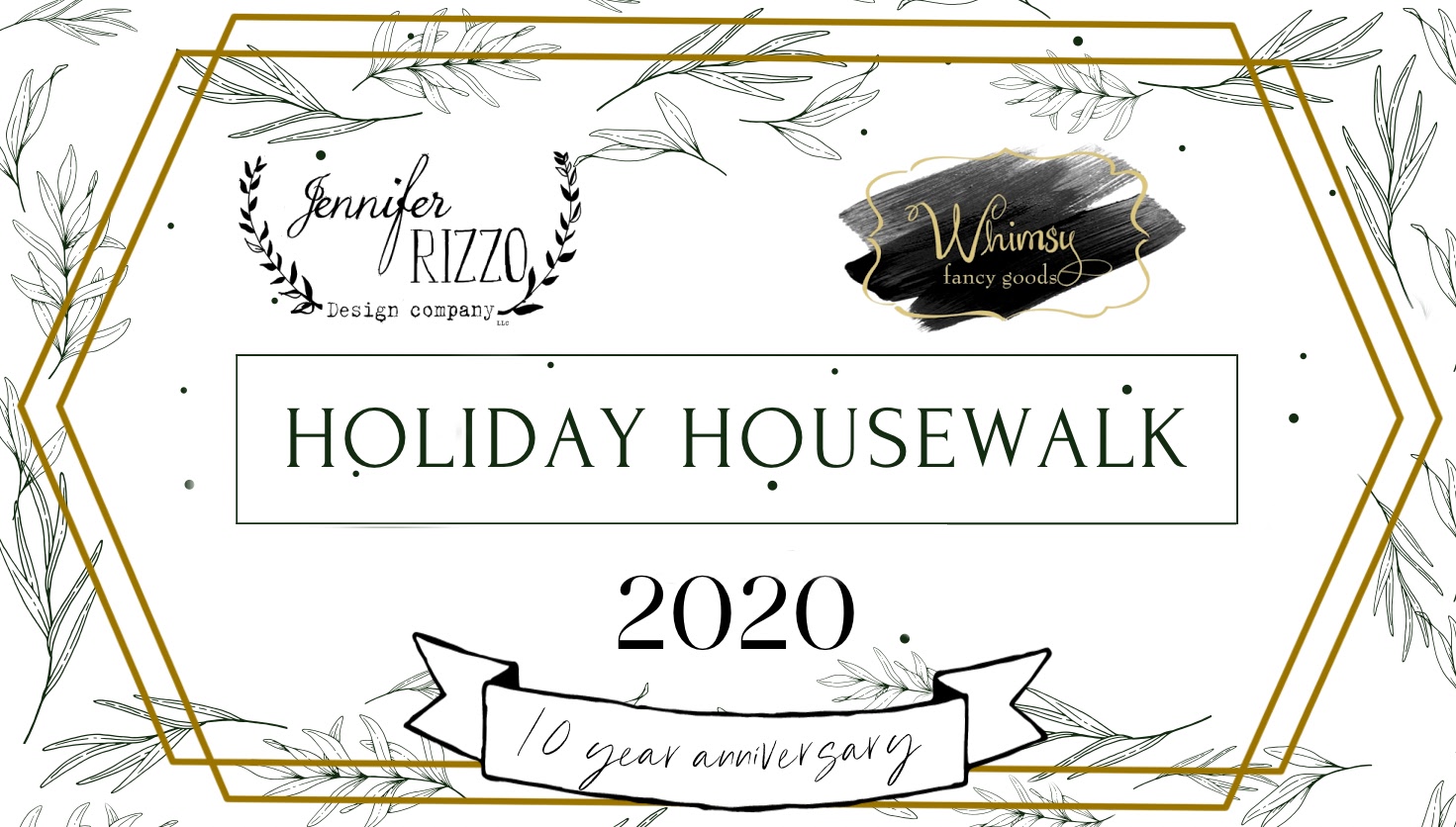 I don't know where your heart is right now with preparing for the holidays. Does it feel too much, like a burden, are you excited, did you decorate weeks ago, is this time of the year bringing you joy and excitement for a new year? Are you somewhere in-between?
Almost our whole family got sick with Covid last month and even though our symptoms were mild it took us weeks to feel back to normal. I was worried that I would have to skip the housewalk this year and not be a part of it for the first time in 10 years. I let myself be ok with iphone photos this year and to enjoy making our home cozy for Christmas.  I want to encourage you that the holidays are for you too. They always have been but so often we can have the mindset that if things are not "perfect" that people will be disappointed. However you show up in your family, relationships and home is already perfect and just what those around you need. Whether your home looks like a Christmas explosion or you prefer things a little simpler…I am excited for you as you prepare your homes and hearts for advent and celebrate the birth of Jesus.
I would like to thank Jen Rizzo for asking me back for my 10th year sharing our home for Christmas. I don't know how I ever got so blessed as to be included with these incredible bloggers and designers! It has been one of my favorite parts about online collaborations and growing our business over the years!
If you have made it this far you have come to the end of the tour! I am the LAST stop! What an incredible housewalk it has been and thank you for coming over from The Morris Manor and her gorgeous home!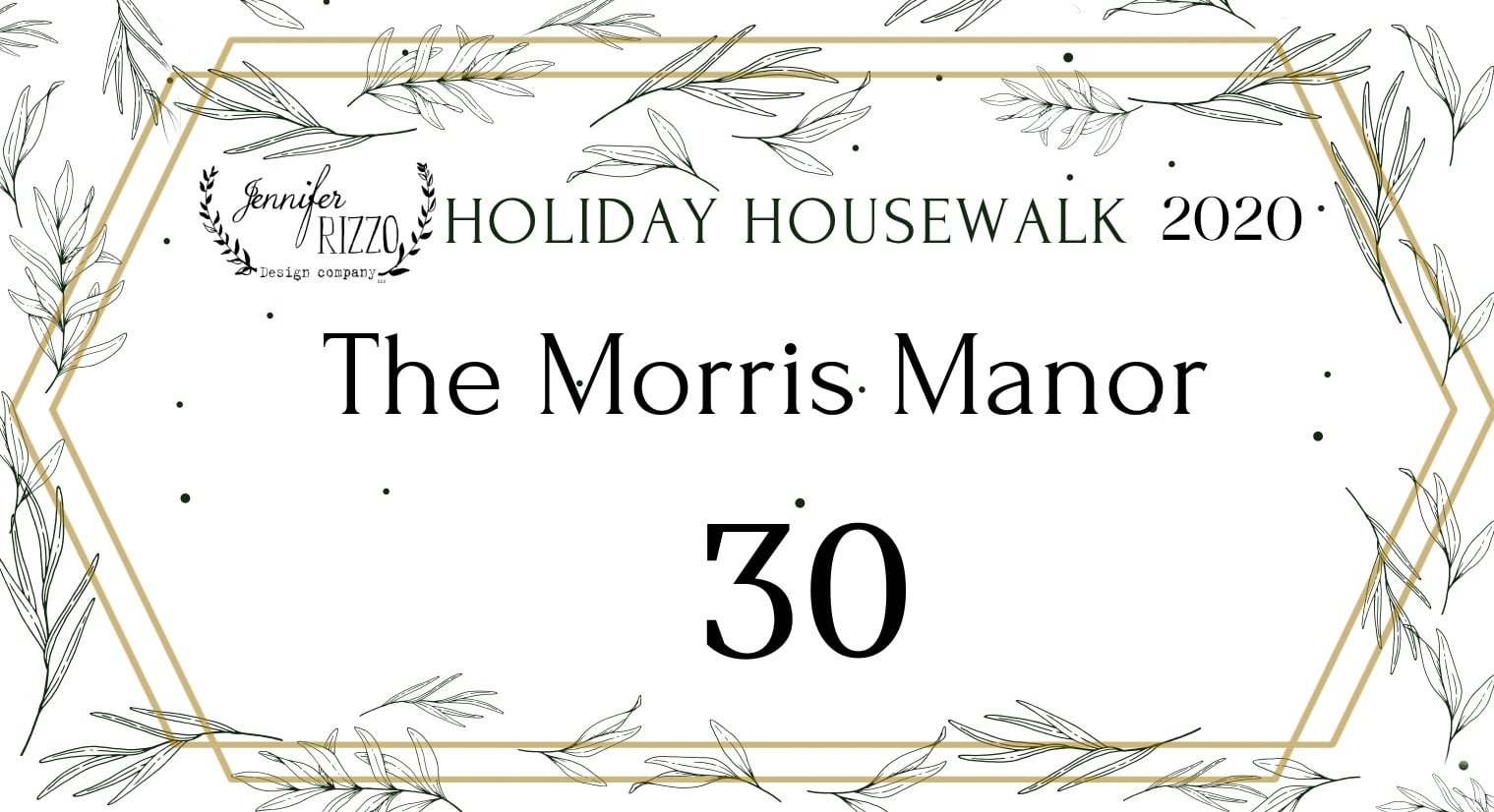 Home is where I love, gather others, use my creativity, rest, get grounded, dream up new ideas, worship, laugh, cry, prepare, recover, and find sanctuary.
If you are reading this right now I can bet that home is a part of your love language too. Welcome! I am so thrilled you are here!
I prefer simpler decorations for the holidays, to use what I have, and I always choose natural elements when available.
We live on seven acres and there is never a shortage of feathers, branches, flowers, pinecones and more.
Nature is always where I search first for inspiration.
A foraged home for us comes through nature and also what I have gathered through vintage finds.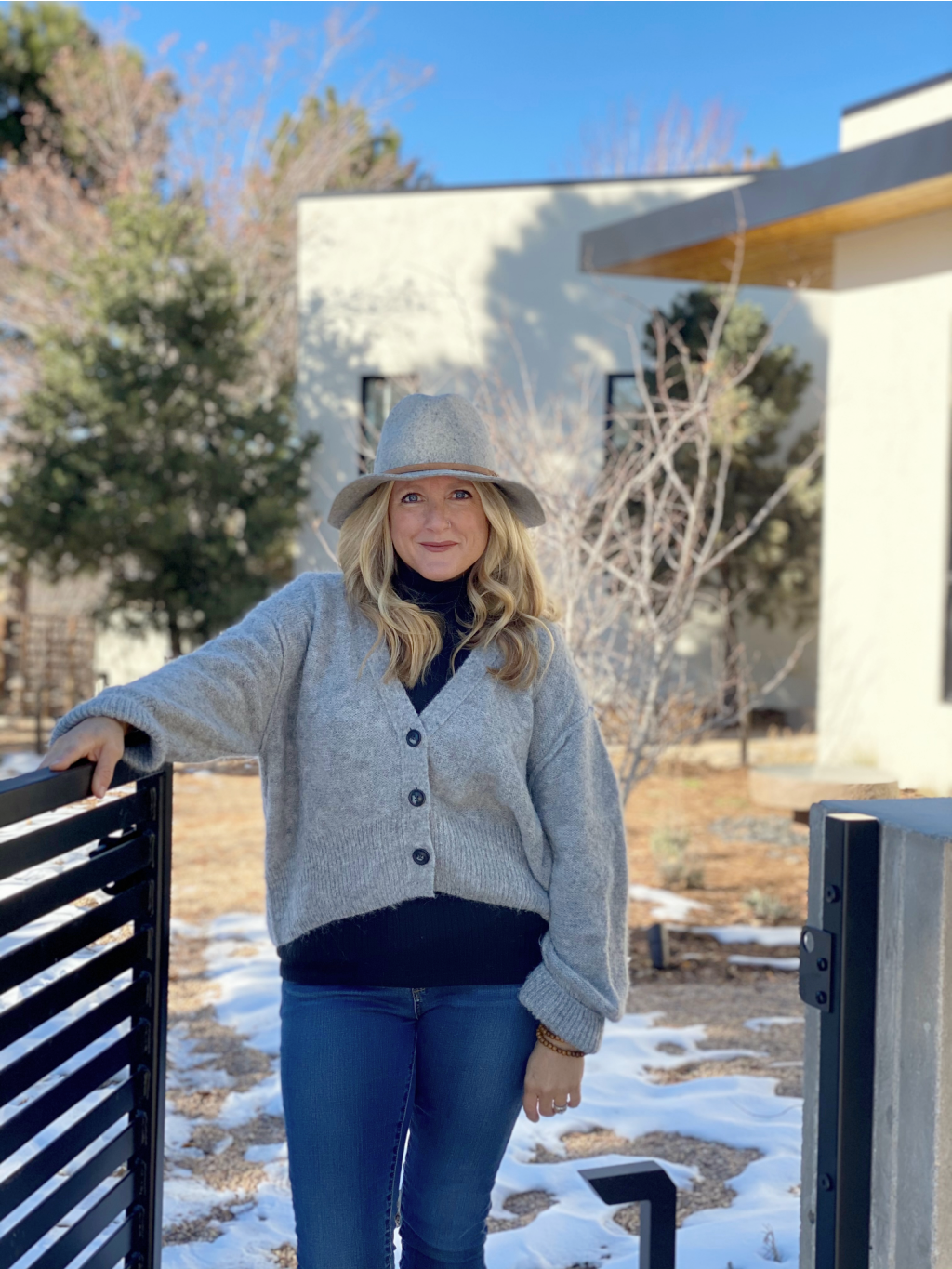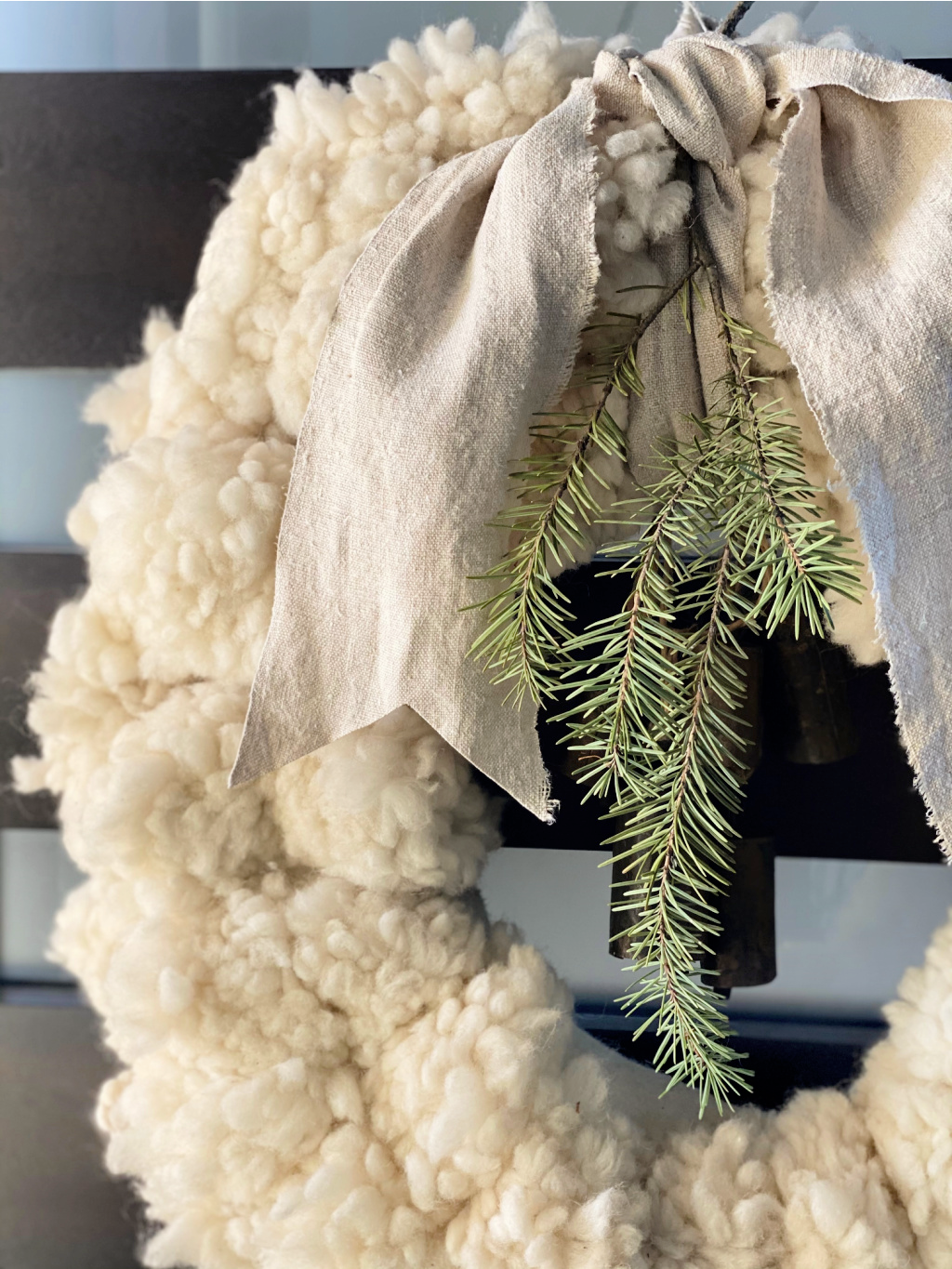 |Pom pom wreath with strips of torn vintage French linen, fresh pine branch and French bells|
|The entry overlooking our living room|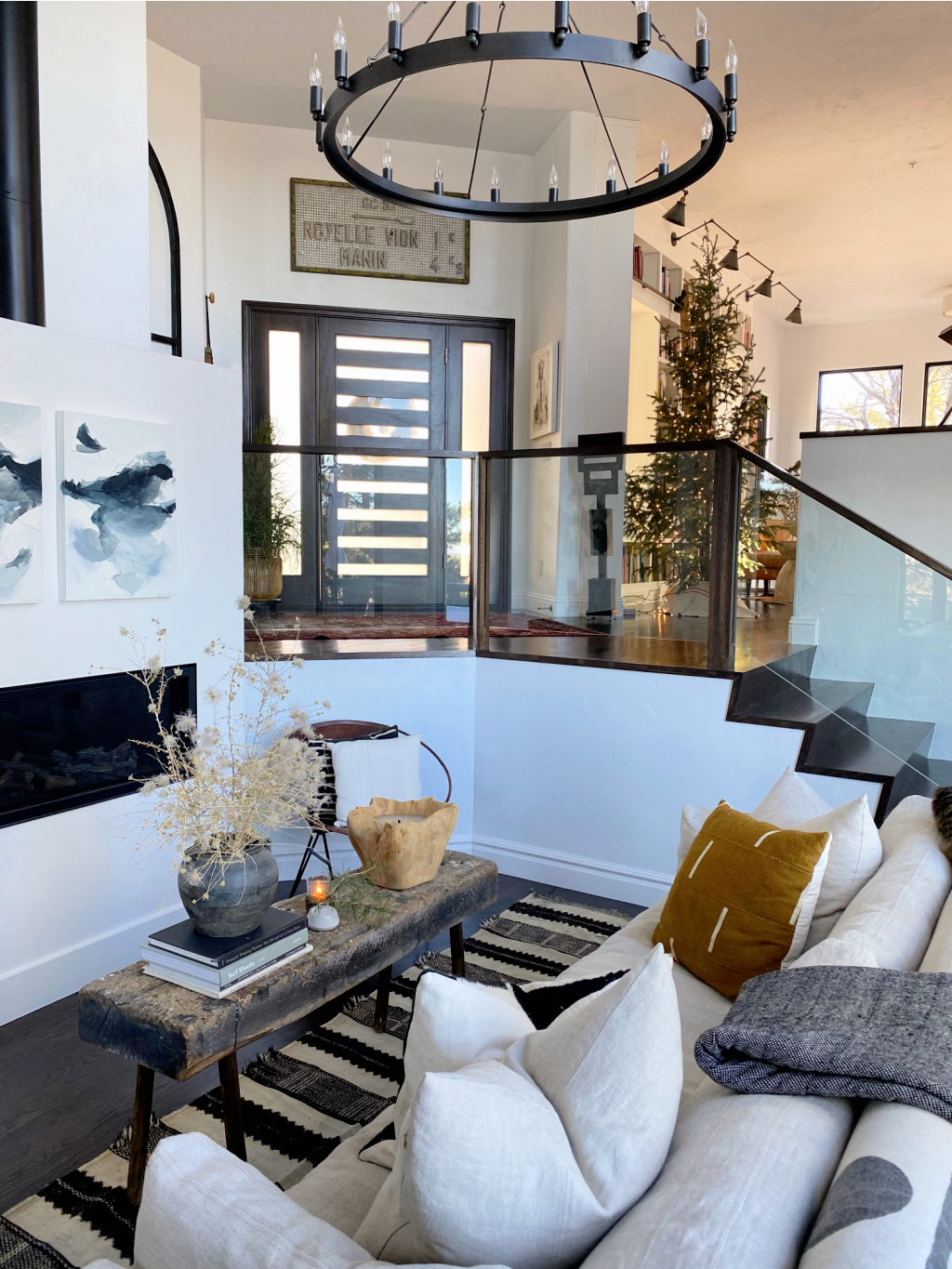 |The Living Room|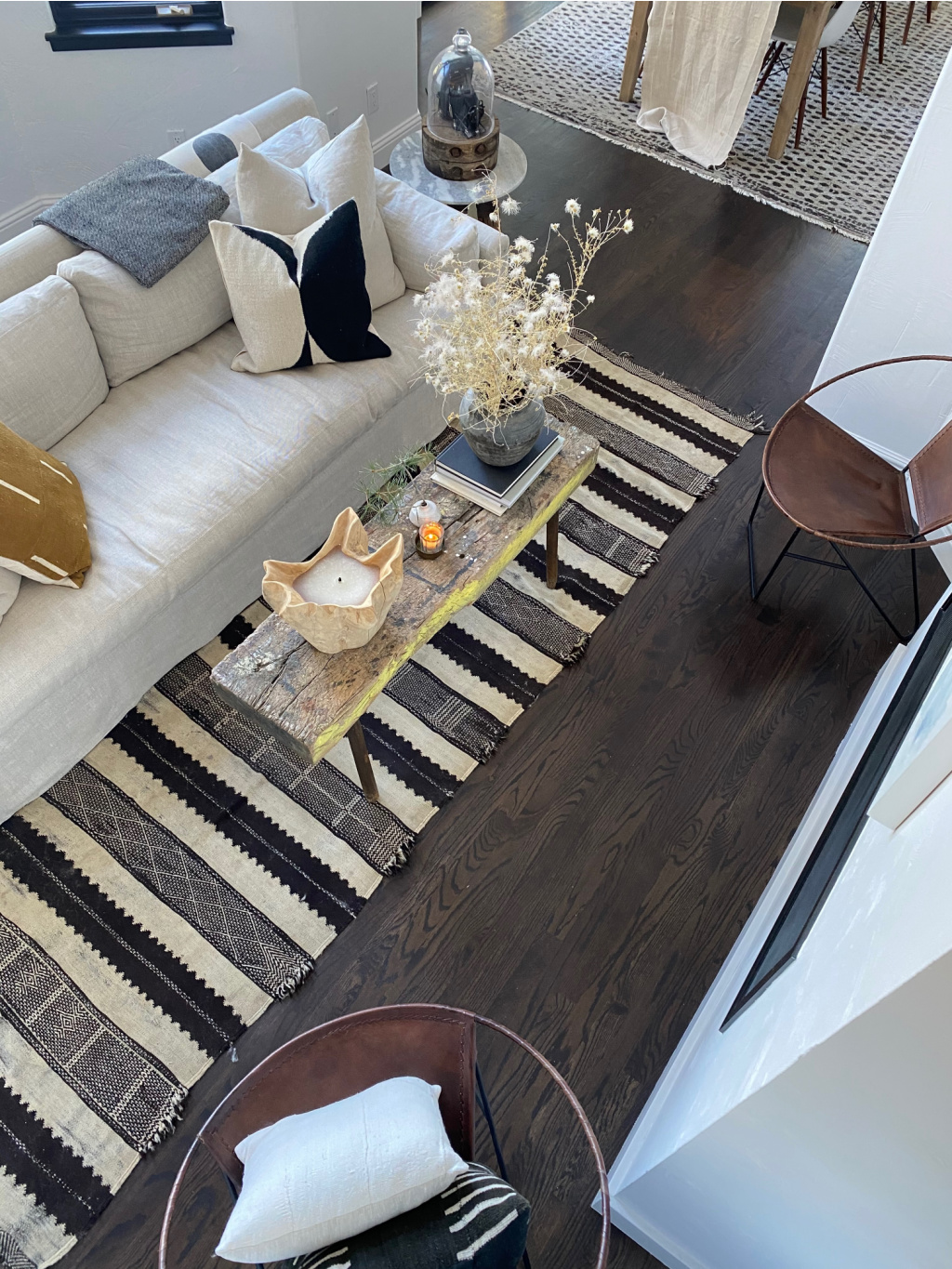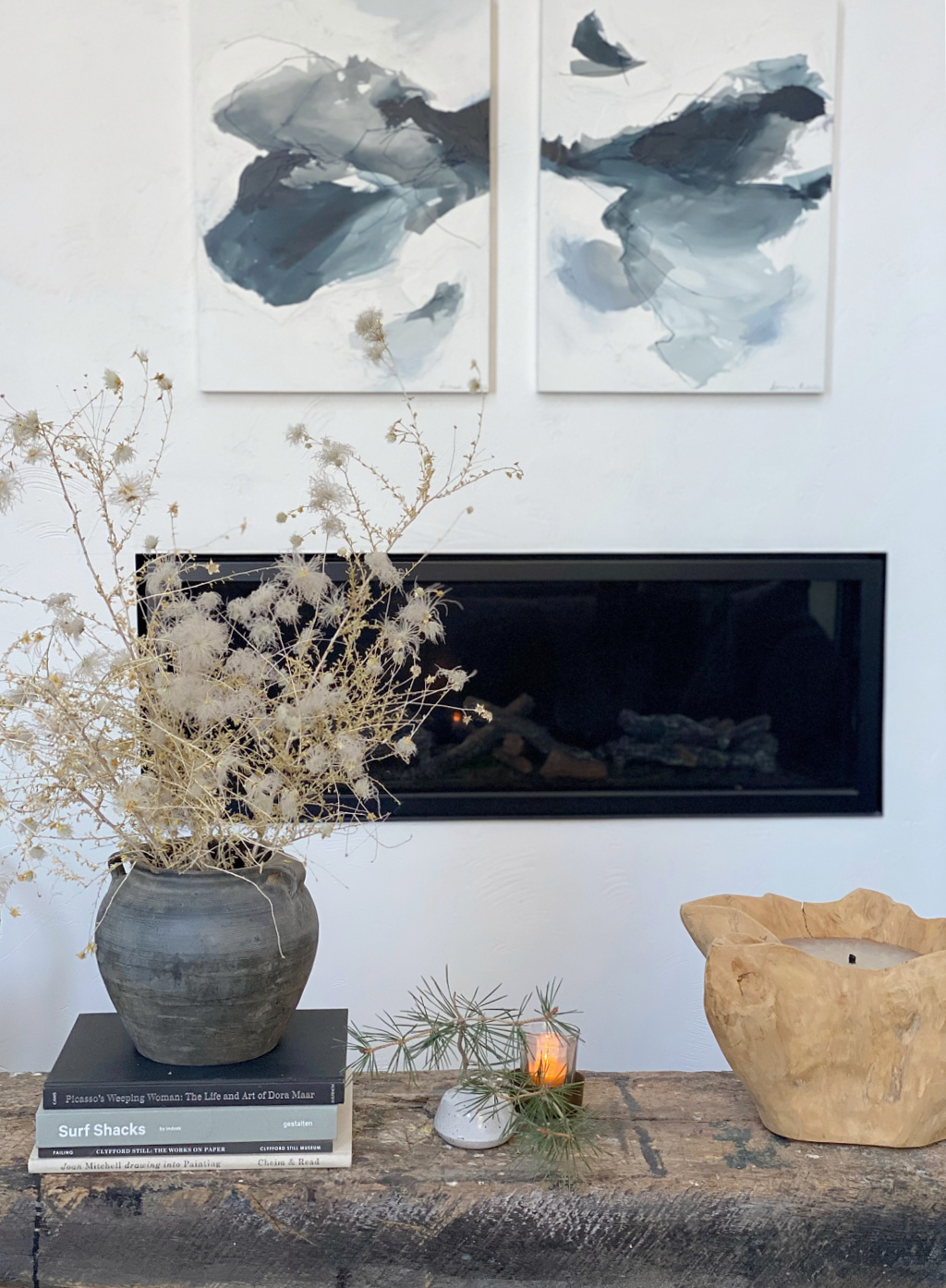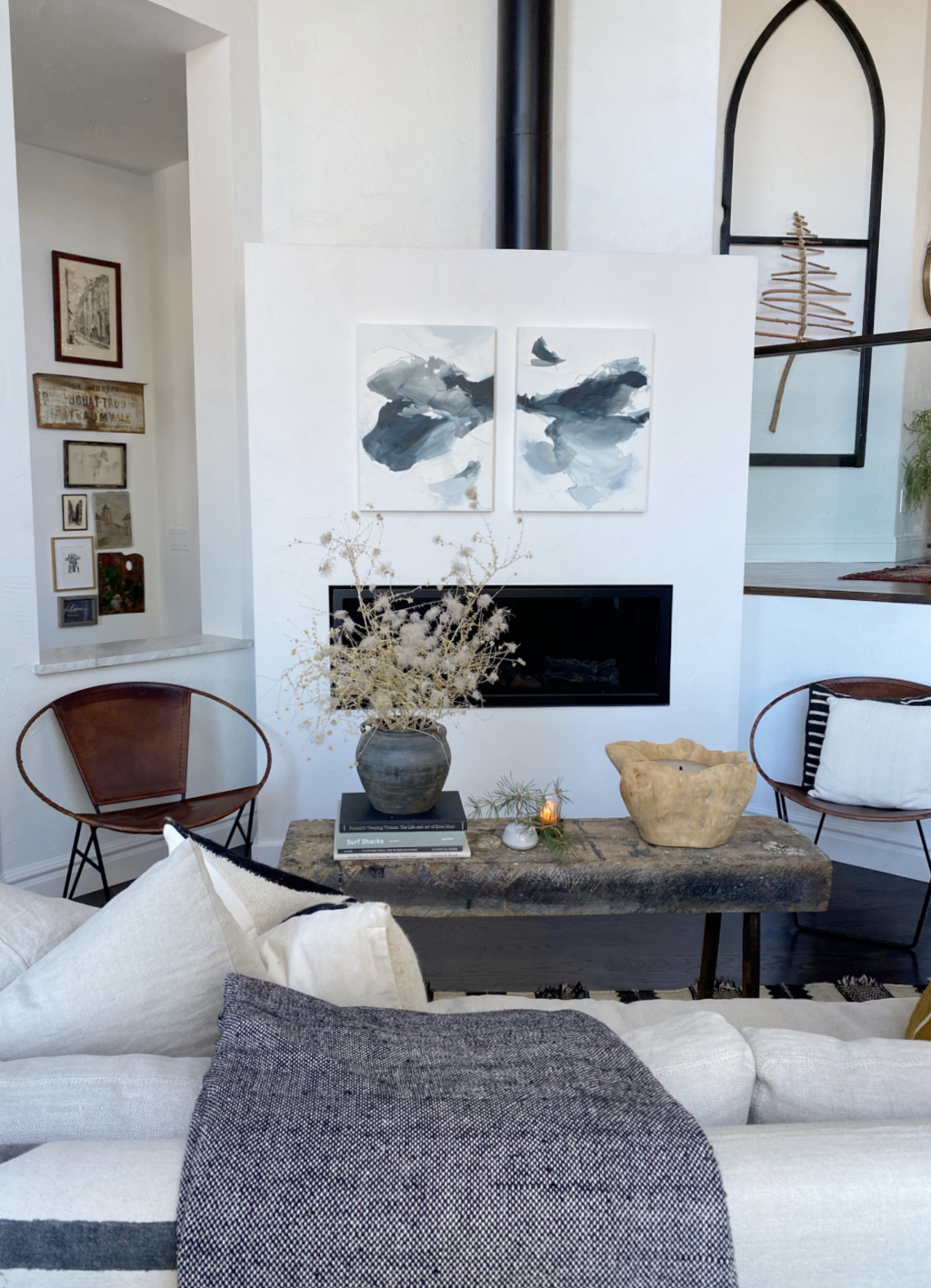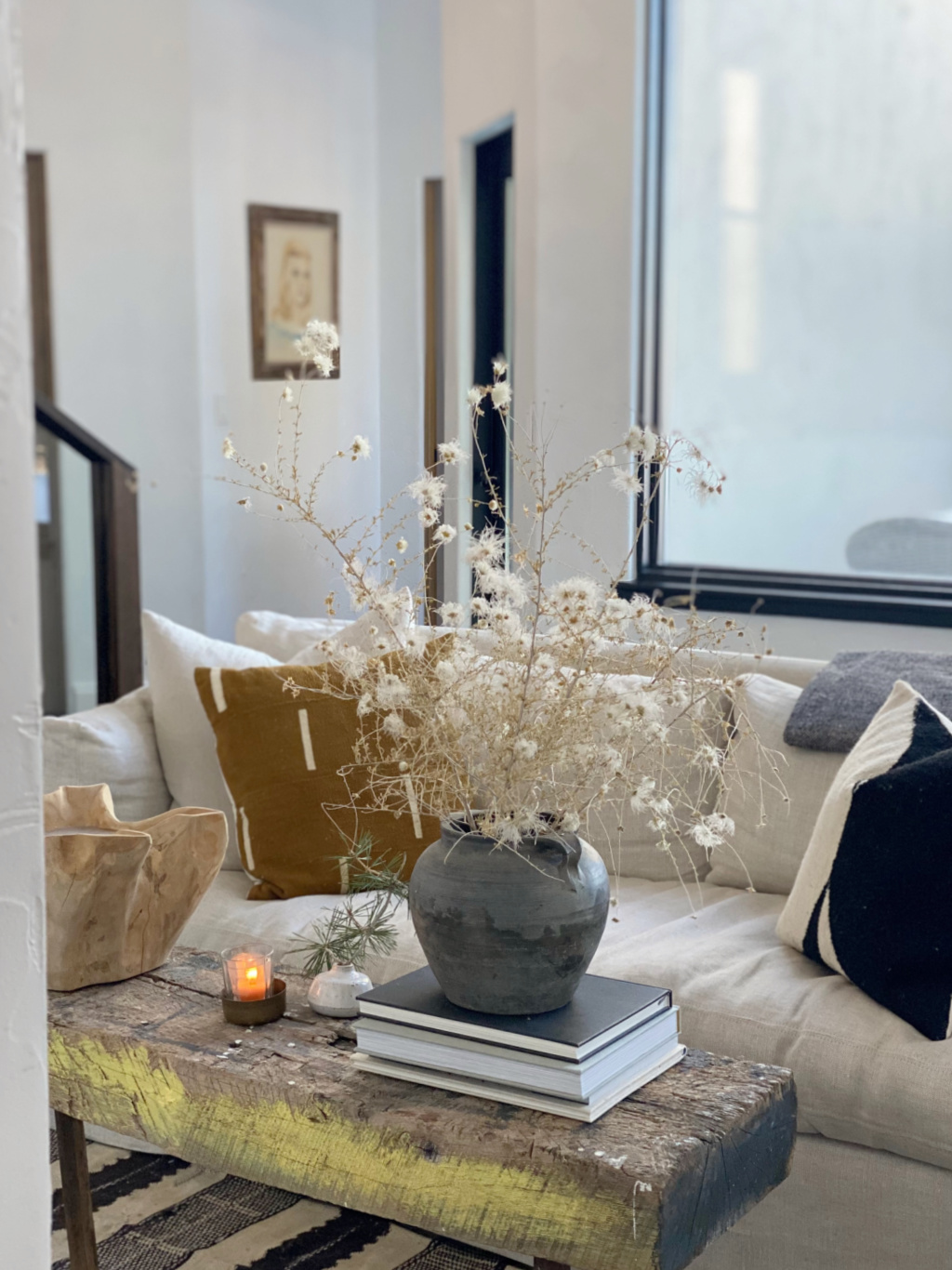 |The Kitchen|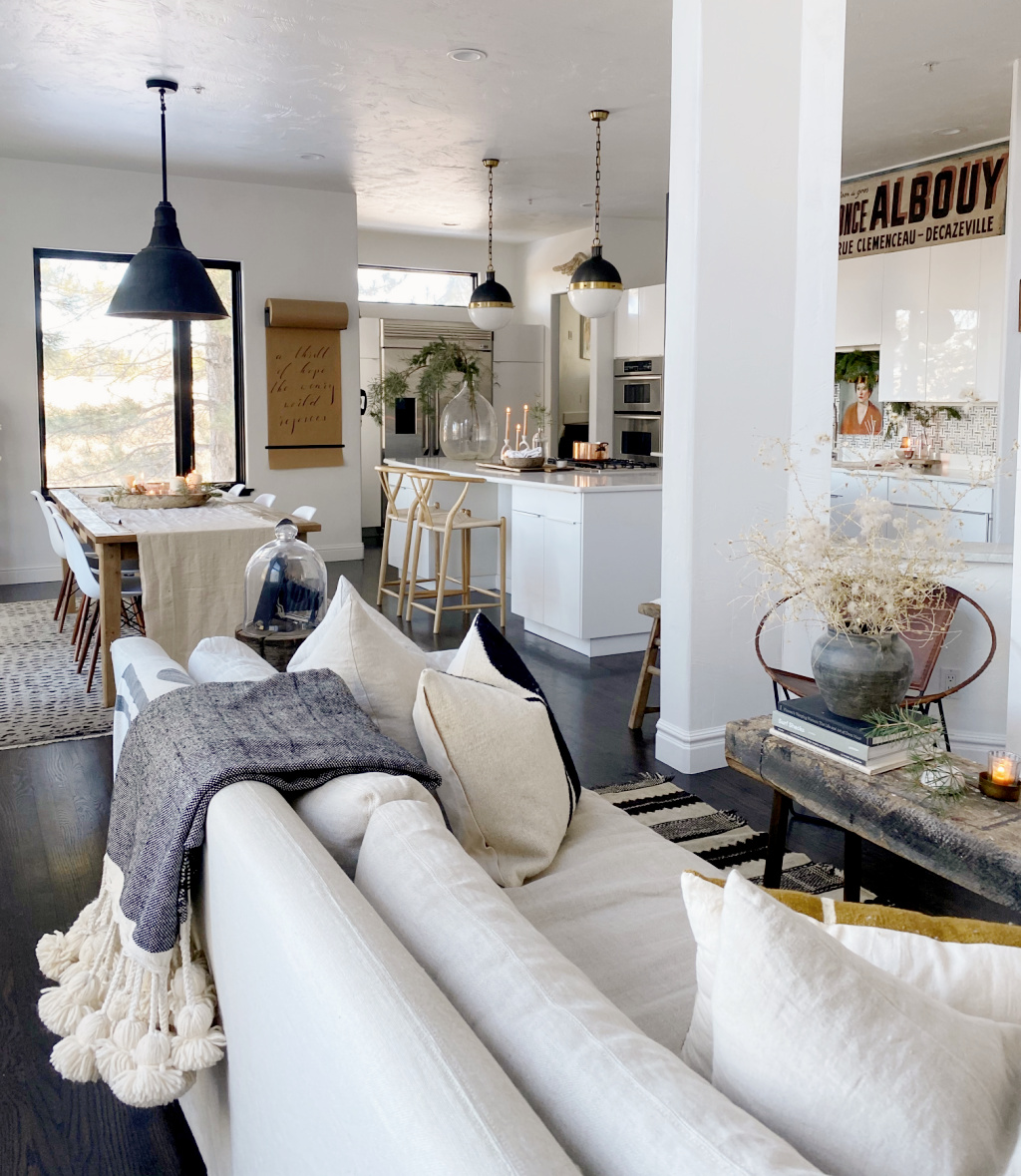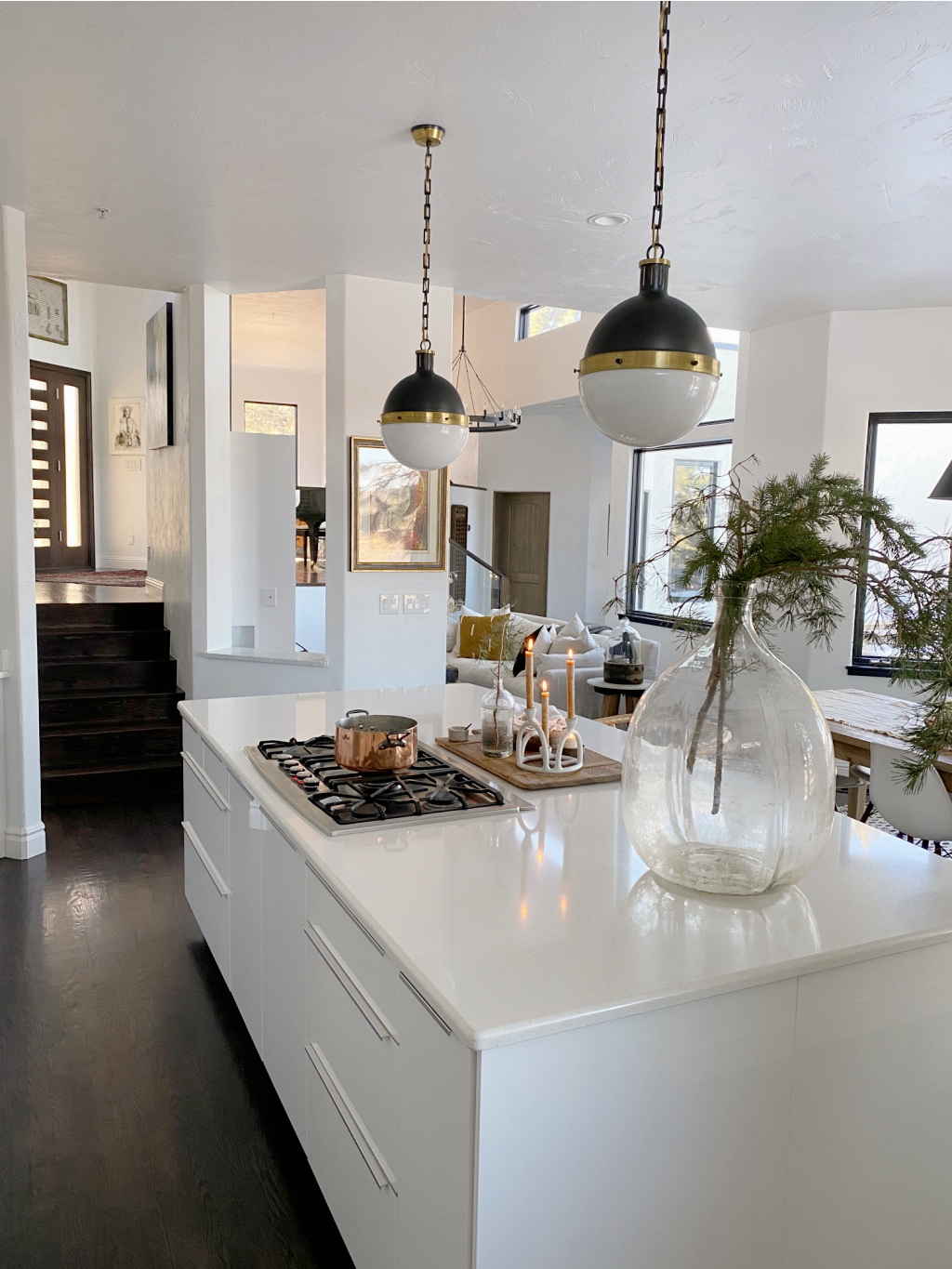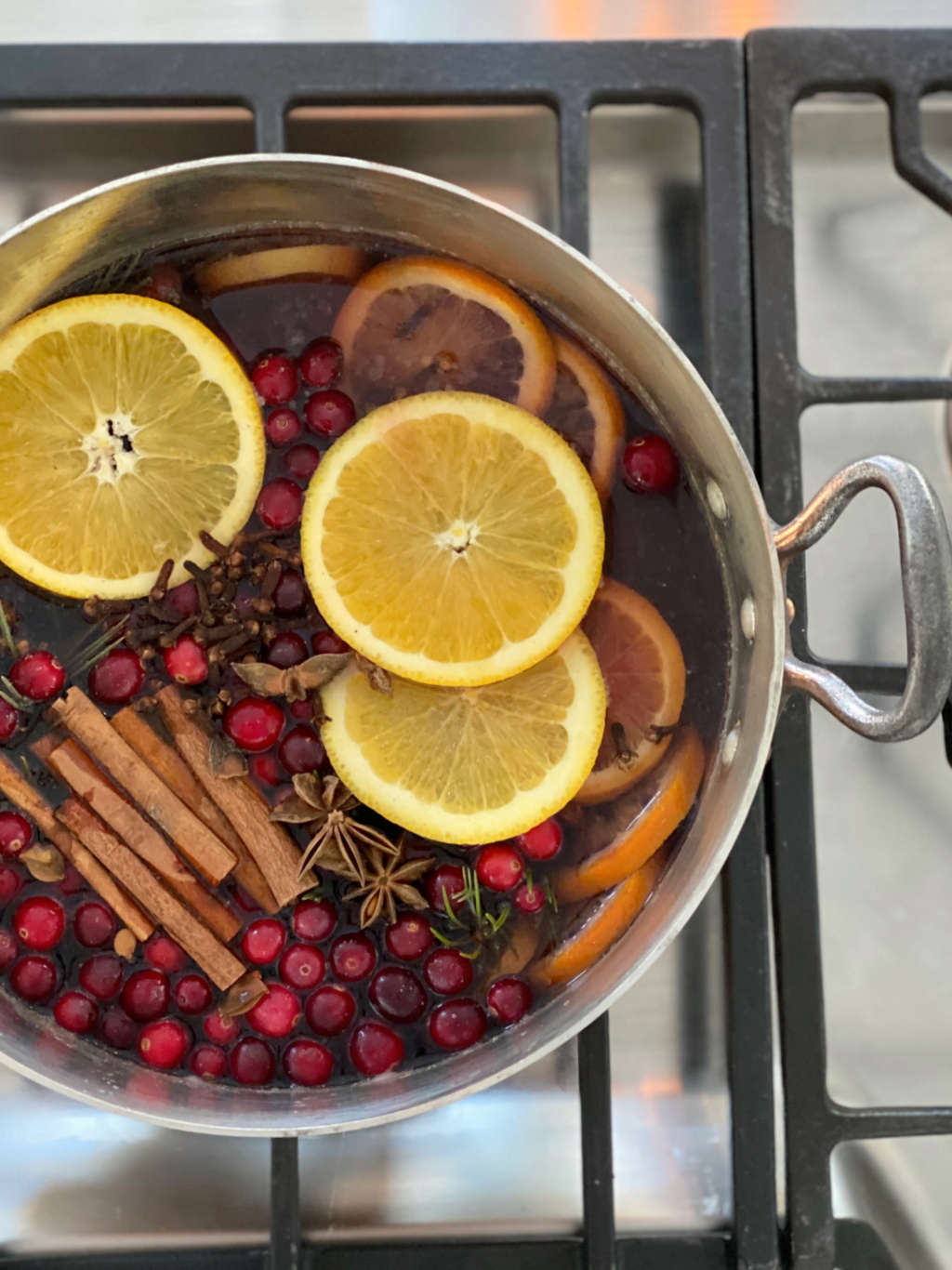 | Stove potpourri with water, lemons, oranges, whole cloves, cinnamon sticks, star anise, cranberries, and rosemary |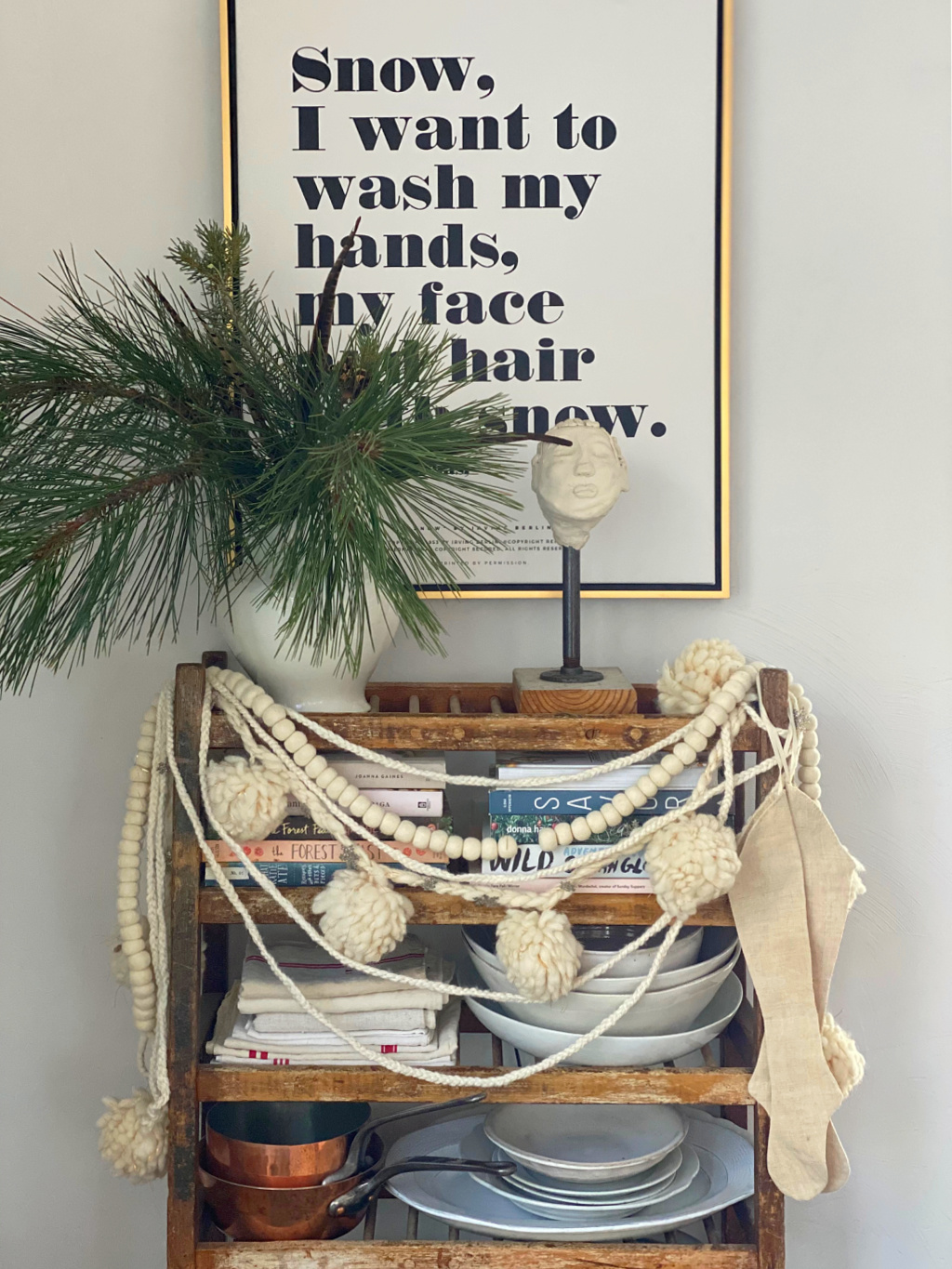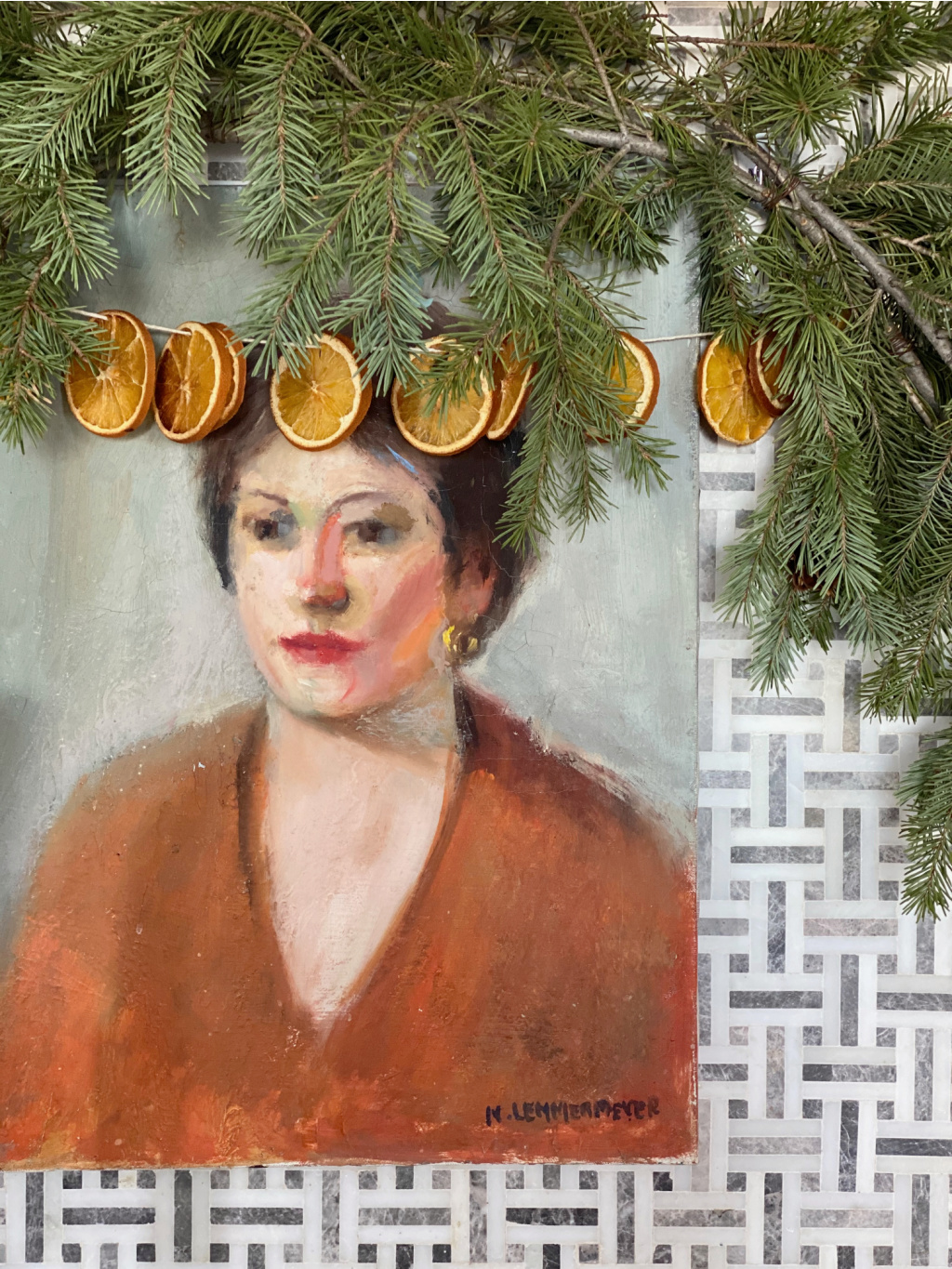 |A vintage painting from Etsy draped with fresh greenery and dried orange garland|
|The Family Room|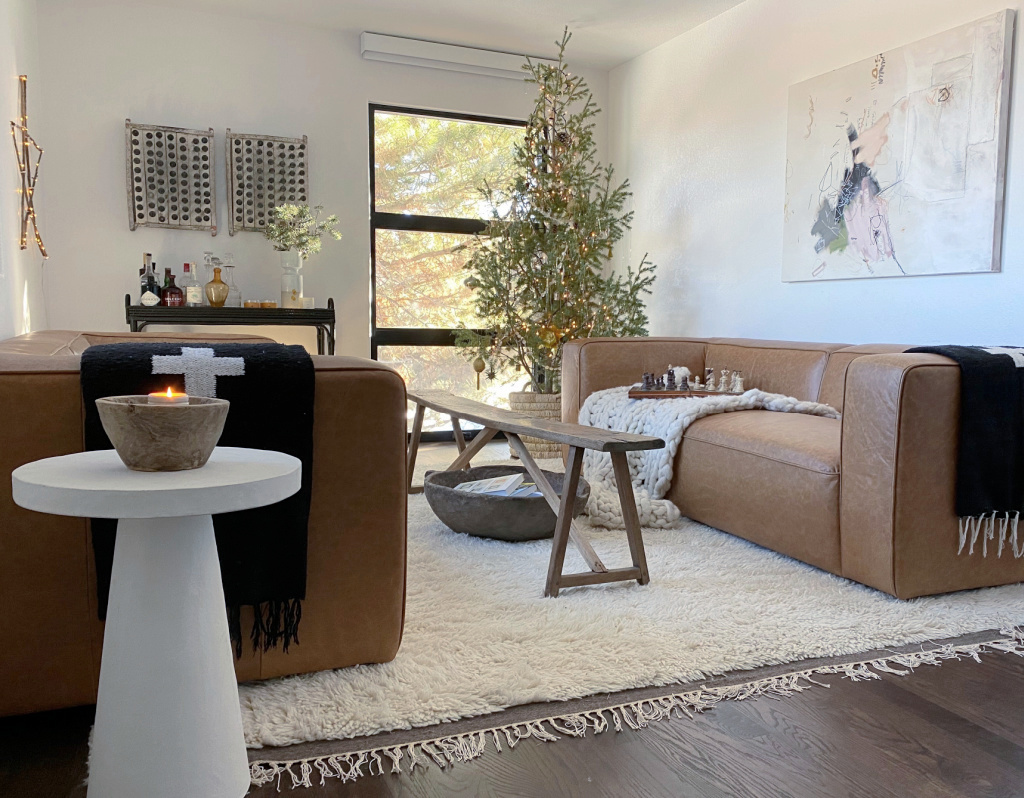 | The television is on the opposite wall on a large arm that allows us to move it out but also does not make the TV the focal point of the room |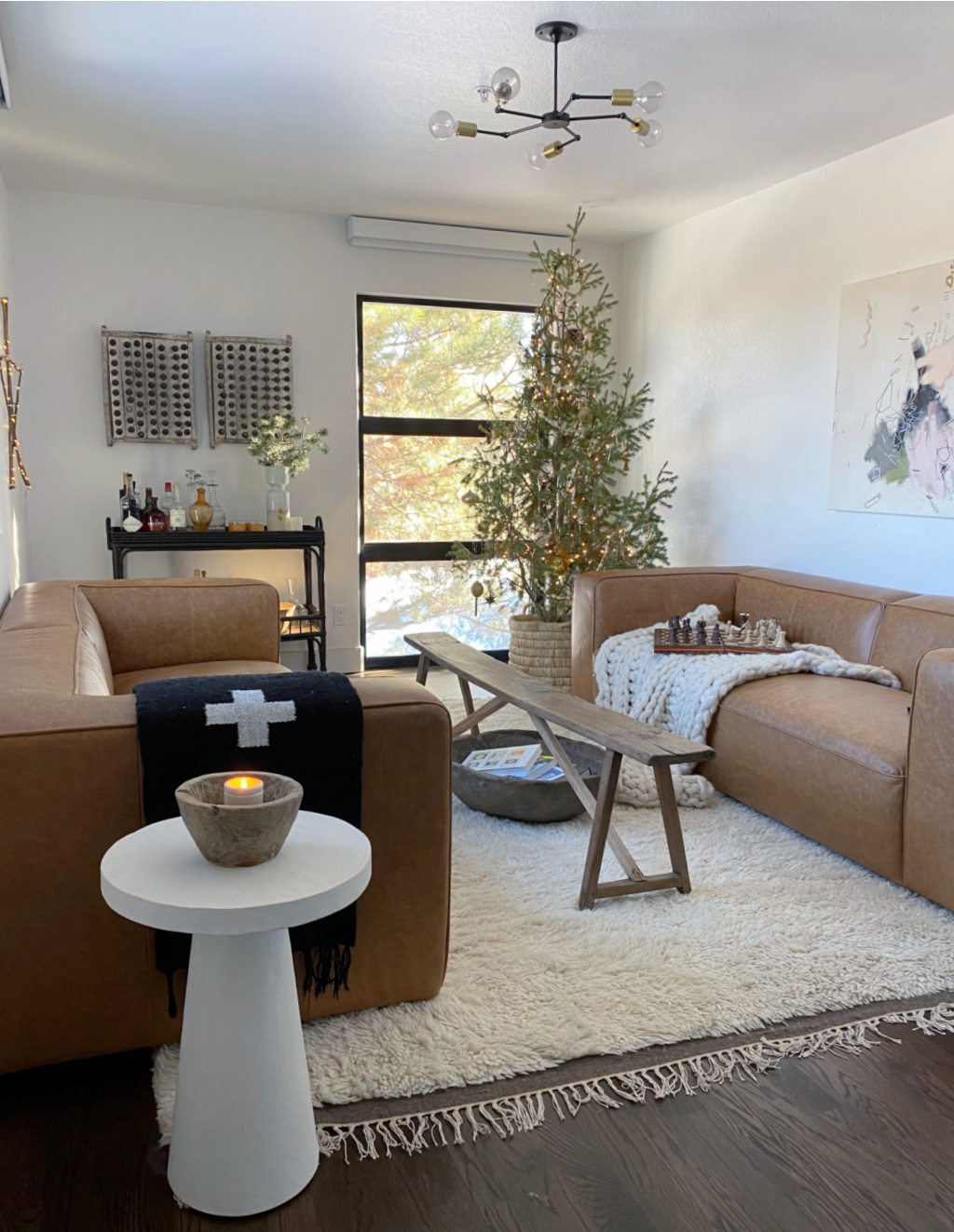 | The Library/Music Room |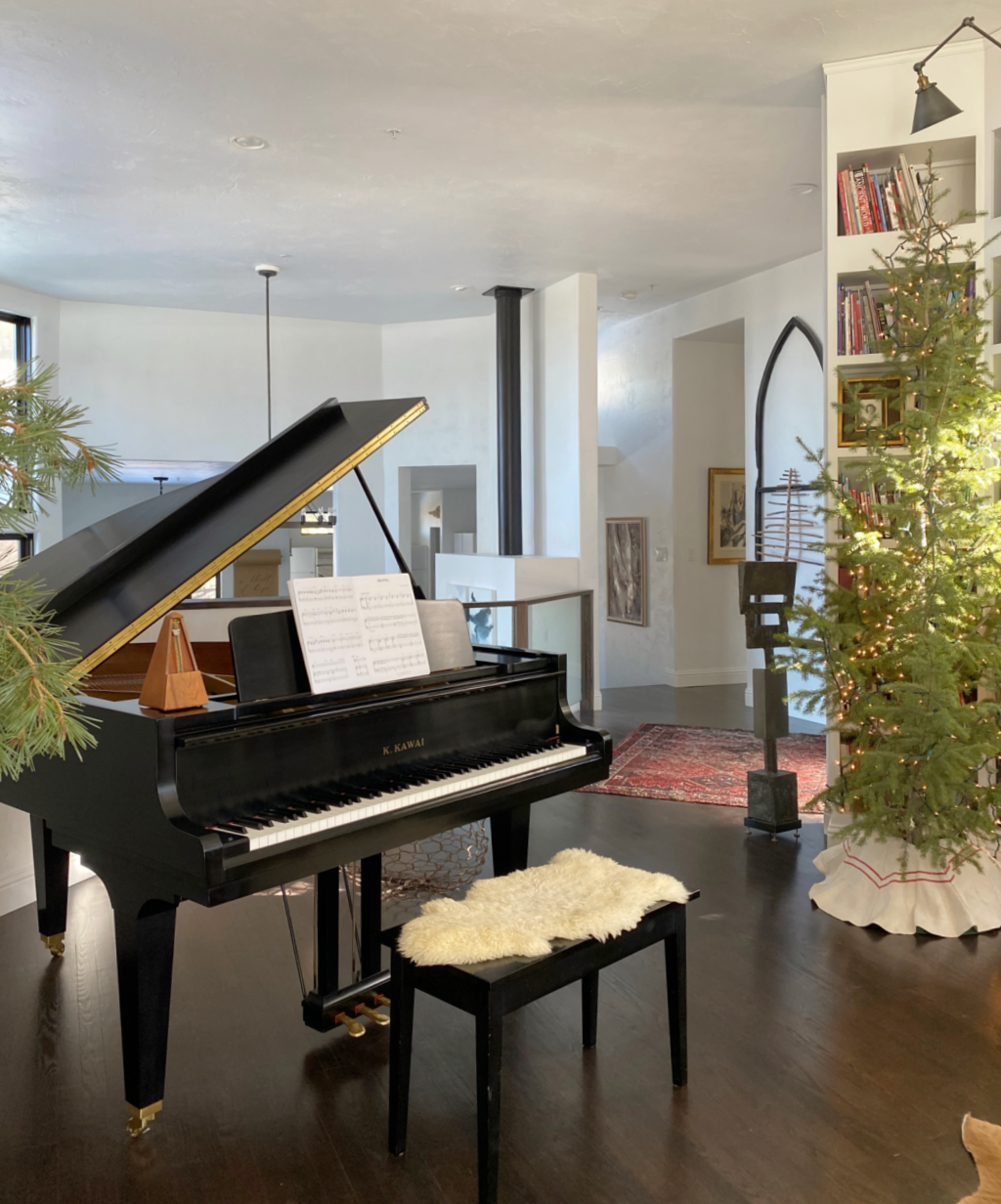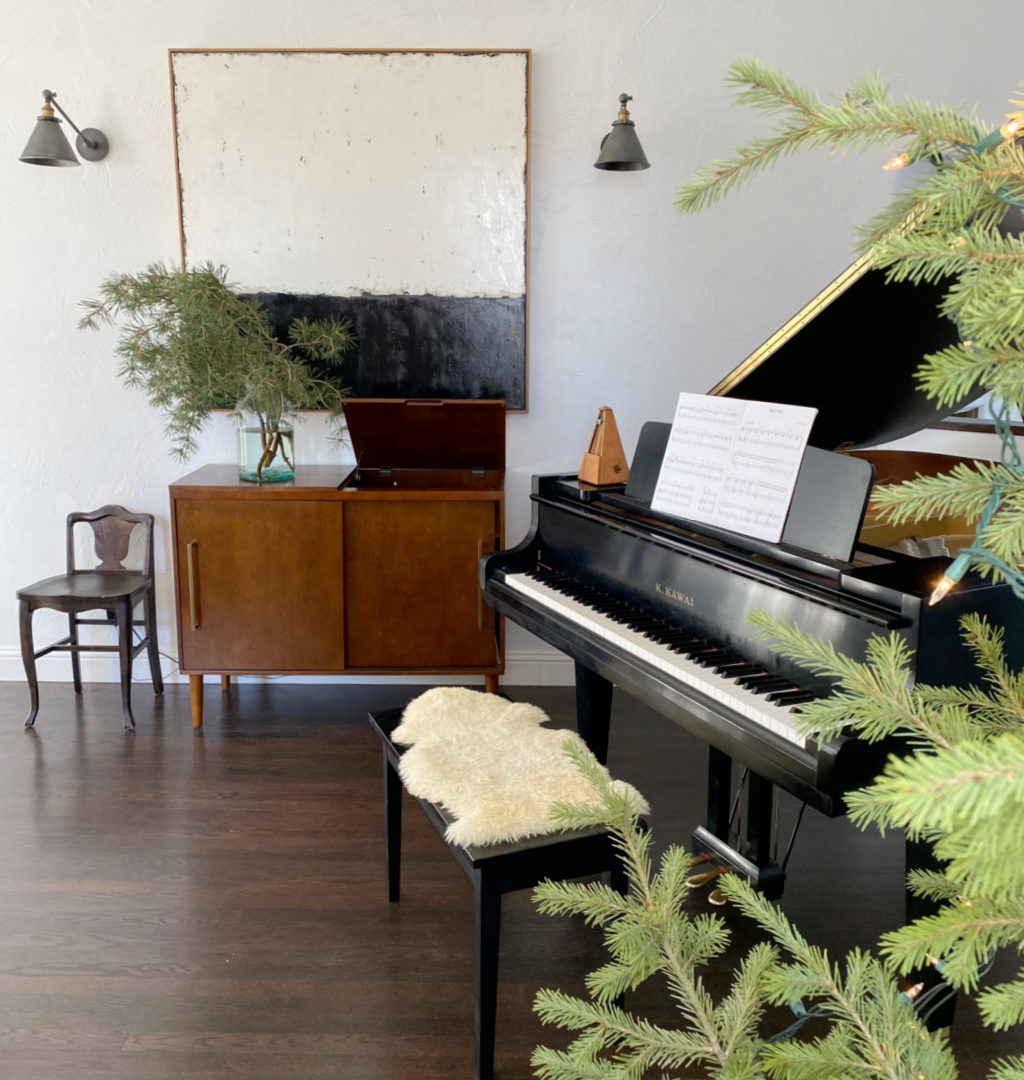 |Master Bedroom|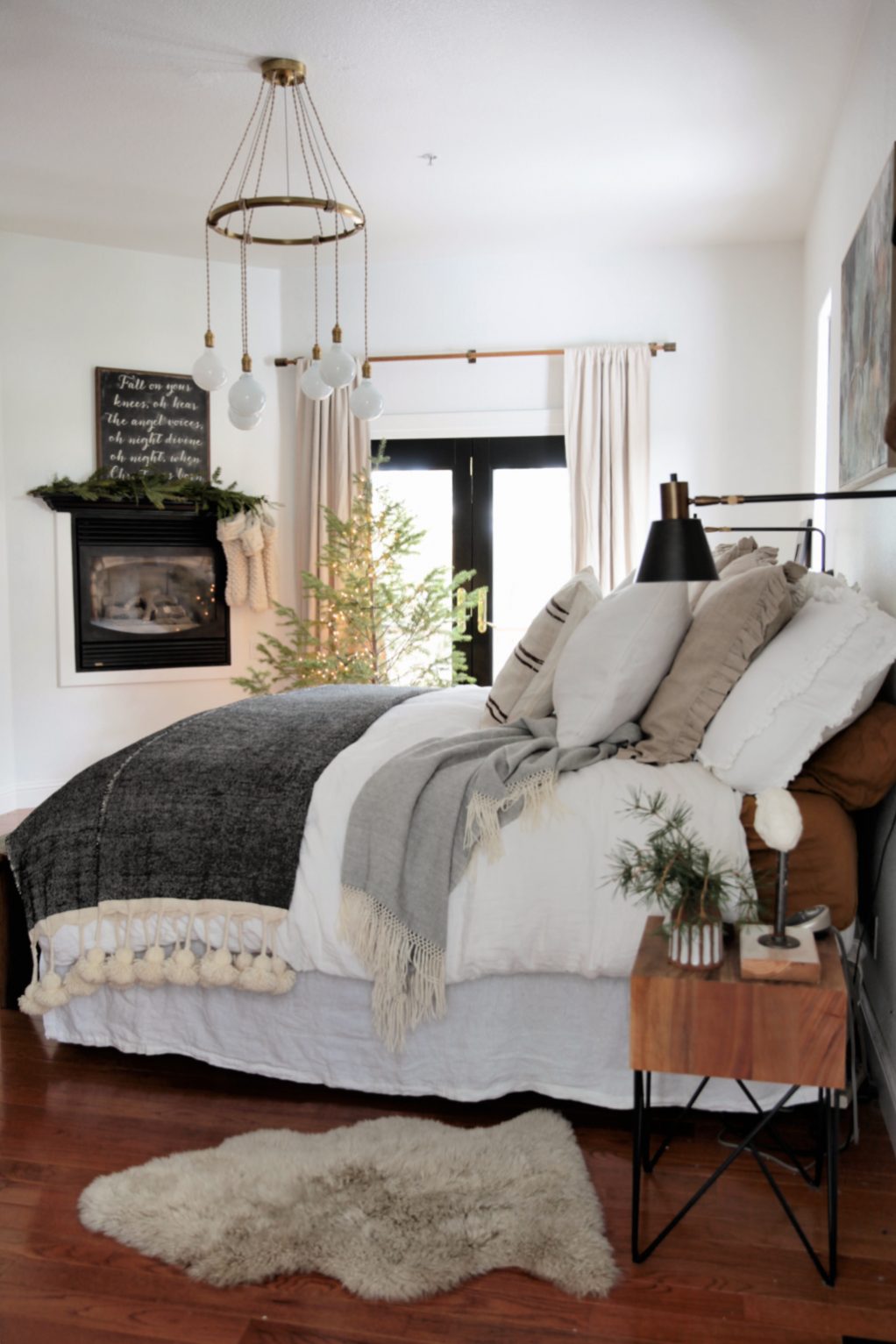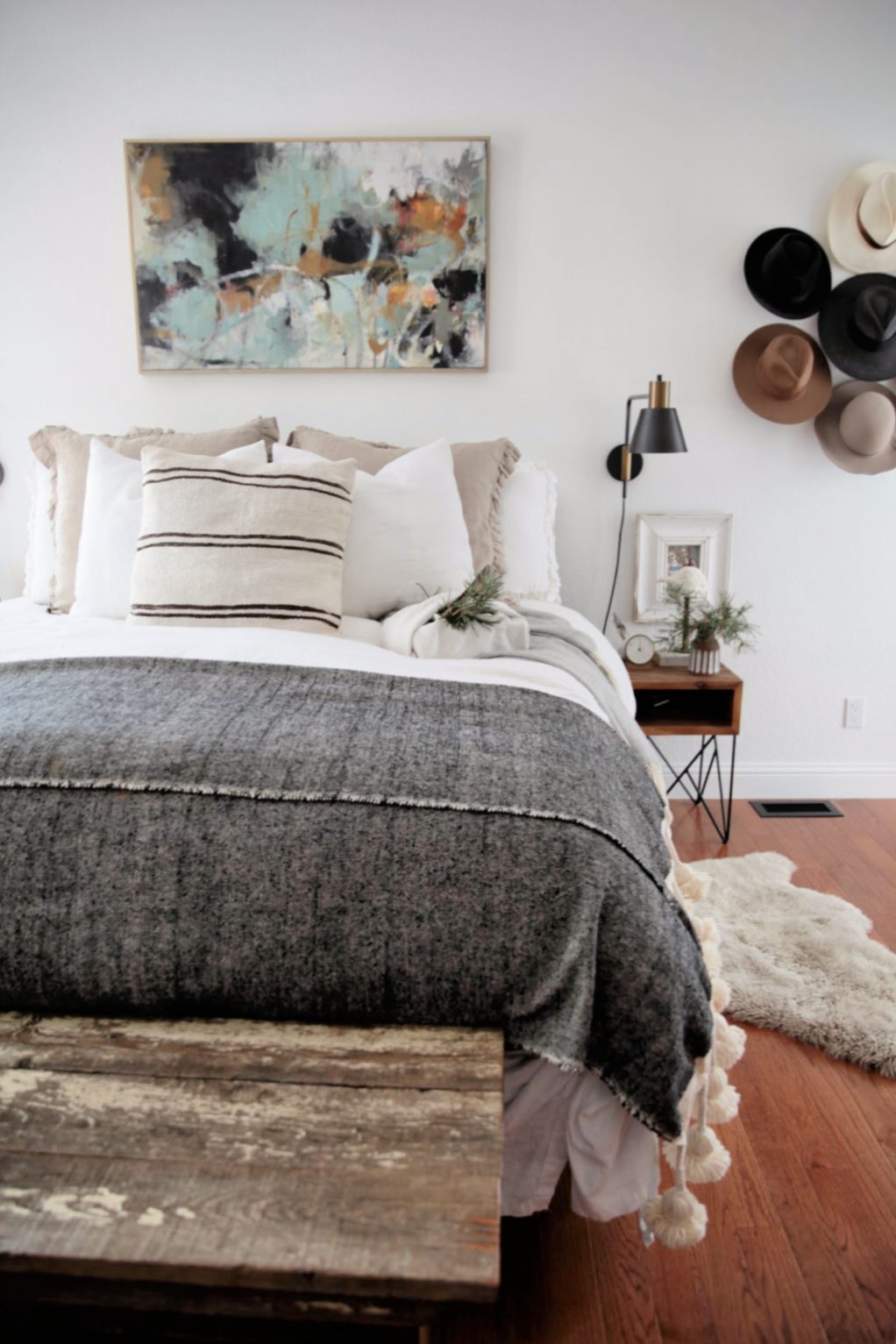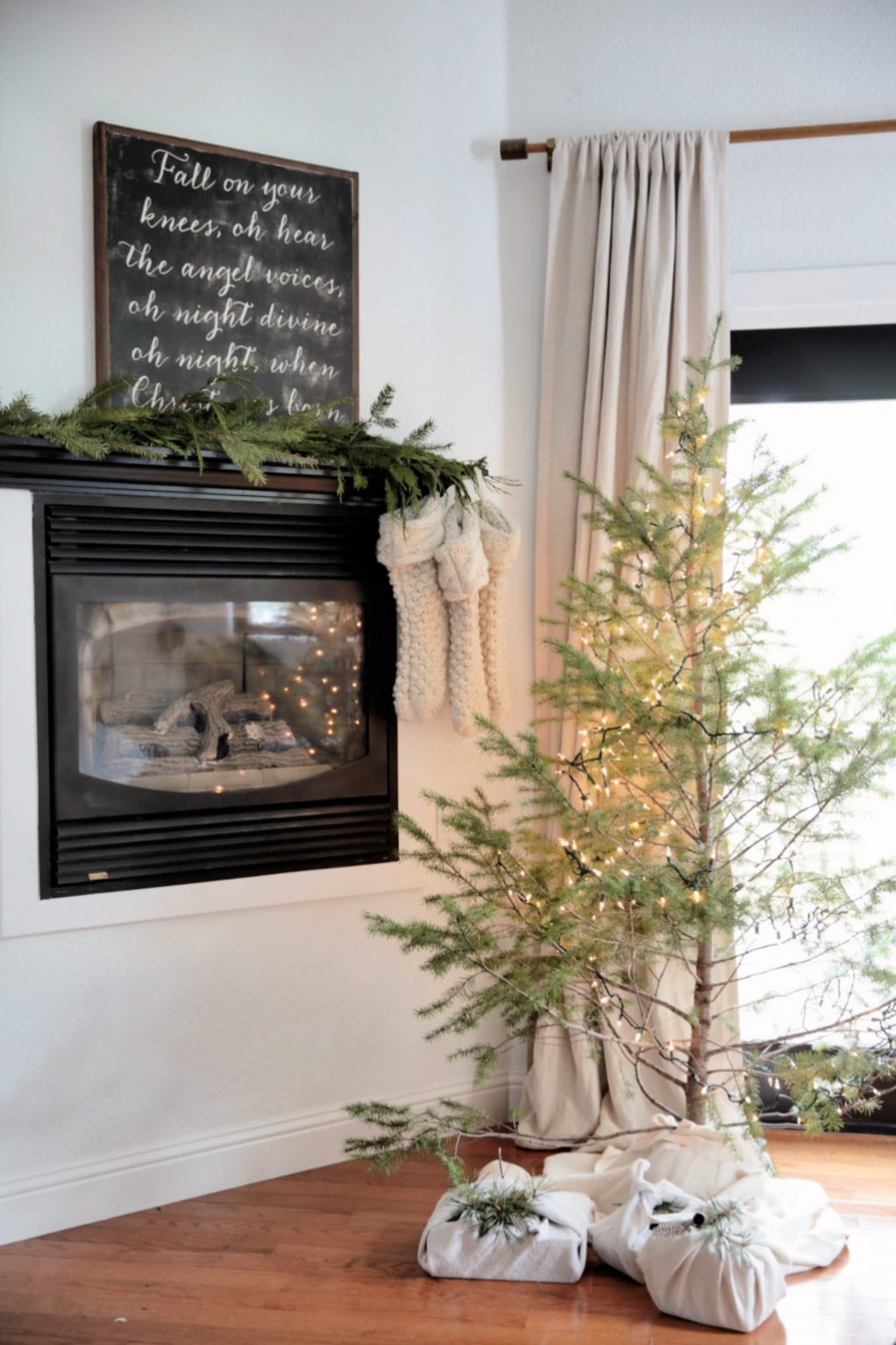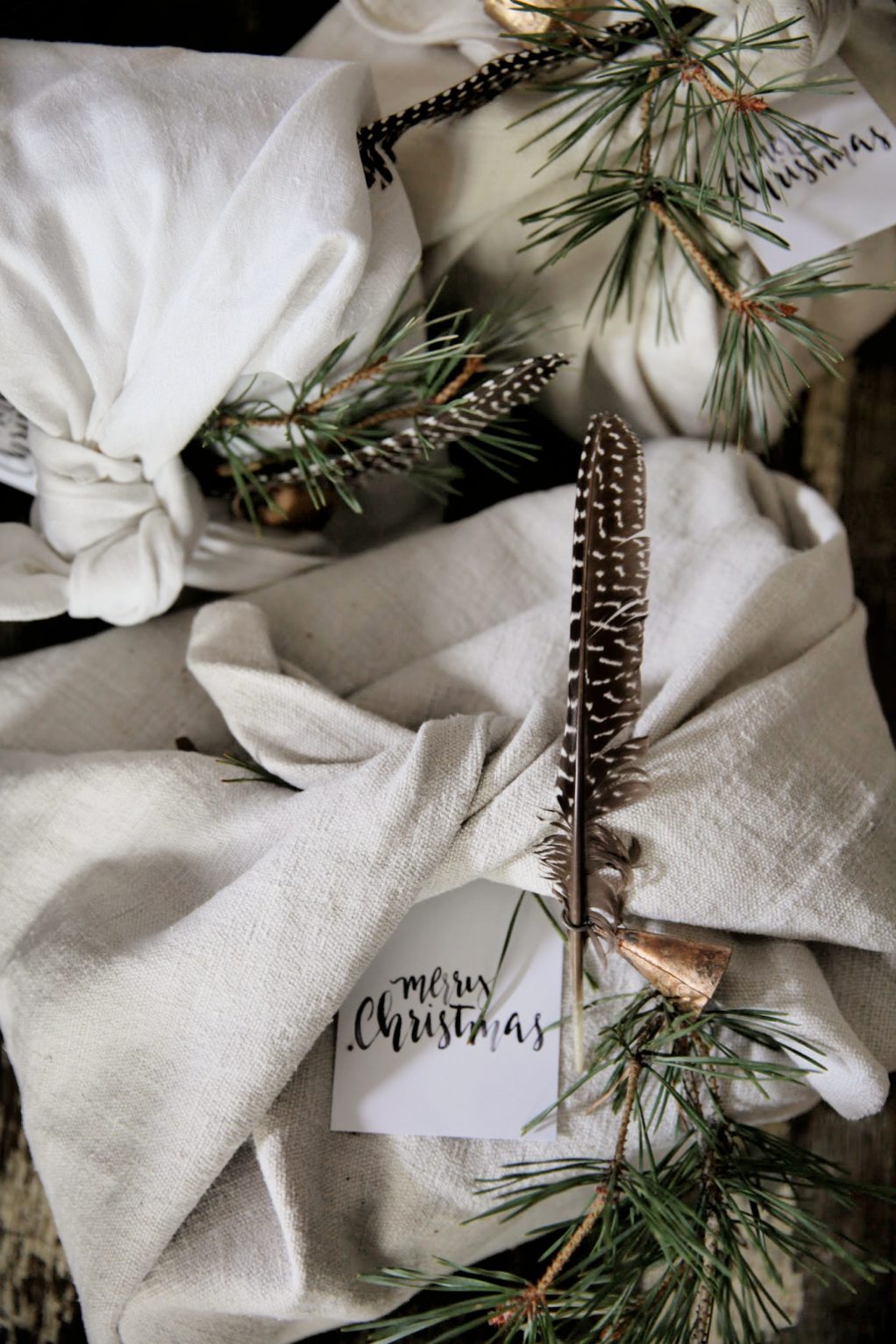 |Gifts wrapped with vintage French linen, pines, Moroccan bells and feathers. You can find all of the links HERE |
|The Art Studio|
This is a separate building from the house.
This is where I create art, film online art classes, host live workshops, where our kids make art, where we watch movies with friends, and where we often gather big groups of friends.
Most of the studio is wonderfully messy with ongoing projects but this corner was ready for photos:-)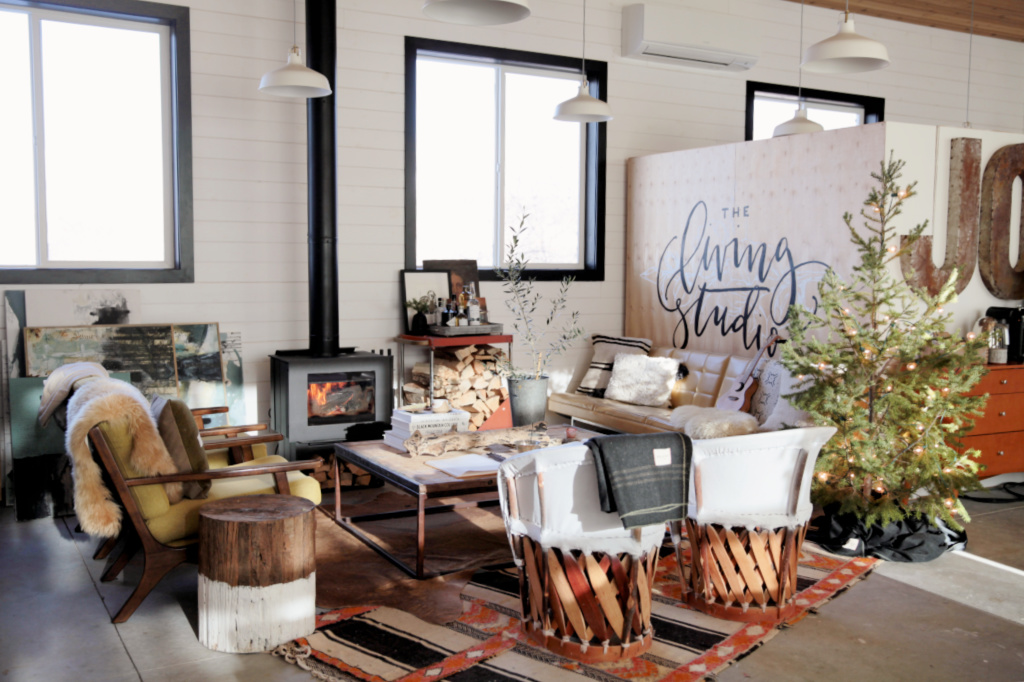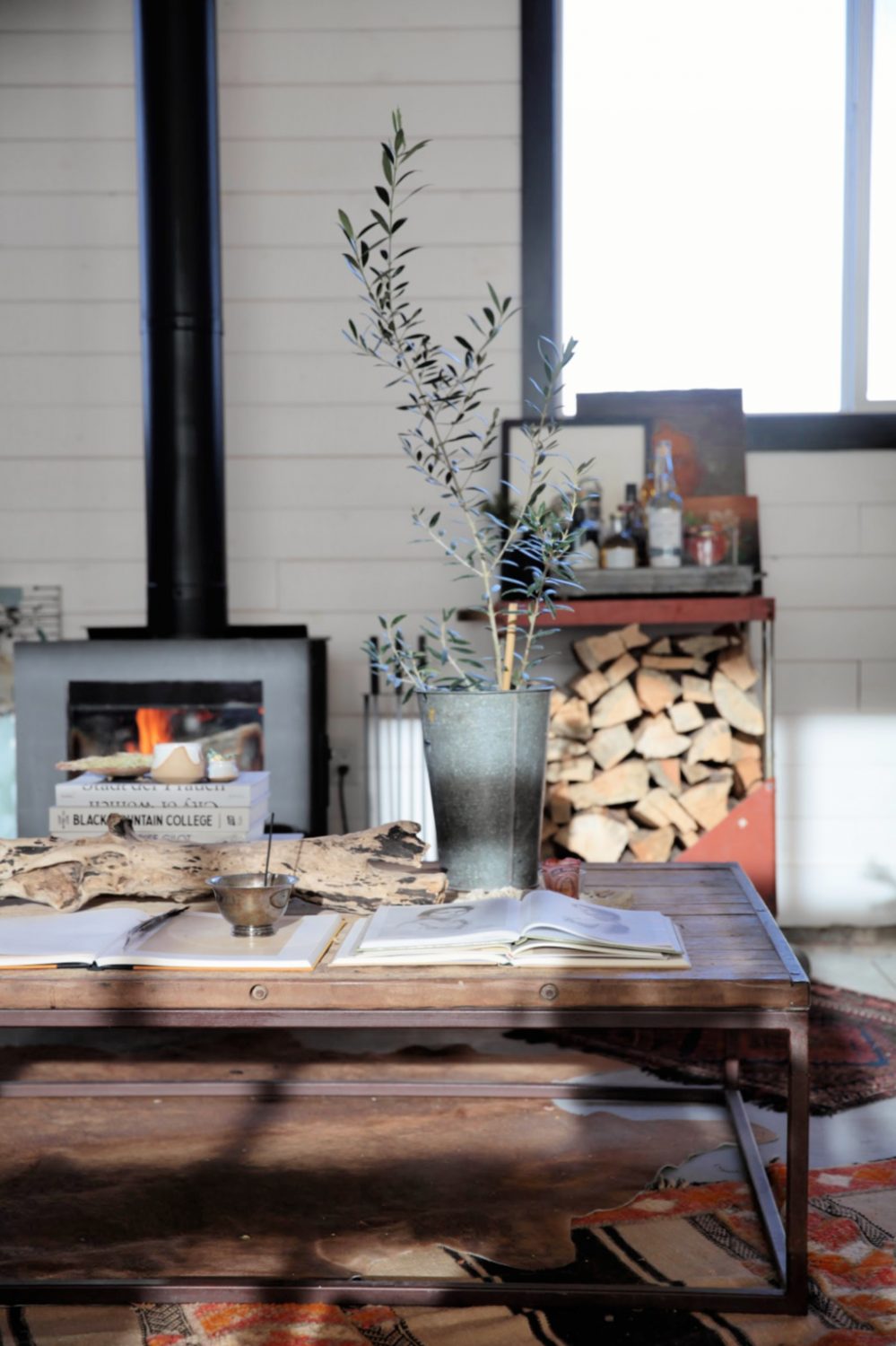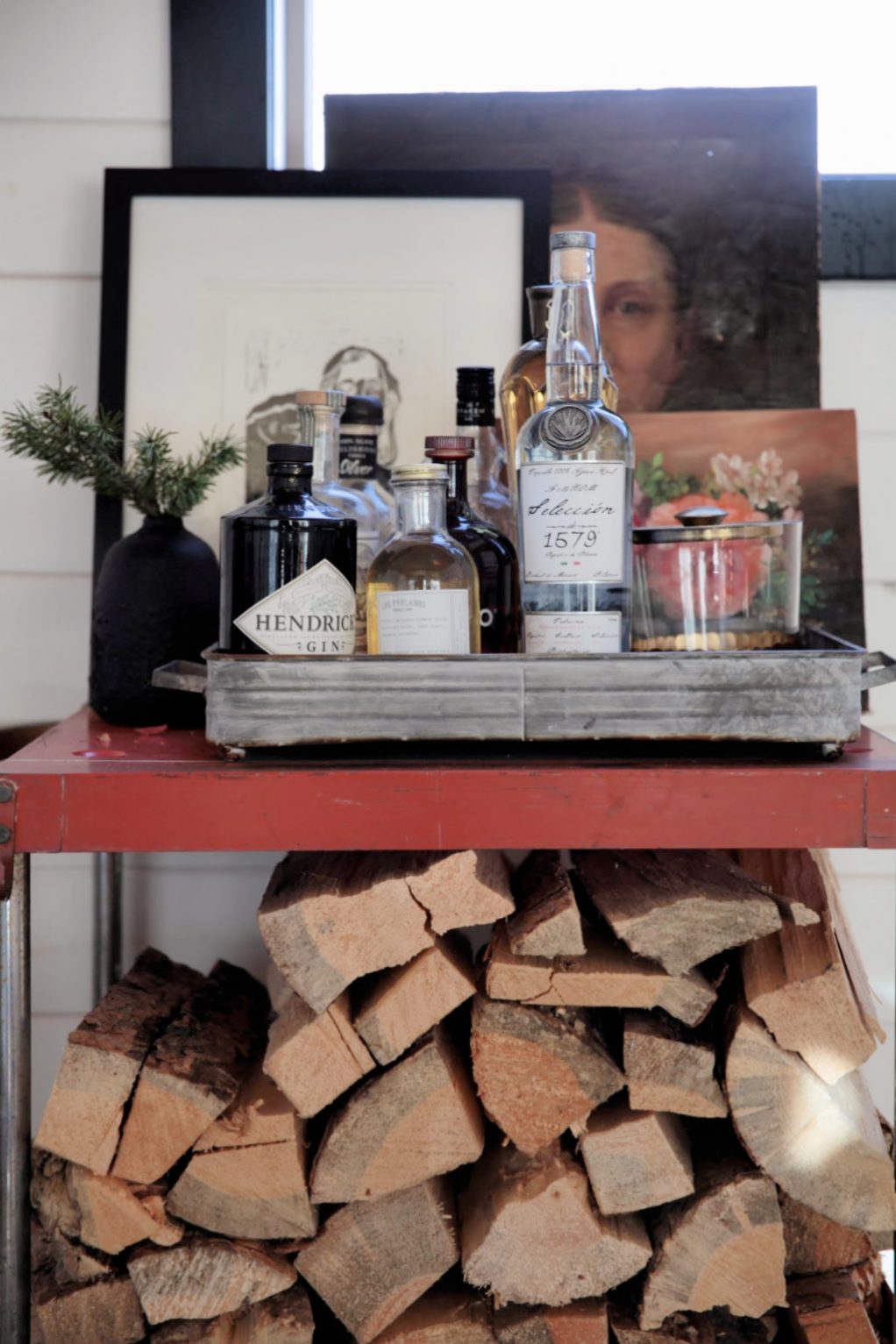 Thank you for being here! I hope you have the most beautiful Christmas season and that you stay healthy and safe!
If you would like to keep in touch and know about our newest online art, lifestyle and business workshops click HERE.