As we were getting ready to film our online business workshop, Creatively Made Business, we wanted the backdrop of the course to feel special and very unique to the course. We hired artist Mollie Garre to design the image that we would use to project, trace and then paint. We had our designer Jen Wagner then mockup the wall using photoshop with the wood wall showing, painted white or black. This was so helpful because it allowed me to visualize the wall, designs and also the furniture we had purchased for the course and to get a feel of them all together. We decided to go with keeping the wood wall showing and to paint the design black. The whole time I was making decisions knowing the color palette of even the clothes I would be wearing during filming and to also make sure the design and color palette matched the original sales page so the visual brand was consistent.
A mural wall is fun whether you are wanting to add one into your home, office or as a backdrop for a project. This mural was painted onto a wood moveable wall that my husband built. We have several around the studio that allow us to recreate spaces within the studio for workshops, my personal creating space and also future art shows.
I am including a fun speed up and then the sources we used can be found below with links. We did not prime the wall before painting and we did not seal the final design once we were finished. This takes a little time but it is not hard and it makes a huge impact for little bit of money.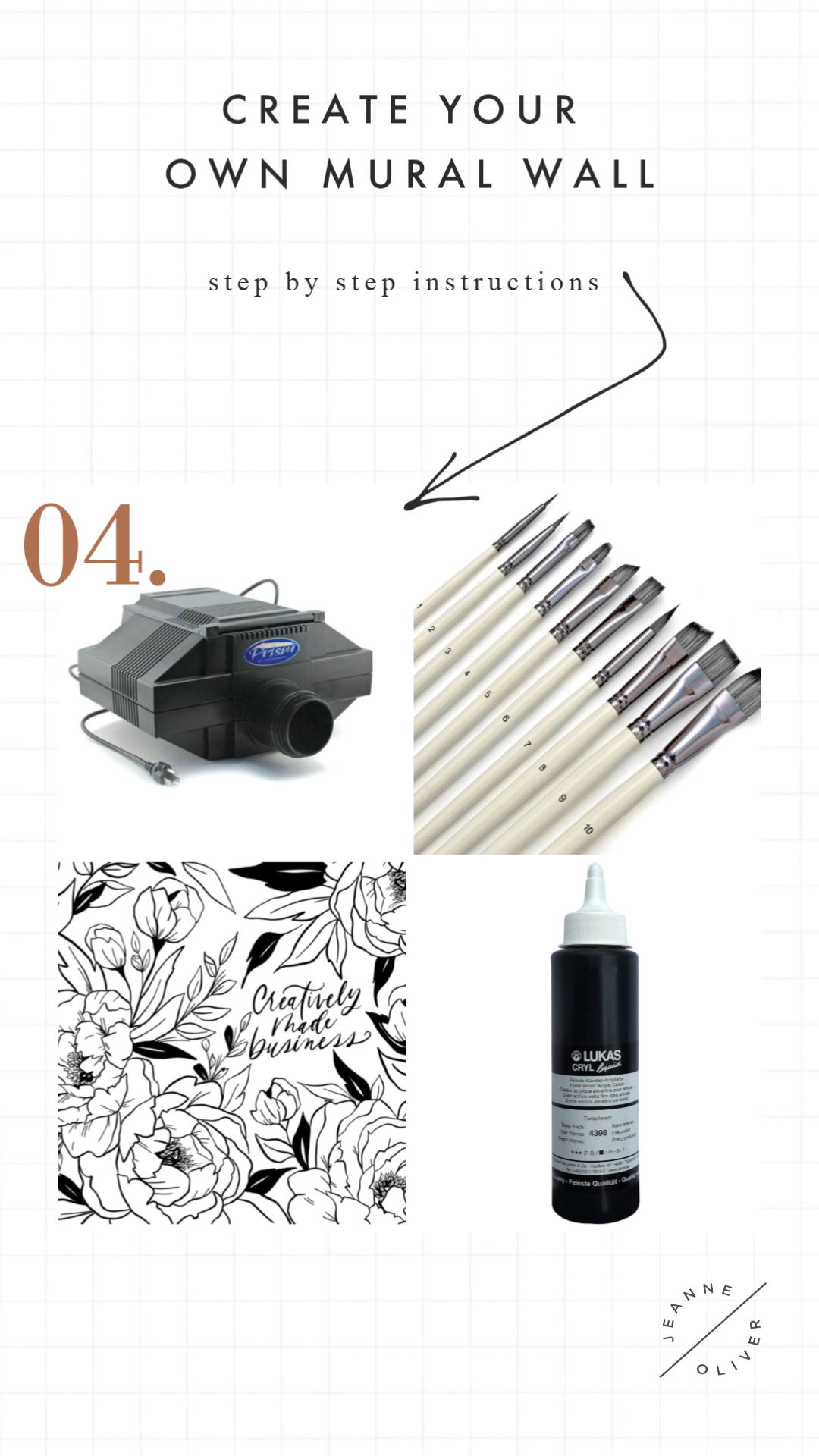 projector | design to project | pencil | black acrylic paint | different sizes of paintbrushes | non-lint rag
Decide what your surface will be
Create an image to project onto the surface. For our projector we printed it out and made sure the image size worked with the shape of the wall.
Project your image onto your surface and trace lightly with a pencil. If you are using a projector like the one shown here you will need to be working in a darker room while you trace.
Keep your image taped to the surface while you are working to have a resource of what to paint.
Have different brushes on hand along with lint free rags and a water cup.
I found myself resting my hand onto the surface multiple times and getting wet black paint on the wall. I was able to clean it up quickly with water but if it dries you may need to use rubbing alcohol to lift it up later. I am a messy painter in all projects I am afraid and I was the only one to do this.
Disclosure of Material Connection: Some or all of the links in this post are affiliate links.  This means if you click on the link and purchase the item, we will receive an affiliate commission and we are disclosing this in accordance with the Federal Trade Commission's 16 CFR, Part 255: Guides Concerning the Use of Endorsements and Testimonials in Advertising.  And as always, we only share the links to products that we actually use and love.