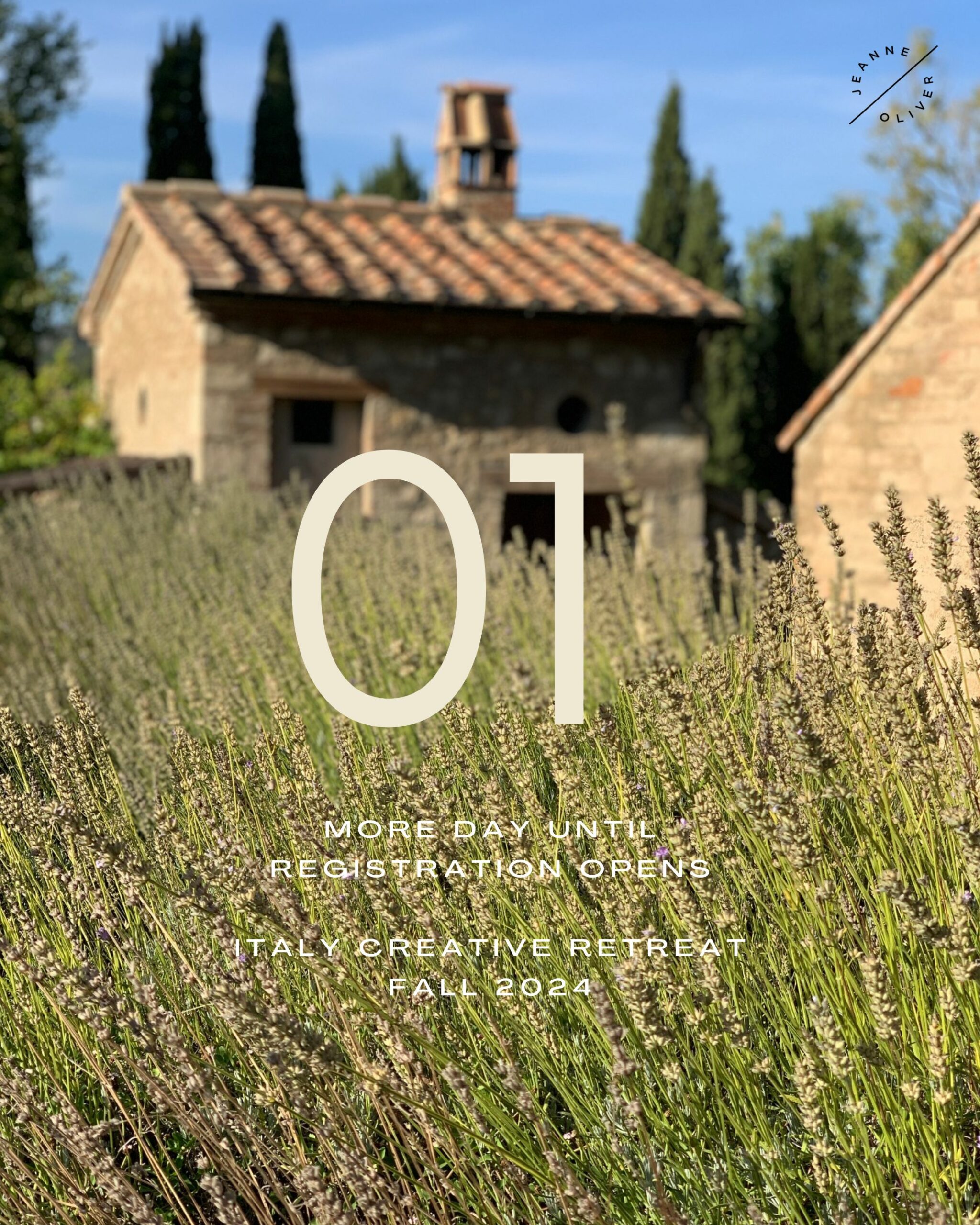 I am so excited to share that I have been invited by Daune Pitman of The Cottage Table Experience to come back to Italy with her and teach again NEXT FALL!  Registration will open on November 10th!
This is one of my favorite places in the whole world and to get to create, adventure, clink glasses, wander, sip cappuccinos and travel with YOU… is truly a dream come true!
Let's go to Italy together!
Retreat details from The Cottage Table Experience (Daune and Keith Pitman)
Retreat dates: October 4-11, 2024
Tuscany, Italy
••••••••••
Join us deep in the Tuscan countryside for a creative art and gathering retreat….as you enjoy intentional community at long table dinners, hands-on creative workshops with our featured artist, guided excursions, special devotions, time to meander the medieval villages of Arezzo/Cortona/Siena, sip cappuccinos, and enjoy the autumn harvest bounty of chestnuts, truffles, olives, and grapes in this amazing region. There is no better time to be in Tuscany than in the autumn. Tuscany IS Italy. It embodies the very essence of the country. The breathtaking countryside filled with tall cypress trees continually point to heaven as constant reminders and are always in view in this treasured region. Italy is one of our favorite places, and we'd love to share it with you.
We will spend the week with a beautiful country estate that is 4,000 years old, in the heart of the Tuscan countryside, as our home. The Borgo sits in the center of 2,500-acres that dates back to the 1600's when it was originally a convent. Sitting amongst an olive grove with a beautiful mountain backdrop, it is full of gardens, footpaths, and loggias to enjoy.
We are so excited to have an amazing artist featured on this special retreat – Jeanne Oliver will be teaching two days of creative workshops at our beautiful country estate. If you are familiar with Jeanne you know what a special treat this is! She pours out her gifts so generously in her workshops. Not only will you learn and be intensely inspired, you will go home with your beautiful creations. Jeanne loves so well, and has a passion for using art to tell your story. What an incredible time having her a part of the retreat!
Italy is a place that upholds beauty like an honor; it is a land that works, but does not strive. People who love their work and are content in their craft are people who understand a deeper metaphor about having a place to belong. They add a special touch to all they do. The people operate from a place of great contentment, and everyone there is fully aware of their blessedness. Repairs are done brick by brick with such care and attention. It is a place of rare beauty, where masterpieces of nature and human genius stand together in harmony.
"Let us behold the beautiful and be beheld by the beautiful." ~ St. Augustine
On The Cottage Table Experience Tuscany Retreat you are not a tourist, but a guest; as you will experience the local hospitality of this special Italian region, and be inspired with creativity and beauty. We seek to intentionally savor meals, moments, and people wherever we find ourselves; and chase beauty in every area of life. Will you join us at the table in Italy to gather, create, and be inspired?
Come with us for an experience that will nourish you in ways you didn't even know you were hungry, and remain with you always.
Included in the retreat price:
7 days and nights in a luxurious countryside estate deep in the heart of the Tuscan countryside, with some of the most commanding views in all of Tuscany.
7 breakfasts, 2 lunches, 4 dinners
Our private drivers will pick you up from the Florence Amerigo Vespucci Airport and transport you to the borgo on Friday, October 4, 2024 where you will be welcomed, get settled, relax, and we'll have a special long table Welcome Dinner on the borgo terrace that evening
Special welcome gifts
Two days of creative art workshops with Jeanne Oliver in a lovely borgo creative space.
A picnic in the borgo garden + long table lunch in the loggia on the art workshop days.
A historic walking tour of Siena learning of hidden treasures, with time in the stunning Duomo di Siena, filled with Italian masterpieces including many from Michelangelo and Donatello.
A day enjoying the renowned Arezzo Antique Market where you will surely find wonderful treasures, the second oldest antique market in Italy-one that rivals the brocantes in Paris.
Dinner in a vineyard with our friends that are still operating their family winery since the 1700's in the Tuscan countryside.
Time meandering the lovely medieval villages of Cortona, Siena, and Arezzo.
Private transfers to all of our scheduled experiences
Free time to enjoy the lovely borgo that will be our home for the week with opportunities to: take a dip in the beautiful pool, enjoy the meandering walking paths, spend time in the garden
Our private drivers will transfer you back to the Florence Amerigo Vespucci Airport on October 11, 2024.
NOT INCLUDED IN THE RETREAT FEE: your airline ticket, insurance [medical or travel], meals not listed in the above itinerary. Travel insurance is required for this retreat, and must include cancellation coverage.
Retreat prices:
$6,999 per person shared/double-occupancy room
$7,599 per person for single/private room