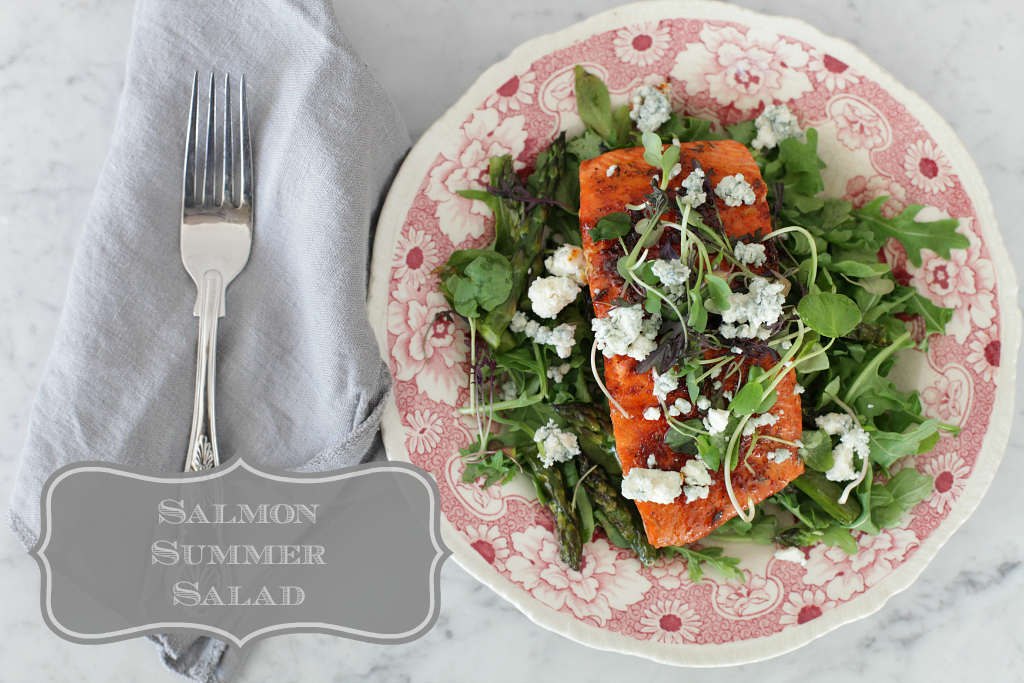 One of the things I look forward to each weekend is having more time to prepare a meal.
I have the time to make a dessert with the kids, let the pizza dough rise or just put more attention into what we are making.
This salmon salad is one of my favorites because all of the layers of flavors.
This is the perfect summer meal!
Salmon Summer Salad
4 Salmon Filets
4 tbsp Grape Seed Oil
2tbsp Olive Oil
4 tbsp Brown Sugar
4 tbsp Paprika
4 tbsp Sea Salt
3 tsp Thyme (fresh if you have it)
Pinch of Ground Corriander
Pinch of Ground Cumin
dash of Cayenne Pepper
1-2 Bunches of Asparagus
Organic Micro Greens
Arugula
Blue Cheese Crumbles
Balsamic Dressing
1.Pre heat the oven to 350 degrees
2. Wash all of the asparagus and spread out onto a baking sheet. Lightly toss with olive oil and sea salt and bake for 12 minutes or until tender
3. After the asparagus is cooked just set it aside to cool. Once cool chop and set aside.
4. Mix together in a small bowl all of the spices and herbs.
5. Rub the spices all over the salmon filets and sear each side in a pan (with 2 tbsp of grape seed oil) for 1-2 minutes.
6. Transfer the Salmon onto a baking sheet and place in the oven for 3-4 minutes
7. While the Salmon is cooking start arranging each plate.
*The first layer on the plate is a bed of arugula
* Sprinkle with the chopped asparagus
* Once the Salmon is done place a file (or a half for children) on the arugula and asparagus
*Sprinkle the blue cheese crumbles
*Finish with organic micro greens on the Salmon.
I think the spice rub gives the meal so much flavor that you don't need a dressing but I always provide a balsamic dressing.
Enjoy!
**********
The time is finally here!
Creative Girl: The Land of Light and Shadows begins THIS Monday!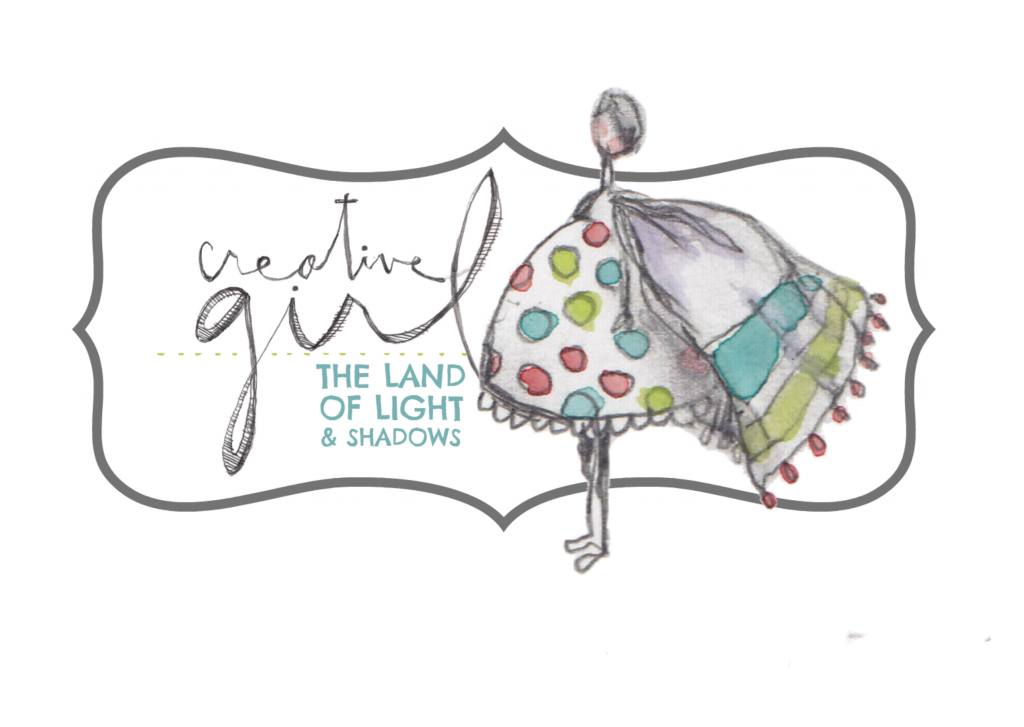 I can barely stand the excitement that you all have and I am beyond thrilled to show you Danielle's gorgeous videos on Monday!
You will not want to miss this course!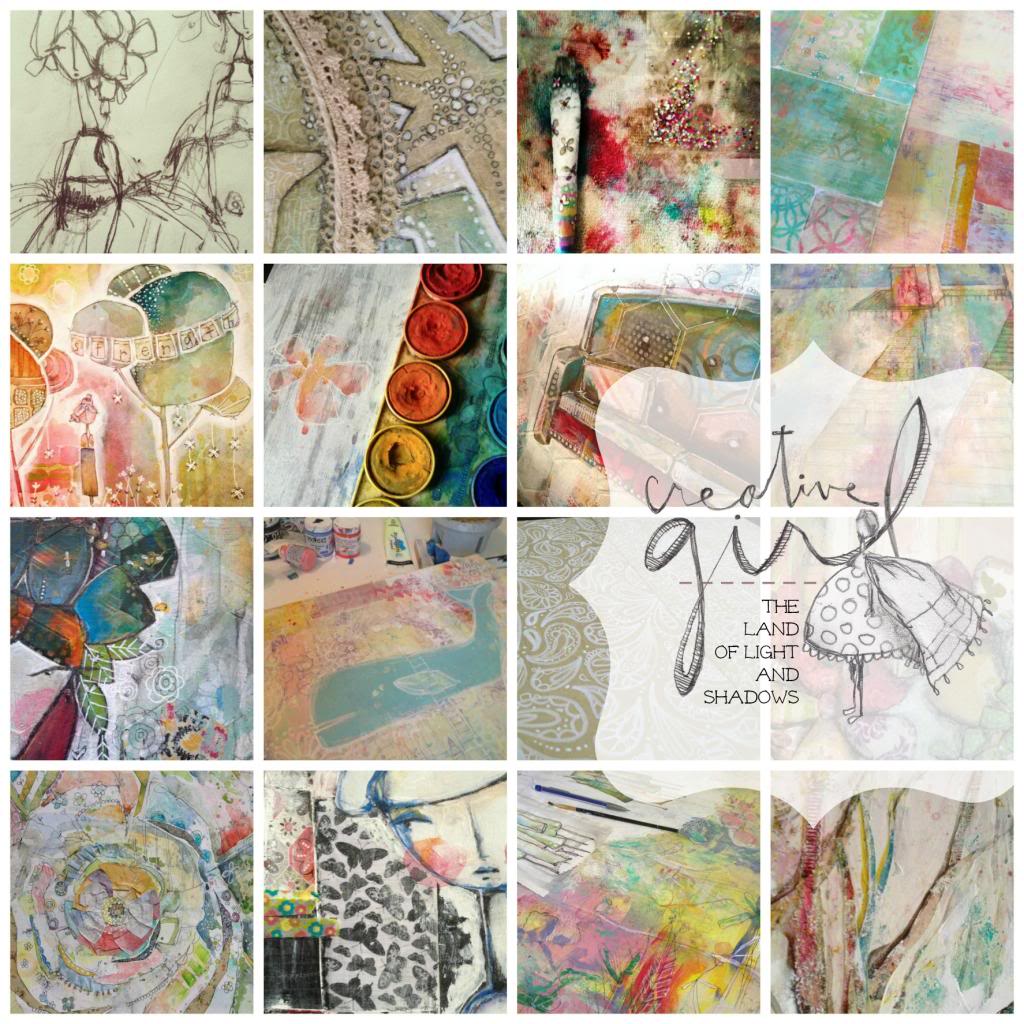 Here is a peek into what her course will be about…
Once upon a time there was a tiny-ish girl who loved to cut, draw, and paint. She saw things in the sunshine and shadows that other people never seemed to notice. She bounced all that wonderfulness around inside her noggin for a bit, and out popped magical pieces of art that told her stories when words couldn't.
Danielle Donaldson is that girl, and guess what? She wants to share a part of her creativeSTORY with you. YES YOU!
The Land of Light and Shadow is a one week course with Danielle (aka creativeGIRL) that will inspire you to add depth to your work by using a bunch of super fun techniques. You'll play with all sorts of mediums including pencil and pen work, watercolors, acrylics and patterned paper creating yummy layers. And just when you think you are done, you'll practice adding highlights and tucking in shadows here and there to make your art sparkle. Sounds awesome, right?
Please join Danielle the week of April 28th for a romp with watercolors and white pens and all sorts of creative shenanigans into The Land of Light and Shadows.
This is a one week class with everything instantly available on April 28th!
The course is $34.
This course is available for one full year.
You can go directly to jeanneoliver.ning.com and register for the course by clicking HERE.
 (this will put you instantly in the course and you will be ready when class begins)