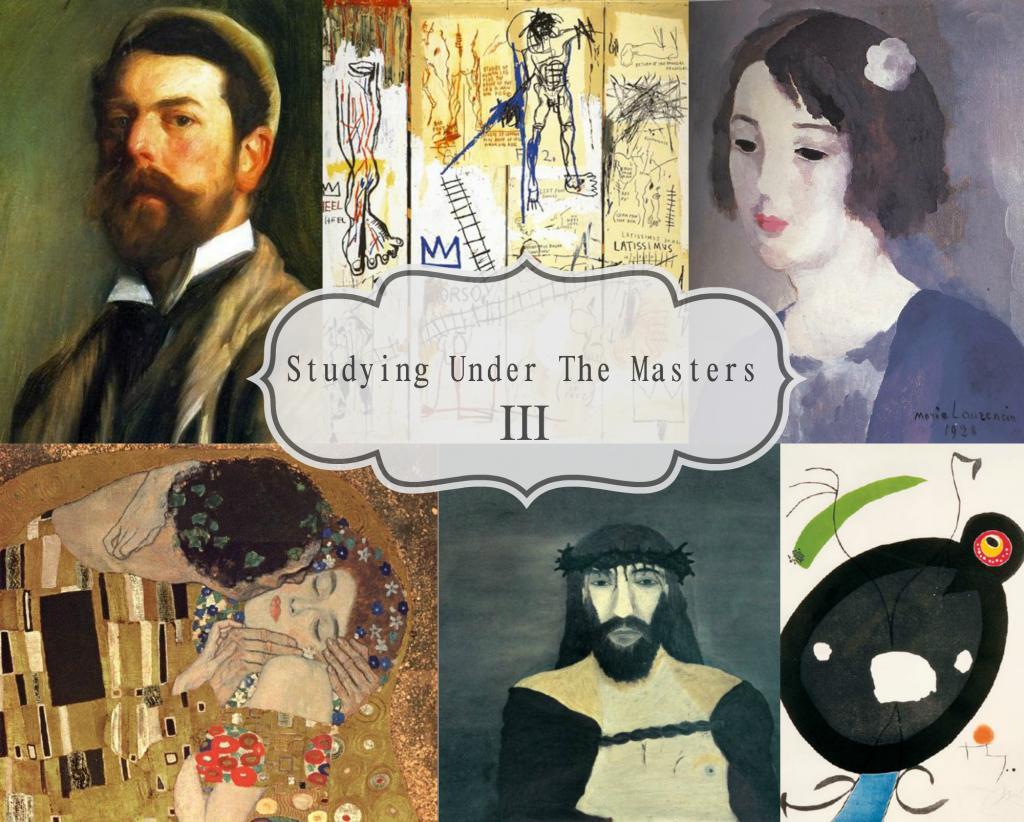 Do you want to look at art with fresh eyes?
Do you want to learn some of the mediums and techniques that have created some of the most interesting art in the world?
Do you want to learn how to find your own voice in the world of art and how to make your art stand out?
Do you want to study the history behind some of your favorite artists?
Come into the rich world of Studying Under the Masters.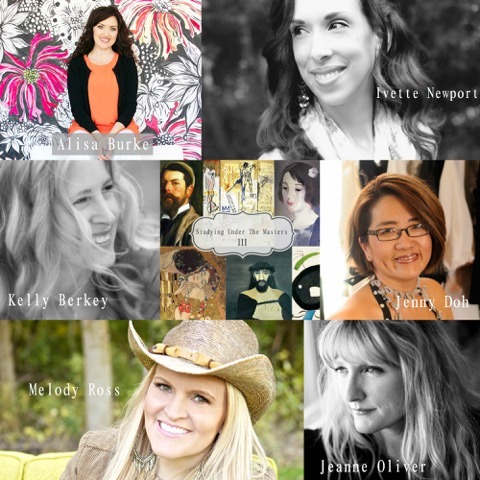 This is the third and final installment of this popular online series.
Studying Under The Masters III will focus on college, abstract, illustration, still life, folk art and portraits.
Ivette Newport will study the work of Marie Laurencin.

Kelly Berkey will study the work of John Singer Sargent.

Alisa Burke will study the work of Jean-Michel Basquiat.

Jenny Doh will study the work of Joan Miró.

Melody Ross will study the work of Gustav Klimt

Jeanne Oliver will study the work of Horace Pippin.

Here is praise for the Studying Under The Masters series…
"In all my years as an artist, I have never had a course that stretched and grew me so much. Not only has my art taken off in so many exciting ways, but I was blessed with friendship and support I never expected. Thanks for all that you do. I am so looking forward to part two!"
-Renee
***
"The Studying the Masters class inspired me to look deeper into my own art process. The format where I was able to find out more about the artist's process and their techniques captured my attention. The presenting artists were quality women whose own art process gave me confidence to keep going. I look forward to the next class."
-Linda
***
"This course is one of the best I have taken in that it introduced me to several different modern day artists. In watching how they studied under some masters, I became a student of, not one, but TWO artists each week, some of whom I feel a real resonance with!! I feel as though I am finding more of my artistic voice as a result of this class, and that is pretty exciting!! Thanks so much Jeanne for helping me take another step closer to my dream! "
-Silvia
***
"The best class ever no matter your talent level…seeing the instructors paint right along in  "their" style of painting trying to get close to what a Master created was so enlightening since each had awesome talent but different ways to get the final results that they wanted! We were in their studio with there favorite supplies, magic!"
-Tari
Here is a glimpse of what you can expect each week:
*The guest artists will study under the "master" of their choice. This will include a brief history of the artist.
*Start to finish video of the artist practicing a painting of the chosen master
*Videos sharing what they learned through practicing the techniques and style of another artist
*A start to finish video of the artist creating their own art using techniques they have learned but creating in their own style
*Each week will end with the artist sharing the artists that have encouraged and inspired them over the years.
*Each week will have book and video references
*Weekly live online "chats" with the artist
*All content has lifetime access
*All videos are pre-recorded so you can watch at your convenience
This new course will have 5 artists that will be joining me for a 6 week online course.
To read more about about the course click HERE.

You can also register by using the paypal button at the bottom of this post.
This 6 week course begins May 5, 2015 with lifetime access*.