If you still have special people on your list and you haven't been able to find that perfect gift for them I hope this list will help.
I LOVE gift idea lists and I am hoping you do too!
I wanted to start with the teen boys and men because they are harder for me to shop for (and maybe you feel the same).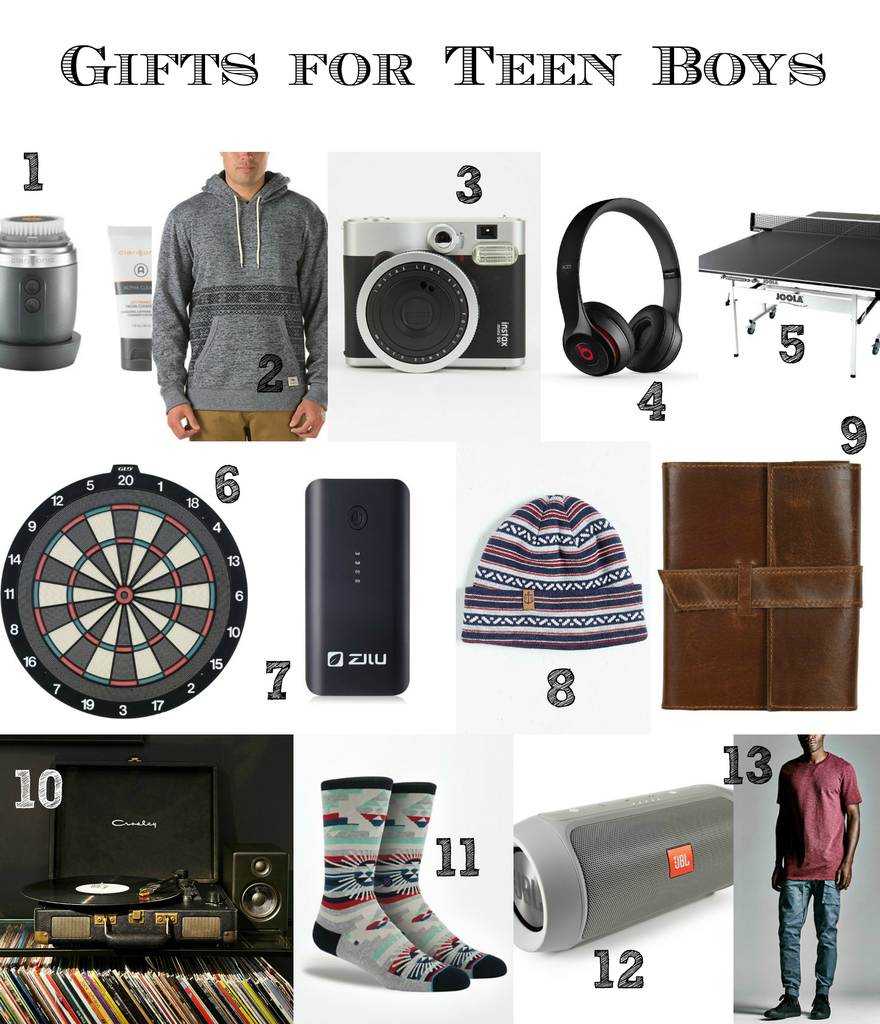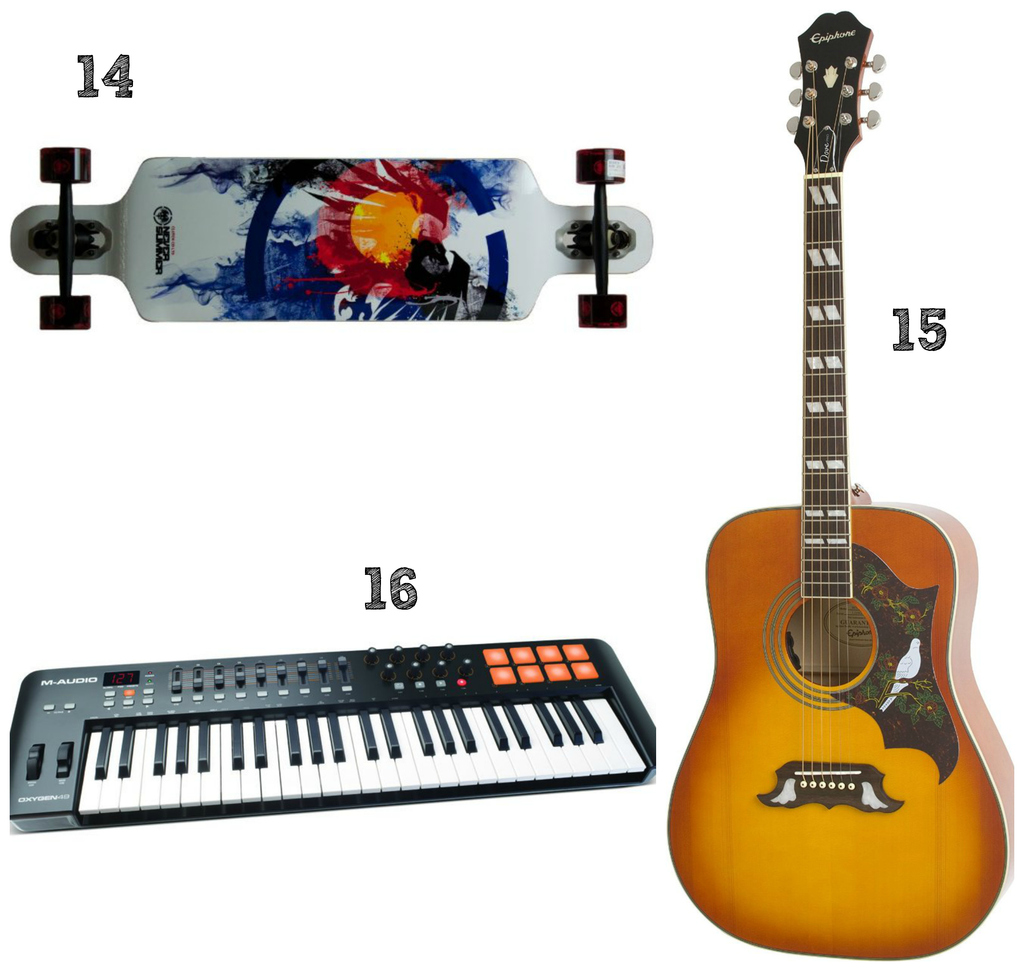 1. Clarisonic for men.  Boys like to take care of their skin too and will pretty much do anything necessary to not have acne. At least this one looks cool!
2.  We love clothes in this home and Kelly blames me for our kids being into fashion:-)  I love that they each have their own style and really love expressing themselves through their clothing. It is fun to see this side of them. Vans is a long standing tradition because Kelly grew up going to the skate parks in California.  Jack was wearing baby vans and now really loves their clothing too.
3. Instant cameras are fun for everyone and this style is awesome for boys
4. Music is a huge part of the kid's lives just like it was for most of us growing up (and even now).  These allow everyone to listen without driving the other people in the house nuts!
5. My kids love having things to do with their friends and family besides tech. Having fun games around just makes it that much easier.
6. Soft tip darts are the perfect accessory to any teen bedroom. Sure the wall is a little beat up around it but safer and less messy than the metal darts I grew up with.  My little sister MAY have gotten one of those rusty metal darts stuck in her leg.  May.
7. This portable charger is pretty much a must for everyone in your family!
8. We probably have more beanies than we can count around here but we are still drawn to them wherever we go. I am a sucker for them too.  The plus is that it doesn't matter if you are having a bad hair day:-)
9. Last year we got Jack a leather journal and a really nice pen (and this is something he asked for).  Everyone deserves something beautiful to sketch in or a place to collect your thoughts.
10. A turntable is just plain fun! We have a few in our home and we love trading out our favorite vinyl with each other.
11. My friend Alexis got all of my kids wearing Stance socks way before they were popular.  Now printed socks in all brands are everywhere and we tease Alexis that she needs to tell us what trend is next.
12. Bluetooth speakers are easy, portable and lets you share your music wherever you go.
13. Our Jack is one of the best dressed boys we know and joggers are one of his favorite pants.
14. Never Summer Longboards are guaranteed to get your boy away from the computer and out on the roads.
15. Each of our children started piano in first grade and within the past few years Jack has also taken to the guitar and has an incredible teacher.  I know he loves the easy of taking his music with him anywhere.
16.  Last year we bought Jack a midi keyboard so he could start composing and recording his music.  This definitely has a learning curve but it has been a lot of fun.
Jack wants to make sure that you know he also loves video games 🙂 and here are his top games: Call of Duty Blackops III, Star Wars Battlefront III, Minecraft.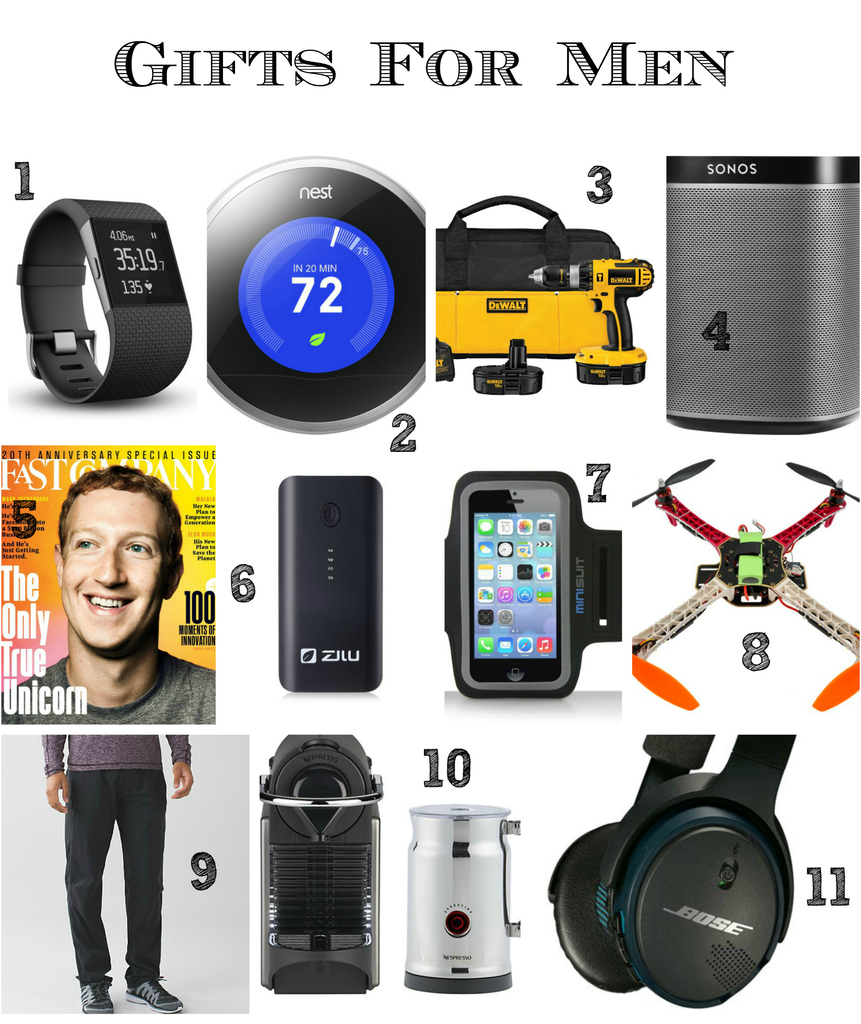 Be warned that when you get your husband a fitbit that he will compete about everything physical activity.  You have been warned.
2. My husband is tech all the way and he installed the Nest heating and cooling controls in our home over a year ago and it is amazing. I have to agree with him. We can even control the temperature from our phones while we are away.  We have saved money on heating and cooling too.
3. Rechargeable drill. Enough said.  Your husband will love you.
4. Sonos speakers are the coolest. We have different ones throughout the house. It allows everyone to play their own music and playlists wherever they are in the house. Another thing that I would never have without a techie husband.
5. As a couple of entrepreneurs in this house we love this magazine subscription. This is a good gift for any business owner/dreamer in your life.
6. The portable charger again. Sorry. You need one.
7. My husband loves to run and this makes listening to your music on your phone so much better than holding it the whole time.
8. I may not understand it but boys love toys and my biggest boy LOVES drones.  This was his gift a few years ago and it is a blast.
9. A little pricey but Kelly wears them all of the time and often on his runs.  They are super comfortable and I even have the girl version.
10. We all have a vice right? Well, we love coffee and this makes one bad ass cup. It is true. There was no other word that was appropriate. I am sorry mom.
11. I have the earbud version of these and they save me all of the time. They are sound canceling headphones and it allows me to travel on a plane and sleep, work at a coffee shop and actually think and sometimes at home write when kids are loud and crazy all around me. Priceless to me.