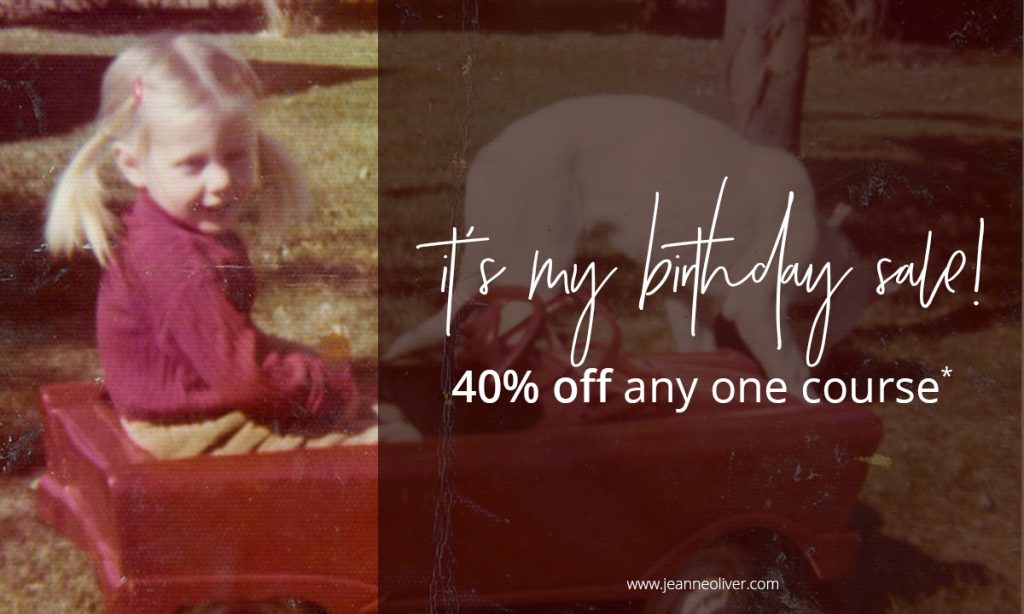 Not much has changed since this photo! I still wear my hair in pigtails and I am a sucker for convertibles!
I love birthdays! I love making it extra special for those I love and I will squeeze all of the goodness I can when it comes to me too. I have been known to keep it going for as long as I can and I am not ashamed!
Come celebrate with me and get a course that you have been looking at for 40% off! Use code: BIRTHDAY40 at check out.
Thank you so much for being a part of our creative community! It means everything to us!
For the next 48 hours we are having a sale for 40% off any one course*
USE CODE: birthday40
This is the perfect time to grab that online class that you have been dreaming about taking.
Our creative network has some of the most incredible artists around and the content is rich!
*Note Promotion Details Applicable*
Courses Not Included: Daydreams and Window Light, The Art of Connection, An Illustrated Journey, Minimal Collage, Soul Food
Does Not Apply Towards: Shop Merchandise of any kind | Live Workshops | Gift Cards

Cannot be applied towards previous purchase: Not During the sale nor after
No Exchanges | No Exceptions
Want to learn a new art technique?
Want to show your creativity in your home?
Want to learn beekeeping?
Want to create with your kids?
Wish you had gone to art school?
Want to learn how to even begin creating?
We have something for everyone!
USE CODE: birthday40
This sale will end after 48 hours so don't miss out on all of the creativity and learning waiting for you.
Thank you for being a part of our creative network and helping us to create such an incredible meeting place to grow and learn as artists!
*Note Promotion Details Applicable*
Courses Not Included: Daydreams and Window Light, The Art of Connection, An Illustrated Journey, Minimal Collage, Soul Food
Does Not Apply Towards: Shop Merchandise of any kind | Workshops | Gift Cards

Cannot be applied towards previous purchase: Not During the sale nor after
No Exchanges | No Exceptions