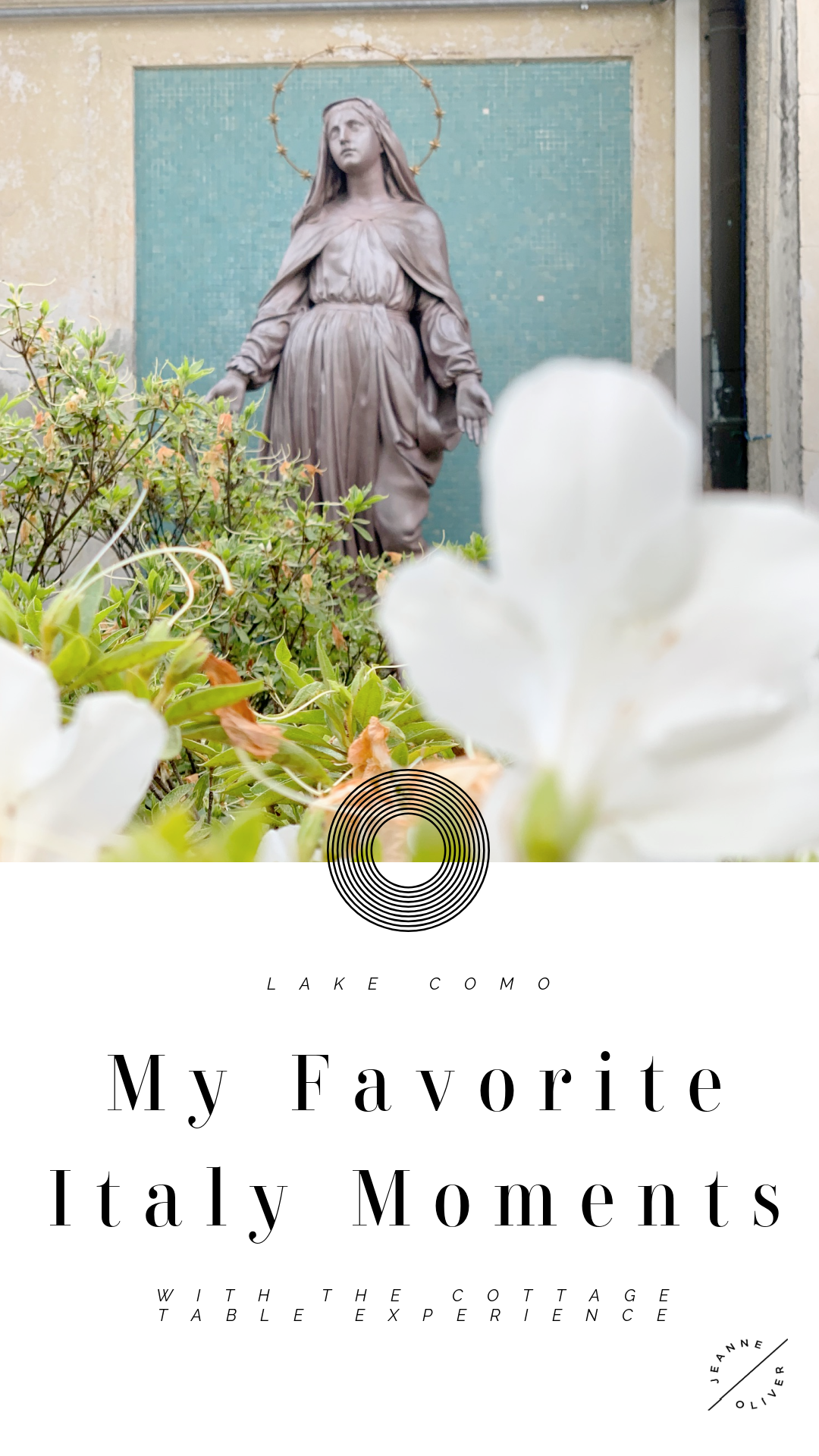 I have often found that while traveling it can be hard to process beauty, significance of moments, the impact that the journey is having on me, the relationships, what I will choose to bring home in the way of gardening, food, decorating, lifestyle etc. I am a processor but most often after the trip. It will steep in me for days, weeks, months and sometimes years.
Travel has impacted how I entertain, make art, use beauty in my day to day, the food I make, the wine we drink, the flowers we plant in our garden, the music that plays, the way I decorate spaces and even how I choose to show love to people in my life. When I look around our home, land, studio and even business…I see the ripple effect of travel.
We have recently returned from a family trip to Italy to celebrate Jack graduating college and my 50th birthday. The first part of the trip was just with my family (and I will be sharing that soon) but for the second part of the trip I joined friends for Daune and Keith Pitman's The Cottage Table Experience. Our time in Italy was beyond my expectations (and I have high expectations:-)) and both experiences were so different but both so beautiful.
As I have been processing the whole trip and also what was so special about the retreat, I starting pulling together some of my favorite moments. Some of my favorite moments are going to be the wind through my hair as we are riding on the vintage boats along Lake Como, the pure laughter that was always surrounding me at the long table dinners, hiking, or creating, the attention to detail that Daune has for people, events and moments, the scent of the jasmine in the air that embraces you all over the lake, the kindness of the Italian people, how Daune knew almost any flower I was admiring and helped me keep a running list to try to add to my garden when I got home, and the heart behind this retreat that was spoken and not spoken and the boldness and beauty of it!
I wanted to also share some of the intentional moments that Daune and Keith created for us that were treasures, not only in the retreat, but in the ways those moments are now stitched into how I will live life, love others, follow Jesus, celebrate beauty, gather, worship, and see others.
1.The Villa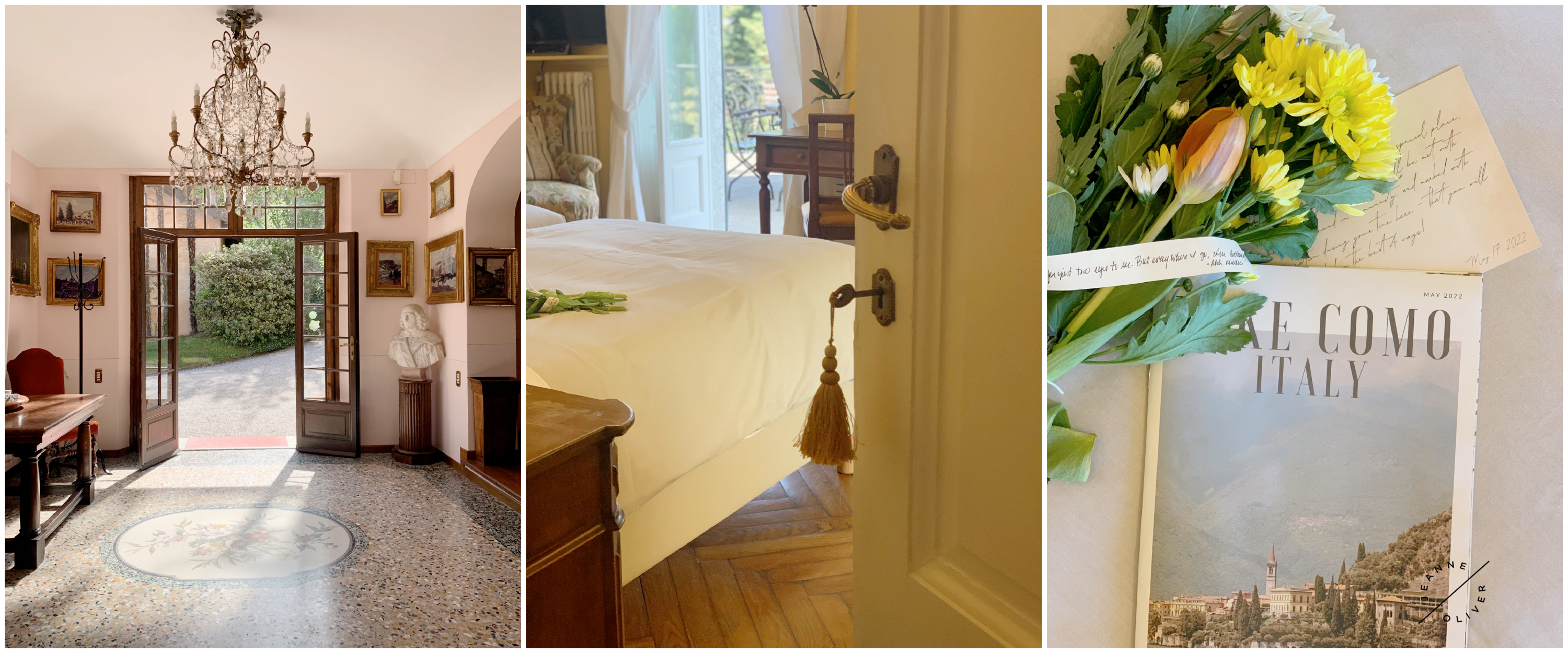 I have been a lover of details since I have been a little girl. Give me a good experience over anything bought and that is what I received through The Cottage Table Experience. It truly was an EXPERIENCE. As I arrived at the Villa Camilla the smell of the Jasmines that were encasing each pillar was intoxicating. I entered the main double doors and stepped onto a floral tile mosaic with a shining chandelier hanging above it. I made my way up the curved wooden staircase to the room I would be sharing with one of my closest friends. Our names were hanging from the doorknob and in the keyhole was a key with a tassel hanging from it. I pushed open the door and I gasped. French doors with white curtains slightly blowing in the wind that led to a private balcony overlooking Lake Como. The vintage wooden floors that perfectly squeaked when you stepped, the armoire that would hold all of our clothing, two twin beds with linen bedding and a sunny yellow bathroom with windows that opened all around. My mind was trying to collect all of the details in the way the light was dappled onto the floor, the flowers that greeted us on the bed, the vintage hardware on the windows, the smell of the Jasmine that was coming through our bedroom windows…the experience of being in a home with history.
1. The Long Table Dinners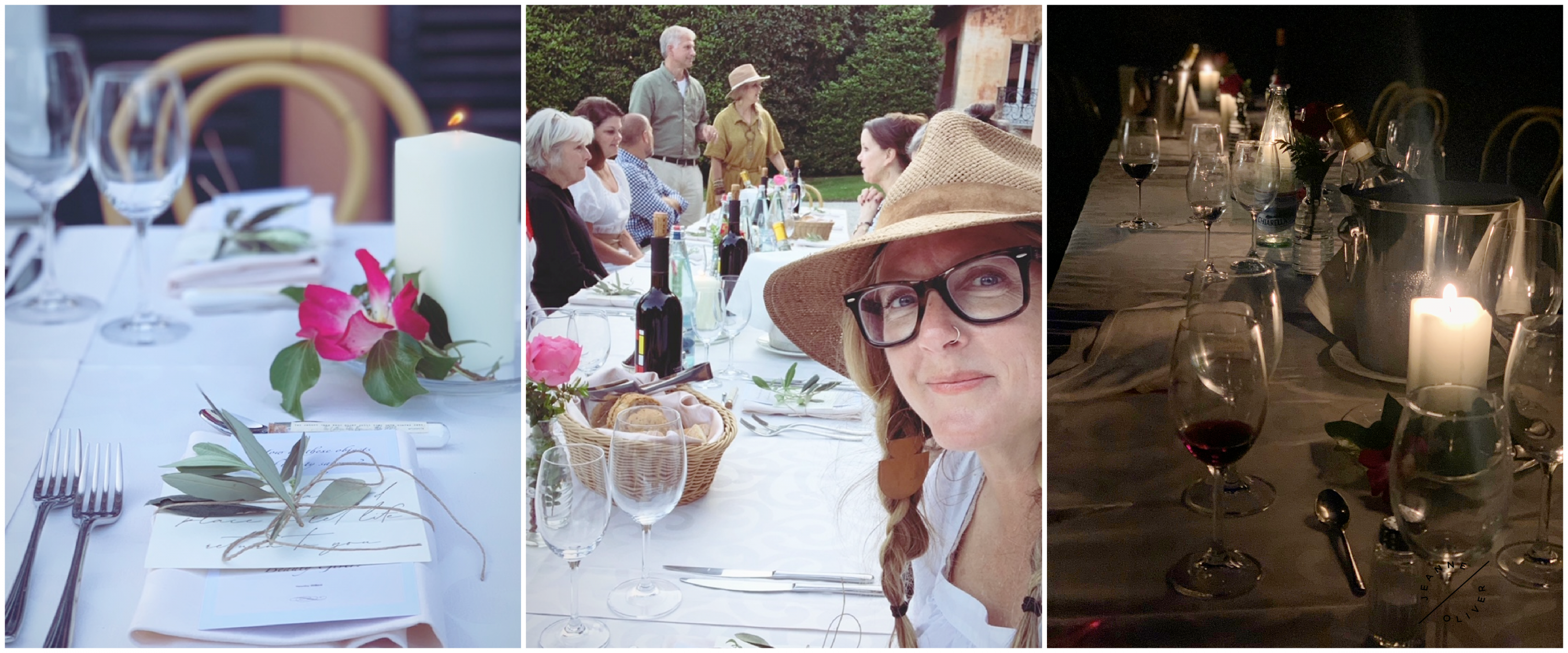 One of the sweetest parts of travel is experiencing meals with others. There is something magic about good food, people gathered around a table, great conversations and when you throw in an evening breeze, the smell of jasmine in the air, candles flickering and a great bottle of wine…well, this is about perfection here on earth. Restaurants can be great but my favorite meals are in homes. There is a giant exhale when we sit with others around a table for a meal and there is no rush. It welcomes MORE. More laugher, more conversation, more ease, more connection and more intimacy. These long table dinners are the heart of The Cottage Table Experience and truly helped our group to feel connected immediately. It was apparent even before the retreat started what intention and purpose was a part of the HEARTS behind our gathering. One of the most meaningful dinners of the retreat was the night Daune and Keith invited many of the local artisans we had created with throughout the week to gather with us for a community dinner.
2. The Vintage Boats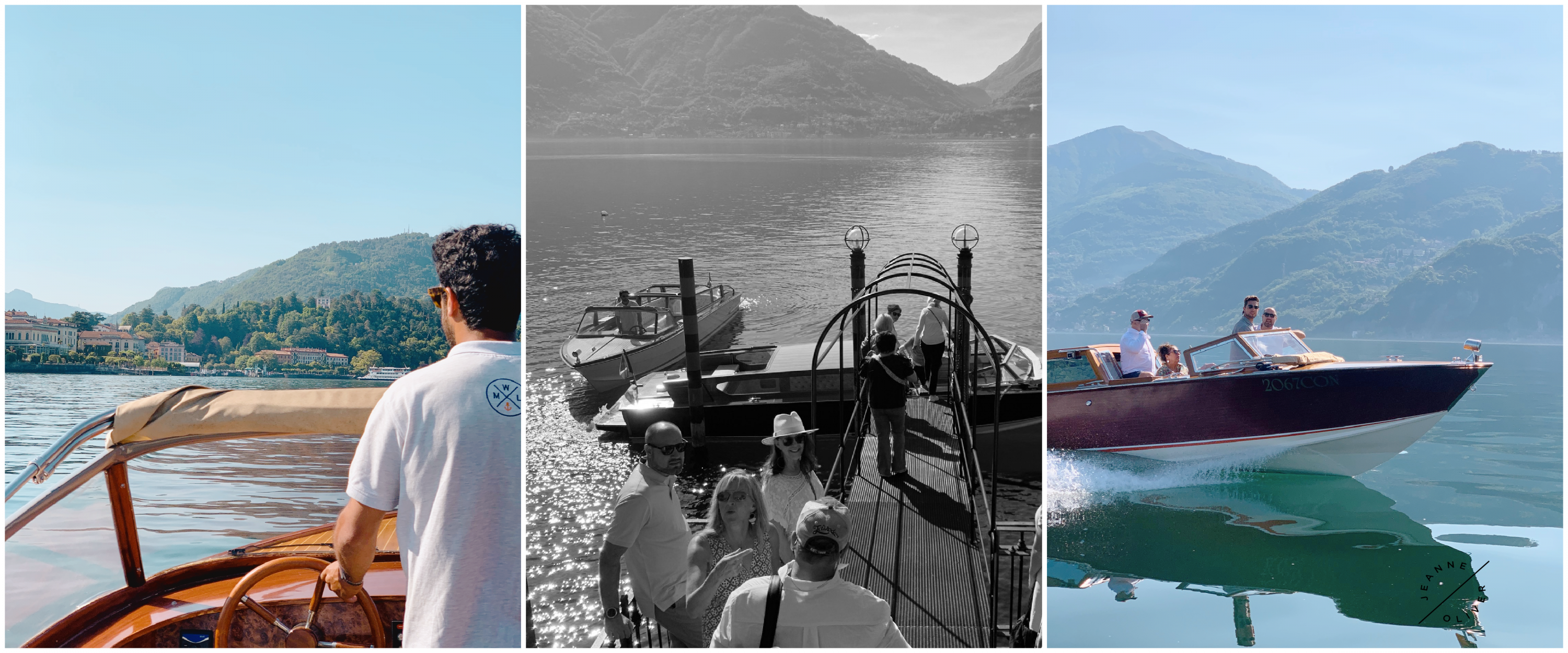 If you want to feel like you have been completely transported to another world you want to ride on a classic boat or runaround boat on Lake Como. You instantly feel like a movie star from a time gone by. Each time I am along Lake Como one of my favorite things to do is to spend an afternoon on the water in one of these boats. Each time I see something new, just enjoy the sun on my face or the wind in my hair. If you can even imagine…these boats were our daily transportation everywhere while I was on the retreat! Daune called them our chariots:-)  One of the things I noticed right away about how Daune led our group (even months before we were in Italy) was the way she was introducing us to all of the men and women that she adored along the lake. Long before we arrived we met our ceramicist, the owner of the flower farm, the sculpt0r etc. In our private Facebook group she introduced us to the owners of the boats, shared who would be taking us around that week, tell us their names and beautiful things about them. She helped us make local connections and fall in love with THE PEOPLE of Lake Como even before we arrived.
3.The Gardens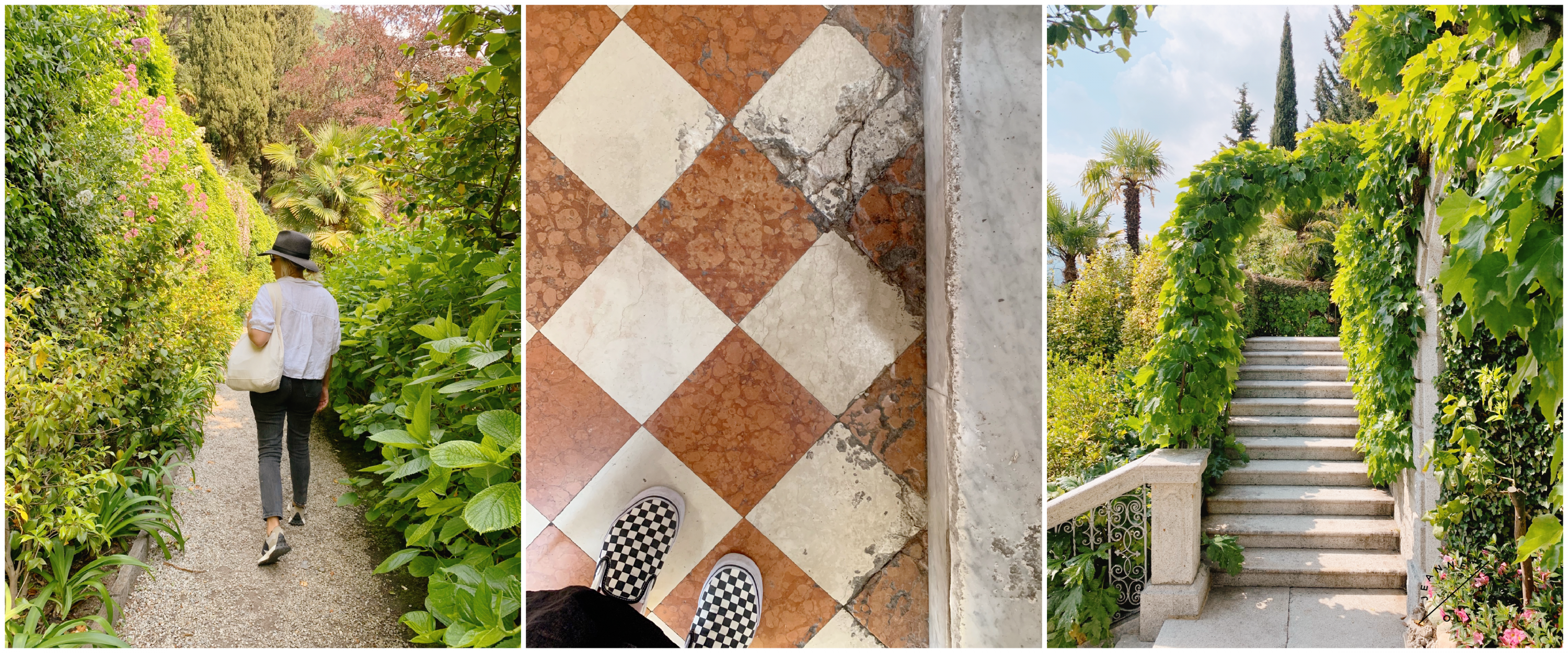 Long after I am along Lake Como one of my first thoughts of the area is always the gardens. And before I even think of one specific flower or garden in general I think of the incredible smells. If there is one smell I associate with Lake Como it is Jasmine. With my own family we always picnic in our secret garden, I gather my art supplies and head to Parco Martiri Della Liberta or we are adventuring out all over on our hikes. I don't think a day passed when I wasn't passing through Martiri Della Liberta, sketching, or resting with shade. While on the retreat we had a really special afternoon in the gardens of the Hotel Villa Cipressi. If you ask me to meet you under the grand magnolia here in the gardens I will be there in a heartbeat! The gardens were spectacular and one of my favorites I have ever seen. I think I spent hours here with friends talking, laughing and sketching under that grand magnolia tree. I know that if I were in the gardens by myself this is where I would want to pray, create, think, walk. I would encourage you to visit the gardens where you live and just sketch. Don't over think it and just be present with the beauty that is all around us!
4.The Greenway Trail Dinner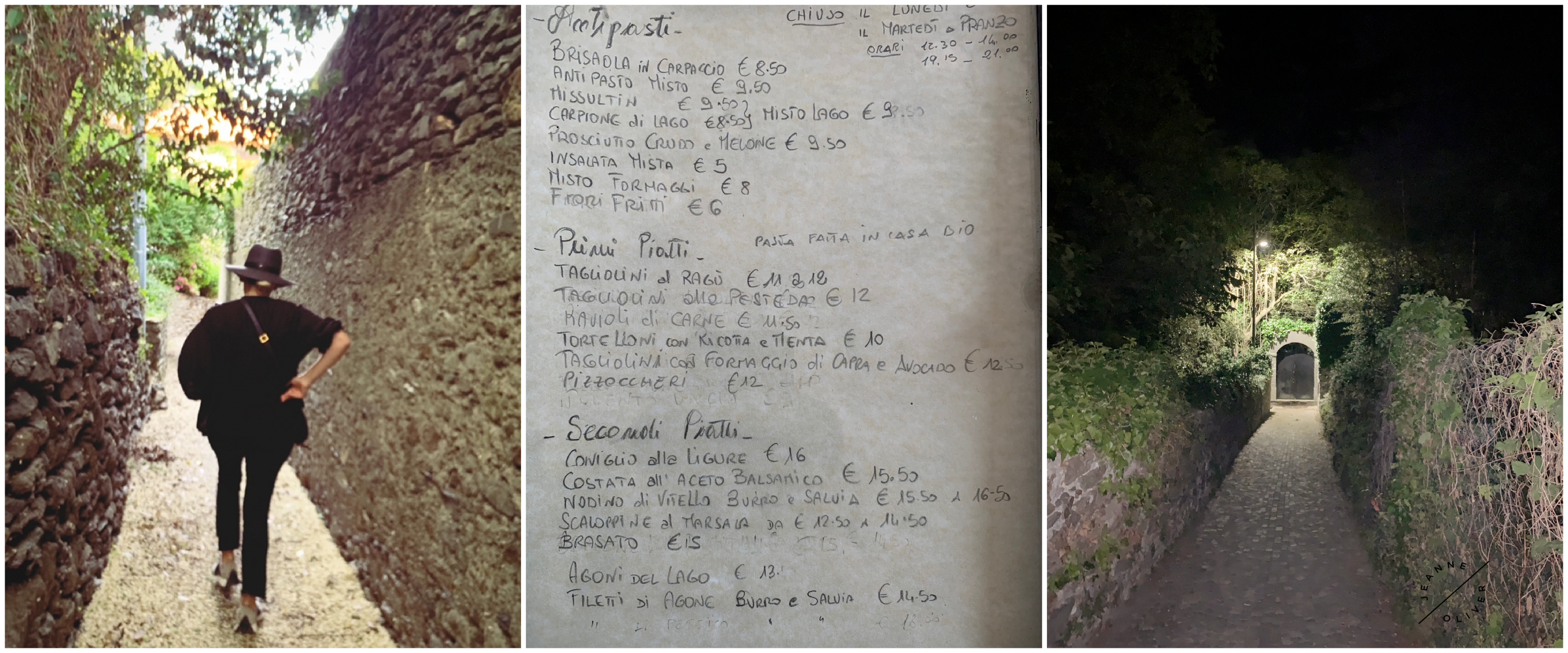 I wasn't really sure how to name this experience but I will do my best to explain it. This night was one of my favorites of the whole trip and that is saying something! This retreat was overflowing with incredible moments, people, and experiences. Daune and Keith had mentioned that on their last trip to the villa where we were staying that they took a trail used by the locals that went behind village after village to a little pizzaria. They told us that the trail passed gardens, terraced vineyards, stone walls and steps, parks and churches. My friend Alexis and I knew we wanted to take the trail and find dinner one night and four of our friends came back early from exploring neighboring villages to join us. There was a gate on the villa property that had to be opened with a key to find the trail (see, it was already exciting) and the gate was to also keep anyone else on the trail from cutting through the property of the villa. As the six of us started out on this walking path behind the villages we did pass all of the beauty of day to day life that had been promised. What felt really special is that this walking path was high above the street level and without being told about this path we would never know about it as a visitor. When we arrived we found out that the little hole in the wall pizzaria was closed. We started to walk the empty streets to see if there was anyplace else we could find our dinner. Andrea looked into the window of Hotel Lauro Ristorante along one of the stairways. Inside she saw two older women making all of the pasta from scratch for that night. It would still be over 90 minutes until they would open so we waited. We wanted the homemade pasta being made from two grandmas. Who wouldn't? The rest of the night was FULL of incredible food, great wine, a table full of sweet conversations and lots of laughter. I also think we ordered every dessert they offered. It was dark when we were finished so the flashlights from our phones guided our way back through all of the villages and back to our secret gate to the villa. It was just one of those nights that will stay with me forever because nothing went as planned and everything was better than expectations.
5.Sculpting with Abele Vadacca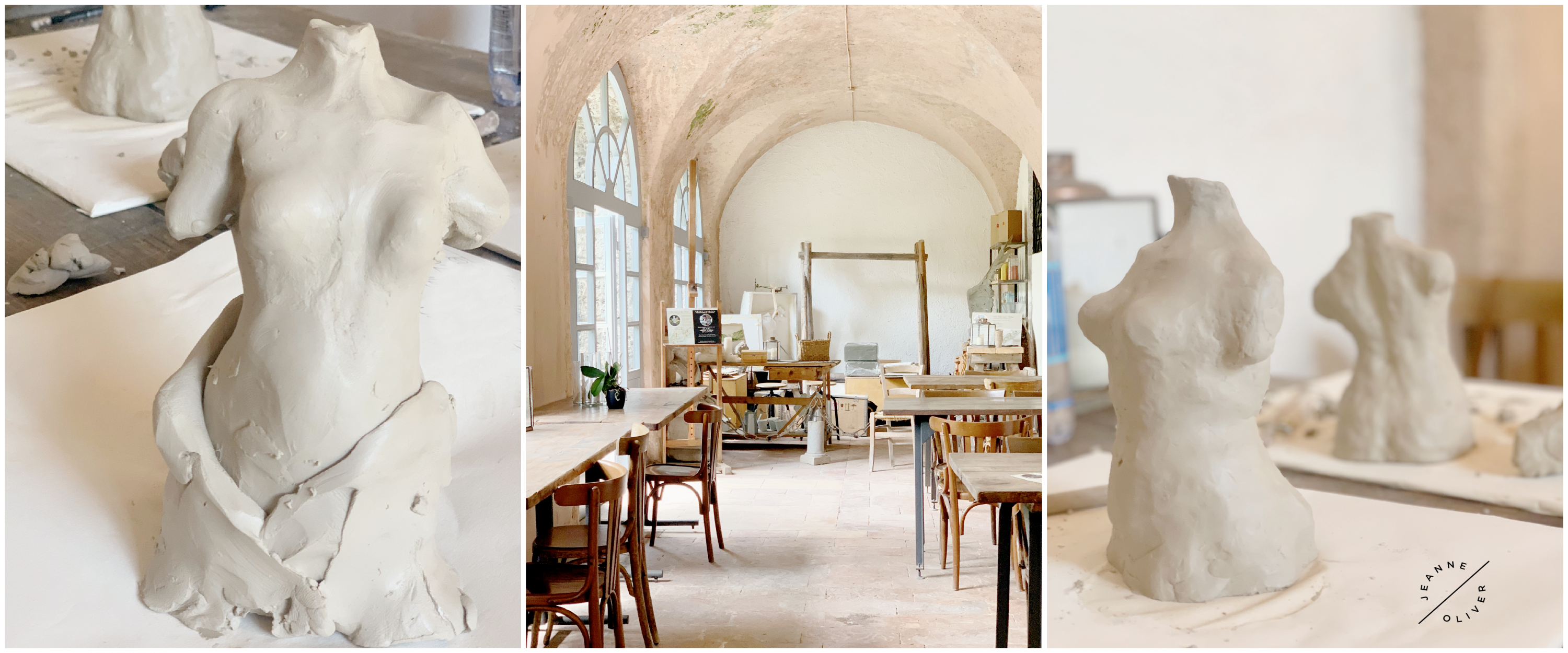 Everyone was already sculpting when I showed up late and I had assumed that I would not get to join the course and thought instead I would take photos, enjoy watching others create and know I would meet with Abele Vadacca the next time I was in Bellagio. Instead, I was given my Italian clay, an apron and some basic instructions from my friends already in the class. Because I had walked so fast to try to get to the sculpting course and catch whatever I could, I came in probably more flustered than normal, heart rate up, I kept wiping my forehead of sweat and it was hard to think I could catch up with the course. Instead, Daune put peppermint oil on the back on my neck to help me to cool down :-), Renee Mueller and Andrea Garvey gathered my supplies and gave me basic instructions. Even though I have sculpted many times, I had never worked with this particular clay. Where others had been working their clay for over an hour and it was really smooth, mine was still sticky and lumpy. This clay needed to be handled with a harder hand and I soon saw the difference between being delicate with it and really manipulating the clay. Everyone else was packing up their projects and I was content with where I had ended because I hadn't even believed I would have the time to create anything. Jenny Nielson asked me if I had seen any of the demos by Abele and I let her know that I had not. She told me I had to. Because I had missed almost the complete class I felt rude asking for something extra from him but I reluctantly asked him to show me what he would do to the sculpture I had been working on. He asked permission to touch the piece and of course I said yes with a smile. What I watched next will be a treasure to my heart for the rest of my life. My late arrival, trying to catch up, wiping sweat from my forehead 🙂 and then the gift of watching a creative create was priceless. The room stood still as we watched Abele manipulate the clay, close his eyes, feel his way around the piece and with years of experience instinctively make. Tears were falling down my cheeks and when I looked around…tears were on the faces of many in the room. Lord, thank you for creating us to create. Thank you for allowing time to stand still that afternoon and for blessing me with hectic to calm. Thank you for making time stand still and giving me that gift.
6.Olga's Flower Farm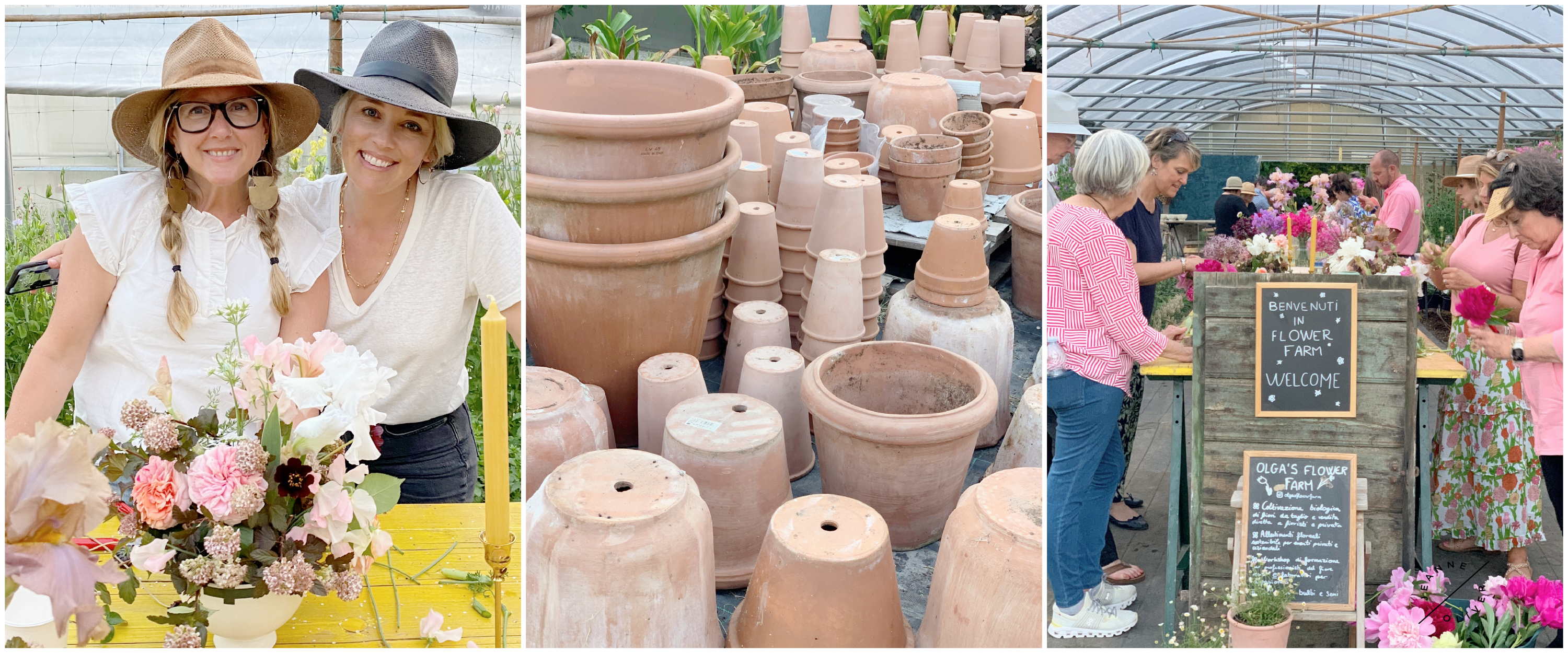 Each day felt like one of my favorite things. If I had to choose my favorite day or my favorite adventure I would be hard pressed to name just one. We were truly dipped in beauty and creativity during the whole workshop. Daune's sweet relationships with so many local artisans touched me deeply and had everything to do with the feeling of the workshop. This trip to Italy was just as Colorado was coming out of winter so you can imagine my joy when we pulled up to Olga's Flower Farm and her gardens were in full bloom. Everything in me just wanted to sit in the grass and sketch and allow everyone else to step over me. Listening to Olga talk about her farm, the flowers that were currently blooming, how she has created a sustainable garden, and just her sharing her joy of growing and sharing beauty had me smiling the whole time. After our garden tour we went into the greenhouse for a floral arrangement demo and then we were able to create our own arrangements. To make this experience even more exceptional, Daune had arranged for each of us to receive a flower bowl from ceramicist Agnes Duerrschnabel. These are the bowls we used to arrange our flowers and it is the sweetest miracle that mine didn't break in my luggage on the way home. You can watch THIS VIDEO to see a glimpse into Agnes and her work.
7.Hike to San Martino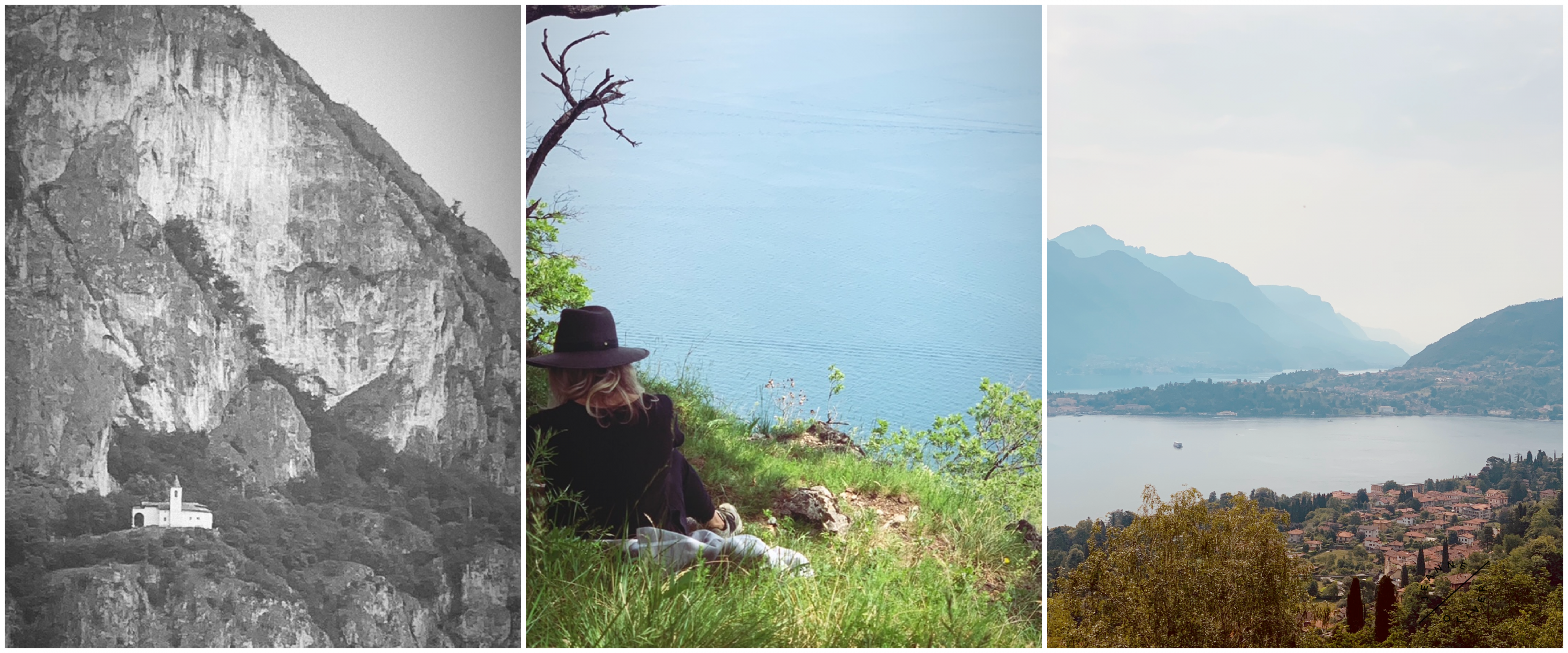 From the first time I visited Bellgio I have been finding new places to hike. I think every trip should include bike rides and hikes to get a different perspective of the place you are exploring. It was so meaningful to me that Daune had included a really special hike on our retreat and the intention started way before we set foot on the mountain trail. Before we left the villa each person picked up their linen bento bag picnics and their Turkish towel blanket and placed them in their backpacks. Can you even? Our villa was very close to the trailhead and our guides met us there to not only hike to the top with us but talk about the villages, history, vegetation etc. along the way. We would be hiking to San Martino which is a mountain church on top of a cliff above the town of Griante. When you look at the chapel from the village it is hard to believe that soon you will be at the top and have a completely different view of Lake Como. I had been looking at this chapel for over 10 years and each time I would visit I wanted to hike it. My family was still in Bellagio while I was on the retreat so they hiked it without me knowing I would be hiking it with the group the next day.
The hike was a good incline but luckily also had a lot of shade. I was glad for good shoes, lots of water and a promise of a lunch at the top already waiting for me in my pack. A group of us that hike a lot were the first to make it to the top. The views were incredible and we were each trying to peek through the windows of the church to get a glimpse into this chapel that was only open twice a year for celebrations. We then walked to the back of the church and were in awe of the views all of the way to Switzerland. As the rest of the group arrived we made our way back to the church to meet them and cheer them on. It was a really big hike and worth celebrating! As we arrived back at the chapel we were met with the most beautiful surprise. The church was open! The church was absolutely NOT supposed to be open but a family had decided that on this day they would hike to the top and clean the chapel. When our guide saw this he started to cry and said in all the years that he had been leading groups he had never seen this happen. As Daune gathered all of us inside the church she asked us to open up our picnics. On top was a small drawstring bag with a cracker and small cup and she asked if we could take communion together. She had thought we would take communion on the land around San Martino and never in her wildest dreams would she have fathomed we would be sitting inside enjoying the shade of the old stones walls, our group resting on the wooden pews, candles burning, thanking the Lord for His goodness and taking communion together. And to make it even more precious the family had invited Andrea to join them in ringing the church bell. Even writing about this now I am crying at the beauty of the heart of the Lord to delight and surprise us. I videotaped Andrea (with pure joy) ringing this church bell high above the villages. I am sure the locals were wondering what in the world was going on. We were all just full of joy!
We then all gathered our beautiful linen wrapped picnics and found a spot on the cliff overlooking the lake. With trees and shade all around we opened our sandwiches, Italian sodas, the most flavorful nectarines, nuts and dessert. We just sat there in awe of all of the beauty of what we had just experienced and the beauty all around us. Even now I am tucking these memories away to keep them safe. I don't want to forget what this day felt like.
8.Olive Grove with Vanini Osvaldo Olive Oil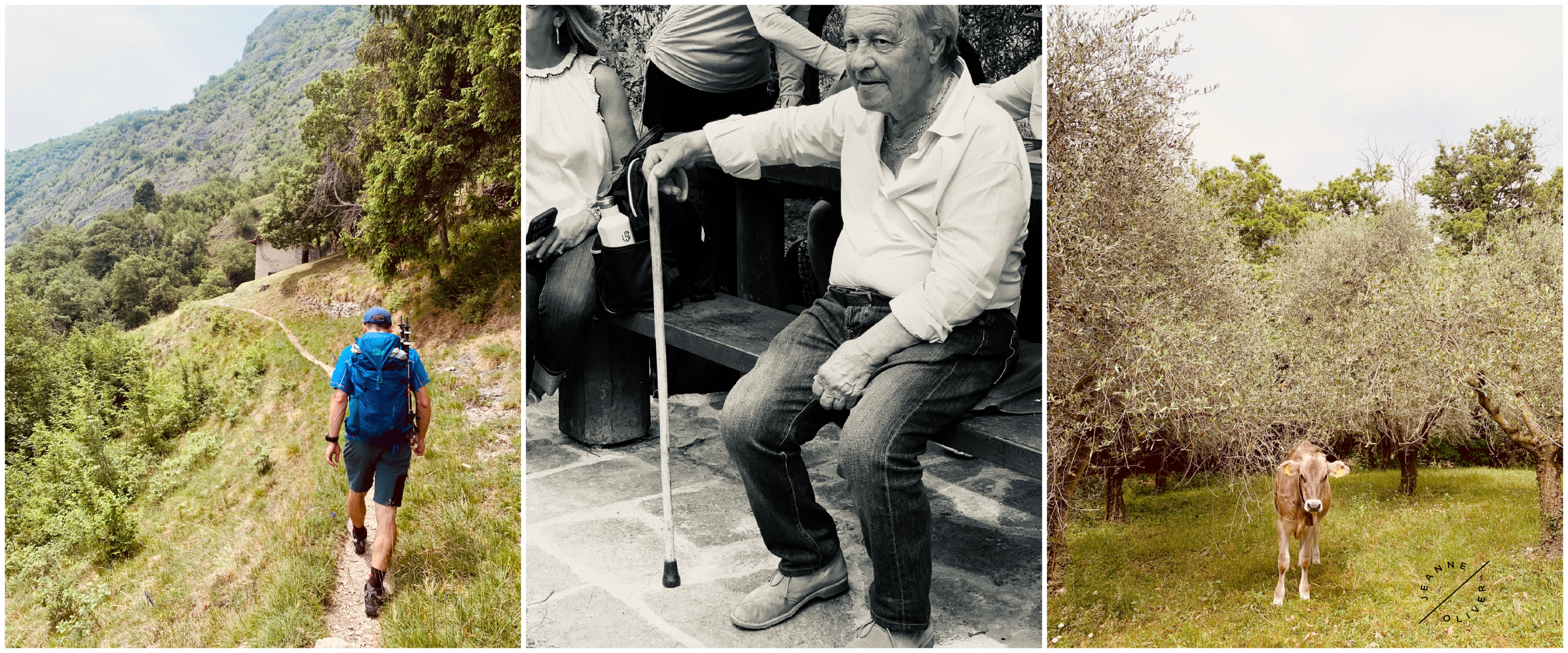 As we were leaving San Martino we would not be heading back the way we came but we left the main trail to follow a foot trail through woods, beautiful farmland, past old homes, cows with bells ringing around their necks in open pastures, and abandoned barns to arrive at one of the many olive groves of the Vanini family. They have been making some of the best olive oil in Italy since 1850. Under a magnolia tree Luciano (84 years old) with Vanini Osvaldo Olive Oil talked to us about his family, olive oil, we tasted, his lovely daughter brought everyone Prosecco and we then were able to walk around their beautiful olive grove. It felt intimate and really sacred to have this time with Luciano. Once again I was in awe of the relationships that Daune has created to give us experience after experience that would be weaved into our hearts and then brought home to lavish others.
I wish there was a way for me to share the feeling of sitting at the long table dinners with candles almost burning out, laughter until my face hurt, walking everywhere (my favorite thing in the world), the wind in my hair on our daily boats rides, the beautiful artisans we were able to connect and create with, Daune's attention to detail, the creaks in the villa floors, the way the sheer white curtains would move in the wind and bounce light all over our room, the unexpected delights, the sound of the church bells being rung high above the villages, the feeling of the clay in my hands, the smell of the Jasmine everywhere, how any flower I wondered about Daune could tell me, the long dinners with wonderful conversation, being surprised by people in really sweet ways, seeing the power of gathering but as a guest and not a host, speaking Italian poorly but still speaking it, the kindness of the Italian people, joy in the ruins all around us, finding beauty in the old doors and locks, the gardens the gardens the gardens, and the face to face reality once again of the beauty that the Lord has created in this world. Find it! It is here. It is all around us. Take the time to see it. It will change your heart forever.
This workshop for next May sold out in only a few days but you can join the waitlist (and I highly recommend you do). If you are interested in reading more or registering I can promise you that it will become some of your favorite moments too.
Click HERE to read more about The Cottage Table Experience Italy.