Today I want to share my Creative Favorites of 2012.
To see my Business Favorites of 2012 click HERE.
I  love to create and there is always something new or new to me that catches my eye.
I love seeing what other artists use too and how they like to use them.
Many  of the items on my list have been used for years and they are still my favorite and most used art tools.
Some tools are newer to me and I have had a lot of fun playing with them.
I hope you will find this list fun and you will let me know if you try something new!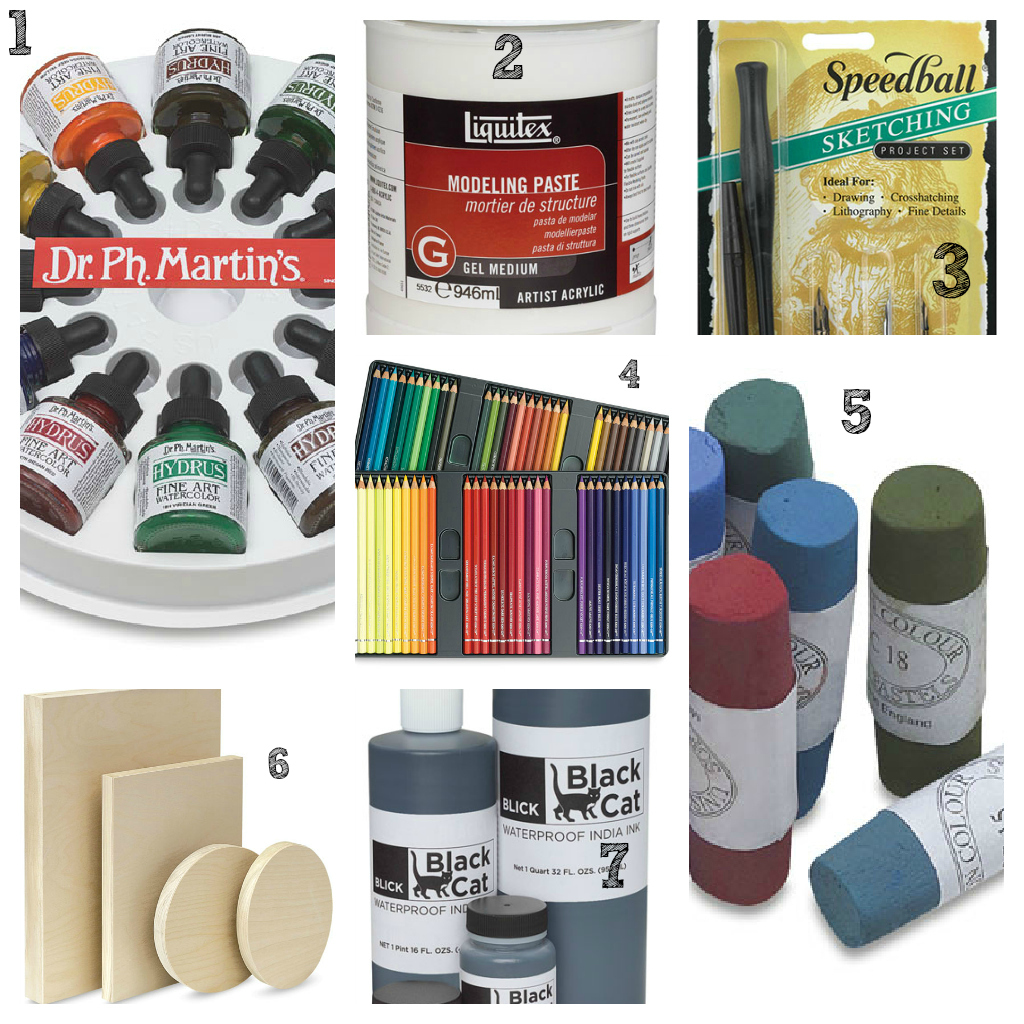 1. I didn't love watercolors until I started working in mixed media.  It had always seemed too soft to me.  Maybe I was intimated by thinking things had to be perfect with watercolor.  What I have fortunately learned is that is so far from the truth! You have so many choices when it comes to watercolors but these are some fun ones I have been playing with lately.
2. If you have ever taken my art e-courses you know..you KNOW..how much I love modeling paste🙂  I use it over my backgrounds, for hair, to add texture wherever I need it.  So easy to use, paint over and even add color to.  Very fun!!
3. Using calligraphy pens really takes your mixed media to the next level with detail elements.  I like the sketch series but you can use whatever tips you like.  I use it with the Black Cat Ink below.
4. These watercolor pencils are amazing for your mixed media work and if you love to work in your art journal you will want these!
5. Is it wrong that I first started buying these a few years ago because they were pretty?  I knew you would understand!  They are all handmade and they are ALMOST too pretty to use. You will be glad when you do because they are wonderful, soft pastels.  Perfect touches throughout your work.
6. The longer I work in mixed media the more I enjoy wood panels.  They are also easier to ship and I don't worry about the canvas dipping or getting ripped.  These are the panels I like to use.
7. I love this waterproof ink.  I use it with the above calligraphy pen set.  Once it dries I use my watercolors over it.  My kids love this process too!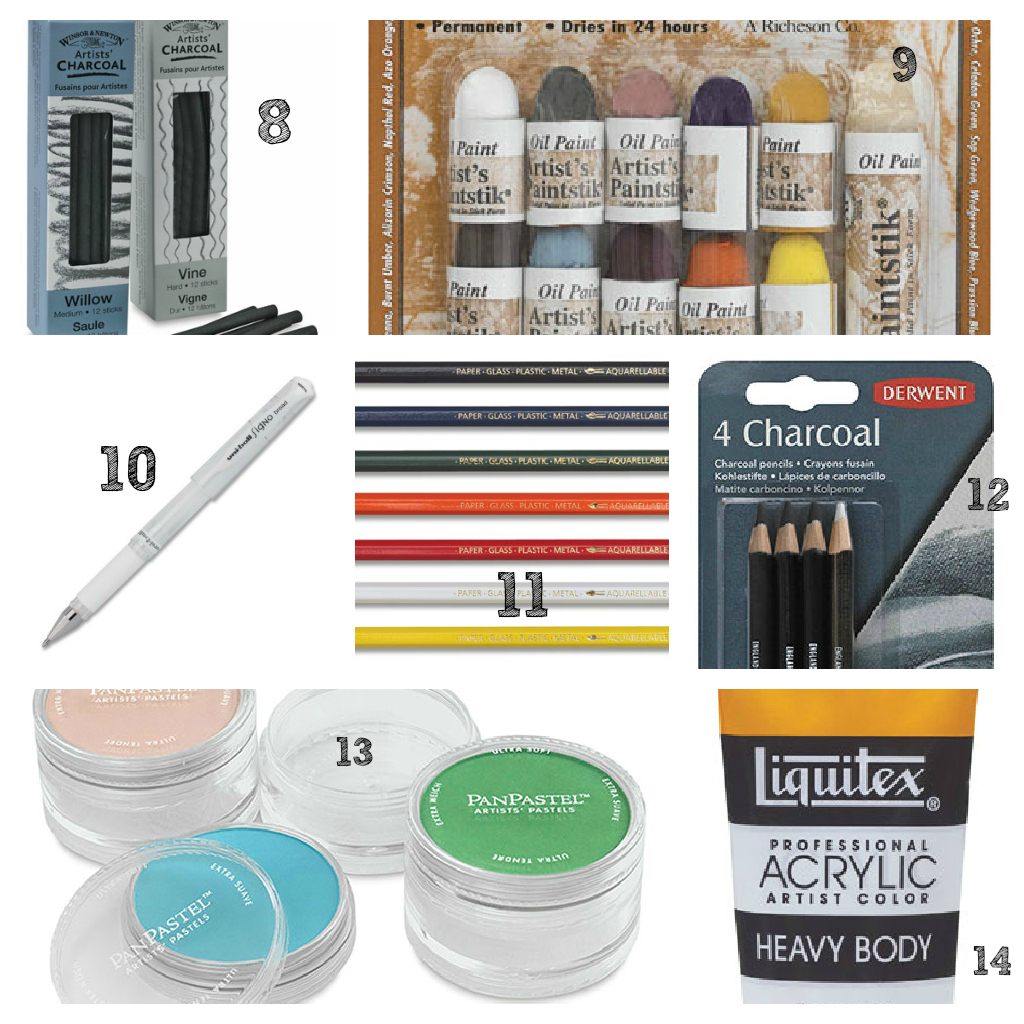 8. I love charcoal and love using it to add depth, shadows and shading to my work. It also is such an incredible medium alone.  I don't think there are many art processes more beautiful than charcoal on paper.
9. If you want to create the most creamy and realistic skin colors then you will want to play with these! Blends like a dream.
10. This is the only white gel pen I will use.  It works on everything.  I use it to make highlights in eyes, to doodle around my work and to write words over my pieces.
11.  One of my very, very favorite art tools is the Stabilo Marks All pencils in black and grey. They write over anything and they are water soluble.
12. I use charcoal pencils a lot. I have so many different brands and I am not too picky. I love to add scallops etc. around a piece with these.
13.Pan Pastels just give you another way to use pastels. With the foam shape applicators it really changes how you can use them. Just remember to spray your piece with a fixative so you can work over the pastels without smearing.
14. There are so many kinds of acrylics that I use and love but nothing makes me happier than the heavy body paints.  Maybe it is because I love the look of oils but I don't have the patience for them.
There you have it!
I wish I could invite you over into my studio and I should share everything I love to use.
******
If you love to take online art classes then I have a mixed media class starting again February 4th.
I also have a BRAND NEW mixed media course beginning April 8th.
If you want to create face to face, talk, laugh, get all messy together then you can find me teaching at Nurture Your Creative Seed THIS February.  I think there a few spots left and you will also learn from the awesome Mindy Lacefield.
I am so excited to be in the gorgeous PNW and to hang out with such an incredible group of women at such an beautiful location.
If you are coming email me and let me know (jeanneoli@hotmail.com or jeannoliverdesigns@gmail.com).