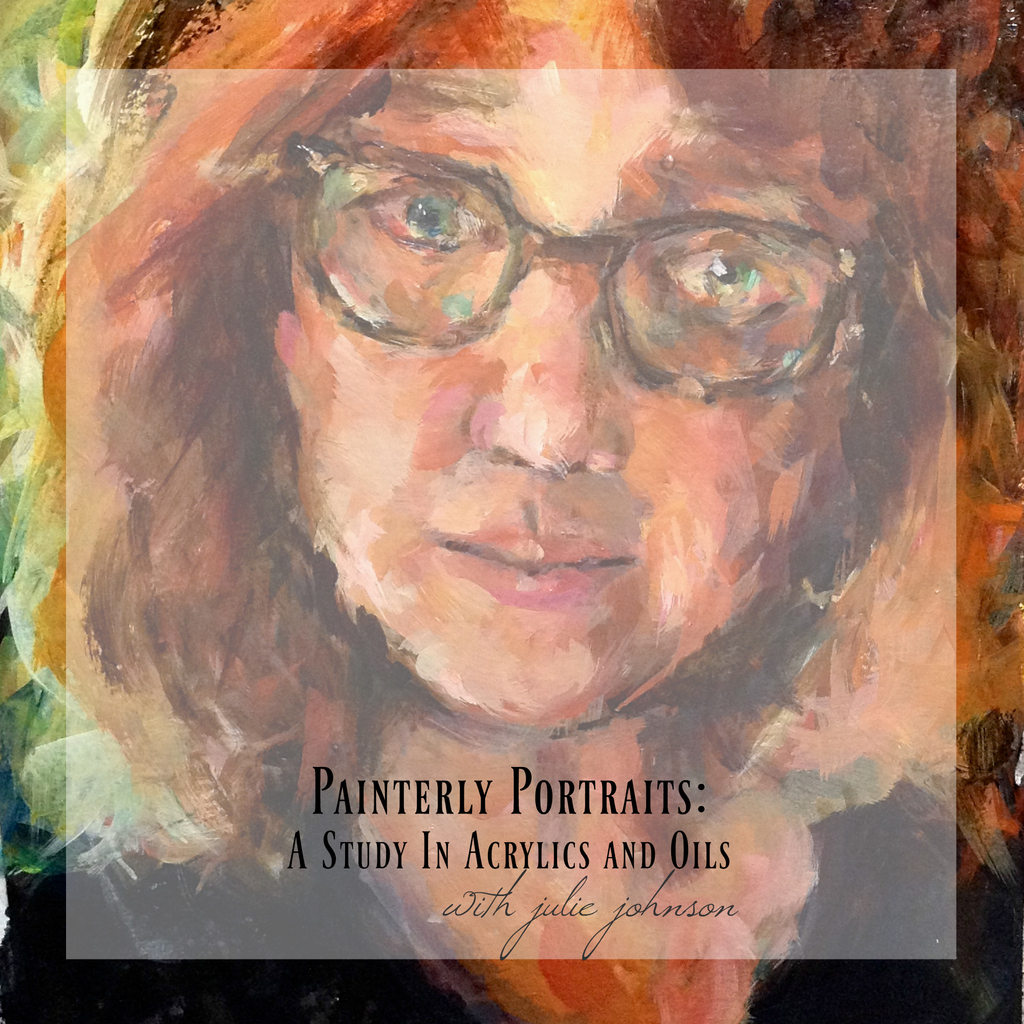 I just got back from speaking about Product Launching at the Haven Conference in Atlanta, Georgia. It was an incredible time and I will be sharing more soon!  I am also going to record my talk so if you are wanting to grow your business you can watch if you were not able to make it to the conference.
I am smiling from ear to ear to share that one of our most popular teachers is back with a brand new online course! Early registration has just opened for Painterly Portraits: A Study in Acrylics and Oils with Julie Johnson!

I encourage you to come along with me if you want to learn to paint.  You will learn to paint from your heart,   Do you feel like you are missing something?  It's not about talent.  It is about applying your love of something that you know is in you.  I will help you discover that inner passion of art that has begun to come out in you or you have just realized this is something you would love to discover. Know each of us will have a beautiful and different outcome.  You will be loved as I walk along side you.  I will break down every step, show you my palette as I paint and see me mixing colors then laying that color down.
I am a artist who loves realism.  It's where I first started as an artist in art college studying illustration.  It is important to gain the fundamentals that will make your art strong and loved by others. With those fundamentals we can play!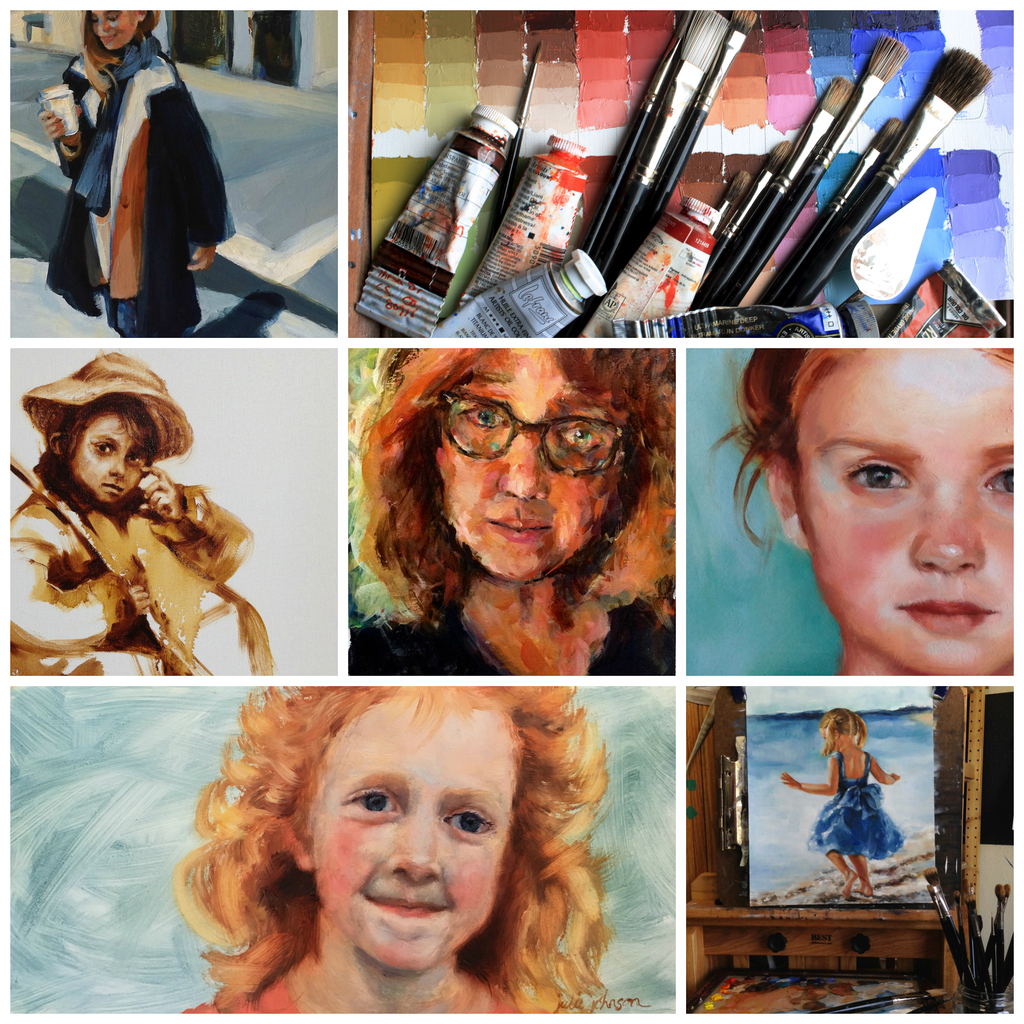 Playtime with painting is getting loose with our edges, finding texture, light and darks.  A beautiful thing will happen, you will find emotion without even trying.  
Here are some of the exciting things we will find as we come to the easel.

* The energy from a stroke of paint from our brushstroke.

* Color, tone and mixing colors.

* How to lay down our paint.
* Transparency and opaqueness

* How to find a painterly style

* Why I need strong shapes to help my composition.
* How do I sketch with paint?
* Can I create a acute likeness?

* What is a indirect and direct method of painting.
* We will study Portraiture

* How to work from a photograph.
* We will breakdown the face into shapes and planes.
This 7+ hours of content class will be begin on October 24, 2016 and you will have lifetime* access to the class. 
The early registration price for Painterly Portraits: A Study in Acrylics and Oils is $32.00.
To read more or to register click HERE.
******
Supply list
Here is my list.  We will be using mostly paint. Please read though and know you can substitute and use what you have on hand.  I don't want you to have to purchase a lot of supplies.  We will be mixing our own blacks.
You have the opportunity to use all acrylic for each lesson or all oils.  All lessons are interchangeable with what medium you choose.
I will be doing my best to use the same color palettes for both the acrylic and oil paints.  It is important to get accustomed to mixing a color palette we will use.  During playtime we may venture into new mixtures.
Acrylic paint supplies
Here is my list of colors.  You may substitute brands.  Please stay away from:   the craft paints as they chalky, full of fillers and don't have much pigment in them, also avoid anything with the word HUE behind them they are a imitation paint and will not mix good color results..leaving you with mud.   I will go back and forth using both heavy body and fluid colors, but you can use either heavy or fluid or both.
Here are my heavy body paint colors from Golden Brand:
Titanium White
Cadmium Yellow Light
Cadmium Yellow Medium
Cadmium Red Medium
Quinacridone Nickel Azo Gold ( or the fluid )
Golden Fluid
Napthol Red Light
Anthraquinone Blue (I combine this with other colors to get the kings blue i use in oils)
Ultramarine Blue
Quinacridone Nickel Azo Gold
Liquitex
Indanthrene Blue
I am a lover of the flat brush. 1.5",  1" size or 1/2".  I always find them in my hand.  I can change the edges and get the wide edge then the thinner edge.  But you can use what you like.  I will be encouraging you to always use a larger brush.  The results; a more painterly painting.
I realize paints can be expensive but I believe it is best to practice with the best materials we can so we don't get frustrated and give up.  It doesn't have to be hard.  Think in terms of a piano that is in tune or out of tune.
Oil Paint Supply list
Here are the colors and brands I use. You do not need to use my brands.  There are a lot of yellows and reds out there and the all mix a little differently but it totally ok to use different brands. There are a couple of colors that I find you need in mixing colors.  I will asterisk them **.  Please stay away from false colors that have the word "Hue" behind them.  They are full of fillers and not much pigment. You will not mix a true color and end up with muddy colors.  Also know that The student grade "WINTON"  on Windsor and Newton brand is mostly filler and little pure pigment…..yes the muddy colors again.  Please use the 40%coupon at Hobby  Lobby.  They carry the Windsor Newton brand.
Paint colors for oils
Windsor Newton Brand
Titanium White
Cadmium Yellow Light
Cadmium Yellow
Cadmium Red
**Cadmium Scarlet
**Alizarin Crimson Permanent
**Permanent Mauve
Rembrandt Brand:
Ultramarine Deep ( i use instead of ultramarine blue but you can use the ultramarine blue)
**Transparent Oxide Red
Viridian Green
Transparent Oxide Yellow
Sennelier
** King's Blue
Palette knifes
some kind of container for turp.  I recommend;
Gamsol a 100% pure odorless mineral spirits.  The least toxic.  The only thing I use to clean my brushes.
Viva towels  the most absorbent and the paint doesn't get all over my hands.
I prefer a glass palette.  But you can use whatever you like.  I got mine from a consignment store I use in a picture frame.
Brushes:
If you get this set you will have everything you will need.  Brushes are like the reed to a clarinet. They take a lot of the work of painting.  I will put together my favorite list for you.
Substrates
Here you have a diverse group of choices.  You can choose so many different surfaces from a smooth portrait grade linen by Ray Mar, to a gessoed primed birch cradle panel.  I have been staying away from the canvas panels you will find at your hobby Lobby or Michaels store.  Why, because they pull at my paint making painting hard.   I could still use them if I coated them with gesso and sanded them 3x's.  I have fallen in love with the cradle boards and linen.  I don't use linen often,  but when I do it always gives me goose bumps because its simply divine.  Pick out any size you would like to work on.  I will go into more on substrates in the class.
If you have questions please ask.
******
If you are new to our creative network here are easy steps to get you started…
1. Register at jeanneoliver.ning.com (this is free).
2. Once your account is active you are able to take advantage of our free courses, series and even pay for courses.
3. Go to jeanneoliver.ning.com and along the top header click on "COURSES" and you will be able to view all three pages of online courses and free series.
4. To purchase a course please choose your course, click on the +join in the upper right hand corner, pay and you will be INSTANTLY in the classroom.
5. All videos can be found along the right hand side of the page under "COURSE CONTENT".
6. All of our courses are pre-recorded so you can watch at your convenience. The best part is that you have lifetime* access on all new purchases!  Pretty awesome if you ask me.
*As long as we manage the creative network