Good Morning!
I am beyond thrilled to announce that Scribble Art is coming to our creative network!
Julie Johnson is one of the most creative, generous and humble artists I know and I am so honored that she will be launching her first online course on the Jeanne Oliver Creative Network!
For me it was the journey of letting go and becoming loose in my art. I will share my story of drawing and how I found this style and how you can in corporate it in your own work.
Don't you want to know why a artist puts a line there?  Why did they do that? My favorite learning times in art have been when someone answered those questions for me. I am going to do the same for you.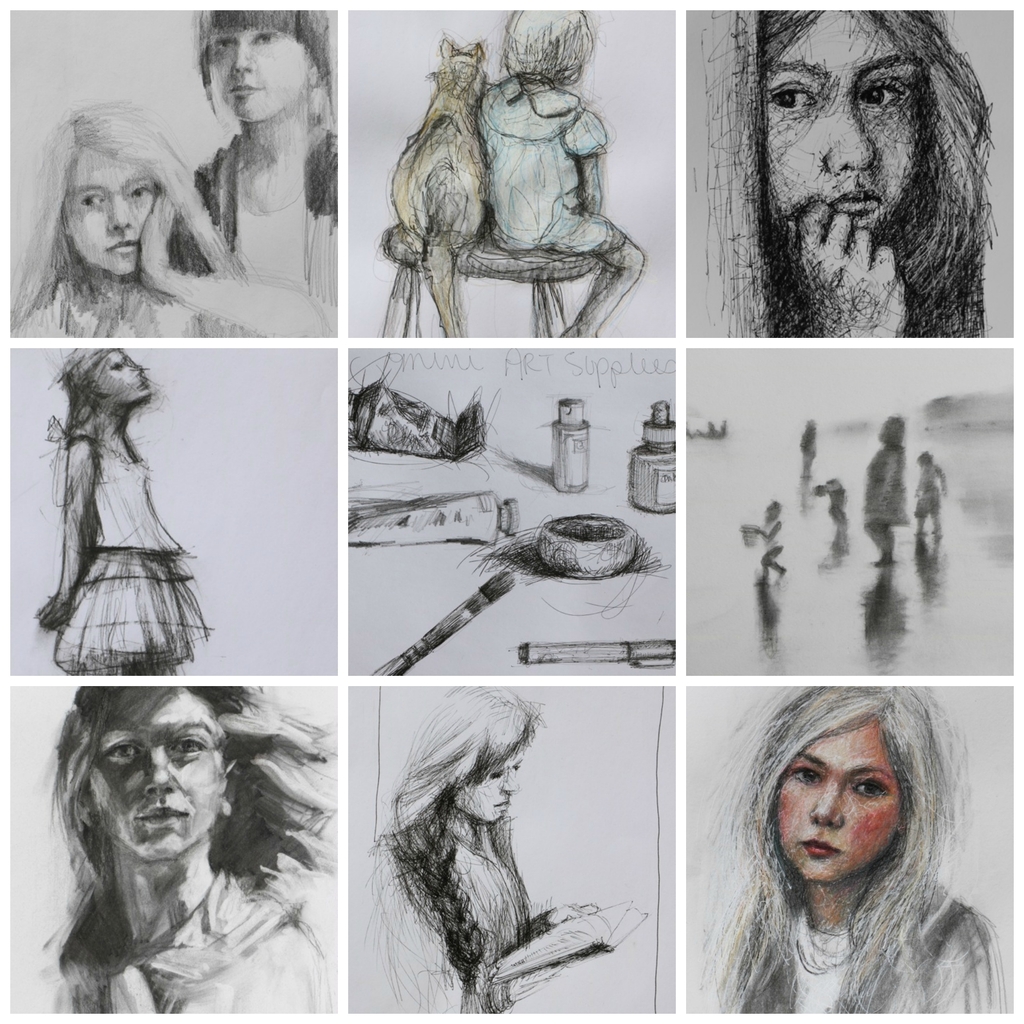 So what makes Art work?
We will study each of the 3 key elements within our lessons on:
*warm up sketching
*continuous line drawing
*directional drawing the importance of the angle
*value sketching
*how to hold our tools
*fast and slow line work
*soft and hard edges
*the all important measuring within drawing
*why should I Squint?
*focal point within my art
*letting the viewer finish some of the artwork for me
*how to paint with charcoal
*how to paint with drawing tools
*learn how to do a Grisaille painting with scribbles
****
Projects we will be working on:
(many of these projects we will do in more than one medium. )
drawing our art supplies
drawing from nature
drawing flowers
drawing animals
drawing from statues
work on 3/4 profile
portraits
drawing hands
drawing hair
drawing the figure
drawing emotion
drawing action
value drawing
painting a Grisaille painting
***********
The early registration price for this one week course is $29.99.  This course will begin on September 14, 2015 and you will have LIFETIME ACCESS* to the videos.
To read more about what you will learn in the course or to register please click HERE.
If you are new to our creative network here are easy steps to get you started…
1. Register at jeanneoliver.ning.com (this is free).
2. Once your account is active you are able to take advantage of our free courses, series and even pay for courses.
3. Go to jeanneoliver.ning.com and along the top header click on "COURSES" and you will be able to view all three pages of online courses and free series.
4. To purchase a course please choose your course,  click on the +join in the upper right hand corner, pay and you will be INSTANTLY in the classroom.
5. All videos can be found along the right hand side of the page under "COURSE CONTENT".