We have the most INCREDIBLE line up of teachers and online classes for you coming in 2016!
We are honored to have artist Julie Johnson coming back to teach her newest course Making Art Sing: Values, Lines and Shapes!

This is a one week course that will compliment and expand on her very popular online course Scribble Art!  You do not have to take her first course to take Making Art Sing.
Making art sing is finding a melody that is unique to each one of us in our art.  We all have our own voice. It's time to find the confidence in the gracefulness of your lines and notes of yummy moments that turn into our focal points along with the success of values.
We will be using simple materials in order to really see the form and study the movement of the head and body and street scene, hands, and intuitive drawing.  Most materials you probably already own, pencil, pen, stabilo marks-all pencil, charcoal, ink, gesso, eraser, paintbrush, q-tips, Art journal, Bristol paper.  Add a couple new materials; vellum (is a versatile 90lb multi-purpose paper, semi transparent using the tooth side we will use ink and charcoal) and inktense pencils (waterbased) and that is all we need to make art that sings with your voice!!!  Looking forward to hearing all the different tones as we study values.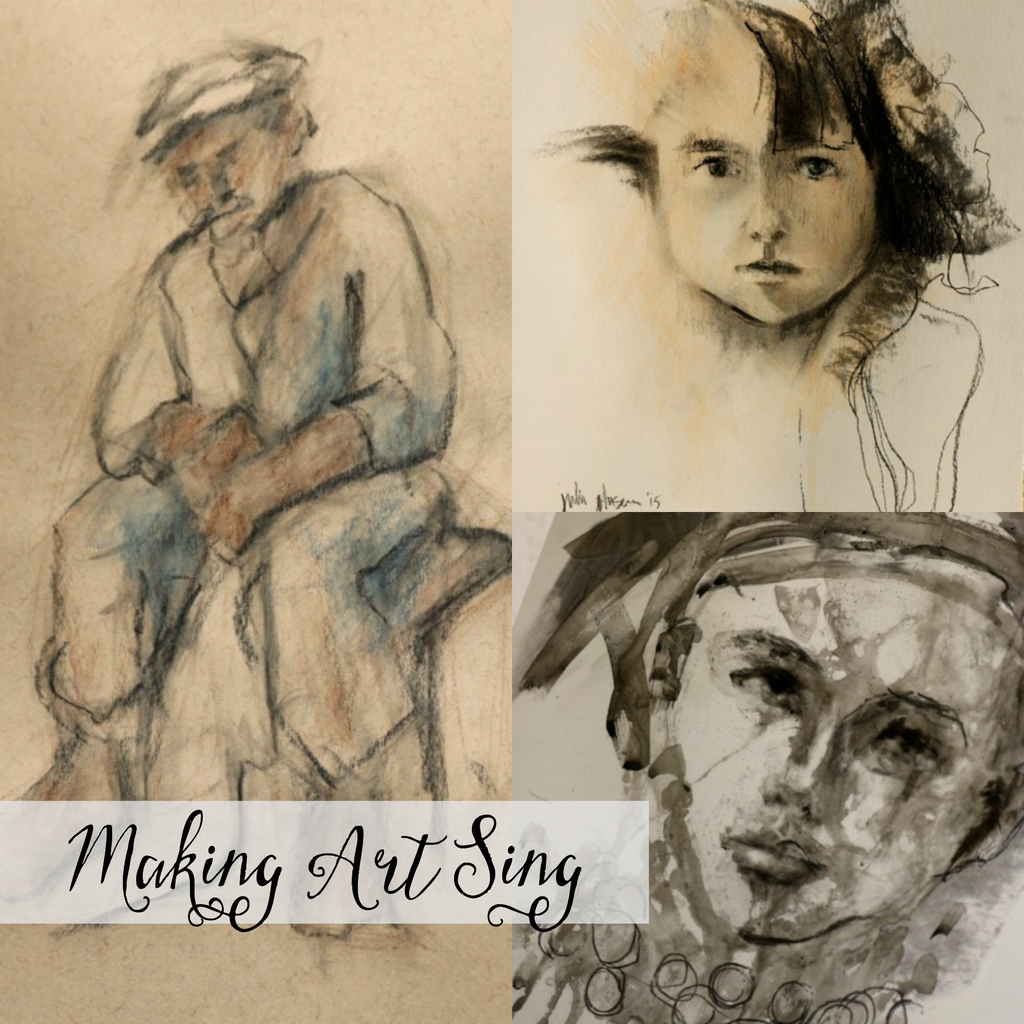 The early registration price for this one week, lifetime* access course is $29.98. This course will begin on February 15, 2016.  To read more about what you will learn in the course or to register please click HERE.
If you are new to our creative network here are easy steps to get you started…
1. Register at jeanneoliver.ning.com (this is free).
2. Once your account is active you are able to take advantage of our free courses, series and even pay for courses.
3. Go to jeanneoliver.ning.com and along the top header click on "COURSES" and you will be able to view all three pages of online courses and free series.
4. To purchase a course please choose your course, click on the +join in the upper right hand corner, pay and you will be INSTANTLY in the classroom.
5. All videos can be found along the right hand side of the page under "COURSE CONTENT".
*as long as we manage this site