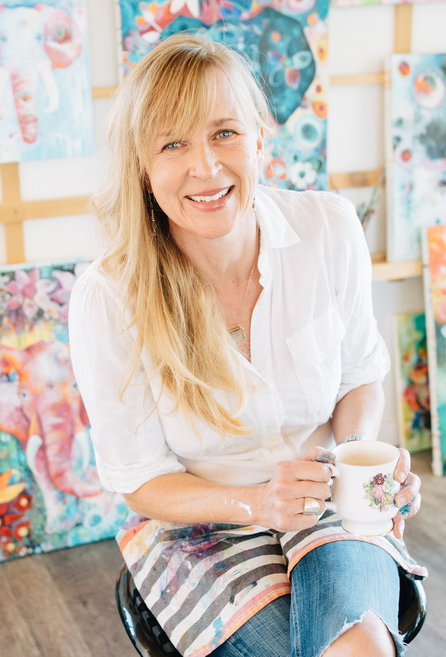 After a fulfilling career as a Creative Director in Corporate America I left that world at 50 to pursue my dream of working as a full-time artist. I felt it was a true calling and have never looked back. Now I am busy showing my work through art shows, creating unique commission pieces, as well producing a retail product line. I also teach painting, art journaling and vision board classes to kids and adults in my art studio, as well as creating online art classes for everyone around the world. Inspiring others through color and joy is what I set out to do each day. My favorite art mediums that I love to use are acrylics and watercolor paints.
My paintings are a blend of abstract art and realism with a touch of whimsy, and my technique is one of a fluid, intuitive style. Many layers are created by lines and marks, as well as various tools and paints. I love to draw, paint and create colorful art every day. I am happiest getting lost in the process of the details and layers that make up my art. I work with colors that make me happy – reminiscent of the beauty that is all around us. Just every day simple beauty. Orange and pink, turquoise and red. They are magical when painted together.
I currently live in Santa Cruz, CA with my husband, 3 teenage boys and our dog, cat and a bunch of chickens. The sea is an endless source of wonder and imagination for me which is probably why my favorite color is blue, while the mild seasons by the beach give me endless amount of floral inspiration from all the beautiful gardens. I feel like I am living my dream and grateful to be able to share my passion with you.
Andrea'sWebsite