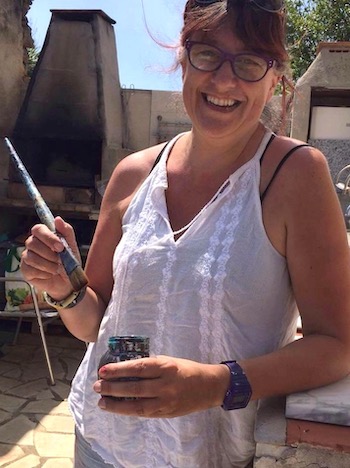 I started painting when I moved from England to Spain 4 years ago. Prior to that I had not painted in over 25 years. But now it is an intrinsic part of my existence, it is as natural and necessary as breathing. It marked a huge change in my Life, a new start, a new direction, a very personal Dream.
I now paint people, faces and figures. I am an Expressive Painter, I love colour, texture and loose painterly qualities.
I am fascinated by people and the public and private personas they have. I try to capture the memories, history and story of a person. I want to portray what lies beneath, the imperfections, the secrets and insecurities.
I work mainly in Acrylic, but also use Oil Pigment Bars, Inks and Charcoal.
I create highly patterned, textured Underpaintings, these are my Foundations to my Figurative and Portrait work. I work large, filling the canvas to create Bold, Strong and engaging subject matter.
Emma on Facebook