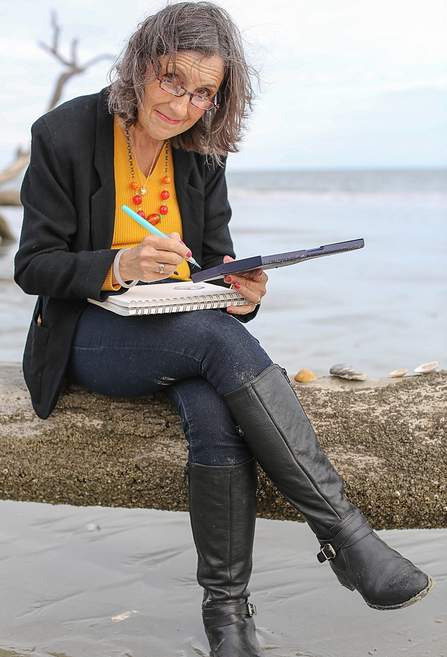 Sharyn Sowell has two studios: One is a rose-covered cottage in the garden spilling over with stacks of paper, pots of ink and glue, scissors by the dozen, and loads of calligraphy supplies. The other is a suitcase crammed full of art supplies, ready to go at a moment's notice.
Sharyn's areas of artistic proficiency include cut paper, calligraphy, watercolor, paper crafting and block printing. She's enamored of her jewelry torch and makes use of an up to the minute Mac.
Sharyn designs art for products like craft supplies, textiles, gifts and home de-cor. Her original art can be seen in the British National Portrait Gallery, Chil-dren's Hospital Los Angeles and the Orlando Waldorf Astoria. Her covers for Amazon's Kindle sold over 2.25 million units and she was twice awarded the Louie Award, the Oscar of the greeting card industry.
Teaching worldwide gives Sharyn the opportunity she craves: meeting and sharing her artistic expertise with a wide range of people and letting inspiration from around the globe seep into her sketchbooks and work. But her favorite subject matter is just outside her studio window, where she cycles through the neighboring tulip fields, sketches, and gardens with her husband and two puppies.
Sharyn's Website