We are back from our family trip to Italy celebrating Jack's college graduation and my 50th birthday! It was absolutely beautiful in so many ways and I will be sharing more in the weeks ahead. The first 9 days of our trip was just as a family and then the next 7 days I joined friends for Daune and Keith Pitman's The Cottage Table Experience. I was receiving so many messages asking whose retreat I was on etc. and if there would be another one that I wanted to let you all know right away that registration JUST opened! It is already selling out fast and I am positive this one will sell out as fast as the one I was on.
I have been to the Lake Como area many times and I have adventured all over the lake with my family BUT Daune shared things with me that I had never done. It was such a joy to discover new artisans, beauty making, little secret spots and a sweeter connection with the people of this area. You will feel lavished, seen and truly cared for in Daune's workshop! The attention to details constantly left me in awe. I can't wait to share some of these details in the weeks ahead.
If you have been to Italy many times or you are wanting to adventure there for the first time…THIS is the retreat for you! I am already getting messages from some of you telling me you have signed up! EEK! So excited for you!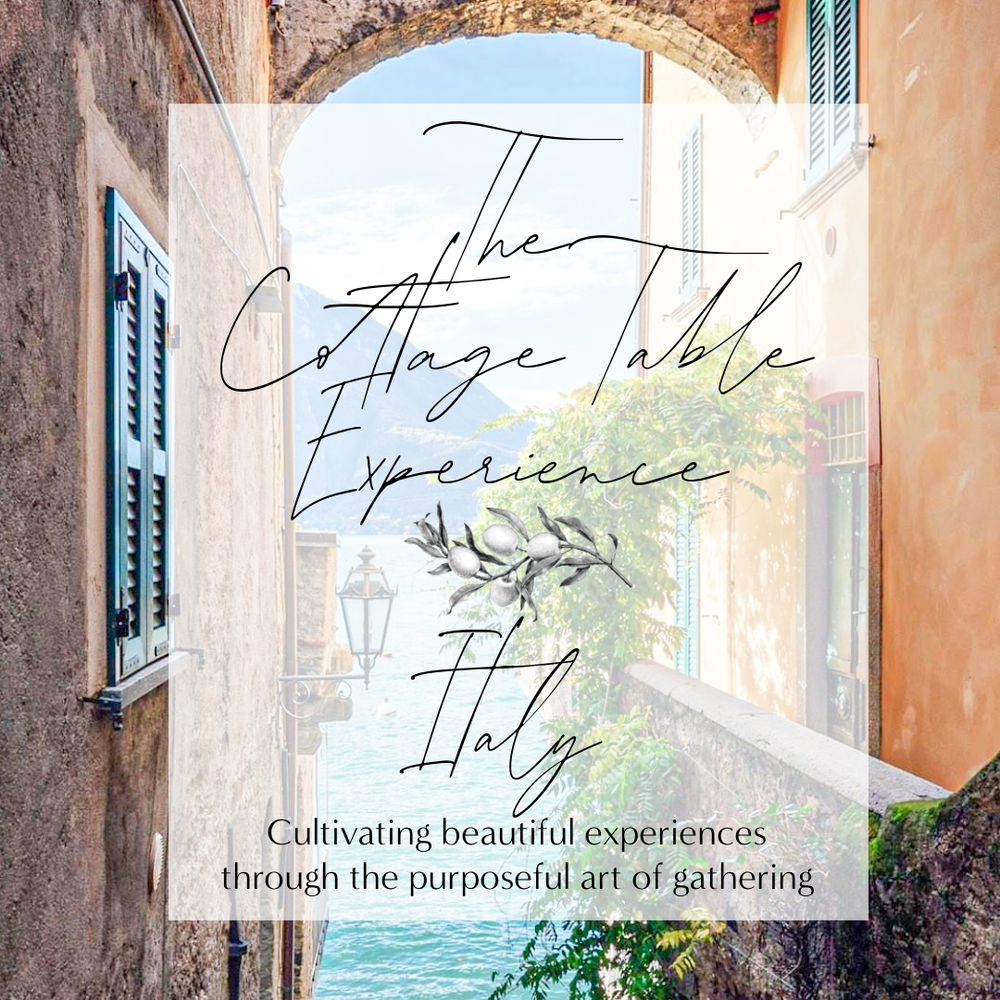 Retreat dates: May 8-14, 2023
Lake Como, Italy
••••••••••
Imagine spending a week in a centuries-old Italian Villa on the shore of Lake Como for a creative gathering retreat….as you enjoy intentional community at long table dinners, hands-on creative workshops, guided excursions, special devotions, time to meander the cobblestone streets in the villages of Bellaggio/Varenna/Menaggio, sip cappuccinos, and enjoy gelato in this amazing region. Italy is one of our favorite places, and we'd love to share it with you.
Italy is a place that upholds beauty like an honor; it is a land that works, but does not strive. People who love their work and are content in their craft are people who understand a deeper metaphor about having a place to belong. They add a special touch to all they do. The people operate from a place of great contentment, and everyone there is fully aware of their blessedness. Repairs are done brick by brick with such care and attention. It is a place of rare beauty, where masterpieces of nature and human genius stand together in harmony.
"Let us behold the beautiful and be beheld by the beautiful." ~ St. Augustine
On The Cottage Table Experience Italy Retreat you are not a tourist, but a guest; as you will experience the local hospitality of this special Italian region. We seek to intentionally savor meals, moments, and people wherever we find ourselves. Will you join us at the table in Italy?
Come with us for an experience that will remain with you always.
Included in the retreat price:
6 days and nights in a centuries-old villa built between 1400-1800 on the shore of Lake Como. Your home for the week is set in a botanical garden with a lovely terrace for special quiet times, reflection, sketching, journaling, meandering, or gathering overlooking the lake.

6 breakfasts, 2 dinners, 4 lunches

Our private drivers will pick you up from the Malpensa airport and transport you to the villa on Monday, May 8, 2023 where you will be welcomed with a drink, get settled, relax, and we'll have a special long table Welcome Dinner on the villa terrace under the wisteria that evening

Special welcome gifts

Long table lunches and dinners, one in which locals from the community will join us

Cooking workshop with an Italian chef after choosing our ingredients from his private garden

Truffle and mushroom hunting in the hornbeam woods, and then a workshop on how to preserve and cook with our bounty

A European picnic in the most gorgeous, special location

Historical walk through the lovely village of Bellaggio discovering little-known vantage points that most people miss, through a sleepy fishing harbor where rare Larian gondolas bob, through the famous Melzi Gardens, and then a special lunch on the terrace outside the botanical gardens.

A creative flower arranging workshop at an Italian flower farm to prepare for our long table dinner with locals from the villages

A hike to ruins on the cliffs of a village, perfect for a special quiet time, sketching, and taking in the incredible view

Time in the beautiful terraced olive groves, olive oil from this region is especially prized.

Tours of famous large villas and gardens…..filled with art museums and beautifully curated spaces

Private boat transfers from our dock to all of our scheduled experiences

Our private drivers will transfer you back to the Malpensa Airport on May 14, 2023.

Plenty of free time to meander the lovely cobblestone streets of the villages of Bellaggio, Varenna, and Menaggio….enjoying the cafes, shops, people, and gelato!
NOT INCLUDED IN THE RETREAT FEE: your airline ticket, insurance [medical or travel], meals not listed in the above itinerary
We've saved a spot at the table for you!
__________________________
The Italy Retreat will be May 8-14, 2023. The cost of the retreat is $5,499.00 per person, double occupancy rooms with private bathroom. If you are registering as a single you will share a room with another guest of the same gender. [If you have a friend registering that you would like to room with, please be sure to send us an email and let us know.] You may pay the total all at once, or we have a payment plan; you can let us know which is best for you.
We have a firm cancellation policy, once you are registered the total of all fees are committed and non-refundable. If you find you are unable to attend the retreat, your spot is fully transferrable to someone of the same gender until February 1st, 2023. Once registered you will receive a retreat contract and waiver to sign and return.
The $800 deposit goes toward the cost of the retreat.