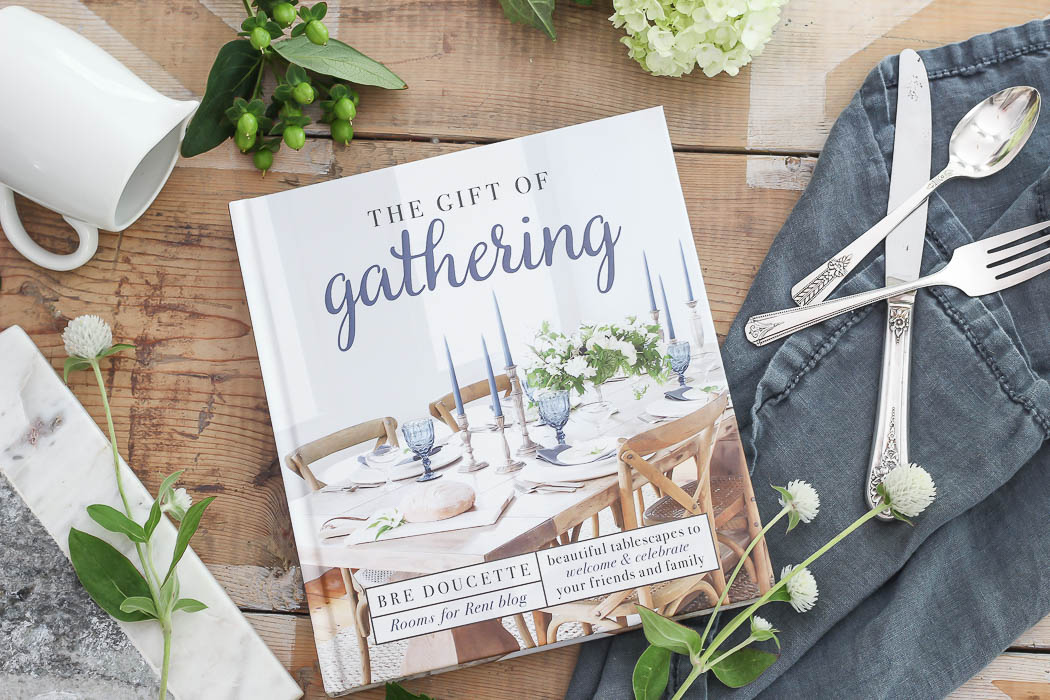 We have had our business for 12 years now and for most of these years I have been able to share home through blogging and also the blogs of others that I admire. Our home and gathering was never the main focus of our business but I believe with my whole heart that because I have such a deep LOVE of home and gathering that the Lord has used that to also bless our business in ways I couldn't have imagined. One of those ways is through a group of bloggers I have been friends with for more years than I can count. These design bloggers have the most beautiful hearts for home, family and design.  I was welcomed into their group years ago and they so sweetly allow me to be a part of their home tours, seasonal posts and more. I love when we get to support the members of this group and be their cheerleaders! I believe we change hearts and our little worlds when we open the doors to our homes and love on others.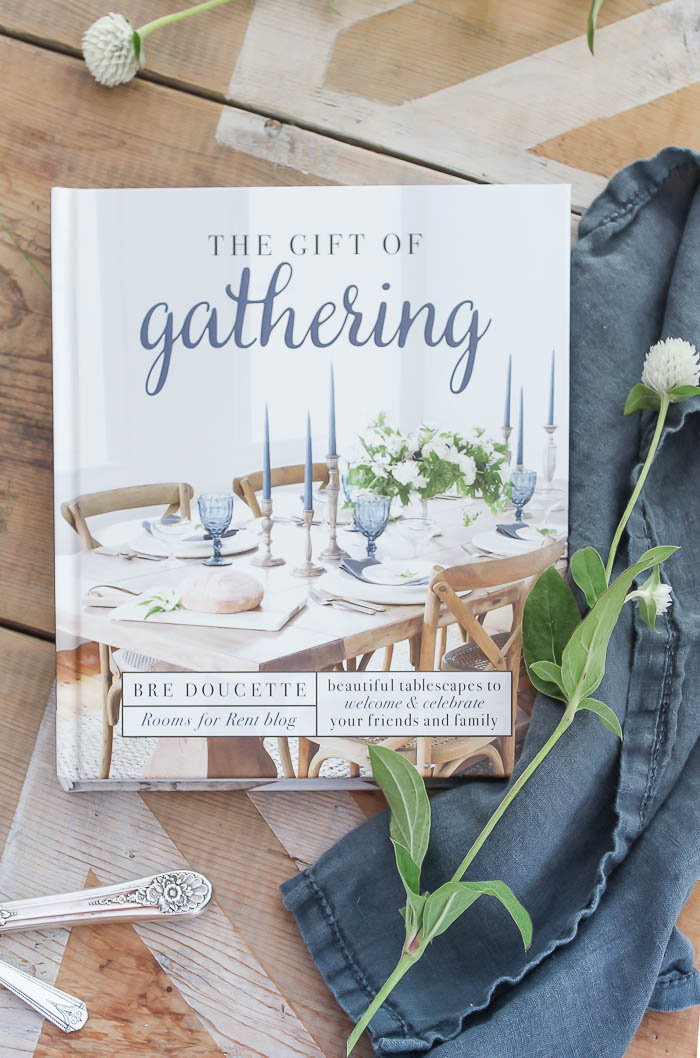 Today I wanted to tell you about my friend Bre Doucette's brand new book, The Gift of Gathering! You know with my whole heart I am about every word of this! As I sat down with this beautiful, beautiful book I just felt like Bre was talking to the heart of others with a heart to gather but they need a helping hand to see how fun and easy it can be. Maybe you have gathered a hundred times and you just need some fresh inspiration all in one place. Maybe you just need to be sweetly reminded through Bre's words the power of bringing people together. Whether you are a nervous entertainer or you have been doing it for years…this book is gold!
Bre has been rocking tablescapes forever and this is her thing! Her love of getting others around a table to create memories and community is one of her strongest gifts and in this book she shares it all so beautifully.
The Gift of Gathering couldn't come at a better time of year when we have the honor of opening our doors a little more often and loving on family, friends and even strangers. What are you going to do with this season? Do you want new ideas or would you like to have a place to even start? Come and check out Bre's book and I know it has exactly what you are looking for!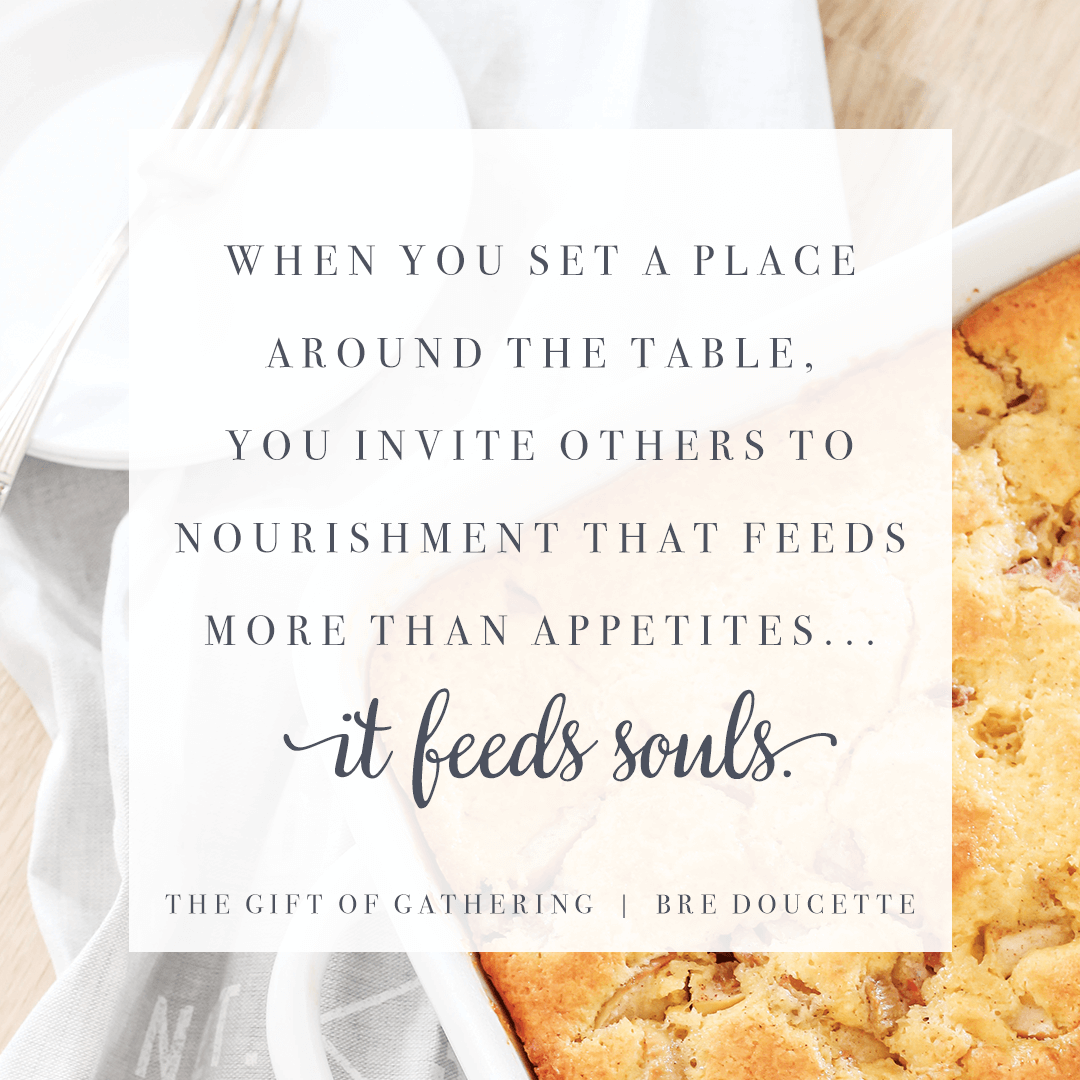 From Bre:
I share in the intro of my book my story of the first time my husband and I hosted a dinner party. We were newlyweds, and I was bound and determined to make this the best dinner party our friends had ever been too. Like somehow our status as a married couple would be reflected on how well this dinner party went.
The only problem was, as newlyweds, we had no money to host this dinner party. Yet, that did not stop me from being crafty, making my own invitations, and being thrifty in buying sheer fabric by the yard to layer over a curtain I used as a table cloth because spending $30 on a brand new table cloth was money I could better use for the other elements of my table.
In 2005, I had begun creating what we now call tablescapes. A word I didn't even know existed back then – and maybe it didn't. What I knew is that I wanted to create a warm & inviting table for our friends to gather around for an elegant night in.
I learned so much in my efforts of scraping together that first Tablescape over fourteen years ago. I also learned that you don't need to have much money to set an elegant table, and share a warm meal with the ones you love.
This scripture verse, shown below, has always been one I've held so near and dear to my heart. It is a reminder to me of how special gathering around the table can be, and the true heart of hospitality. We can make it as elaborate or simple as we want to, the important piece is that we gather with each other.
They broke bread in their homes and ate together with glad and sincere hearts. "

Acts 2:45
Of course I love to create tablescapes, and photograph them, which you will find all sorts of BRAND NEW inspiration for in the book. But it's also filled with personal heart-felt stories, DIY's, family recipe's, uplifting scriptures, and encouragement for YOU!