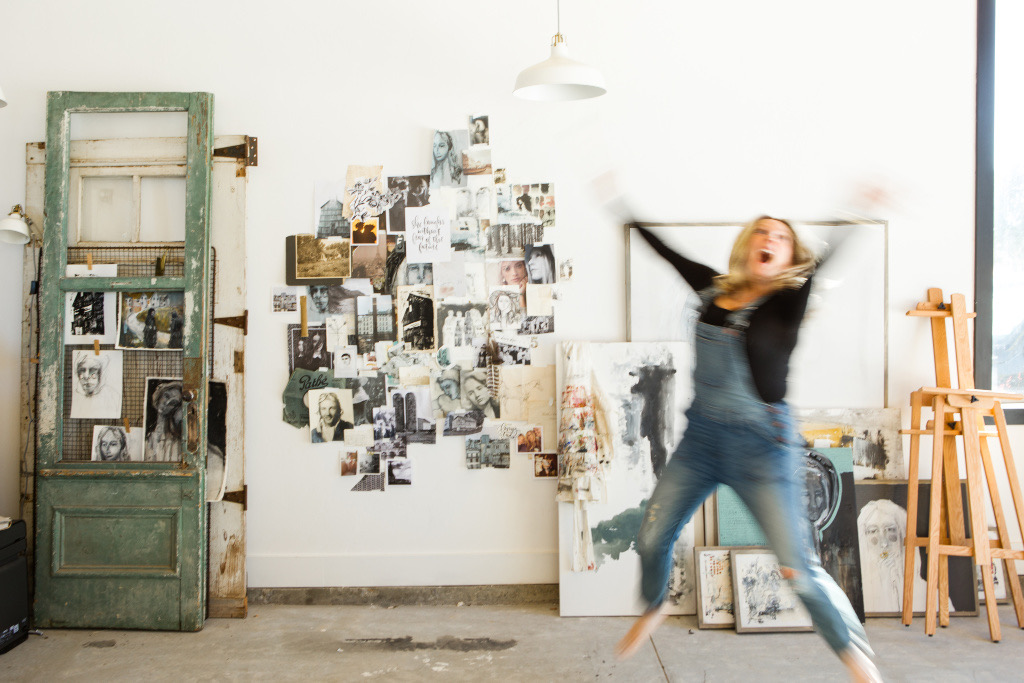 Each year we have the privilege to collaborate with so many talented and hard working artists! This year we had 24 guest artists on our creative network and two guest artists in my studio!
We would never have the variety of online courses on our network without the talent of so many different creatives!
I want to take a moment to thank each of them again and to also share with you what they are doing right now. It would bless me so much for you to go to each of their sites and see what they are offering right now on their own site or coming in the new year. Nothing in what they are sharing links back to our site and it is what they are offering for other people or through their own site!  We are all in this together and I want them to know how much they are appreciated as they offer their beauty in the new year!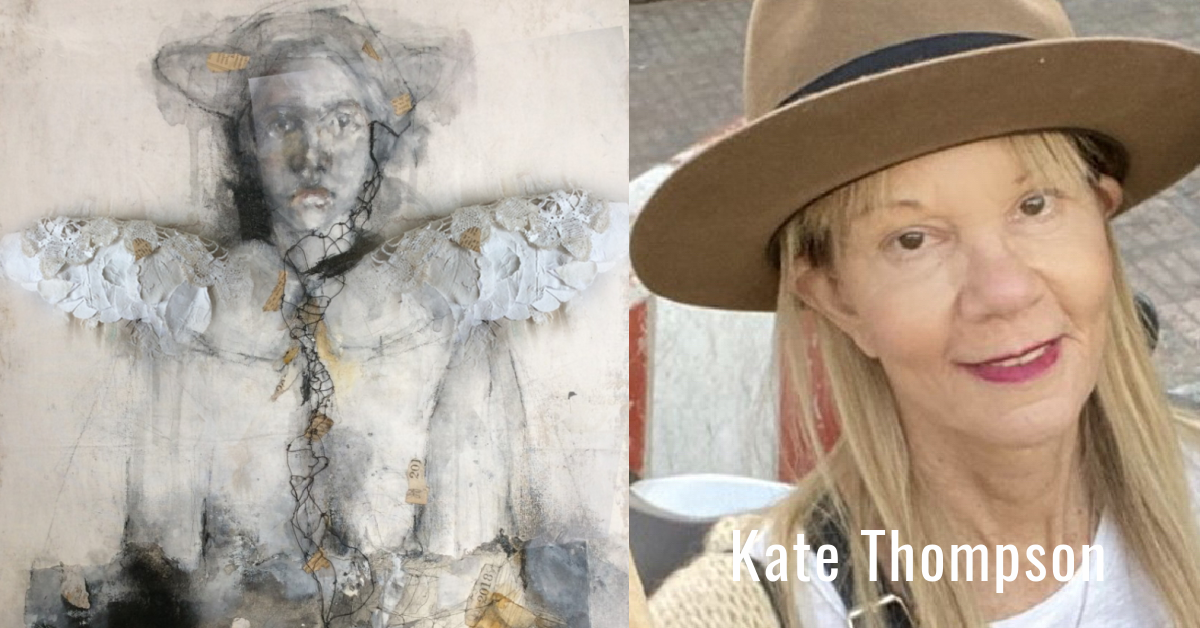 I received a degree in Fiber Arts and worked as a textile print designer in the apparel business in Los Angeles for 20 years, but my real education started in 2009. I started painting and made it a practice to paint every day. As I honed my craft and progressed to the next level of my practice lead me to question why I paint. It is a spiritual journey that I am on and it is something I have to do to keep my mind and body happy!
I work with watercolors and gesso, acrylics , oils, pastels with inks or all of them. I am an experimenter. I create my own substrates using vintage linens or painting on ledger paper. I also paint on more traditional substrates such as watercolor paper and canvas. I would describe my work as expressive figurative and portraiture mixed media.
I am represented by Lagerquist Gallery which is located the Buck Head area of Atlanta, Georgia.
I teach all over the United States as well as Europe and just recently Morocco. My passion is focused on the creative process and I am as passionate about teaching as I am at creating art. Kate has a new online course, Adornment Book, opening for registration in a few weeks and you can read about it HERE. Make sure you sign up for her newsletter to be the first to know!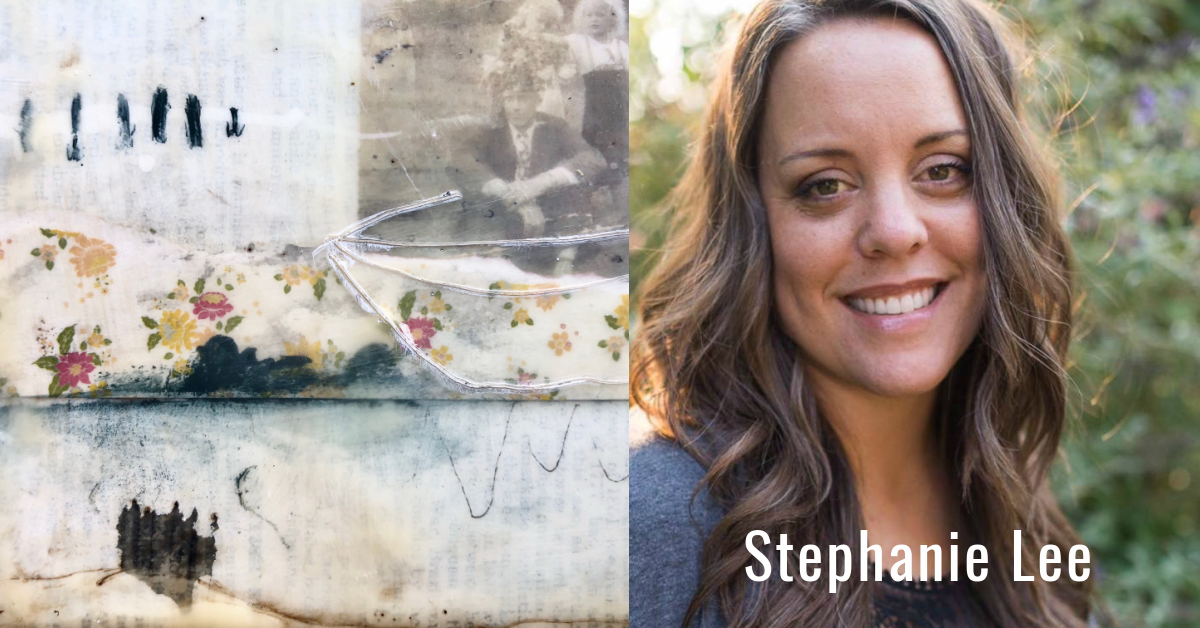 I am a professional artist, workshop instructor, and creativity encourager and I believe that we each have a vein of potent curiosity that enables us to "figure it out".
Figure out how to live in a way that feels most true, how to make what we see as beautiful, how to transmute challenges into strength, and how to feel alive and purposeful and connected.
I know that creativity shows up with as many variations as there are colors in nature and my job (and joy) is to help you figure out your singular, creative voice. Because many artist struggle with making art they feel best expresses what they want it to, I create art and courses to give your radiant and beautiful voice a way to shine.
I bring all that I am – homesteader, food preserver, speaker, wife/mom/grandma, loyal friend, outdoor enthusiast, wannabe athlete, and master mess-maker – to the classrooms where I teach, both brick + mortar and virtual. On my less-messy days, I stand in front of audiences creating art with my words, to bring each listener into a place of solid, fiery confidence in their own creative adventures. You can join Stephanie this January for her next session of The Unstuck Artist HERE.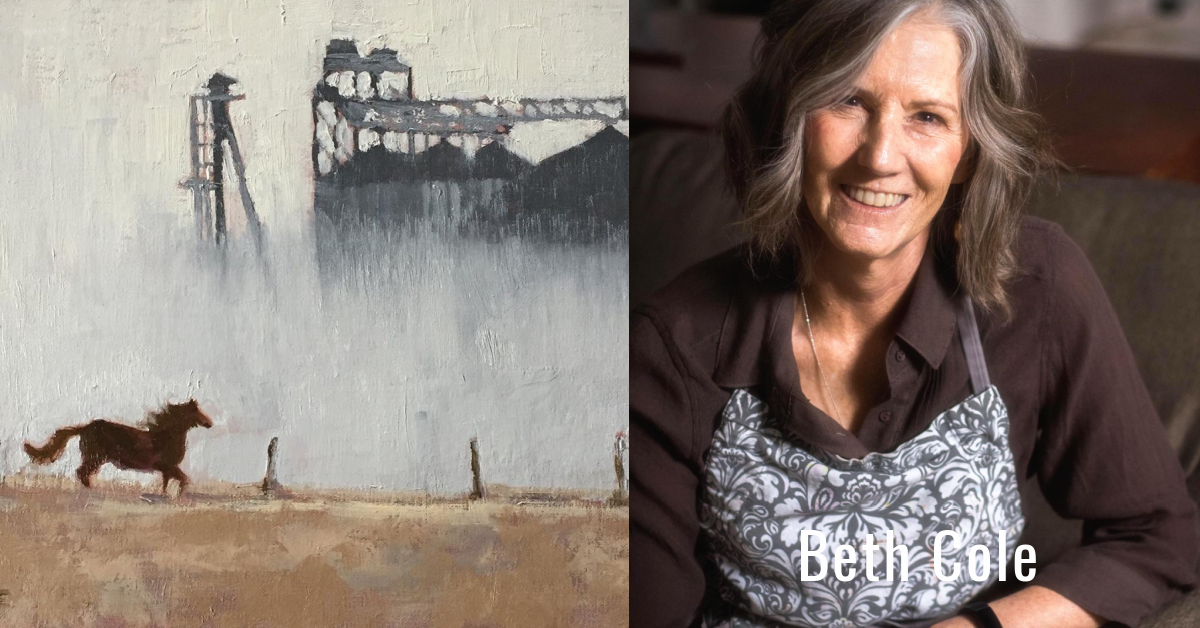 A pianist at heart, I began painting in 2012 and my only regret is not starting sooner, I enjoy it so much. I primarily paint landscapes in oil. I was honored to be included in the Nebraska Biennial Exhibition at Gallery 1516 in Omaha in 2017, and 2019, and my originals and commissions have made their way into homes across the United States and overseas. I have studied with many accomplished artists including Dave Santillanes, Kim Casebeer, Chris Groves, and Todd Williams. I am inspired by many of the great masters including Edward Seago, Alexei Savrasov, and George Inness. In my spare time I enjoy reading, movies, all kinds of music and hosting shindigs in our home. My artsy husband and I enjoy photo/art trips and spending time with our grown children and three grandsons. We live at the edge of the Nebraska sandhills in Merna, Nebraska.
Make 2021 the year you take a deep dive into your painting practice with my six week course, Do Your Best Work Now. Discover what many successful paintings have in common and apply those discoveries to your own work. This is a six week online video course you can access at your convenience. There will be a FB group to share and we will have a ZOOM critique during the last week of the class. Learn more and join the waitlist here. Early bird registration opens February 1st, 2021.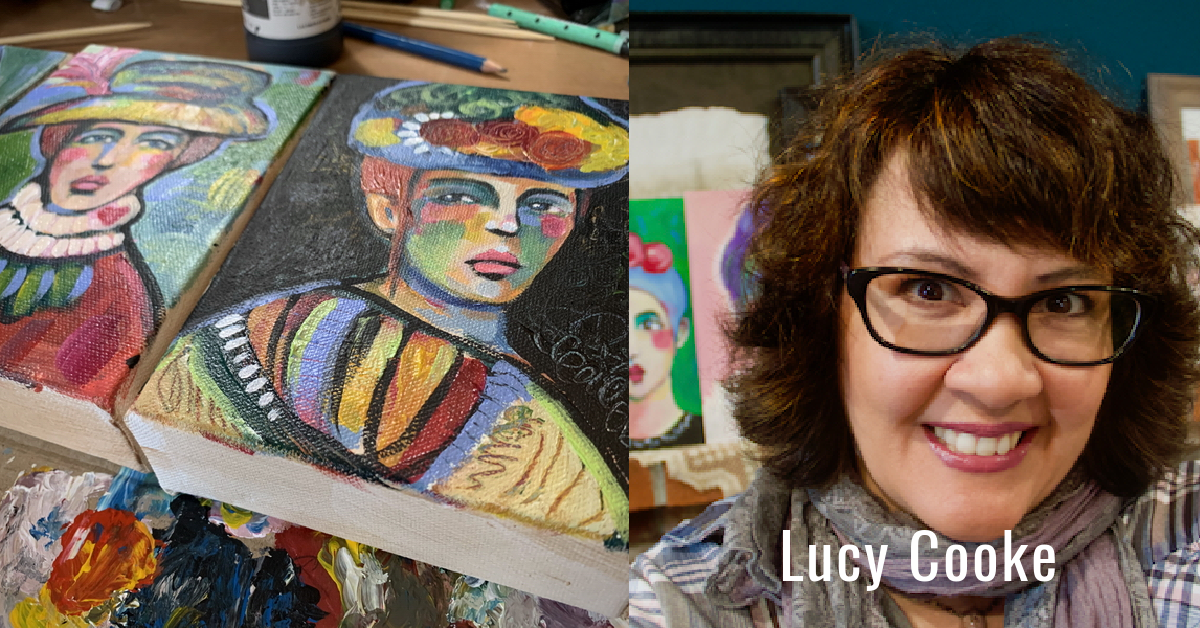 My dad gave me the nickname Lucy many years ago, when I was just a little girl. I absolutely loved making art as a kid! I filled sketchbooks with the people around me, or things I saw in magazines, or on television. Yet, when I became an adult, I hardly spent any time on my art making. Though I spent time being creative, it wasn't until decades later that art found me again, at a time when I really needed it! Since 2006, art has been a part of my daily life. I started out making small ATCs, or Artist Trading Cards. Collage was my art medium of choice at that time. I quickly moved on to larger collages, mixed media, and assemblage. I used found objects, mixed with new finds, to make interesting art. I also loved the challenge of making digital art. Around 2008, I decided I really wanted to pursue my love of painting with acrylics. Since then, one of my favorite things to do is sit in front of my easel and paint! My subject of choice, is portrait painting. I LOVE faces! But every once in a while, you will find me painting sunflowers, waterlilies, or even hummingbirds. I also have a very deep love for sketching faces, in graphite or ink. Almost every evening, I have my journal on my lap, and I am drawing to my heart's content. It makes me calm, and very happy. I am also a constant student of art, learning from artists of the past, as well as contemporary artists. I love trying new and old techniques and pushing my art to the next level. This art journey has been a wonderful one! I am so excited to make art with you! You can purchase art from Lucy HERE.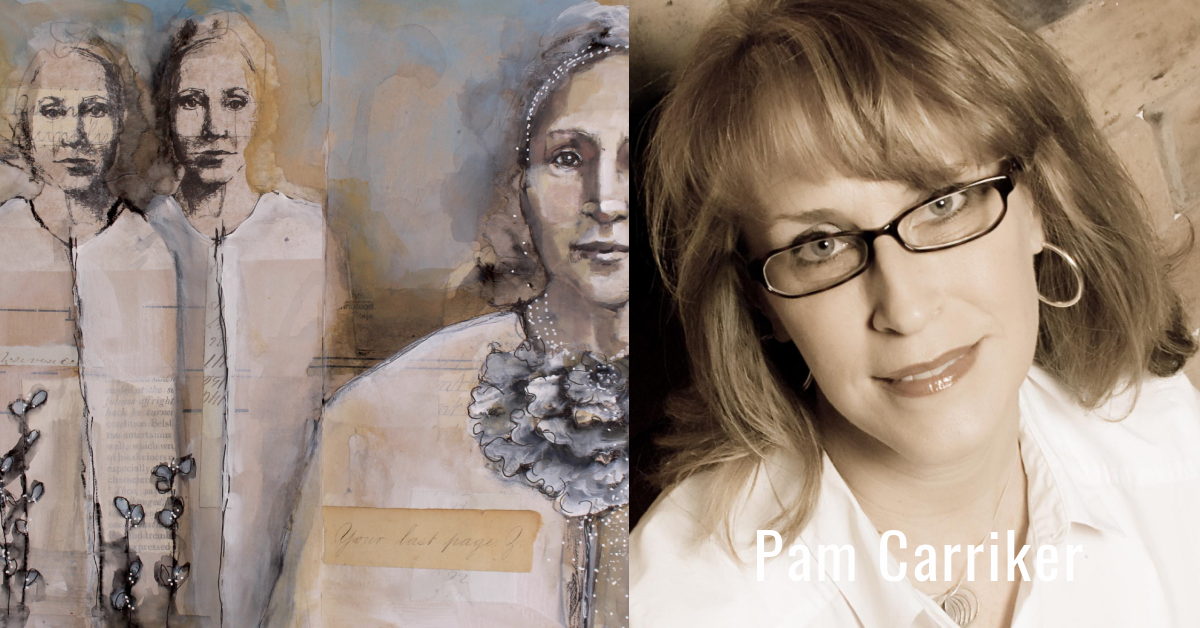 Pam Carriker is an artist, instructor, author of books ART AT THE SPEED OF LIFE and CREATING ART AT THE SPEED OF LIFE and Mixed Media Portraits with Pam Carriker. Born and raised in the Pacific Northwest, she now resides in the Dallas/Fort Worth Texas area with her pilot husband and has just begun life as an 'empty nester'. Her three sons all are or have served in the military with the youngest fresh from Navy Boot Camp! Pam's work and writing can be found in over than 60 publications and she has served as both a columnist and Directors Circle Artist for Stampington & Co. She has created instructional Art Journaling videos for Strathmore Artist Papers line of Visual Journals, as well as designed a line of stencils for Stencil Girl Products, rubber art stamps for Stampington & Co and developed a line of signature mixed-media products for Derivan Matisse. Turning her 'hobby ' into her dream job has been the culmination of a life-long pursuit of living a creative life and she firmly believes it is never too late to begin living Art at the Speed of Life! You can connect with Pam HERE.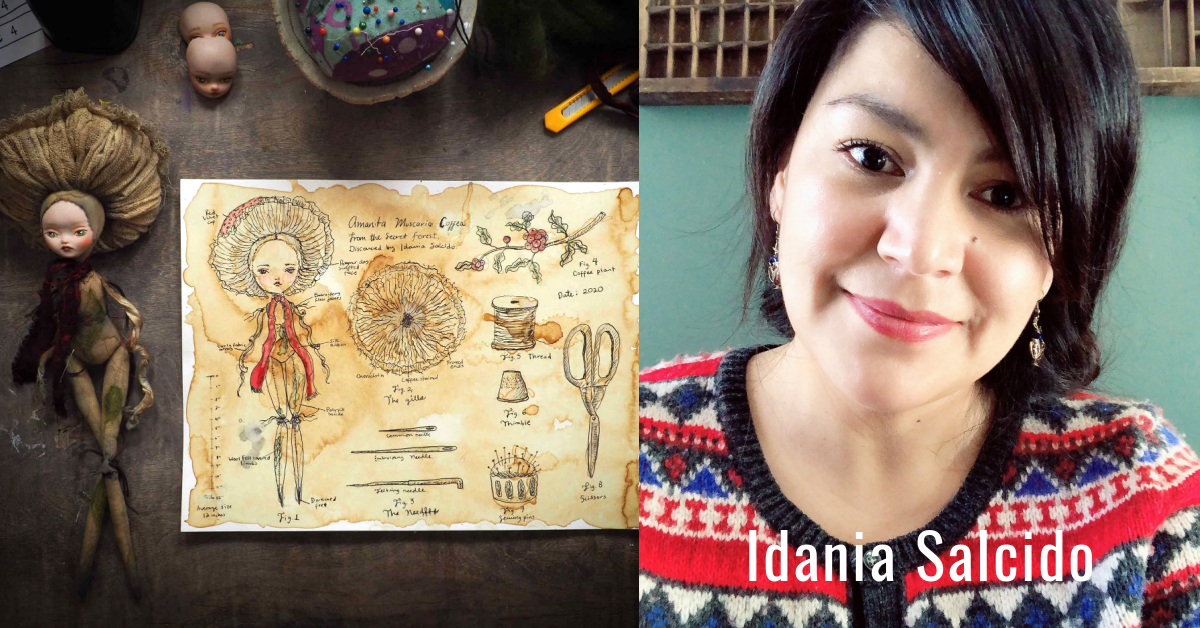 Idania Salcido, the artist behind Danita Art is a self taught, multidisciplinary artist who uses the techniques she learned through her career materializing her ideas. Her work is inspired by nature, fairy tales, antiques, folk art, folklore, books, women, magic, the seasons, the grand theater and marionettes. She uses art as an alternative from reality, trying to create inhabitants of a world that exists in her imagination.
Keen collector of discarded things and flora specimens, she loves reading, and the way others have with words. She finds it hard to express with words like her favorite authors do, so she chooses a visual narrative to tell her story instead. She's a daydreamer, a beauty seeker, an old soul and a coffee lover. She admires the craftsmanship of the past, when even simple things were made with care and attention to detail. She loves adding a vintage patina to most of the pieces she makes, but sometimes she channels her Mexican heritage into colorful creations.
One of her favorite things to create are 3D objects that look like the drawing on the paper has come alive and that is the reason why she is so focused on dollmaking now. Her work has been published in several magazines and books and her work is collected internationally. When she's not creating you can find her at the library with her kids, browsing through antique's shops, working on her small potted garden or or going on field trips to her nearest forest. You can visit her site HERE and be the first to know about upcoming classes and art HERE.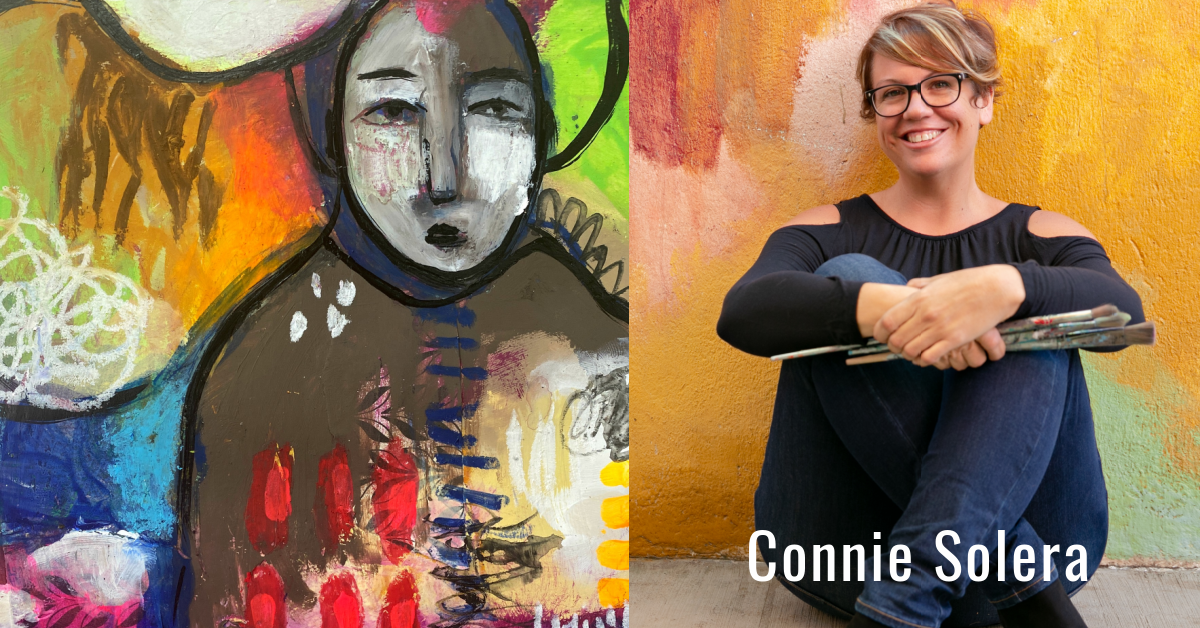 My name is Connie Solera. I am an artist, teacher, and a firm believer that creativity is the language of the Soul. I've been on the artist journey since I could hold a pencil in my hand and squish clay in between my toes. My longing to be an artist is what drove me to receive degrees in Painting, Art History, and Art Education. But it was my yearning for the mystical part of art that made me eventually blaze a path of my own.
For over 25 years I have been helping my students embrace their greatness as artists, understand the incredible power and wisdom embedded in their unique visual language, and learn valuable tools and techniques to art making. Currently I teach online workshops and host painting retreats in beautiful places such as Sedona, Mexico, and Costa Rica.
As an artist I am passionate about the art-Soul connection. Through my creative practice of drawing, painting, and printmaking I am constantly exploring the unseen, mysterious, and sometimes deeper, darker spaces of my being. As a teacher I love to guide my students to do the same. You can find out about Connie's newest courses HERE.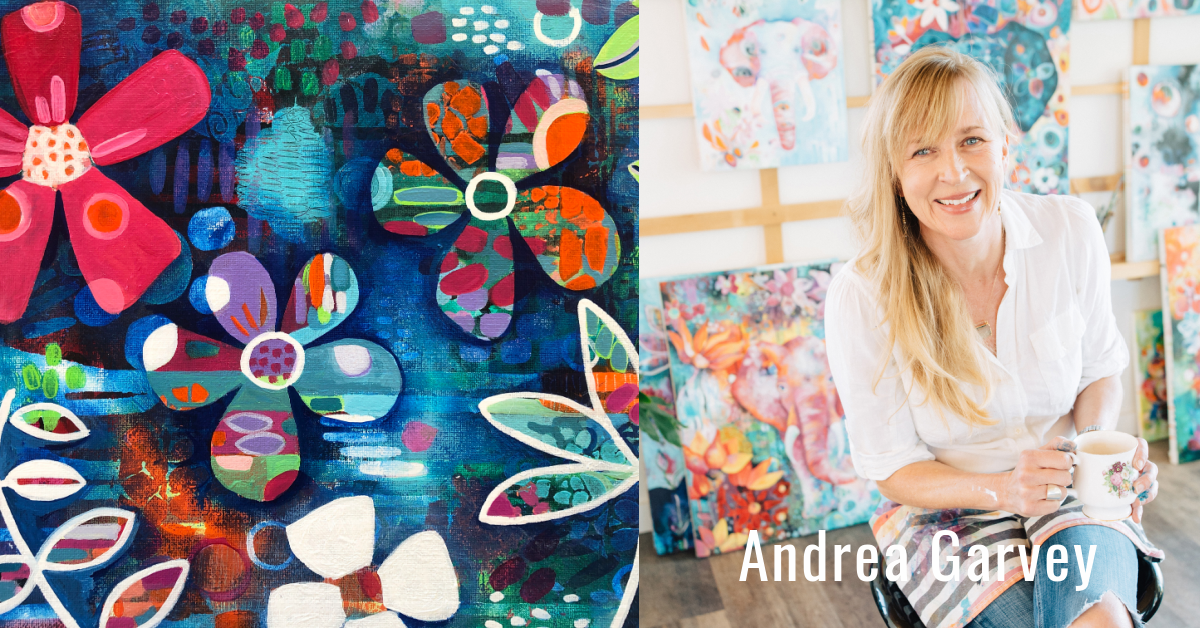 After a fulfilling career as a Creative Director in Corporate America I left that world at 50 to pursue my dream of working as a full-time artist. I felt it was a true calling and have never looked back. Now I am busy showing my work through art shows, creating unique commission pieces, as well producing a retail product line. I also teach painting, art journaling and vision board classes to kids and adults in my art studio, as well as creating online art classes for everyone around the world. Inspiring others through color and joy is what I set out to do each day. My favorite art mediums that I love to use are acrylics and watercolor paints.
My paintings are a blend of abstract art and realism with a touch of whimsy, and my technique is one of a fluid, intuitive style. Many layers are created by lines and marks, as well as various tools and paints. I love to draw, paint and create colorful art every day. I am happiest getting lost in the process of the details and layers that make up my art. I work with colors that make me happy – reminiscent of the beauty that is all around us. Just every day simple beauty. Orange and pink, turquoise and red. They are magical when painted together.
I currently live in Santa Cruz, CA with my husband, 3 teenage boys and our dog, cat and a bunch of chickens. The sea is an endless source of wonder and imagination for me which is probably why my favorite color is blue, while the mild seasons by the beach give me endless amount of floral inspiration from all the beautiful gardens. I feel like I am living my dream and grateful to be able to share my passion with you.
You can look at her latest classes and art HERE or join her FB creative community HERE.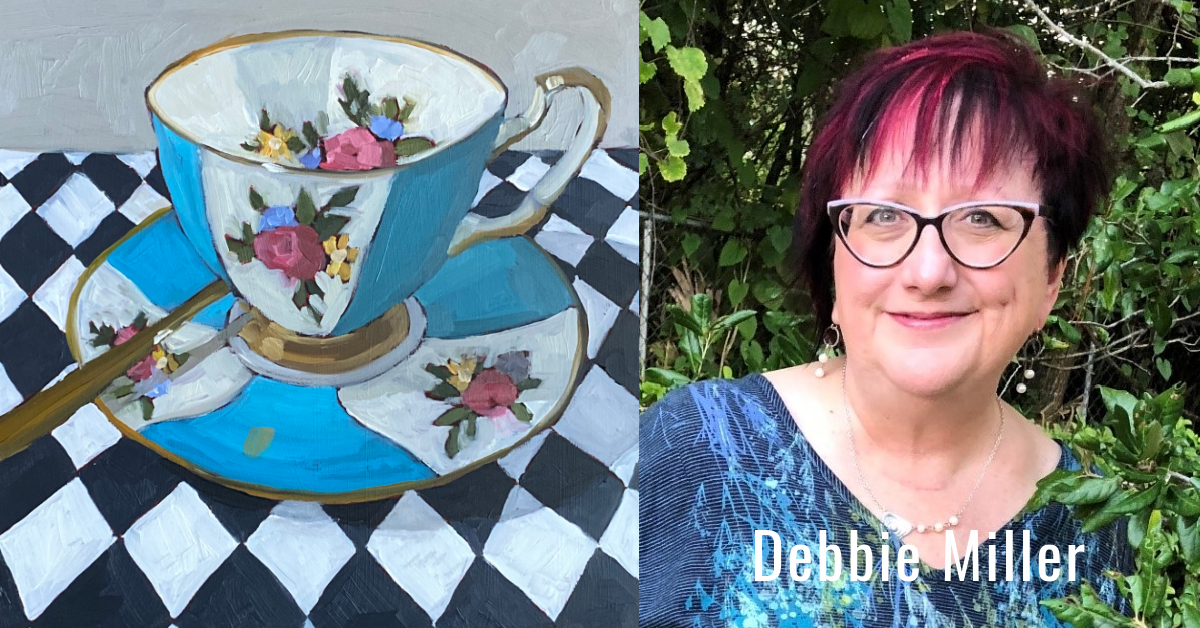 Debbie is a late-bloomer when it comes to painting, though her family and friends would probably say that she has always bloomed in other creative ways – making beautiful spaces, offering hospitality, designing colorful and tasty meals, and dabbling in a variety of crafts that let her amass shamefully huge stashes of yarn, fabric, and mixed media art supplies over the years.
After several decades as an environmental consultant to state and local governments, she decided to follow her heart into the helping professions. Now she is a licensed mental health counselor, spiritual director and creative depth coach, in addition to being a passionate artist and art educator.
Debbie's journey into painting really began in March 2016, when she took a course in abstract floral painting from Lisa Daria Kennedy, who introduced her to the Daily Painting Movement. She discovered – at 58 years old – that if you practice something every day, you really do get better (and have more fun). Debbie and her artist husband and creativity co-conspirator, Brian, were hooked! In their first 4 years as Daily Painters, hey have each completed over 1,400 paintings; and they can't imagine their lives without this rich discipline.
Debbie has a heart for helping people discover the ways in which they are creative take steps forward in expressing that creativity. She believes that art is source of joy and beauty and delight. But it is also a sacred storyteller that can help us heal and grow as individuals and communities.
You can find out more about Debbie and Brian on their joint website HERE. You can also check out their newest online course, Habit-Forming Flowers, HERE.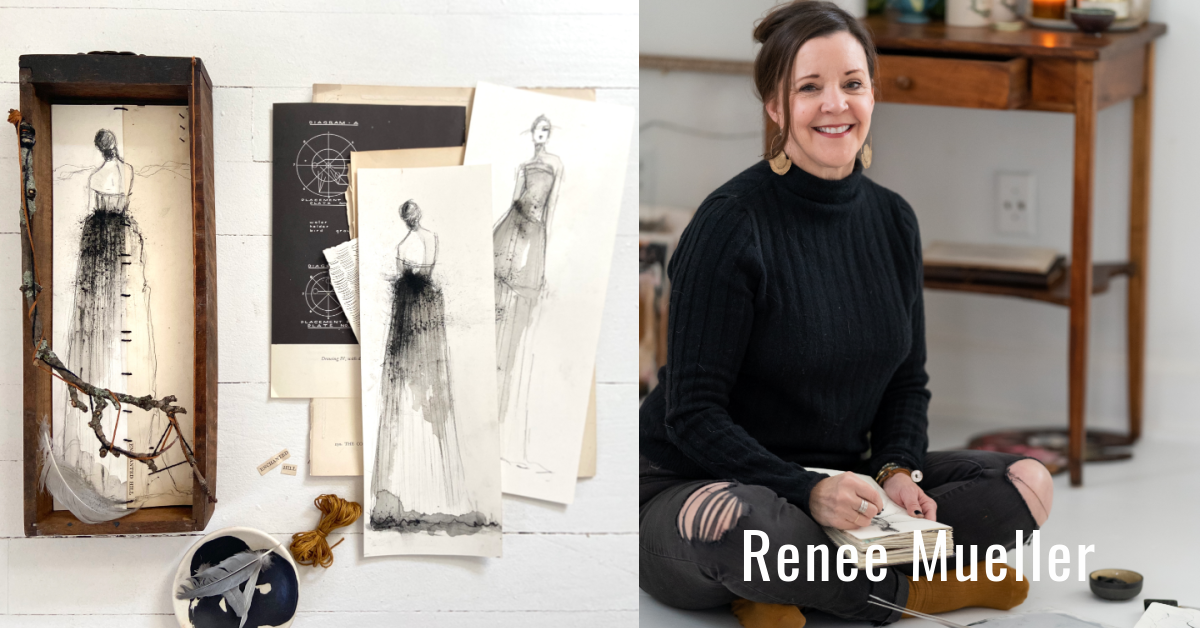 My creative life began in the world of Performing Arts after my mother took me to my first ballet class at the age of three. From that moment on dance was all I wanted to do with my life.
I attended the University of Michigan and received my BFA in Dance and Choreography. During that time, I had the honor of teaching in the University of Michigan's Musical Theater Department. After dancing professionally for a few years, I decided to follow my heart and become a full-time choreographer and teacher, I realized that telling stories through movement was creative fuel for my soul and the path I needed to take in my dance career.
My love for theater and dance continues to be source of inspiration for my work. I'm compelled to try and capture the ephemeral quality of the performing arts and find a way to weave it into my art. I hope my approach to creating will spark your imagination as you look to the rich history of the theater and the world of the Performing Arts to fuel your creativity.
I currently live in Ann Arbor, Michigan with my husband Marc, who continues to support all my creative dreams, and our beautiful daughter Olivia. You can sign up for her newest course, Conversations | Abstracts and Collage, HERE.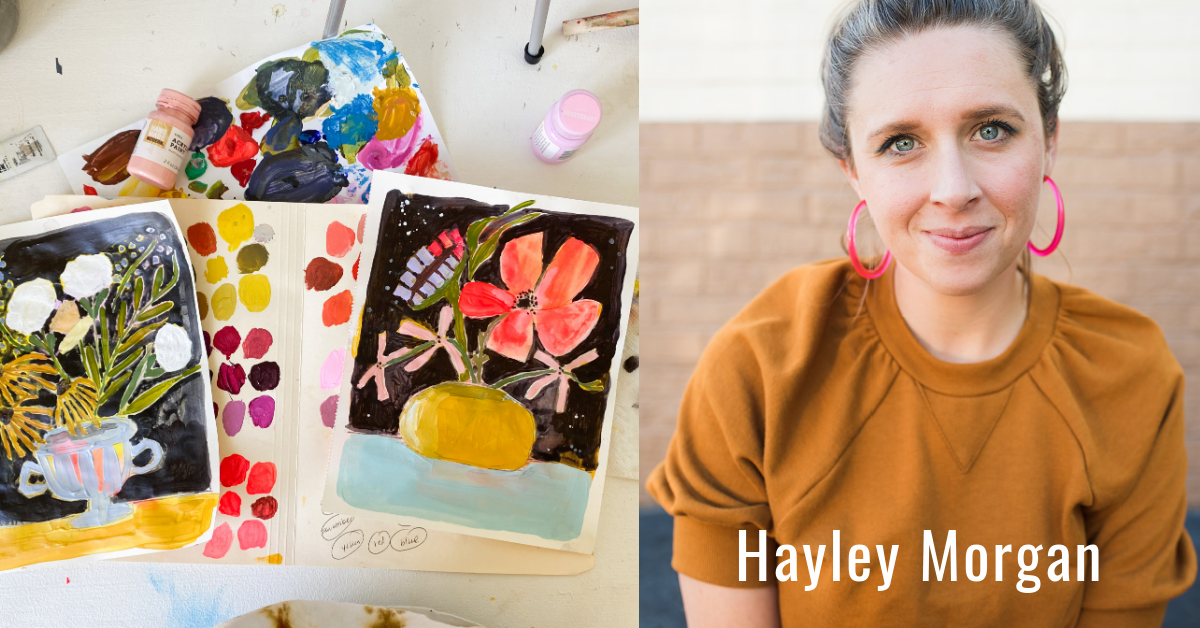 I like my water fizzy and my coffee black. A pair of big earrings and a bright lipstick is my power-suit. I wanted to be an astronaut when I was little, and I'm still fascinated by brave people doing big things. I'm work as an author by day, and I paint every free second I can.  You can find her book HERE.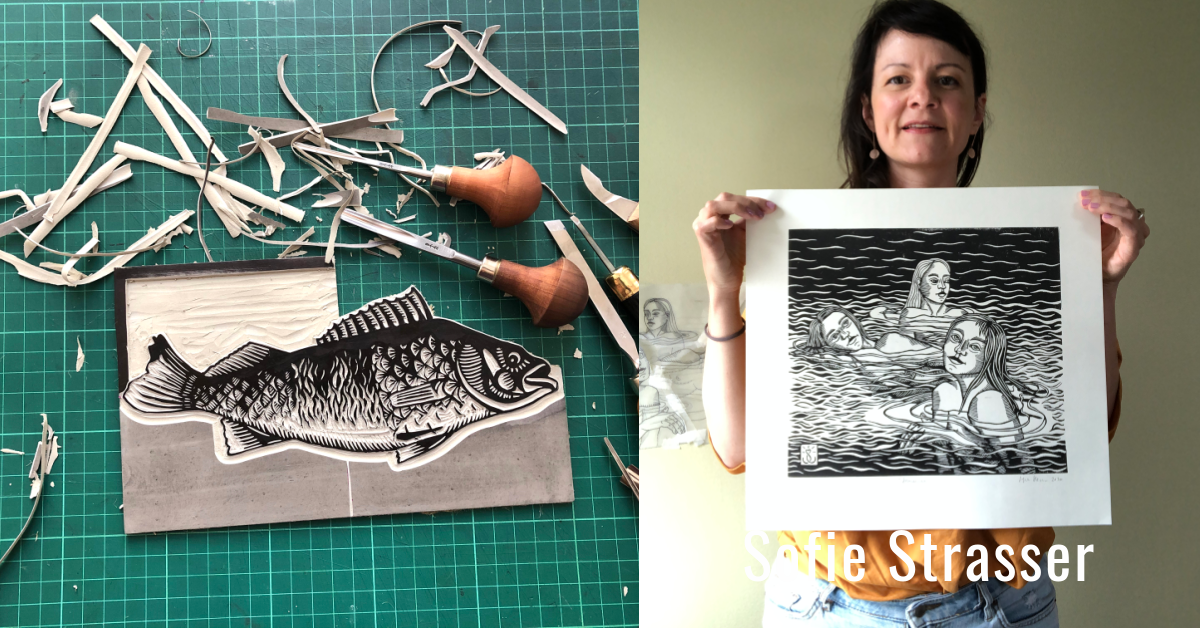 Sofie Strasser is an Austrian printmaker, illustrator, and designer. Born and raised in Salzburg (AT), at 16 she attended a nearby college for Wood- and Stone Sculpture for 4 years before she moved to Vienna to study design at the University of Applied Arts Vienna. She graduated in 2005 from the masterclass of Paolo Piva with a master degree in Industrial Design. After founding her own design studio and working on many design and illustration projects in Austria and Sweden for a couple of years, Sofie found her second home in New Orleans, LA, where she ended up living full time for 4 years. She still spends a few months there every year to get inspired by the spirit of this magical city and spend time with her friends and chosen family.
After moving back to Austria in 2015 Sofie has focused her work entirely on illustration and printmaking. She now works as a full time artist, mostly in Vienna
and sometimes in New Orleans. Sharing her knowledge and experience in printmaking and illustration is part of Sofie's approach to art. She holds workshops and classes in Vienna and has a busy Instagram feed where she regularly shares her work process and interacts with her followers. You can also connect with Sofie on her new Facebook page and also her website.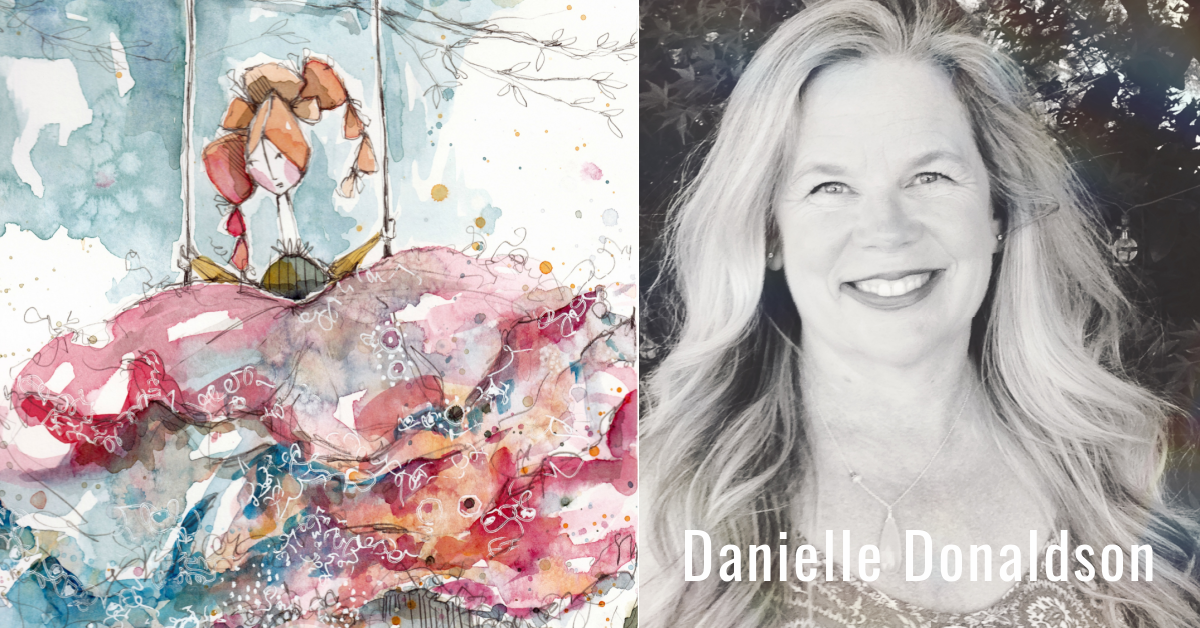 Artist Danielle Donaldson has walked a creative path for as long as she can remember. Her love of art began, as most young souls do, with a big box of crayons and a stack of coloring books. Over time, she focused her artistic efforts in watercolor and graphite drawing techniques and eventually received her degree in Graphic Design. Her love of fine art paired with her skills as a graphic designer have provided her with an uncommon pairing of intuition and practicality. Her use of big color palettes and delicately drawn details allow her to spin the ordinary into imaginative and balanced compositions. She continues to grow as an artist by fully embracing the creative process in all she does and with each story she tells. She thoroughly enjoys sharing her process and imagination through online classes, in-person workshops, social media and in her best-selling book, creativeGIRL: Mixed Media Techniques for an Artful Life along with her second book, The Art of Creative Watercolor: Inspiration and Techniques for Imaginative Drawing and Painting, available for pre-order on Amazon now!
You can sign up for Danielle's newest online course, SHEnanigans, HERE.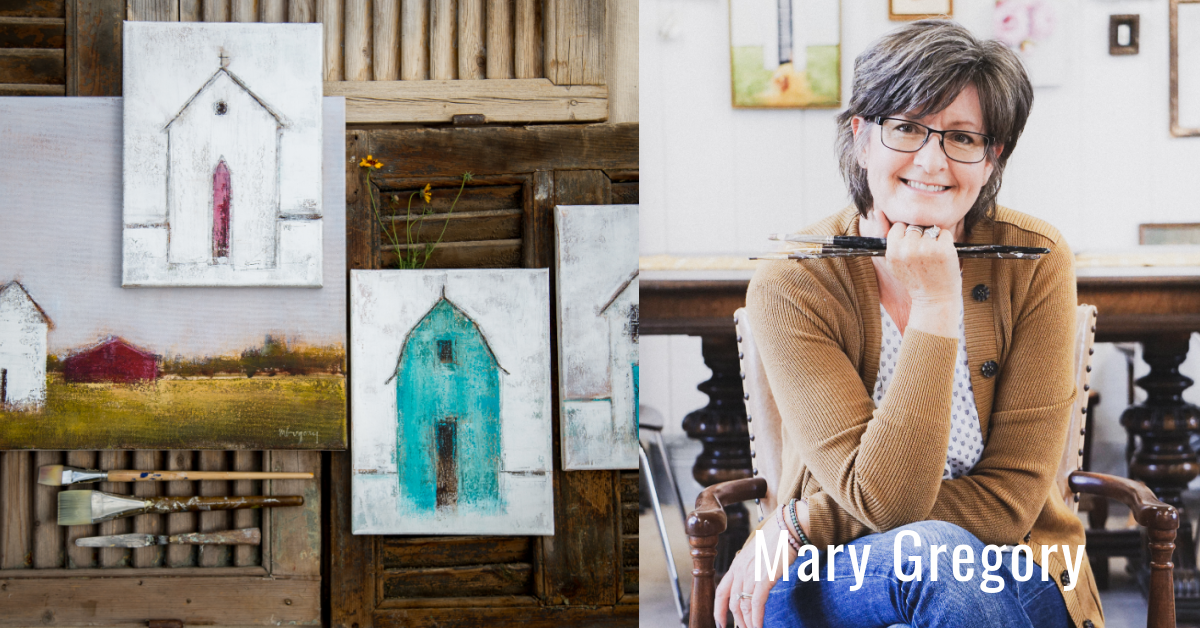 Mary Gregory can't remember a time that she wasn't drawing, painting or making things. Her grandmother told her, at a very young age, that she was an artist. Mary believed her and has followed this path, though winding, all of her life.
It wasn't until Mary's daughters were grown and gone that she seriously pursued her art-as-business dream. Nature, from a butterfly wing to a vast landscape, as well as structures from houses to silos, are among her favorite subjects to paint. Sharing what she's learned and encouraging others in their creativity is one of her favorite things to do.
Mary's work has been featured in Country Living Magazine and The Cottage Journal as well as in Terrain and many other fine retail shops. You can find her newest online courses HERE.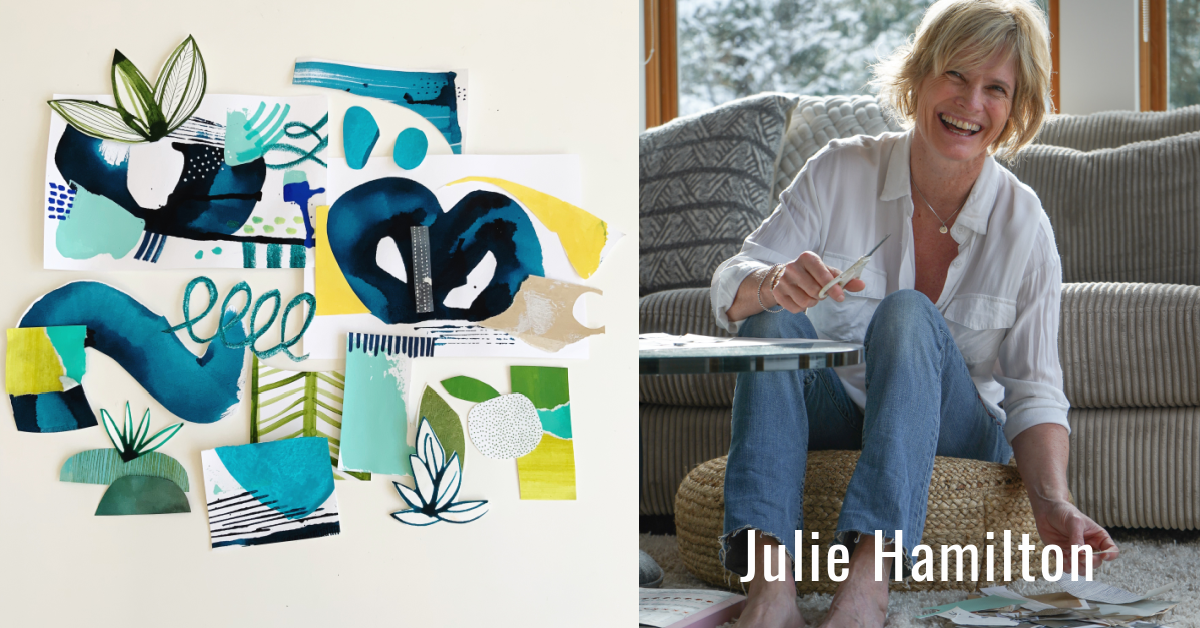 I am an artist/illustrator living tucked away in the mountains of British Columbia, Canada. I am a bit of a late bloomer, coming into art in my 40's, but I jumped in with both feet and have never looked back!
I am a self-taught artist and like to describe my creative process as being in a wonderful state of creative chaos due to an overactive imagination that is always questioning..what if? I love the endless possibility that creating art provides. There are so many mediums to explore and so much to learn. I am happiest with a paintbrush in one hand, scissors in the other.
My art career has led me down many different paths from painter to surface pattern designer, illustrator of children's books and now teaching! It has been a wonderful journey that has connected me with so many other like minded creatives.  You can connect with Julie on Instagram or visit her website HERE.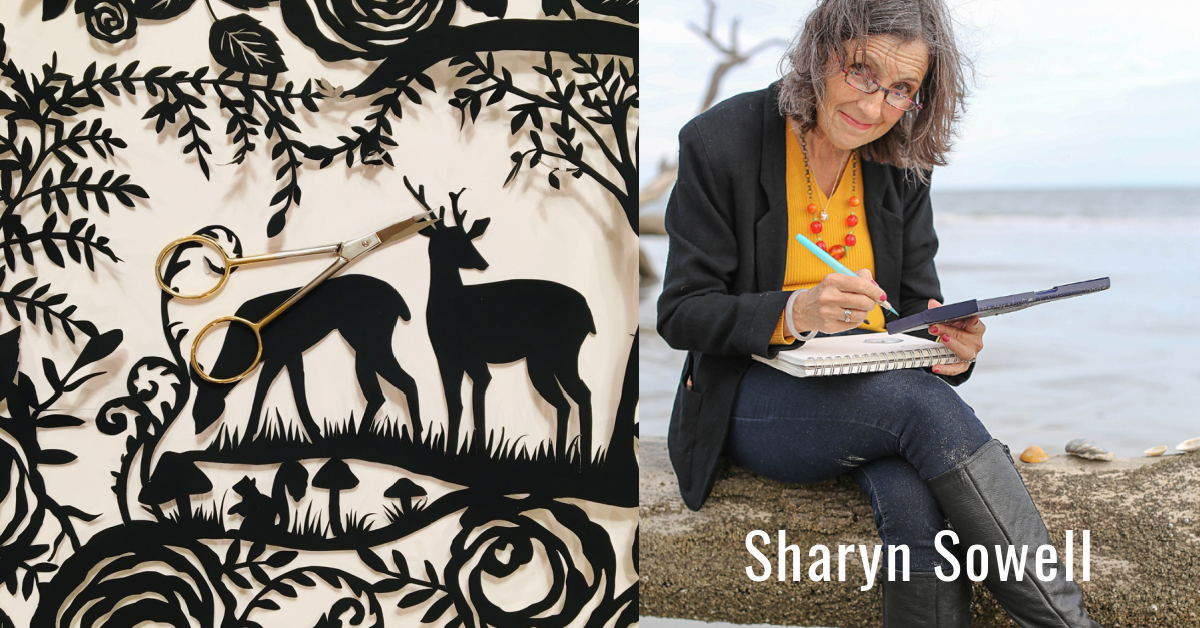 Sharyn Sowell is a licensed artist whose primary medium is hand cut paper. Her designs have been translated into home décor products, die cuts for art and crafting and gift and social expression products across the globe. She teaches on cruise ships the world over and her work can be seen in museums, hospitals and restaurants.
Whatever her muse, she speaks with authenticity of love of family, home, community and the enduring value of simple things.
Visit HERE to see more about Sharyn, and join her personal email list for updates on exciting new product collections for home and garden coming in 2021.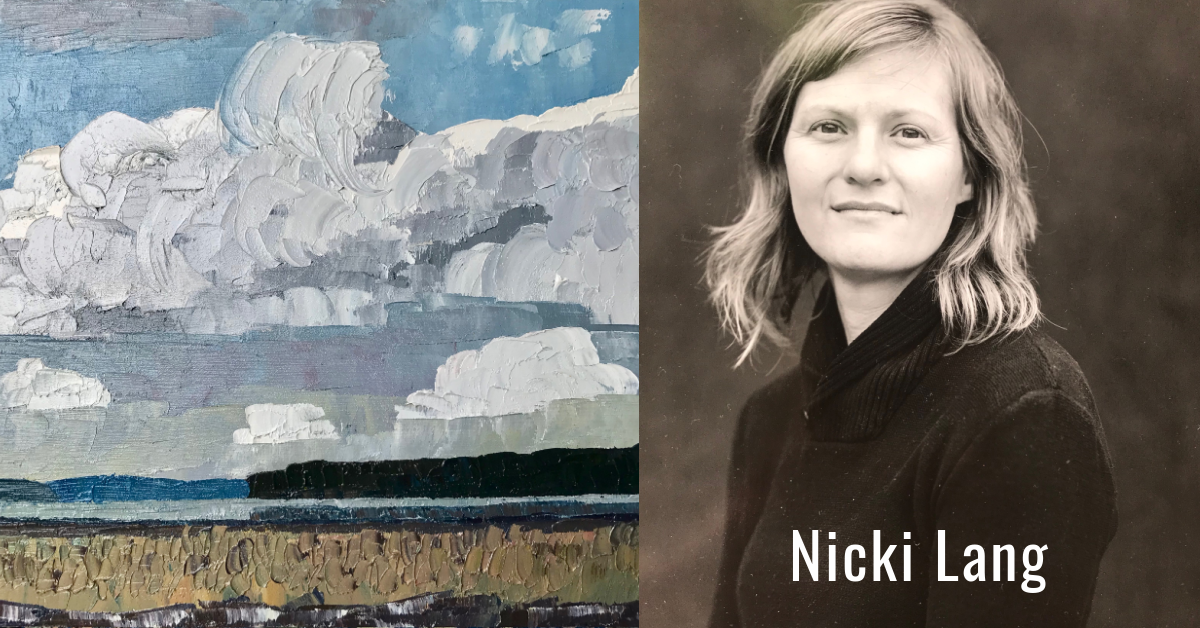 After retiring from over a decade of creating with leather, Nicki Lang picked up the palette knife and hasn't looked back. Nicki captures iconic northwest landscapes with bold strokes and a fresh eye. Her unique palette knife work brings sculptural depth to each piece. With a background in the natural sciences, Nicki's attention to detail grounds her work in time and place.
When she is not painting, Nicki can be found writing, playing the banjo, or spending time outside with her husband, two boys and goofy dog, Lupinella. Nicki lives in a cohousing community in Bellingham, Washington. You can find Nicki's original art HERE.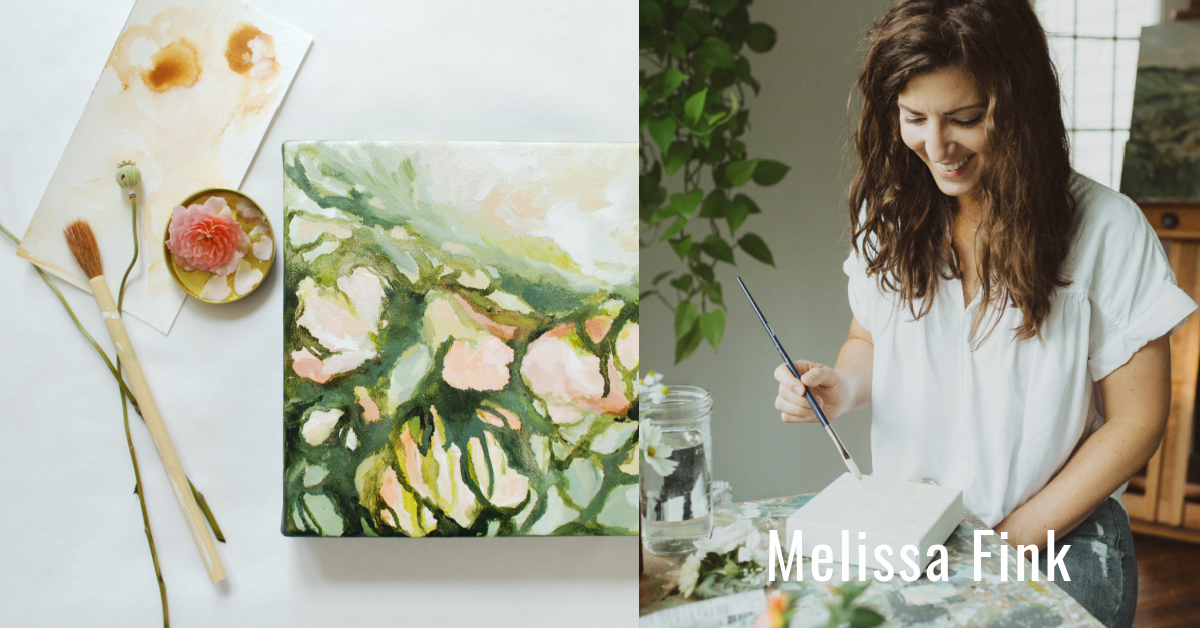 I am a painter living in Western New York, creating in my home studio in our old 1870s farmhouse. I enjoy a good cup of coffee, value deep conversation, and feel alive when I have a brush in my hand. Most days you can find me doing life with my husband Jesse and with our three children (ages 5, 3, 4 months).
From a young age I have loved creating but never imagined becoming a painter. It wasn't until 2013, when I was gifted Jeanne Oliver's first ever course, Creatively Made, that something was awakened within me. From that day forth, the trajectory of my journey was changed. I have not stopped painting since 2013 and now could not imagine my life without it.
I am often reminded that in spite of all that can go wrong in the world, some things can go so right. Nature is evidence of this reality – that beauty can emerge from barren places and broken things can be made new. This is why I paint and why nature deeply inspires me. My work is an invitation to see beauty in the unfolding moments of life, to offer a glimpse of hope and joy. You can find Melissa's newest collection HERE.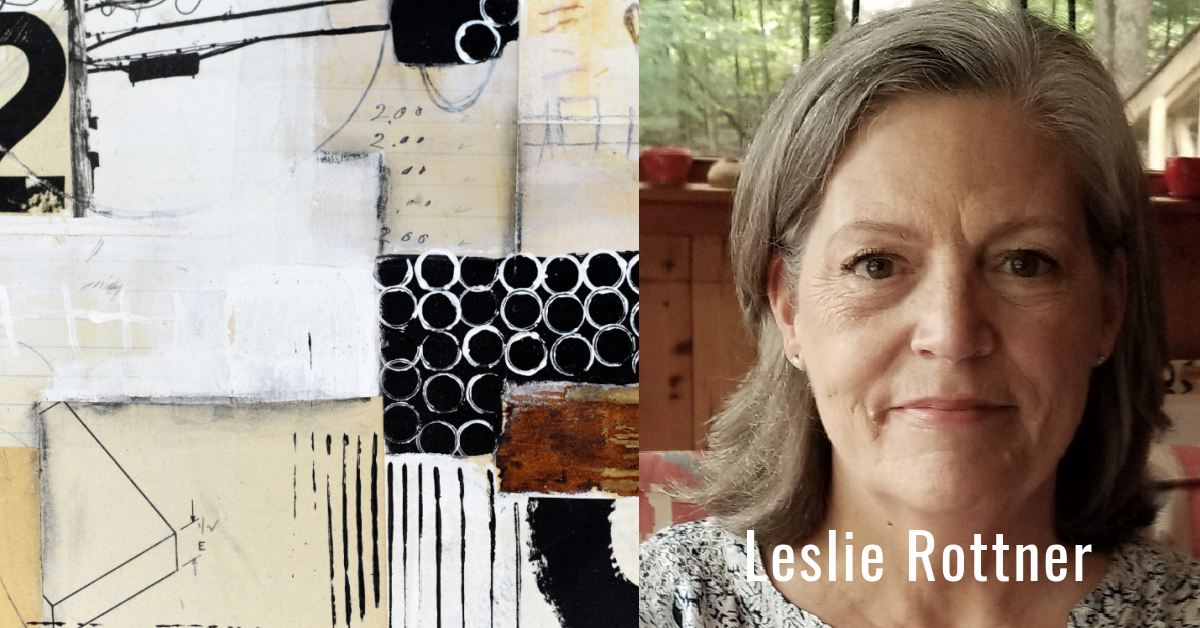 If it were possible to test for an artistic gene it would be a part of my DNA. It is something I have felt and needed to express my entire life. When that part of me isn't nurtured I become restless and anxious and can only be settled by setting aside the time to create.
I have always had a passion for photography and several years ago I developed a love for collage. My art is contemporary with a strong connection to the past. As a collage artist I am drawn to vintage paper, typography, ephemera, and old books to use as my primary materials for each collage. In addition, I use my black and white photographs in my work as well. I allow a great deal of time to play with paper and glue as this process is very often the most meditative for me. Using discarded and overlooked pieces from the past and combing them with found papers from the present allows me to create a contemporary piece of art that speaks to all generations.
I have been married for 40 years. My husband and I have a shared interest in a creative lifestyle which keeps life exciting and unexpected. I have 3 grown sons, one daughter in law and 2 adorable grandsons. You can find Leslie's newest art collection HERE.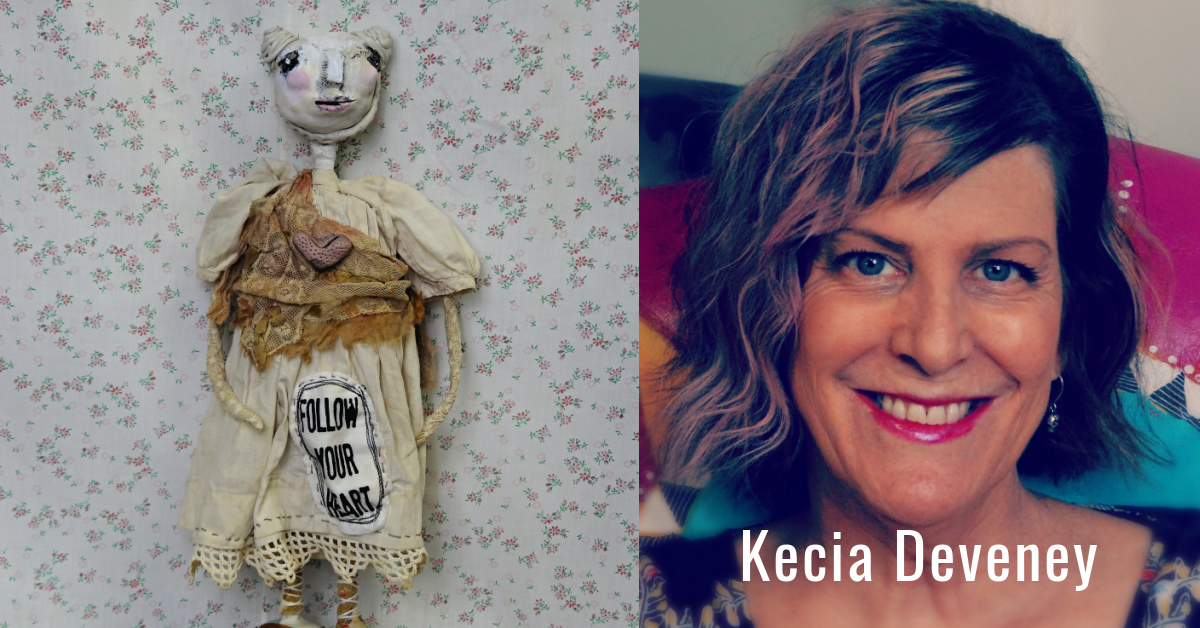 Kecia Deveney is a published mixed media artist, instructor, and world traveler, living at the Jersey Shore. As a mixed media artist, her eclectic style can be seen in fabric and textiles, jewelry design, sculpture-work, and painting.
Creating is pivotal to Kecia and becomes, for her, art therapy. Her imagination comes to life and allows her temporary reprieve from her role as a full-time caregiver. Her work is about ingenuity and playfulness. Kecia travels across the world so she may inspire others to find their own artistic spirits through guidance and direction. You can learn more about Kecia HERE.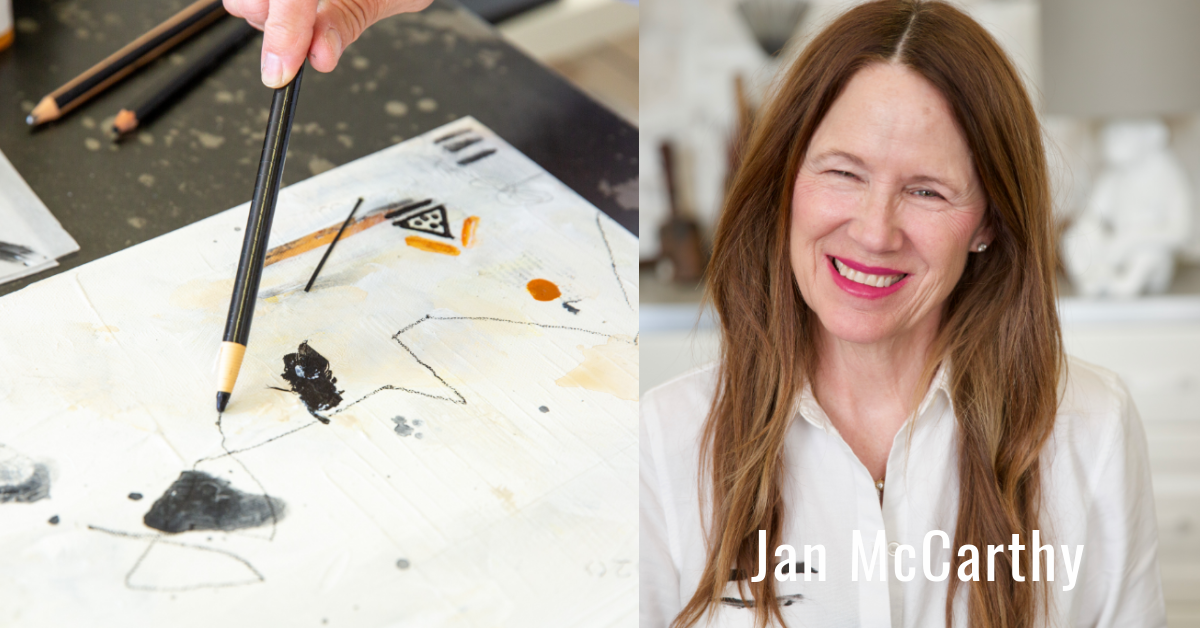 While I've always been creative, it wasn't until I was in my late 50's that I found art. Through experimentation, instruction, and creative practice I came to realize that everyone is an artist, including me!
I live a dual lifestyle with my husband, splitting my time between an urban loft in downtown Los Angeles and a ranch in Boulder, CO. We have two daughters who are both in Los Angeles.
Travel and adventure, creativity and art, books and design, beautiful settings and unique experiences, these are my obsessions. A perfect day would be a beautifully curated affair complete with family and friends.
When I make art, I am constantly deciphering and incorporating the abstract part of life into my work. It is always with the intent to evoke emotion, unleash the imagination, stir thoughtful reflection and give way to images of something meaningful, often hidden in between the layers of mixed media, life and other materials.
I also love helping others discover their own artistic voice by moving past a structured way of thinking, cultivating intuition, developing confidence and exploring hidden talents. This is accomplished with creative exercises, mark making, collage, experimentation and story telling. Join Jan in her monthly offering The Creative Life!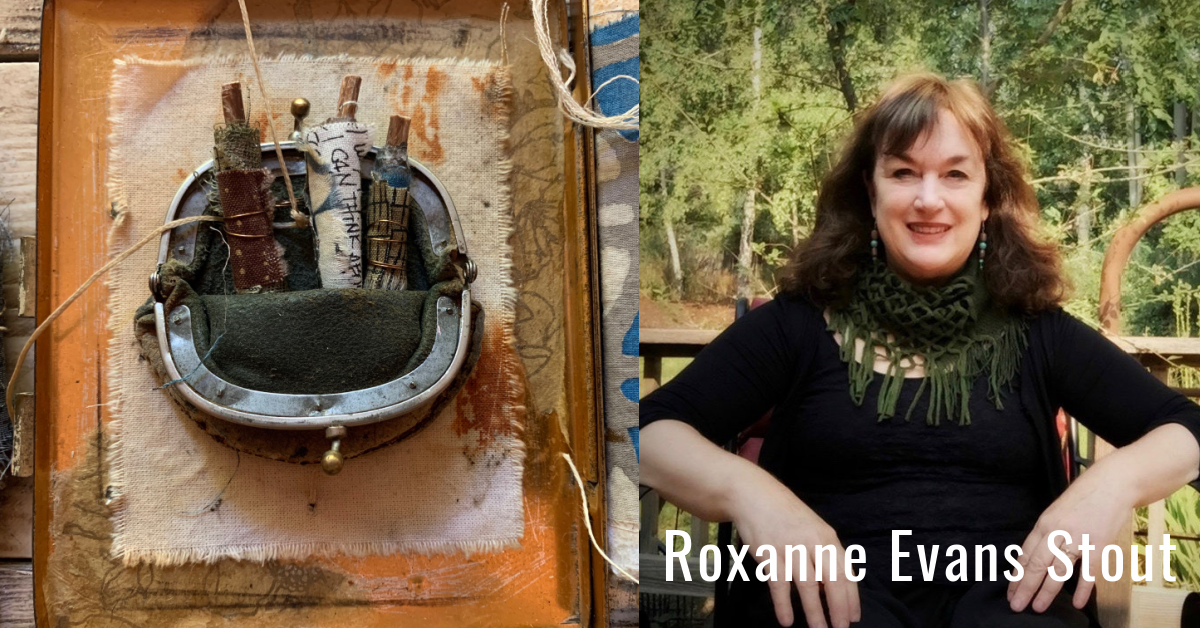 I live and create in the beautiful Pacific Northwest and the mountains and the river lands that surround my home are my constant inspiration. This is my third art workshop for Jeanne Oliver Designs.
I share my art in workshops throughout the United States and have had my work shown and been published internationally. I also teach online workshops to students who are from all over the world and design stencils for StencilGirl Products.
Teaching enables me to share my passion…nothing makes me more happy than helping my students through their own process of renewal. My goal is to help you find your own magic. Through my art I would like to convey the feeling of connecting, timelessness and re-creation.
My first book, Storytelling with Collage, was published in March 2016 by North Light Books. And my second book, Dancing on Raindrops, was just released in July, 2017. Both are available on Amazon Books.
As an artist I am constantly learning and growing. Art is my passion, my love, my soul.
Roxanne's newest offering is her online course Victory Shields and Wisdom Keepers and you can read more HERE.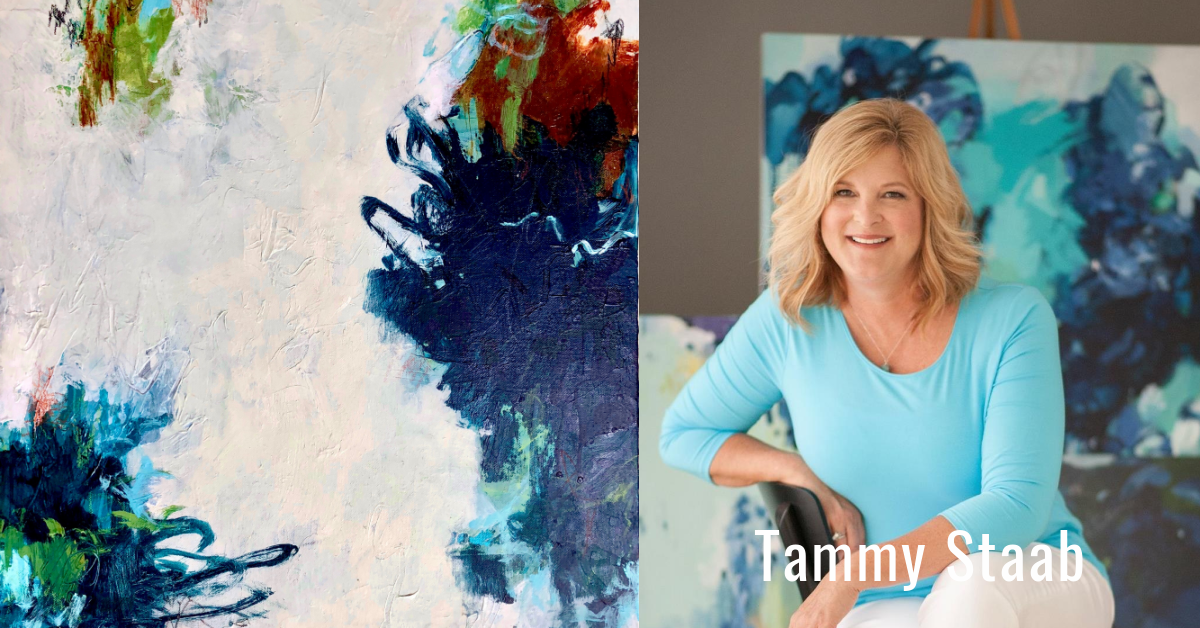 Tammy Staab never envisioned the art life that she has created. Following a successful career as a pharmacist, she began her studies seeking a contemporary approach to her work. After attending the Cincinnati Art Academy, her further instruction included work with acclaimed artists Al Lachman, Nicholas Wilton, and Theresa Girard.
Tammy's work is informed by her proximity to the ocean and her love of water and movement. The artist states, "My work seeks peace and serenity from the hectic pace of life."
She is a member and has been an instructor at The Center for the Arts Bonita Springs, the Naples Art Association, and the International Society of Acrylic Painters. She is currently represented by www.Perigon.com online luxury home furnishing and decor provider selling Tammy's original artwork to clients directly to their homes. Tammy lives in Venice, FL with her beloved doodles. You can find online classes, live workshops and original art HERE.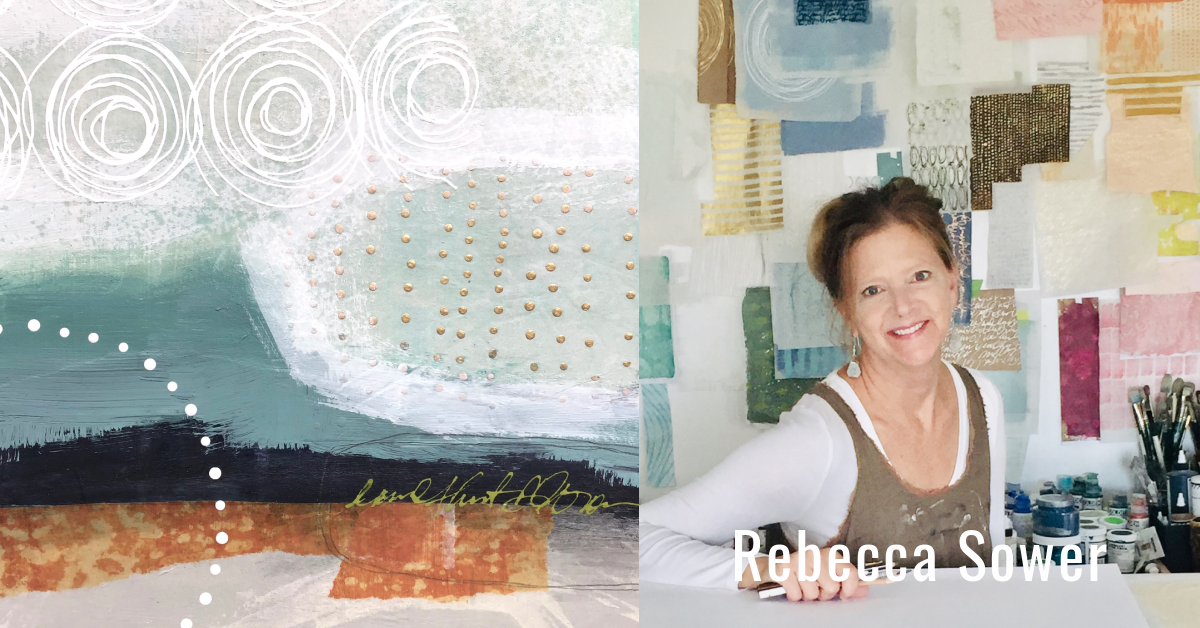 Rebecca is a mixed-media artist living on an old farm outside Nashville, Tennessee. She has been creating art and teaching art workshops for almost 20 years. On most days you will find Rebecca in her converted attic studio working on any assortment of art projects.
When not in her studio, she may be teaching at a local non-profit art center or gathering with her painting group. Rebecca is most inspired by expression and emotion in nature and faces (human and animal). She loves almost all art materials but is currently at her happiest with a blank sheet of paper and a charcoal pencil. You can visit her website HERE and purchase her original art HERE.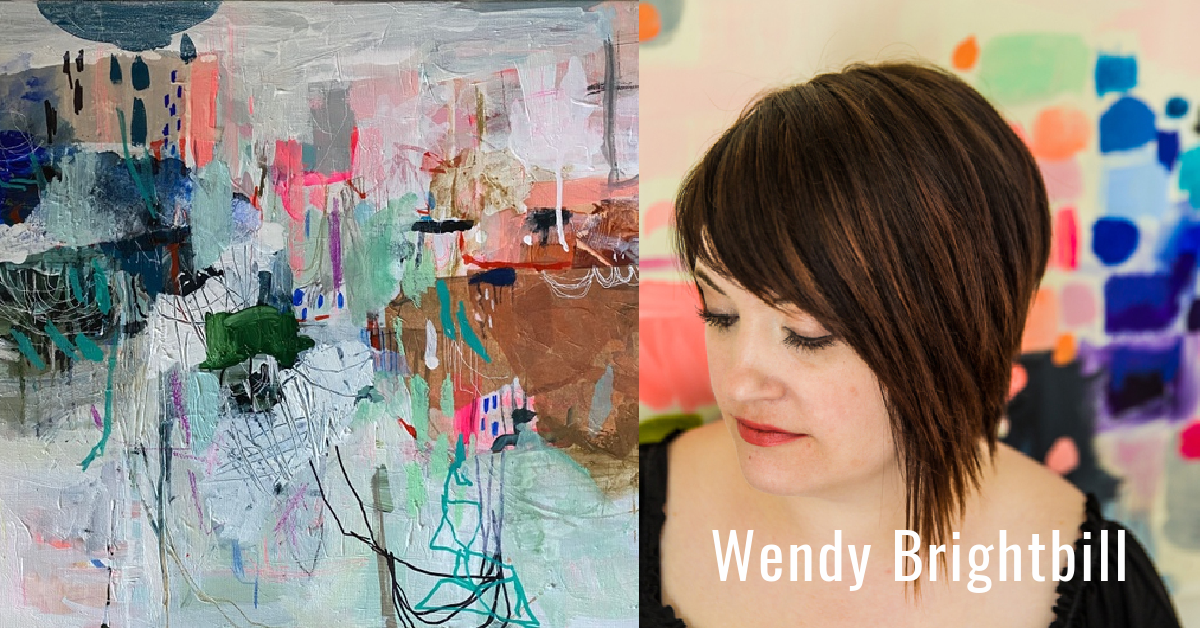 I deeply believe that you paint what you need the most in your life. I consider myself a story teller; only I use color instead of words. I believe you can create the life you want and change your story. For me that meant painting the color and joy back into my life after a car accident. It took a brain injury for me to pick up a paint brush, and I am so happy that I did. I am ever grateful for what a car accident brought into my life and this crazy beautiful journey I am on.
I am passionate about making a mess with paint and paper. But I have recently found a love for doodling and digital designing. I LOVE to play with color and follow all the latest trends. I am continually looking for inspiration everywhere and finding ways to incorporate it into my style. I see myself as a lifelong learner, and I am always evolving as an artist.
I believe it's important to create every day. It's my joy, my lifeline, my therapy. I hope my art inspires joy in others, because I love what I do.  You can take an online course from Wendy HERE.