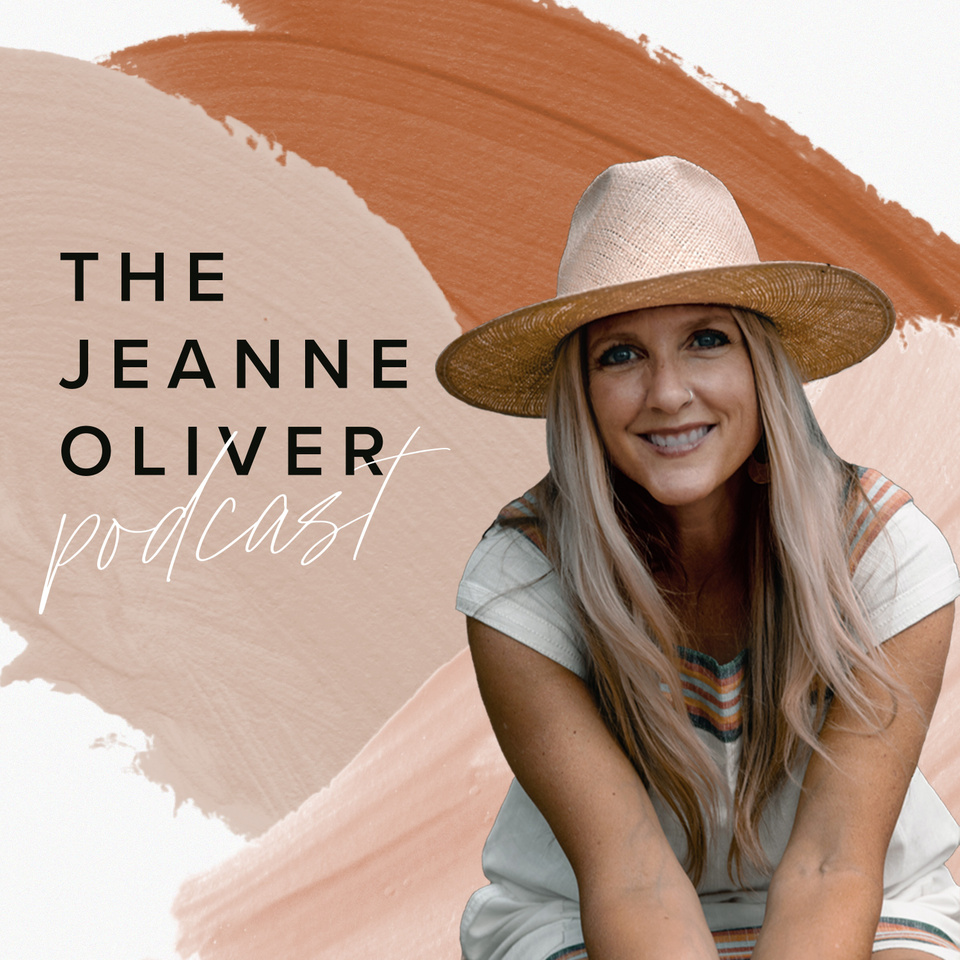 In this episode I am talking with artist Jan McCarthy. Jan has a message that the best is yet to come and age has nothing to do with it. Join this conversation about aging, finding your stride and rhythm and creating more than ever as you get older. Age is just a number if you allow it to be.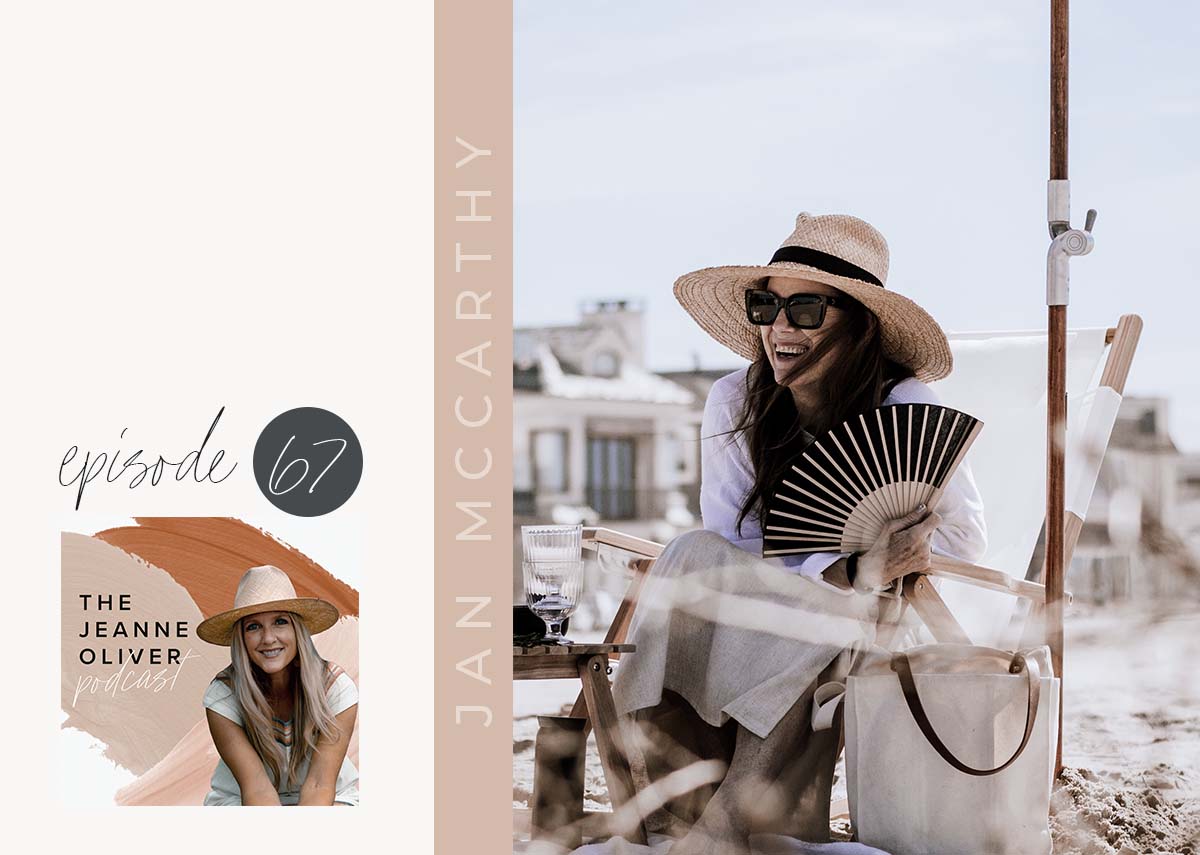 I'm a creator. I make art to autograph moments, the fleeting emotions and undefinable feelings that can only be expressed in imperfect swipes, lines, or ripped pieces of paper. I use my art as a way to connect and share these flashpoints of time that slip away. Every mark I make with a handcrafted brush on one of my canvases, papers or towers, is a unique gesture. I find this process essential as a personal statement, a reclaiming of my point of view, of being a woman, of aging. I've never allowed how the world might aim to herd the masses as a reason to follow the pack. I hear the beat of a different drummer. This constant resistance feels vital to me.

I collaborated with fashion designers Eni and Nigma on their Venia Collection, using my art on fabric to highlight the importance of mental health awareness. The collection showed in Paris just before lockdown and was a huge success. To read the interview, click here.

Out of a need to express myself and organize my thoughts, I developed a series of notebooks that speak to the dreamer, the planner, the journaler and the notetaker. It brings me joy to know others find inspiration from these as well.

I love travel and lead creative retreats in various destinations like Joshua Tree or as far away as Marrakech, where I draw deep inspiration from the colored zellige tiles dotting the landscape in Morocco, the vibrant chaos in the medina and the painted majorelle blue buildings…

I live life fully, sometimes on the edge, sometimes in many different places, sometimes quietly, always trying to practice carpe diem.

IG:  https://www.instagram.com/janmccarthy/

website:https://www.janmccarthy.com
Podcast 067| The Best is Yet to Come with Jan McCarthy
16:13 "So whatever it is, start a book club, start a dinner club…You'll find your community. Start an art club. Start talking to people about things that you like and finding out where those people are hanging out."
19:49 "When my daughter, was 14 or 15, I let her move to California from Boulder to pursue a career, and that was her demanding to go, not me being the stage mom and saying, hey, let's get the heck out of here. And a lot of people didn't understand my decision that I would let her leave school like I did. But sometimes you just got to do what is right for you and your family and only you know best, or you hope you do."
22:06 "But I remember my mother sending me a letter and asking me if I was going to be a waitress for the rest of my life. And so, I think it really stung me. It was probably the first time that I really started thinking about who am I?"
22:26 "And I have always learned to say yes to opportunities and be able to see opportunities. So, my life kind of turned around. I ended up getting a job that took me all over the country, traveling, which was kind of amazing."
27:47 JEANNE: "Anybody listening, don't put down some of those things that are really precious about you, because when your beautiful kids start going off and doing their own thing, you're going to be right in stride with them as they're doing their own thing."
31:14 "Or I started art, making art for the first time in my 50s. That's what I mean by it just gets better and better that you never know what's around the corner there. It could be the one thing that you just never knew."
33:35 "I told my husband this whenever I first met him—I think he thought I was a little bit arrogant—I said, "I want. I have." That was kind of my quote. It didn't come from a place of being arrogant. It came from a place of, if I want something, I'm going to do whatever I need to do to try and accomplish it and have it."
36:57 "And I feel like my conversations with people can transcend whatever age. It's like we all have something to contribute. I'm so impressed with younger people, and I'm also impressed with people who are in their 90s that I know."
43:22 JEANNE: "As we get older, I feel like we can get really good at doing only the things we're really excellent at, instead of putting ourselves in the position to be beginners at something and to know that we might fall on our faces."
Creatively Made Business with Jeanne Oliver
Is your business aligned with how you want your life to look and feel? Many creative business owners feel trapped and overwhelmed by the business that was supposed to add more freedom to their lives. You didn't take the risk of starting a business just to end up in the same place, or worse – moving in the opposite direction of the life you want.
An online workshop to build, launch, and nurture a business that aligns with how you want your life to look and feel. Instant access to six modules with over 7 hours of training.
Your business should be a bridge to the life you dream of, not a barrier. To learn more click HERE.
Ten Tips To Take Back The Peace
A free ebook if you are looking for some rest in your day-to-day like I was.
Get your free resource Ten Tips HERE.
SUBSCRIBE ON: APPLE PODCASTS | GOOGLE PLAY | SPOTIF