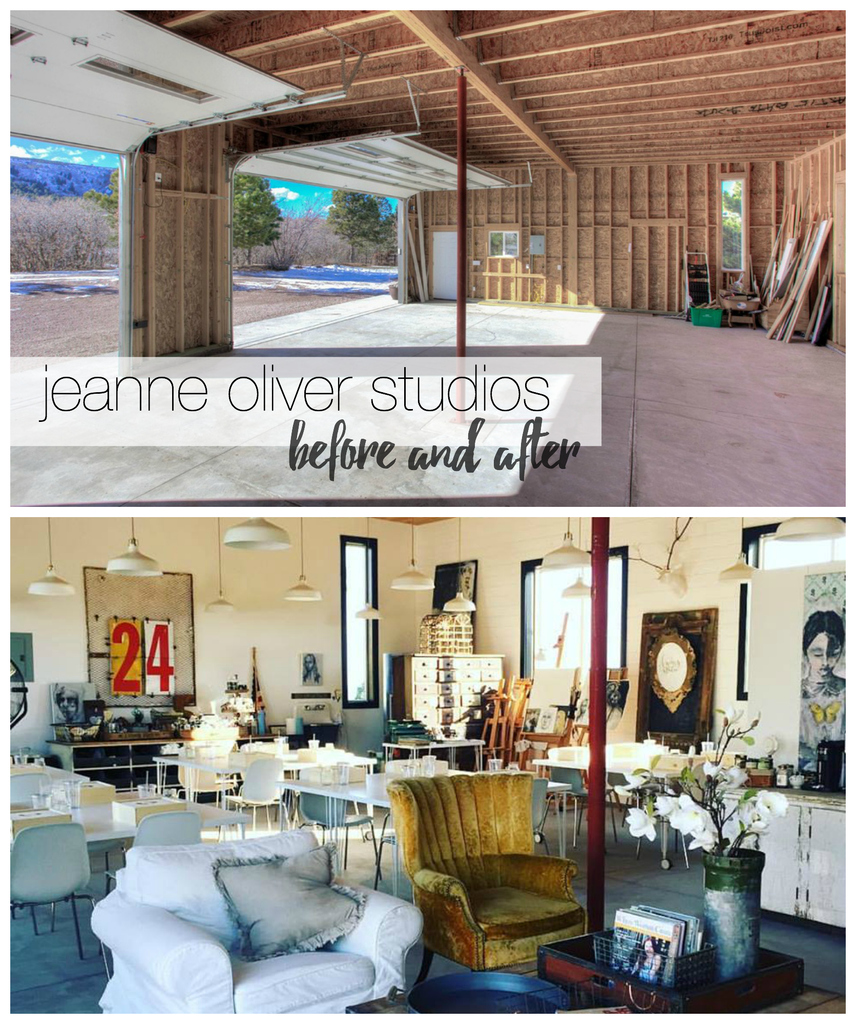 We moved into our new home and land in February of this year.   The day before we moved in our town was covered in a blizzard and we scrambled to find someone to plow our new long driveway.
Only a few weeks after our move we announced our first workshop in the studio that had not been built.
Many thought we were crazy and had no idea why we would put that kind of time and financial pressure on ourselves.
We knew that having our first workshop would motivate us to get it done but in the process would be building ME the studio we had bought this land for in the first place.
The foundation and structure was already on the property but it was far from being a studio.
I have said over and over that this is the studio that love built and nothing could be closer to the truth.
This studio was built by our children, my husband, my mom, my brother and me. It was more hours and more money than we thought it would take (of course it was).
I had almost weekly emails from friends and customers asking how they could help. I never took them up on the offer but we had genuine and loving offers coming in to do everything from cleaning to painting.
Welcome to the studio that love built…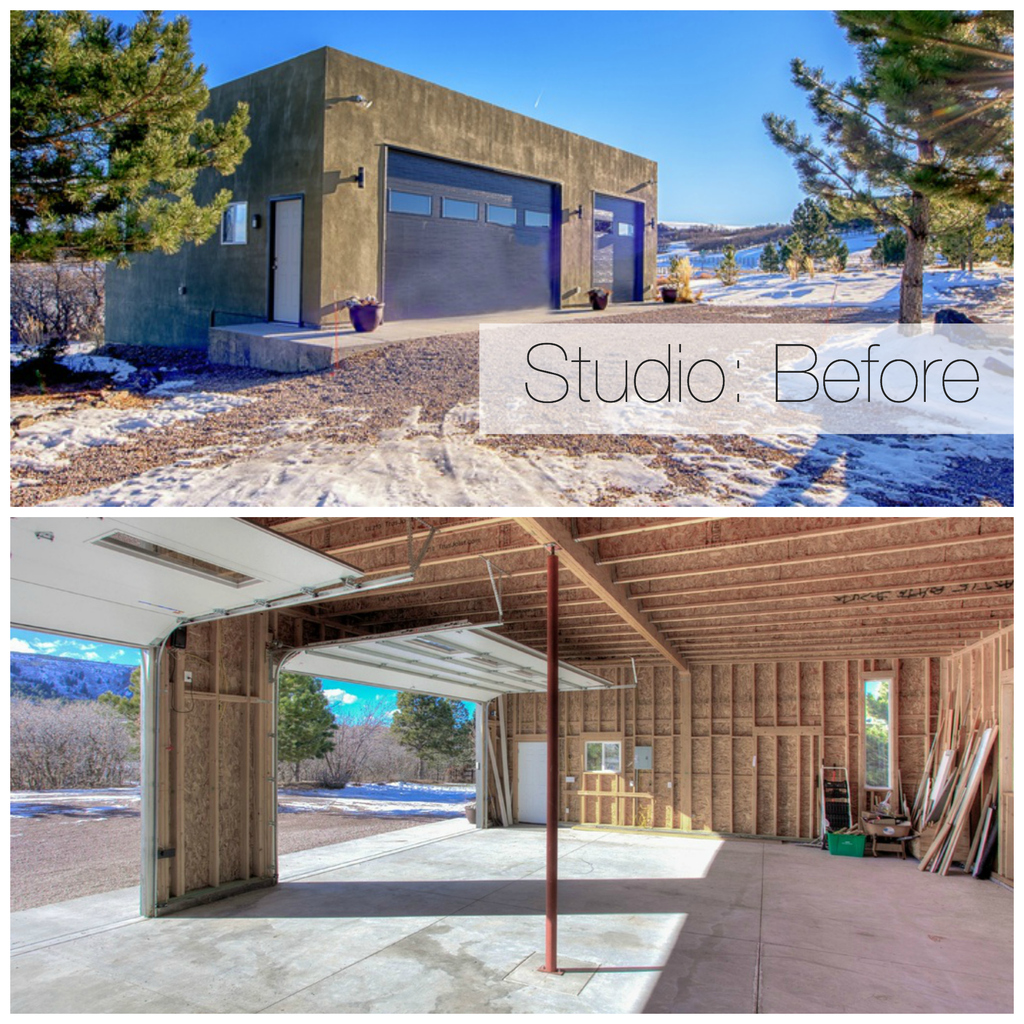 I am horrible about documenting projects so please bare with me as I probably skip tons of steps.  Now you know why I could never be a DIY blogger:-)
The first thing we did was have the whole studio wired for lighting and baseboard heating if we decided we would need it next winter. We then insulated the whole studio very well to help keep it cooler in the summer and warmer in the winter.  Because I knew I wanted some of the wall space to be used to hang canvases for painting we decided to put drywall up on two of the walls and then plank the other two walls in pine.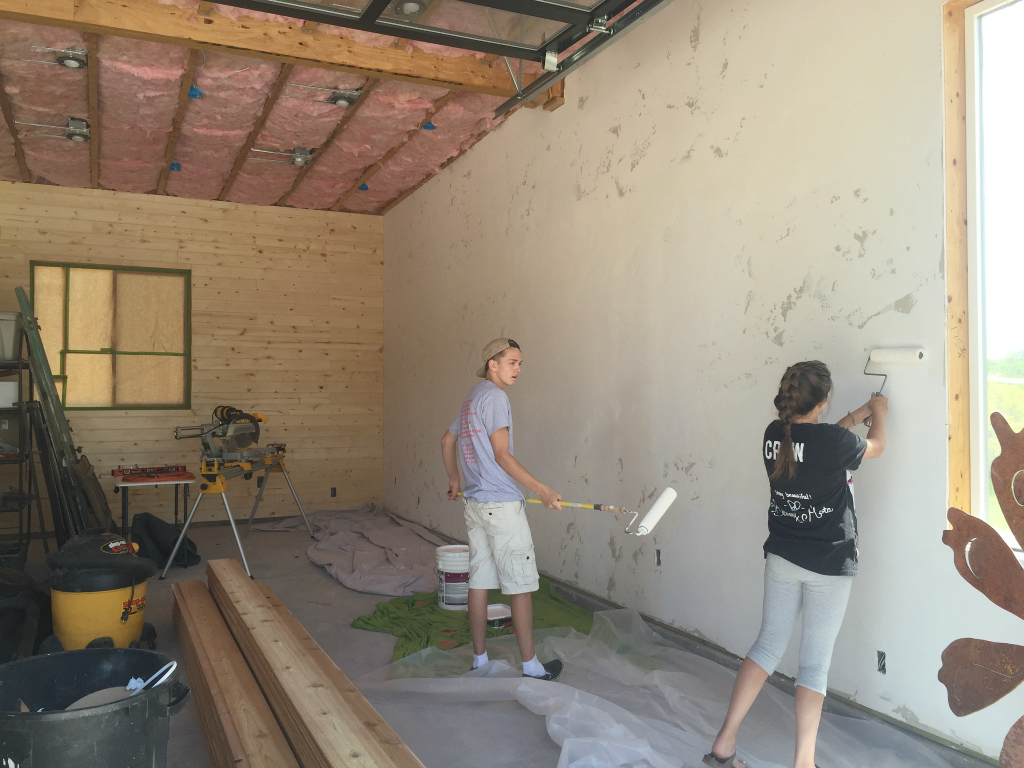 The biggest investment had to be our all view aluminum and glass garage doors. We bought commercial doors so we could have more natural light, enjoy the gorgeous views of the buttes, warm up our space in the winter (we are figuring out how to cool it off in the summer:-)) and to make it feel more like a creative space instead of a workshop or garage.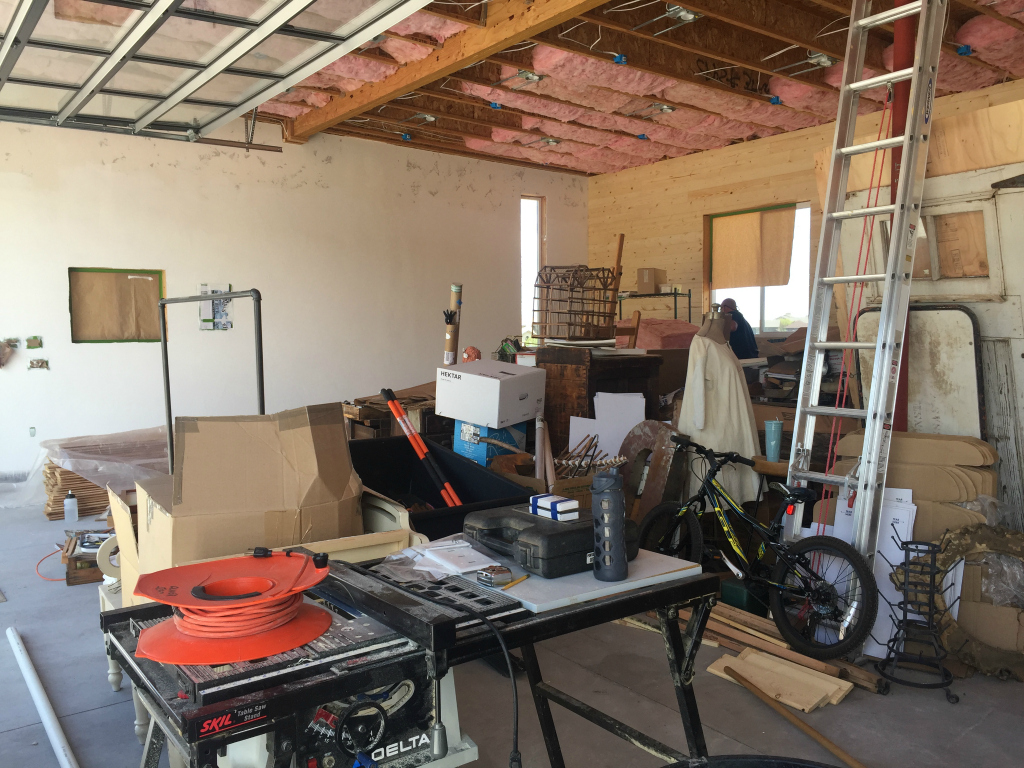 During our move and construction we didn't have any place else to put the studio furniture etc. so we all had to move around (and often move) piles of furniture, art supplies and tools.
This was not ideal at all but we made it through.
It started to feel like we were really making progress when we started to paint the pine planking on the front and back wall. All of our wood for the walls, ceiling and window frames came from Home Depot.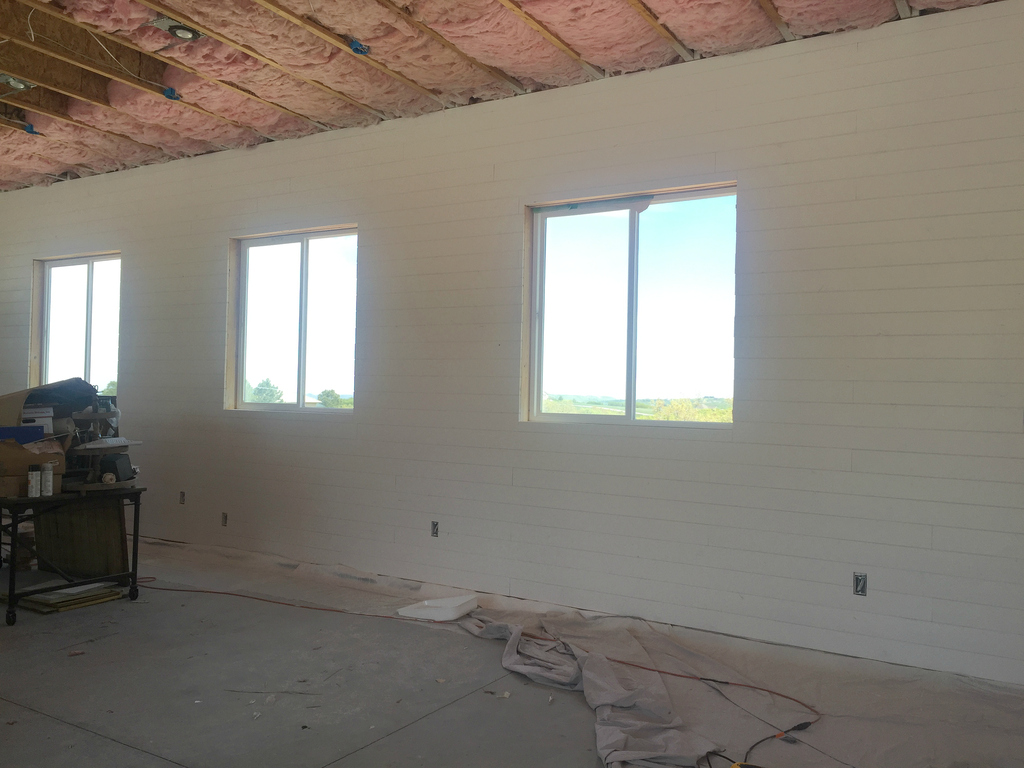 When we had sold our last home we were in the middle of finishing the basement and I had purchased the coolest utility sink for the guest bathroom.
I wasn't going to leave that behind and I am so glad I kept that because it worked perfectly for our studio sink!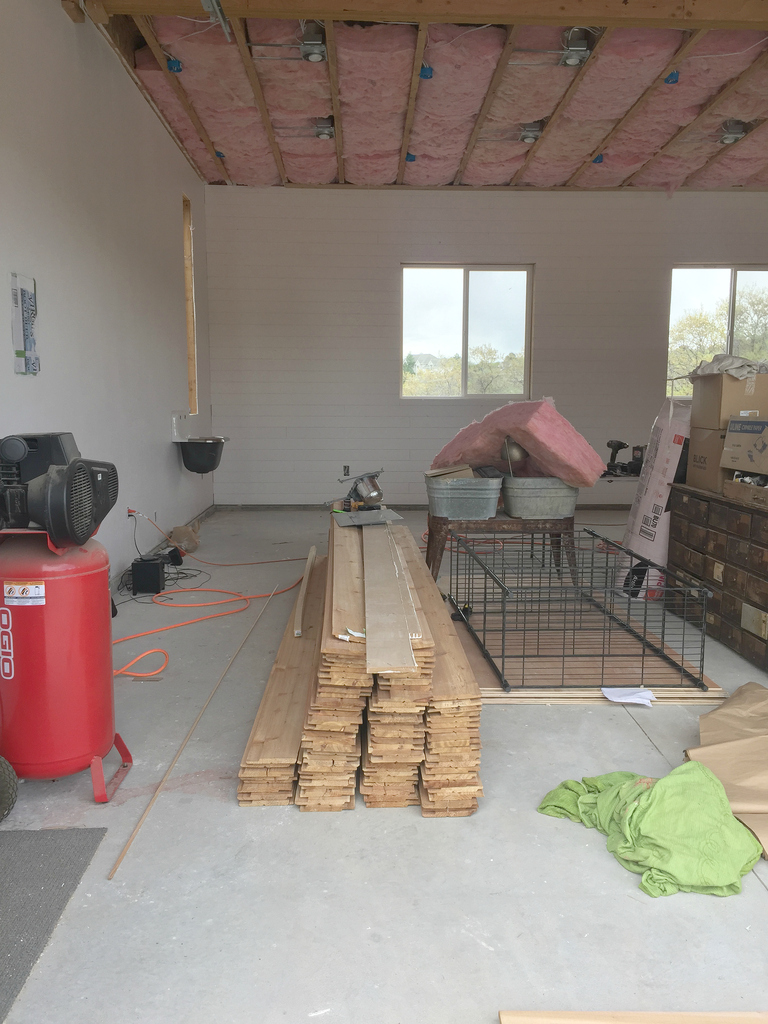 Nothing surprised us as much as how LONG it would take to plank the ceiling with cedar planks! I am not even kidding.  My husband said, "We just laid a wooden floor upside down"!  Along with that they had to cut out holes for the 44 lights.  Some days they would work all day and get five rows done. This was two weeks of full time work by my brother and son. Kelly was able to help after work and on weekends.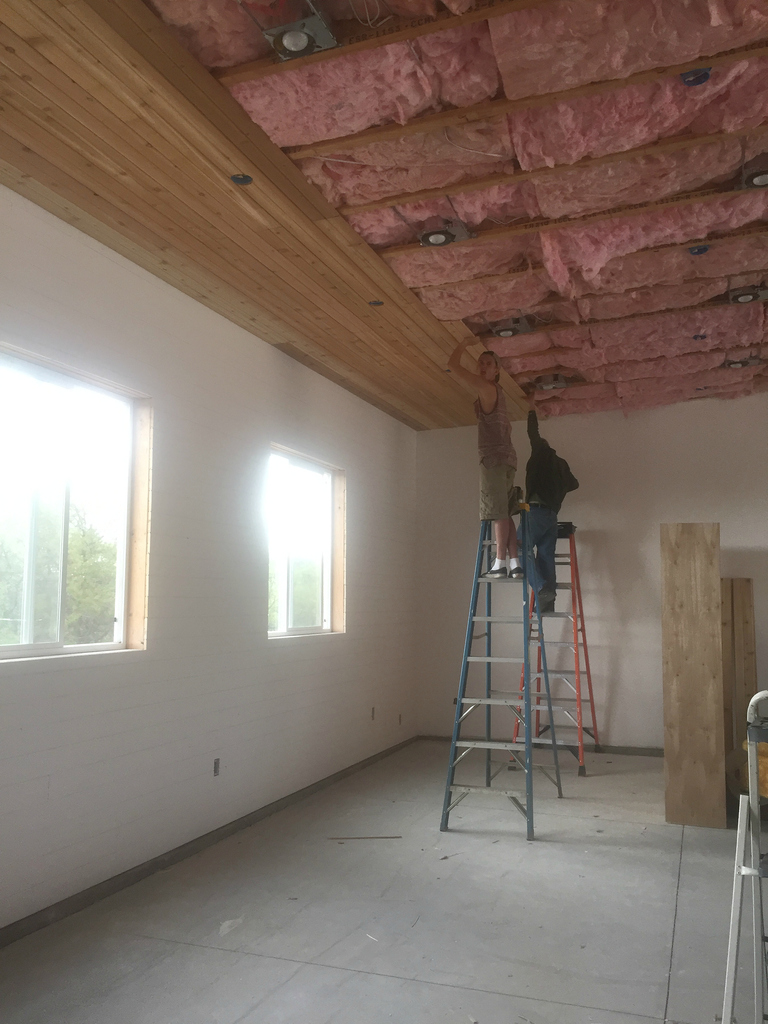 Lights!  After the ceiling was completed it was so much fun to see the lights being hung and to see the design of the space coming together.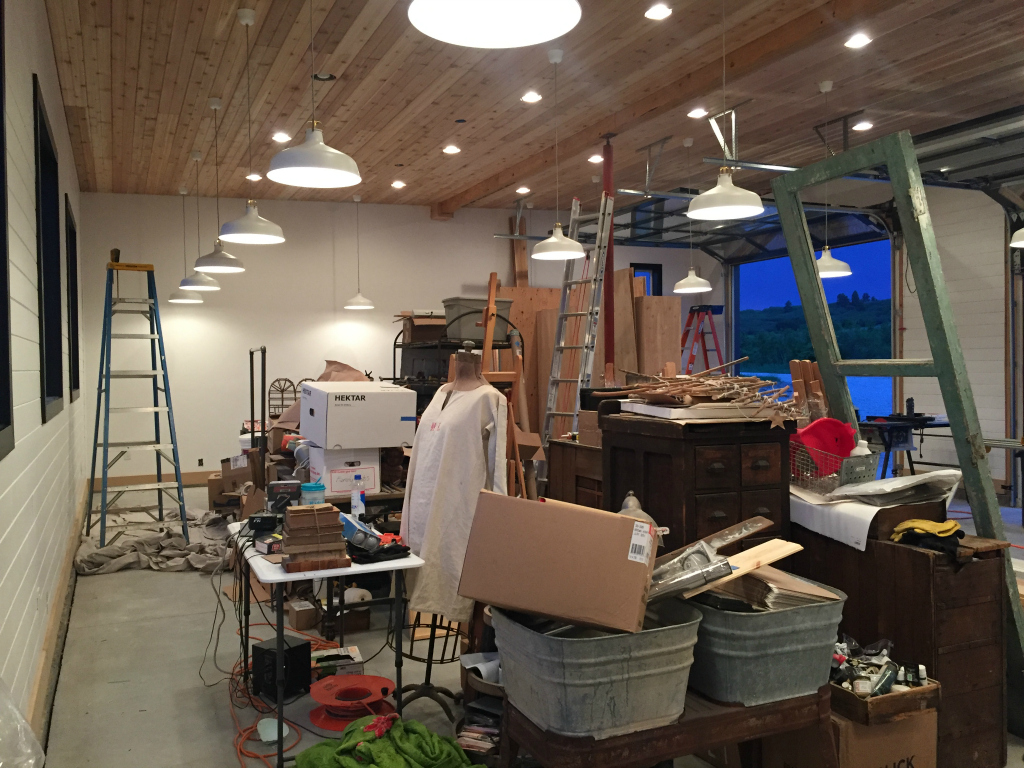 Right now we were about two weeks out in the photos and there were a few moments of panic that we would not get it complete in time.
My brother built beautiful window frames and I echoed the black window trim that is also in our home.
I did this in both spaces because I love the black metal windows of France and this was the affordable way to replicate the look.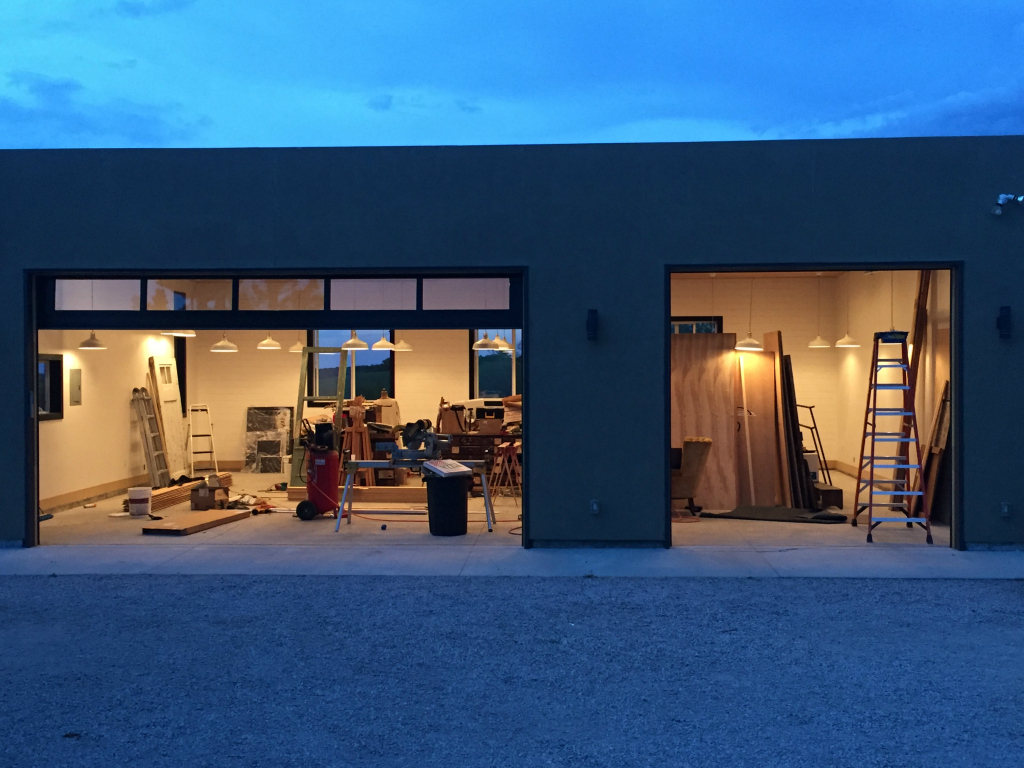 Moments of rest didn't feel doable until this moment. All of the construction had been completed and now it was up to me to pull it together and create a place I could teach and create.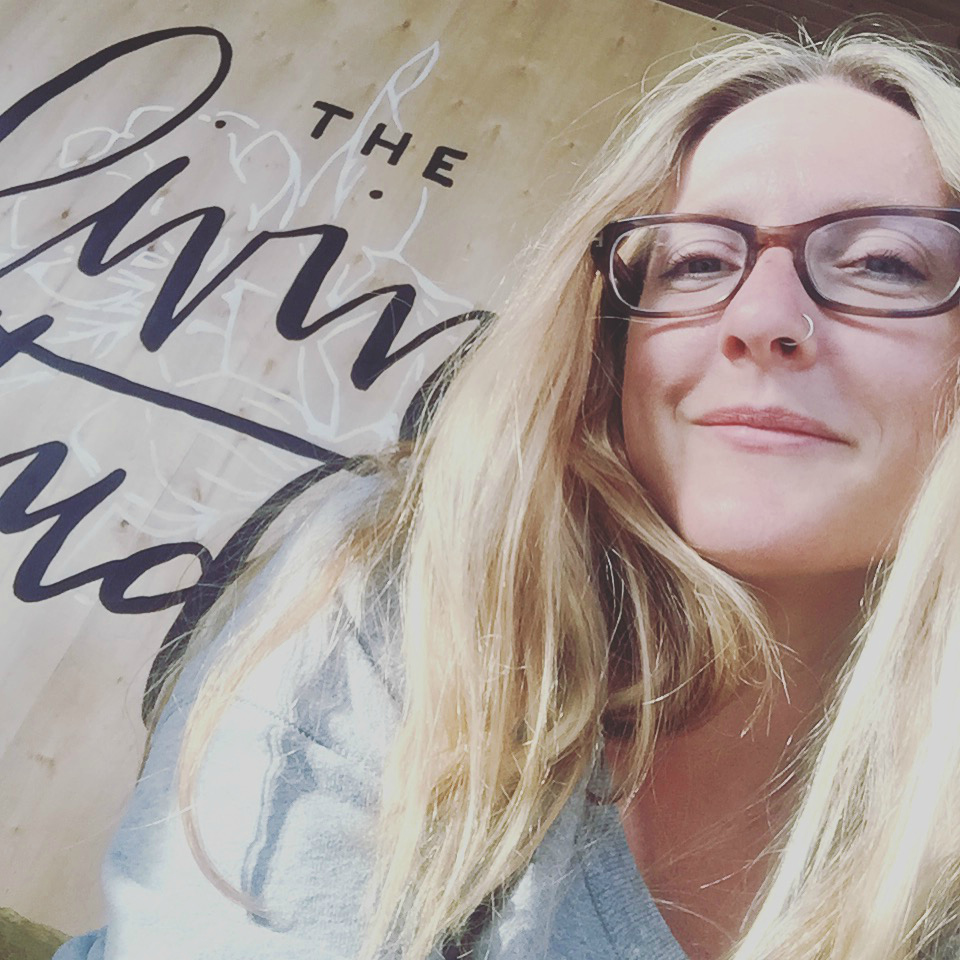 Because all of our studio furniture and supplies had been around all of the construction we had a few days of just dusting, cleaning off and sweeping.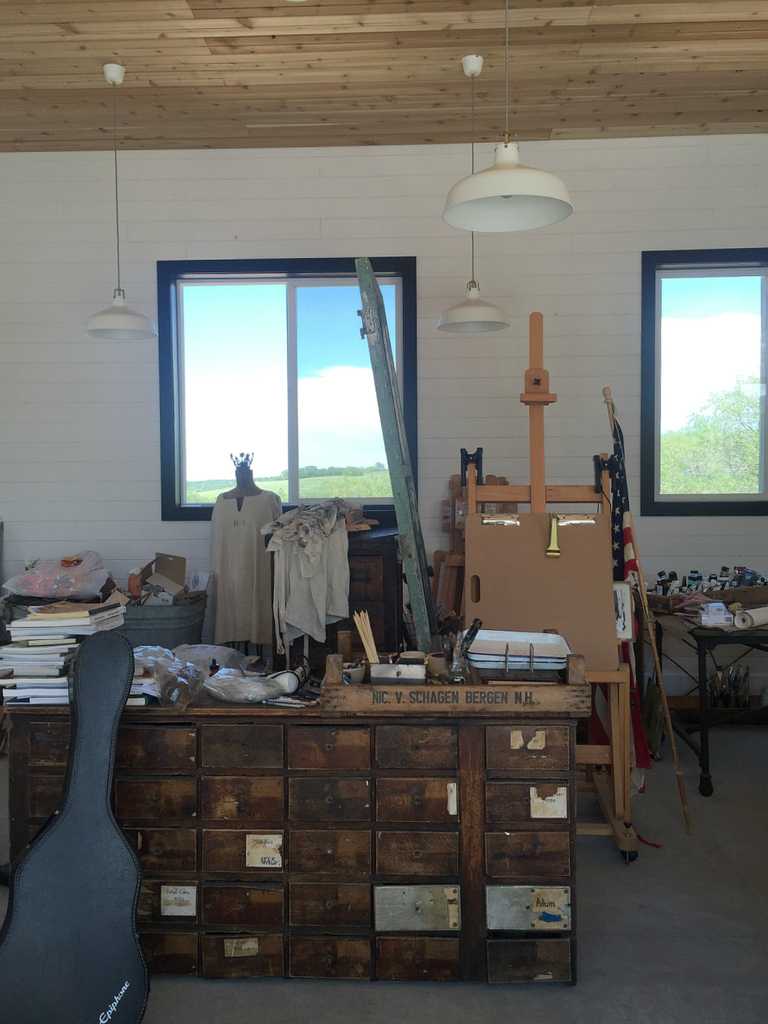 We  knew we still needed to get some more furniture and display pieces of furniture and we are so lucky to have Old Glory Antiques in Denver.
Holly and Sandy were incredible to work with (once again) and here is some of the awesome vintage finds we bought from them.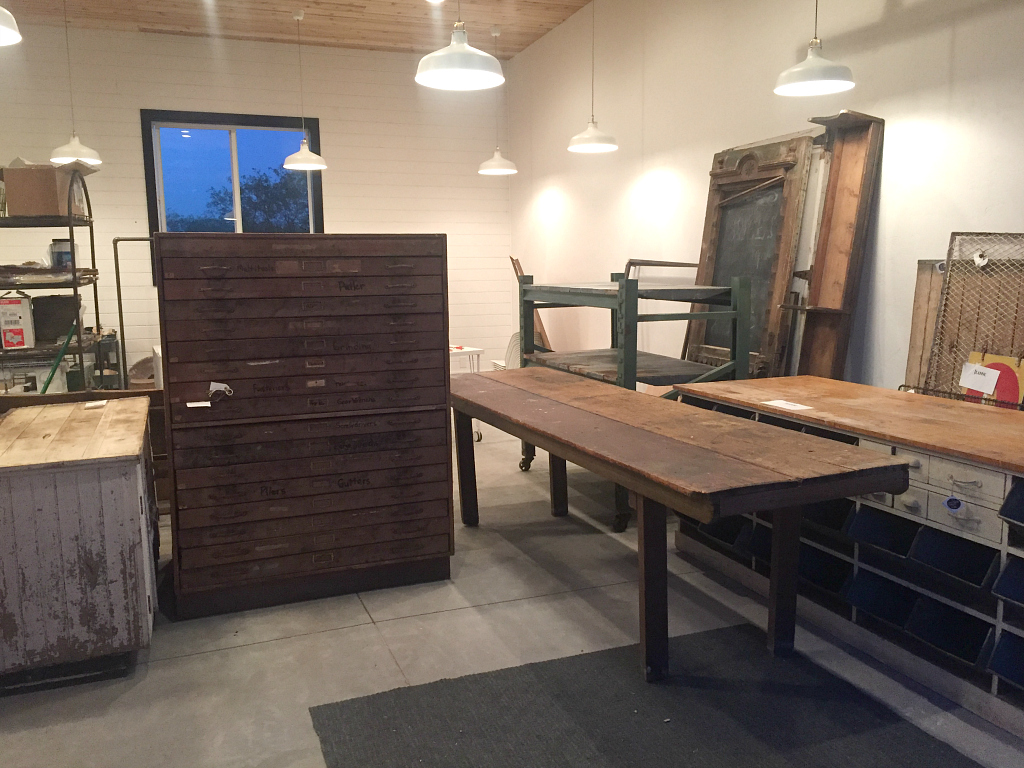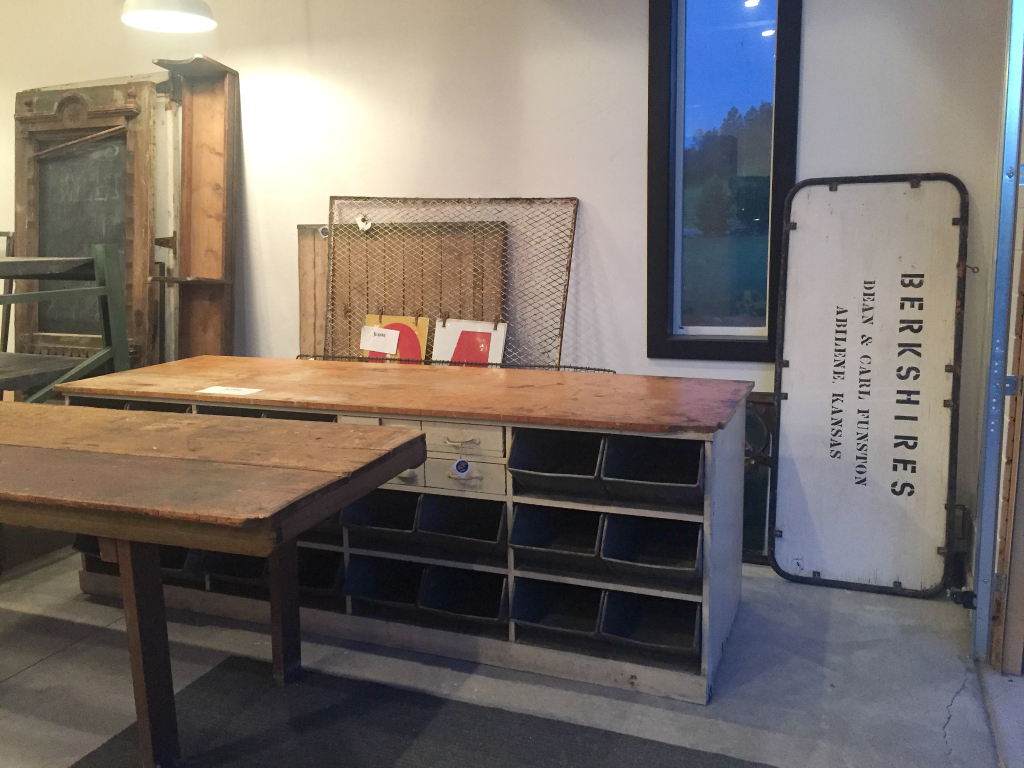 We collapsed a lot those weeks…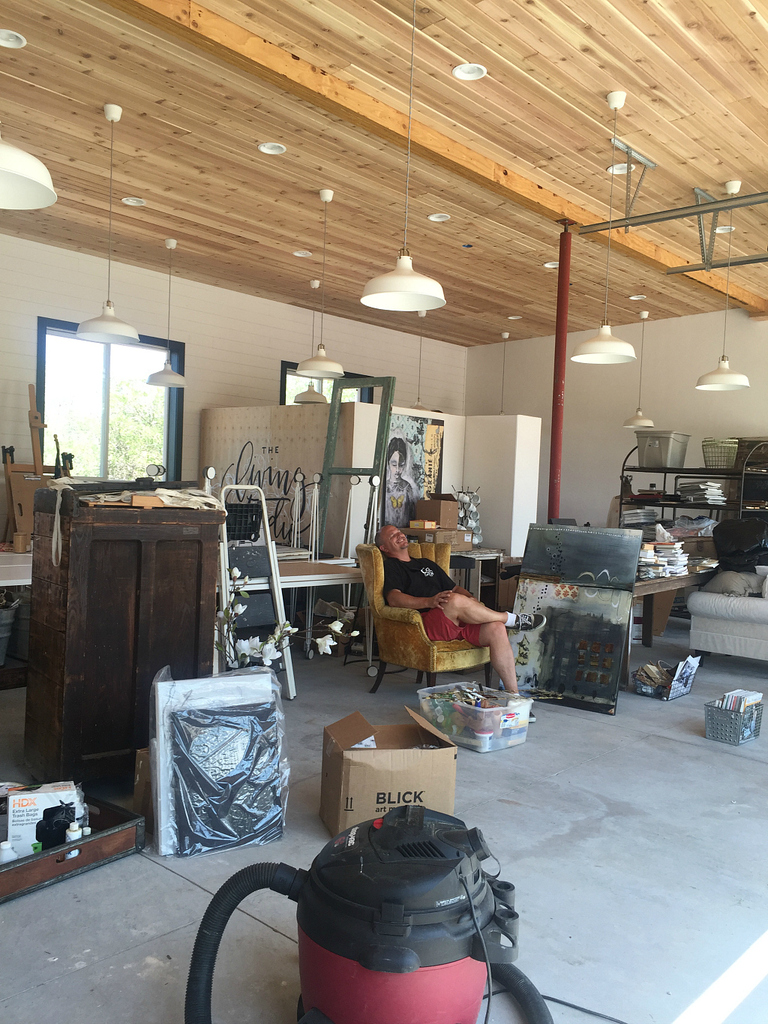 See those awesome portable walls behind a collapsed Kelly? Those can be moved around our space as needed but right now they are hiding all of our shipping supplies.  We got this idea from Alisa and Andy Burke. We saw larger versions in their studio a year ago and knew we would implement them someday into our own studio. Thank you Alisa and Andy! You guys are awesome.
This was the first corner I started working on and I was already falling in love with this new space of mine.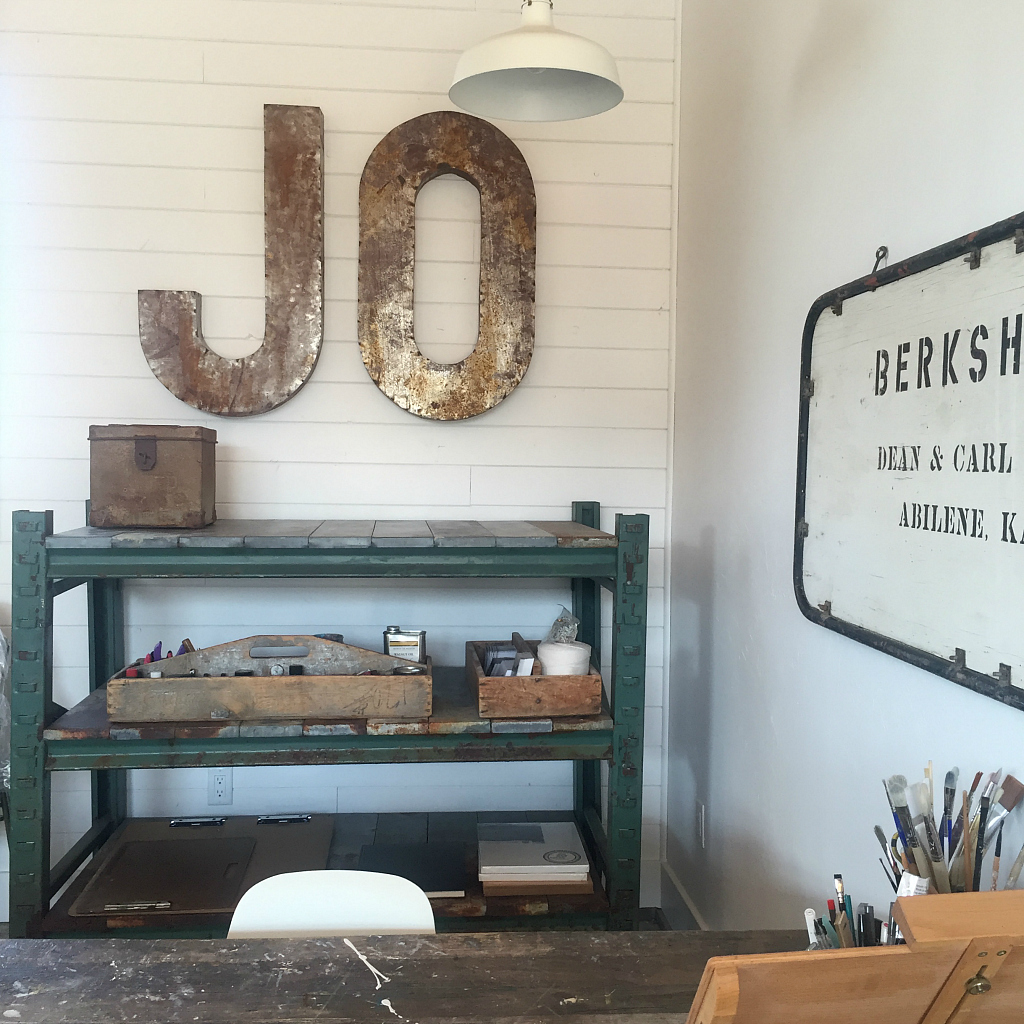 We were only days away at this point. I knew we would pull it together but it was all hands on deck plus a few more!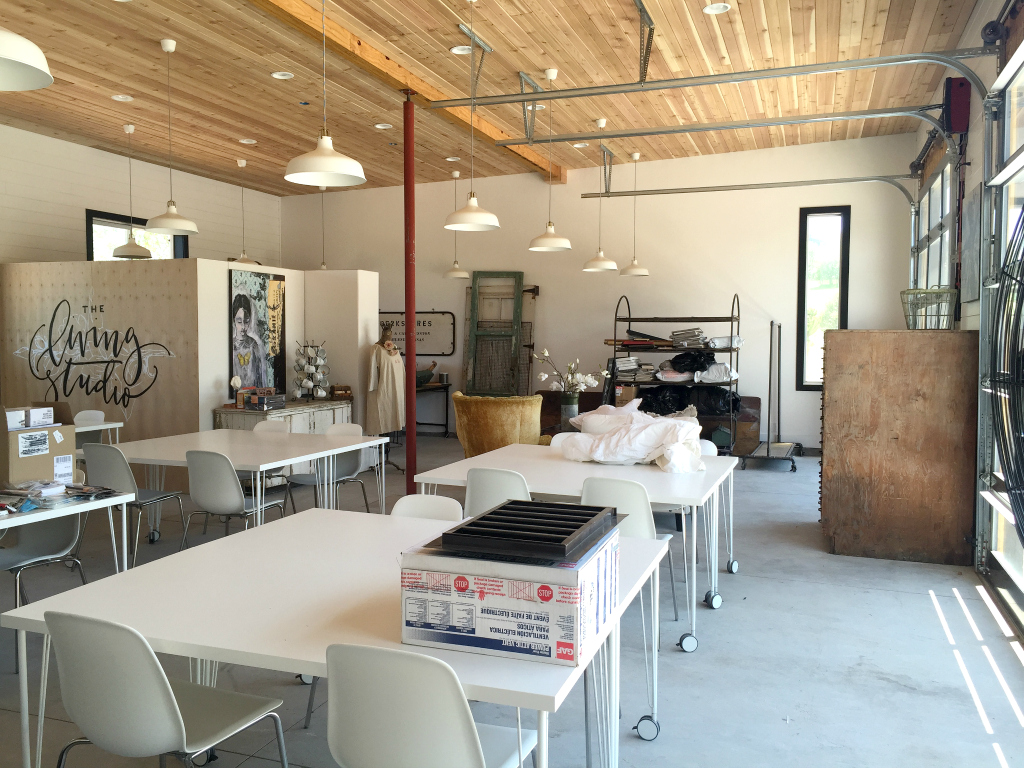 It is so hard to find good work:-)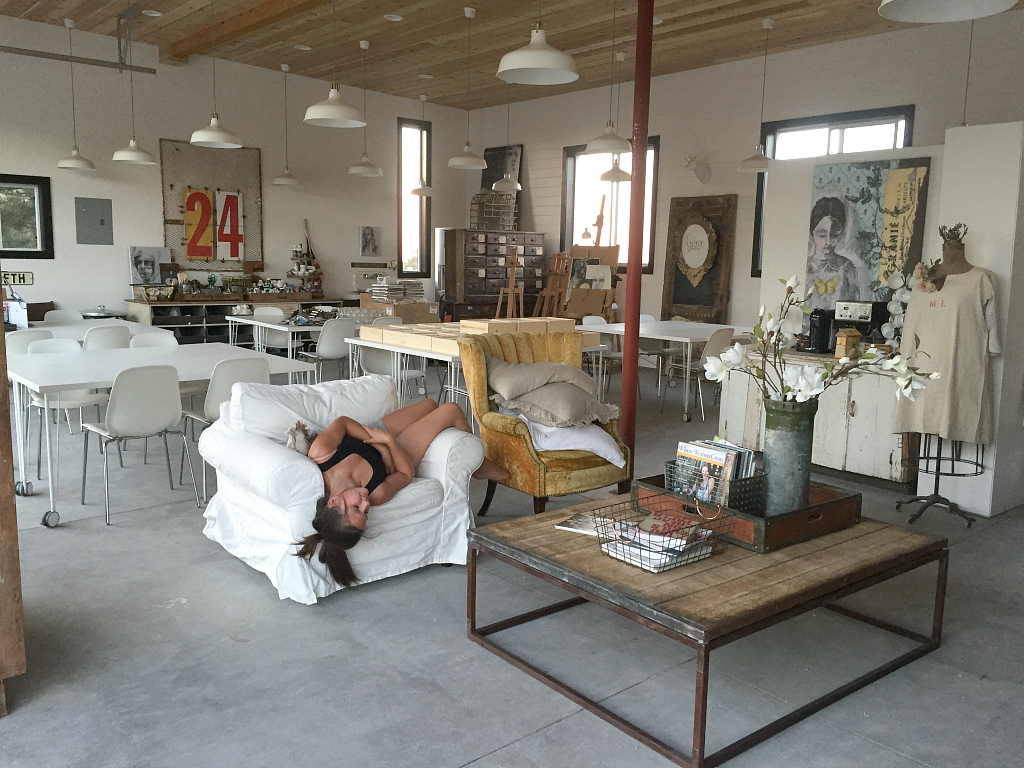 It was so much fun to pull my vintage finds together.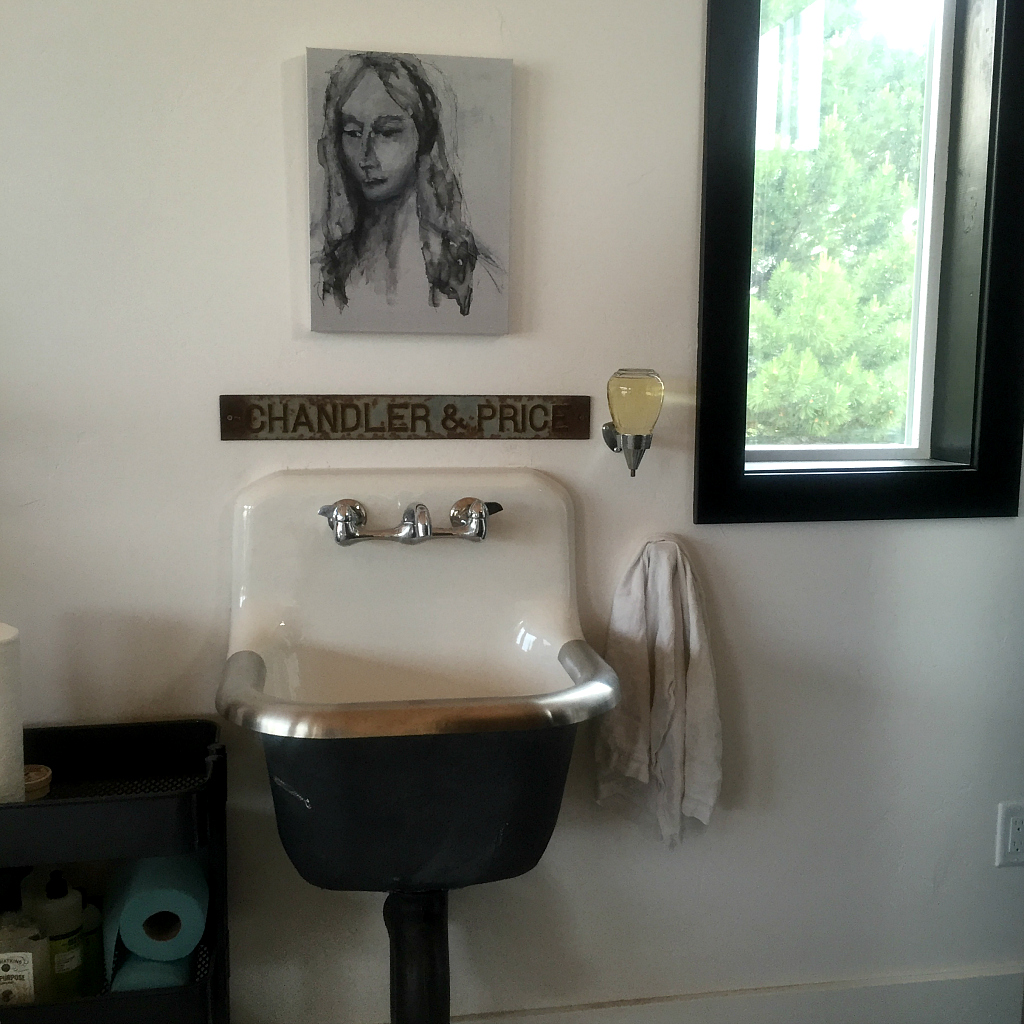 Two days away!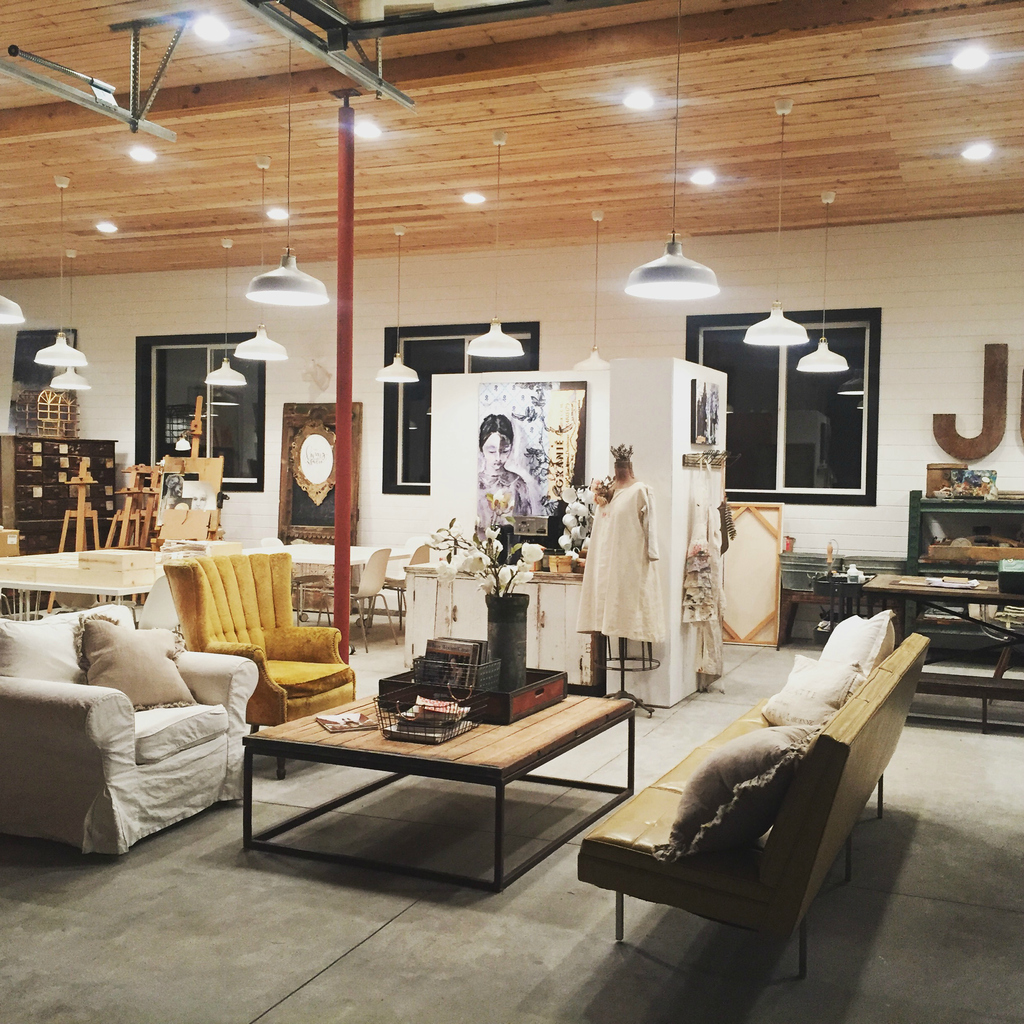 We had been having bags made just for the grand opening! Seeing all of our product blending in with the new studio just pulled the space together.
The display piece was from Dwell Antiques and the clothing rack from Cost Plus World Market.
The chairs and coffee table had been in our last home and we found the awesome mid century couch on Craiglist.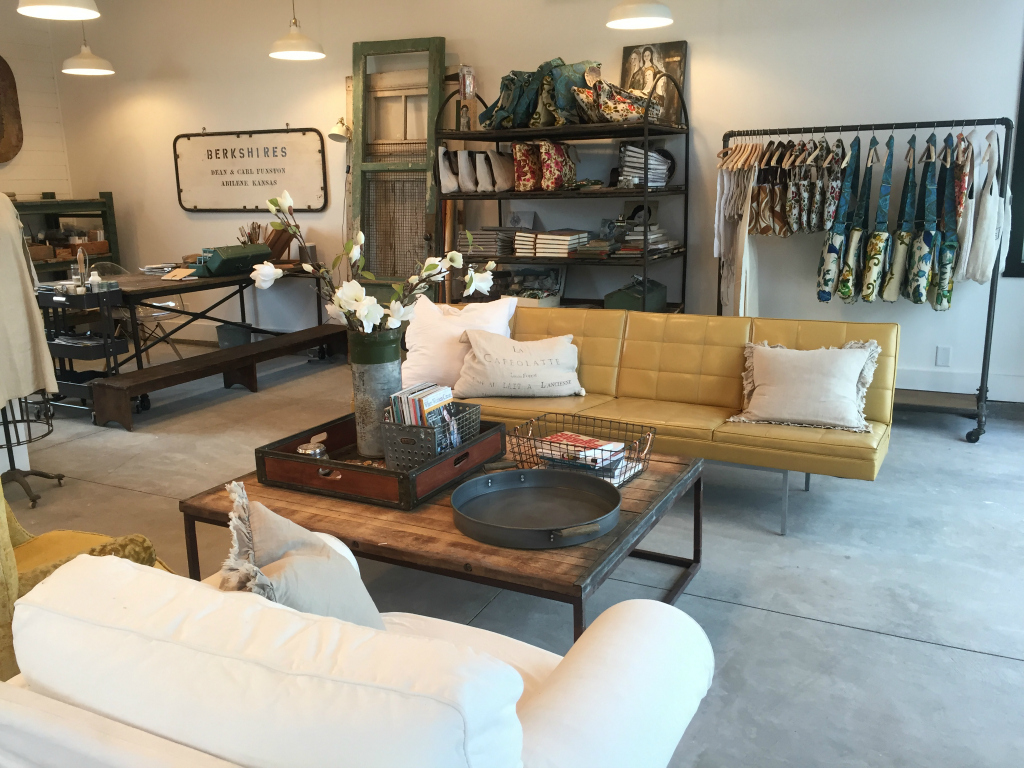 This was the day before our first workshop and we were feeling so good about what had been accomplished!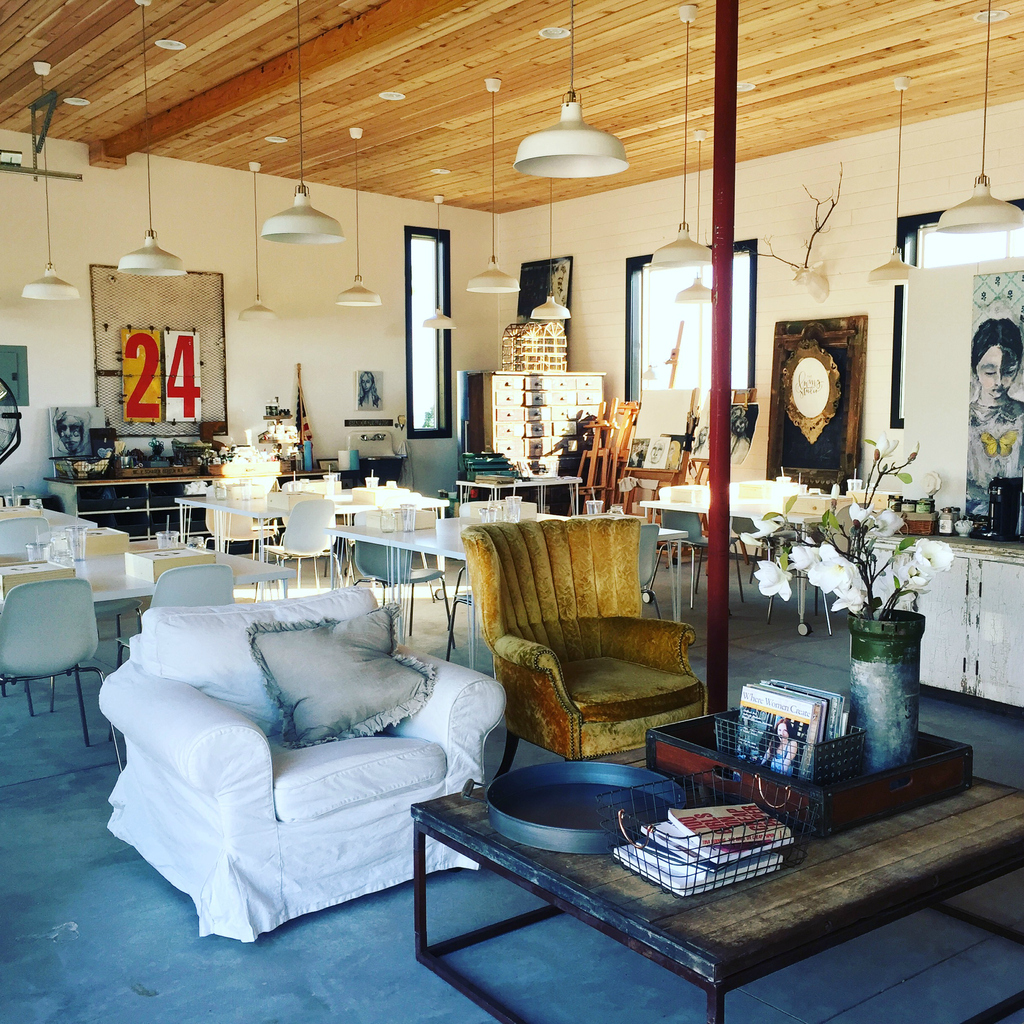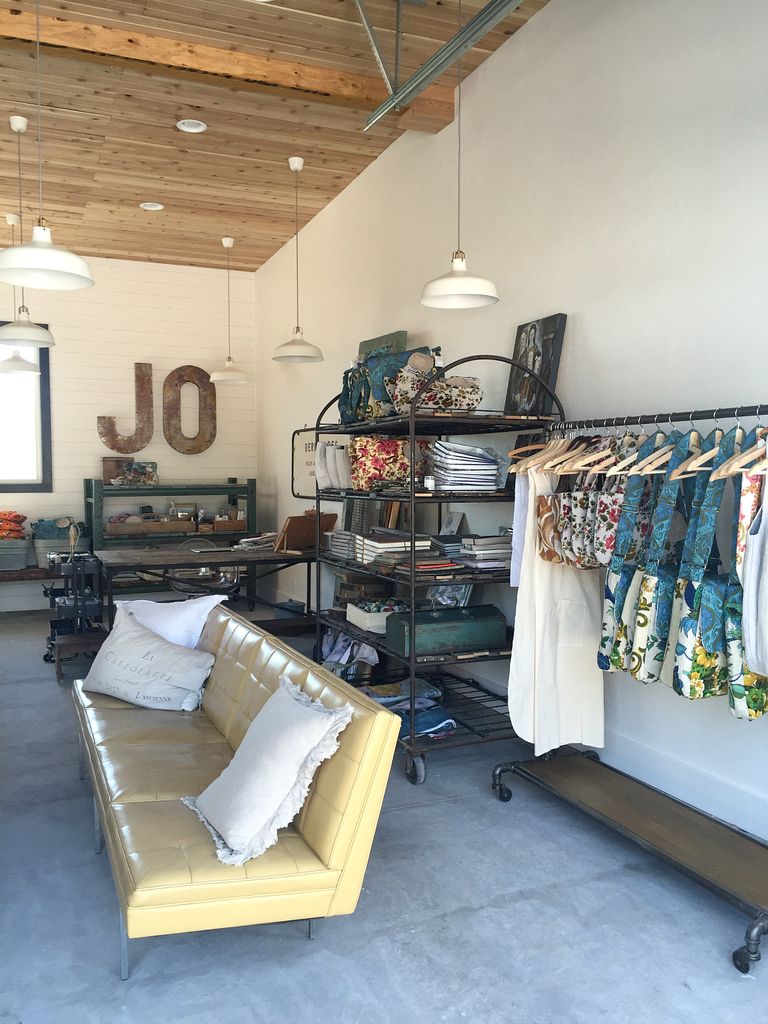 This was the morning of our first workshop!  I was up early to finish up final touches, pray over the women and space and to just take a deep breath.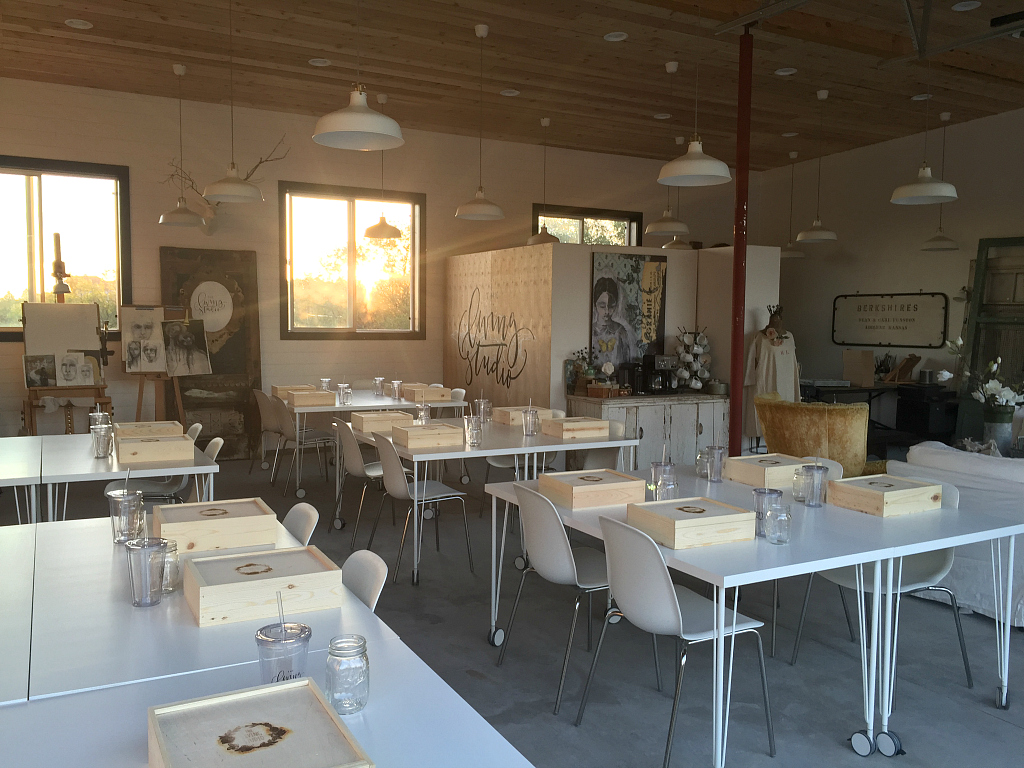 We had done it! As a whole family we had come together to build something that we knew was bigger than us. Not in a weird way but in a special way of knowing this would be a place to create and a place to gather.
That this place was just not for me, not just for my family but a place for so many that we do not even see the full picture yet.
The studio that love built!
******
I am sure you have questions about sources or about our choices. Please leave your questions here and I will do my best to answer them.