***TODAY (August 19, 2016) is the last day to get the early registration price of $24.00 for Eclectic Beaded Crochet Jewelry***
Back in February I was having dinner with a few good friends in California and I couldn't keep my eyes off one of my friend's necklaces! It was exquisite, interesting and a work of art. It had been wrapped a few times around her neck to make it shorter and she quickly took it off so I could examine it. The whole piece was full of intricate attention to detail. We were even able to wrap it around our wrists and create the most beautiful wrap bracelet.
Well, I tracked this jewelry artist down and I am excited to tell you that Eclectic Beaded Crochet Jewelry with Robin Dudley-Howes is an online course starting September 19, 2016!

On trend and so boho chic, learn Robin's method to make these stylish crochet beaded wraps, NO crochet experience necessary! These fun pieces can be wrapped several times around the wrist or be worn as a necklace.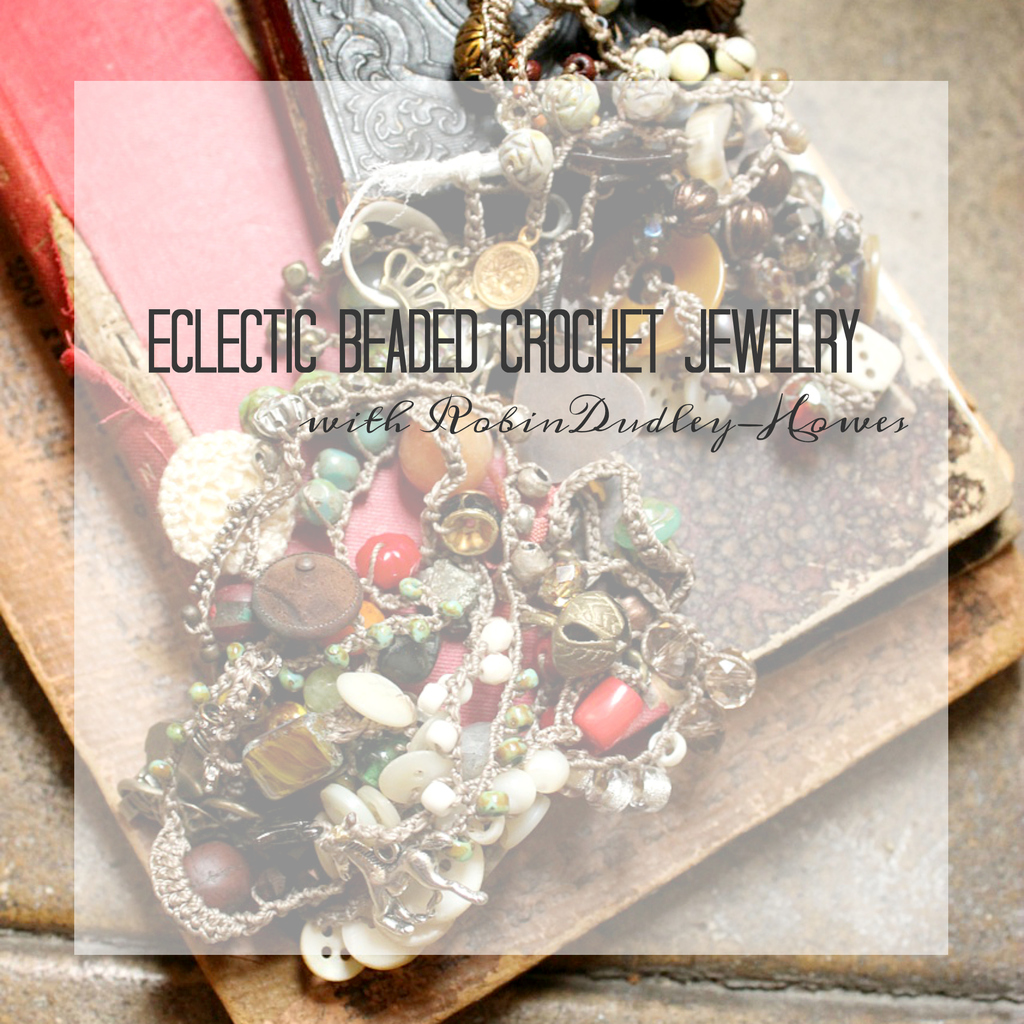 In this course Robin will show you step by step how to make simple to elaborate crocheted jewelry. She will also have some fun bonus material on how to make your own one of a kind pendants, tassels and charms to add to your crochet jewelry.
This course is for everyone! The first few videos will go over supplies, tools and the thought process of choosing what to use for your wraps. Robin will show you step by step the basic chain stitch, which is the foundation for all of the jewelry in this course and great practice for those who have never crocheted. Once you have that down you're ready to move on to a one wrap, one bead bracelet. The next project will be how to make her popular mixed bead wraps using several sizes of beads, fiber and findings as well as her signature "bridge" stitch. From there she will show you how to add chain and different types of connectors and as a bonus you will also learn how to make one of a kind heart with wings charm and tassels. Once you get the hang of making these wraps, you'll be addicted!
The early registration for this one week course (4+ hours of content) with lifetime* access is $24. The course will go live on September 19th.
To learn more or to register click HERE.
*****
If you are new to our creative network here are easy steps to get you started…
1. Register at jeanneoliver.ning.com (this is free).
2. Once your account is active you are able to take advantage of our free courses, series and even pay for courses.
3. Go to jeanneoliver.ning.com and along the top header click on "COURSES" and you will be able to view all three pages of online courses and free series.
4. To purchase a course please choose your course, click on the +join in the upper right hand corner, pay and you will be INSTANTLY in the classroom.
5. All videos can be found along the right hand side of the page under "COURSE CONTENT".
*as long as we manage this site