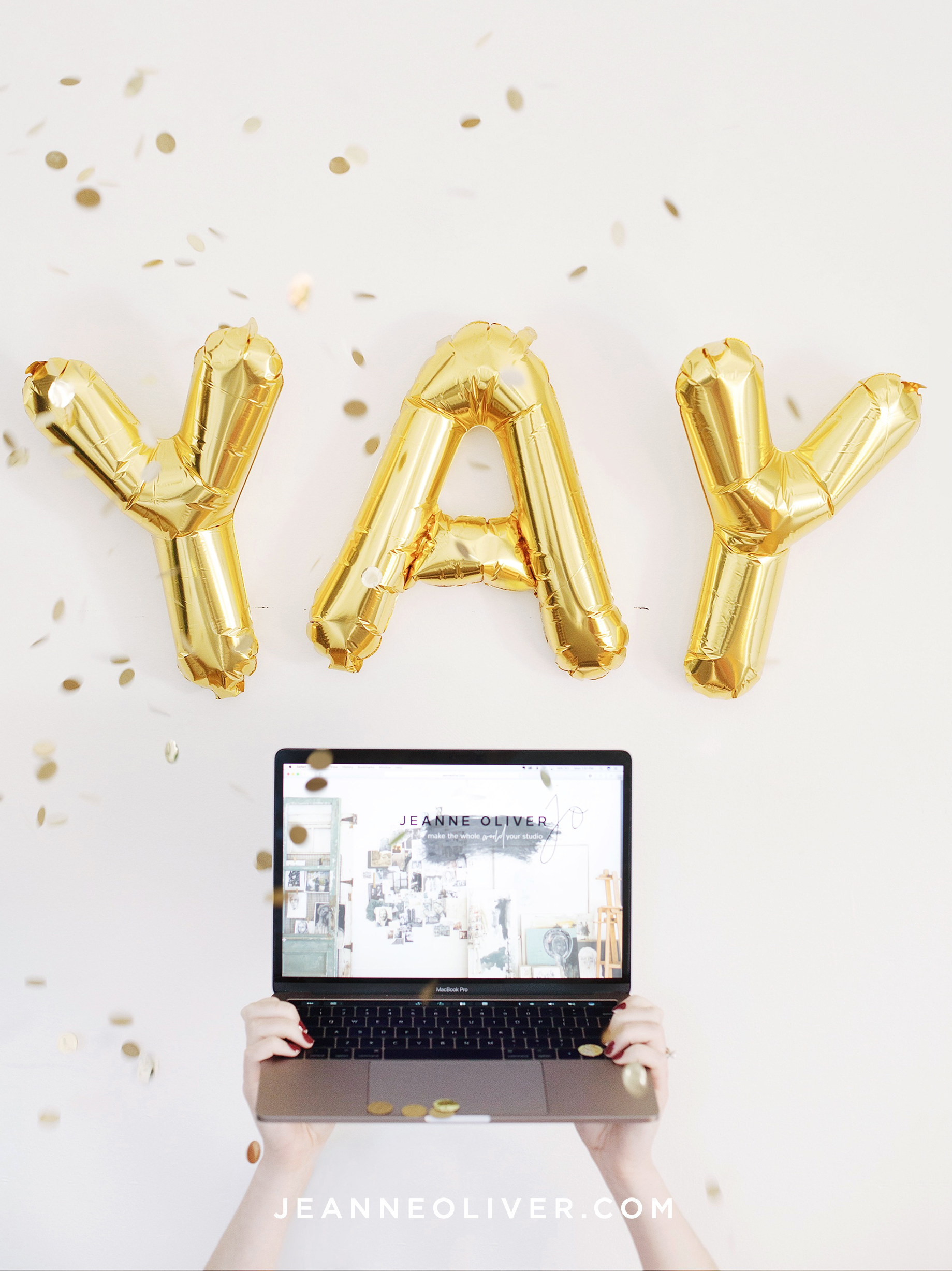 THIS GIVEAWAY IS NOW CLOSED AND THE WINNERS ARE ANNOUNCED BELOW
We started creating online courses back when it was not the norm. We hosted our first online course, Creatively Made: Rediscovering The Beauty of Your Gifts, on Kajabi (if anyone was with us way back then).  After a few years on that site, we branched out and created jeanneoliver.ning.com.  We had no idea we would grow, gather and collaborate over the years as we have.  The site we have been on for the past years allowed us to figure ourselves out but we dreamed of so much more for the creatives that trusted us with their time and resources. It was time for a huge change and a change that would allow us to grow, pursue new dreams and to lavish our members like never before.
A little more than a year ago we began work on our own website that would host a new creative network, shop, and blog. We had some huge bumps in the road. We also had some of the biggest setbacks of time and resources of our business. In the midst of these challenges, we found our footing, dusted ourselves off and started over. We have never worked so hard or made so many sacrifices to create what we believed was supposed to be next.  We also had NO idea how big this project was and all that would be required to move over 35,000 members and all of their courses. This required an amazing team of people way more experienced than we were.
This site is the biggest THANK YOU we could dream up to let all of our members of our creative network know how much we love and appreciate them. THIS site is for you! Our hope is that this site will not only be beautiful but easy. Easy to track your courses, your progress, share with others and find new ways to learn and grow.
So, how about I get on with the big announcement and celebrating! So, without further ado, I would love to introduce you to our brand new home!  Welcome to jeanneoliver.com!  This is our new home for our creative network, shop, and blog! We are so proud of it and hope you love it too.
If you are a member of our jeanneoliver.ning.com site you have been migrated and all of your courses are waiting for you!  You have been sent an email with your username and password. If you have not received that email please click here https://jeanneoliver.com/contact/  (select Tech Support, Ning Migration). Before contacting us please check your spam folder.
You know you are doing what you were made to do when the sacrifices and hard work are worth it. I truly believe that knowing WHY we are doing what we are doing has made all of the difference. I love that Simon Sinek says, "People don't buy what you do, they buy why you do it". This is our why…
[x_video_embed]
[/x_video_embed]
We would love to celebrate with you!  I am raising a glass to each of you creatives finding your own creative voice and making life more beautiful for yourself and those around you! We are celebrating for the rest of the week but we are starting with giving away
10 complete online course packages
on our new creative network.
Each package is worth over $3,000
!
***We have announced winners so far on Instagram and Facebook and now the final three winners here on the blog! Thank you, everyone, for your beautiful feedback about the new site, sharing with your friends and just celebrating with us! This is a huge moment in our business and we are so excited for what is next.  So, the final three winners to be announced here are:
Jeanne, I started following you way back when, while you were on Kajabi. I'd never done anything creative, but your beautiful gifts introduced me to mine. Through your courses and blog, I've discovered parts of myself and passions I never knew existed. I've loved exploring art, design, and mixed media. I'd love to be able to turn in into a business one day, but for now it brings beauty to my life that wasn't there before. Thank you!!
***
What a beautiful and inspiring video! I haven't yet taken a class, but have registered and plan to do so soon. Remembering my creative roots is something that has been on my mind lately. Growing up, the women in my life (mother, grandmother, aunts) were truely creative — although I'm not sure they realized it. They would have called it "making do." They created beautiful living spaces for their families, often with often with hand-made, found, or repurposed items. Most people who entered their spaces would have never realized that they were practicing what today might be called creative upcycling. But, the spaces were always admired and praised. I grew up a full participant in their creativity, but have lately moved too far away from those roots. I hope to reconnect and refind my creative side in the coming weeks, months, and years. Your site has been an excellent inspiration!
***
Creativity has given me new opportunities and kept me motivated while being out of work due to injury and illness,. My spirits are lifted when I create, as well as when learning and seeing what others create! Being a nature-lover, I have really enjoyed the classes I've taken on this site, and have learned many techniques of how to incorporate elements of nature into my art.
And just in the past few months my creativity with mixed media has led me to being accepted in an art exhibition next year!
The new site looks lovely, congratulations and thank you for creating a wonderful place for learning and inspiration.
If you are one of the winners please email us at support@jeanneoliver.com and we will help you get into your classes! Congratulations!
To enter the giveaway just leave a comment on THIS POST telling us how your creativity (or someone else's) has made your life more beautiful.

For additional chances to win:
* It would mean so much if you would share our video above with your friends and family and share the heart behind our site! You can do this on Facebook, IG, Twitter, blogs, Pinterest.
Here is the direct link  https://vimeo.com/245136198
* Share the new site and giveaway on Facebook by sharing this post at the bottom.
* Share the new site on IG and tag @jeanneoliver #jeanneolivercreativenetwork
* Follow us on Instagram
* Blog about the new site
* Pin images from this post to Pinterest – You can use the share button at the bottom.
Each time you do one of the above just come back here and let us know.
This giveaway will close on December 1, 2017 at 8 am MST.
The winner will be announced on December 1, 2017 at 9am MST.
Thank you so much for sharing, taking courses, sharing your creative lives and allowing us to do what we love!