*This giveaway is now closed. Thank you to everyone that entered! There were so many entries here and on Instagram that we are giving away 10 spots instead of 5!  If you are one of the winners please email support@jeanneoliver.com to get access to your course. We would love all of you to join Creatively Made Business. It has just started and registration will close for the YEAR on Sunday, September 27th!
The 5 winners are…
Winning this class would be a huge gift! In 2018 I made it my going to begin my business officially in 2019 by registering that LLC and getting all the things in order. Well, at the end of 2018 my husband lost his job so the next year was consumed with finding the new job, selling the house, finding a new house and living apart. all my art energy went into supporting him and our little family of 2. So, I shifted my goal to 2020 being THE YEAR not knowing how hard the move would be and then covid enters… This class would set me on the right path to hopefully meet that 2020 goal to start making my hobby into a business. Your guidance and gentle spirt, experience and faith are all a gift to those you share it with. Thank you!
Hi, Jeanne! Again, your generosity truly touches me. I would love to be considered for a scholarship to your CMB class and am going to share and blabber all about you as outlined. lol I have already shared on FB and an already a follower on IG. A little bit about where I am now in my business … I've been doing interior design for companies like Pottery Barn, Ethan Allen, and Wayfair, while doing so, I have spent endless hours and energy building someone else's brand and feel like I have loss ownership of my personal creativity. Plus, working retail hours was exhausting mentally and physically, not to mention time loss with family and friends. I got to the point that my salary was based on commissioned sales 100%, the pressure was taking a toll and I ended up leaving work one day and driving myself straight to the ER, the doctor flat-out told me I needed to find a new direction or I could possibly end up very sick. That was a wakeup call for sure. I was so tired and made a vow to take control. I have taken steps to set up my own on-line design business, but still feel so stuck with navigating it all (website, social media, copywriting, marketing, work flow, getting out of my own head!), coupled with a lack of support from other creatives I have a sense of failure already and I haven't even started! :-0 … I would love to see myself running a creative business that incorporates my passion for art, antiques, and interior design come together to HELP clients create homes that are special to them by incorporating their art/heirlooms and function well for their individual lifestyles. I have watched so many families arrange their homes to replicate a catalog spread and ultimately never really feel "at home". I hope I've done an okay job here explaining my dreams, your guidance would mean the world to me. Thank you! xo –Jill
Jeanne, you are such a generous soul and my kind of people.✨ My journey through art has been in my life since I was a kid but I was raised on myths of starving artist. It took me at the age of 34 to bravely give myself permission to enroll in art school. At that same time I found your 'Ning' site and the beautiful community of online learning. I wasn't able to finish art school and the online art community has been my continuous source to learn and grow. I'm now reaching the age of 42 and ready to build a business that is built around paying it forward as well as the motto' If I can do it, so can you!' Art has always been a tool for healing and it's been on my heart for a long time to share this with others. It would be an honor to learn and grow a creative business from your knowledge and heart. Thank you for such an amazing opportunity.
I am so intrigued by this course/platform but on one income a giveaway would be such a blessing! This would help me transition and take my next step into a new chapter in life I worked for 20 years in OT rehab/ health services and then homeschooled my four kiddos for five years and they've all return to traditional classical school campuses and I am looking to move my art from a hobby into more of a steady practice and hopefully a growing business to help support future endeavors with our four kiddos and serving others. I am already taking a couple of the courses and I have shared this on my Instagram stories- I hope to share more!
The one thing I've always been certain of is that I'm an artist.
Over the years, as a mother of 5, I've lost touch with the 'making' part. The love and longing never left.
When I was in college, I had a transformative experience while rafting in Costa Rica. It gave me a glimpse of what it looks like to have true inner peace. I created a meaningful mixed media course (in honor of this event) to inspire myself and others connect to the guide within us all—our inner wisdom.
The class is 80% complete and 4 years in the making. With CMB, I can finally breakthrough that last hurdle to complete and publish my class—and get back to being that artist I've always known I am.
With gratitude,
Meagan Peace
****
One of my BIGGEST joys as we have grown this business is to watch others connect with their creativity through art, home and now business.
When I look back at where we started I am in awe of where we are now and so thankful for all of the beautiful people that held their hands out to pull us along.
I have always wanted to also be that for others too!
Creatively Made Business JUST launched today and to celebrate we want to give away 5 spots to the 10-week workshop!
| If you have already signed up for the workshop you can still enter and your tuition will be refunded |
Keep reading to see how you can enter or enter for another person!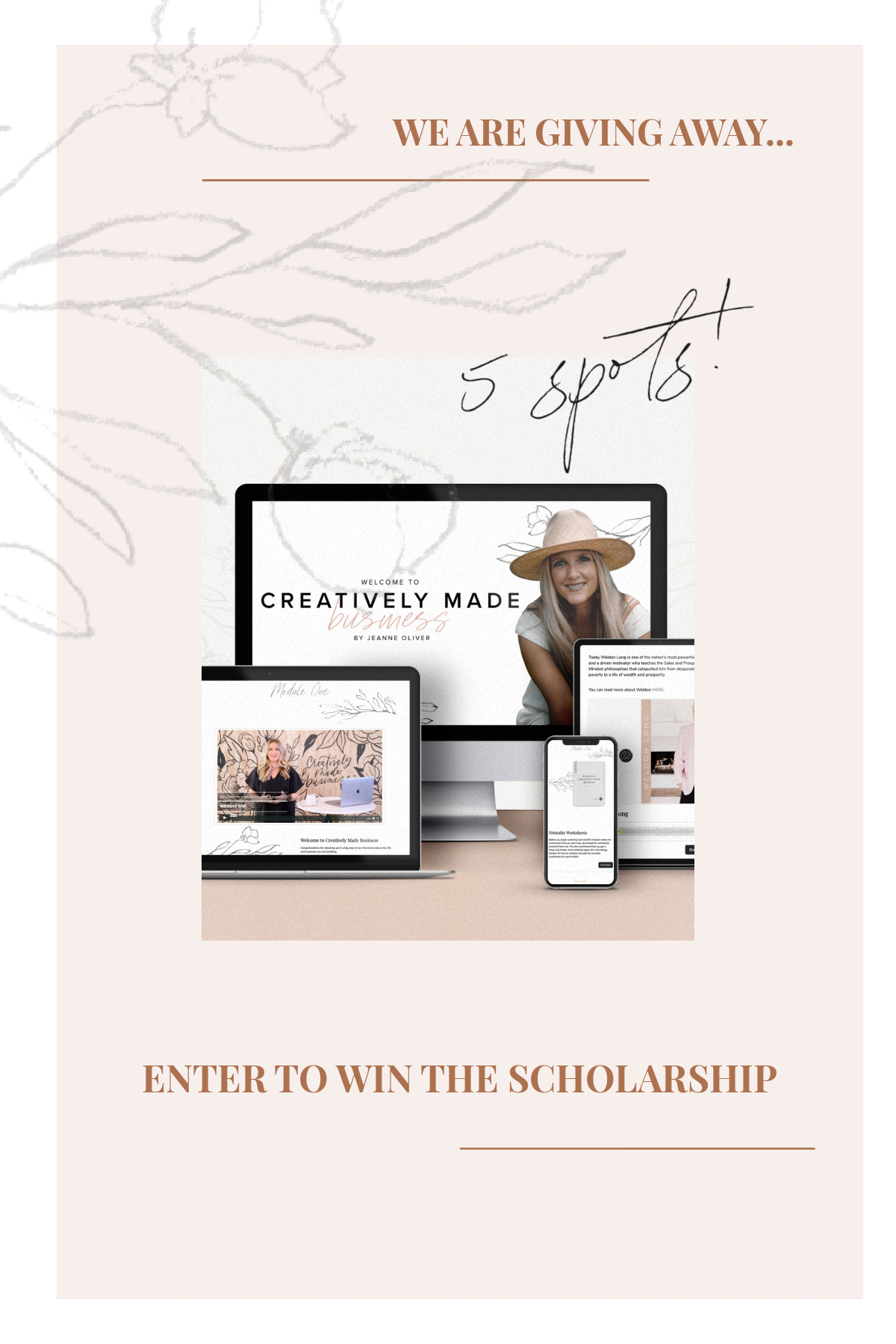 Here's how to enter:
1. Share this blog post on Facebook, your blog, Instagram or even with your friends and family through email
2.Leave a comment telling us how the course would help you walk out your gifts in your business (or the business you are dreaming of building)
3.Go to my Instagram account for more chances to win
4. Follow me on Instagram
As you do each of the things above please come back here and comment and let us know. Each action is another entry for the scholarship.
We will be having more giveaways all week to celebrate the next session of CMB!  This giveaway will close on Friday, September 18th @ 10pm MT. The winner will be announced at the same time.

Today could be the start of a completely new way to grow your business and create the life you want!
If not now, then when?
We ran the last session during the hardest part of the pandemic and watched businesses thrive and we heard over and over that by implementing the Creatively Made Business framework they were having their best quarters ever!
This will be the LAST TIME I am live with the Creatively Made Business online course through weekly live Q+A and the private FB group.
Your business should be a bridge to the life you dream of, not a barrier.
Instant Access!
Are you building a business that is aligned with how you want your life to look and feel? ⁣
⁣
Knowing this answer changes everything. ⁣
⁣
Building a business that isn't aligned with your life takes as much time, energy and resources as building one that is. ⁣
⁣
You're not just building a business, you're building a life.⁣
Building our business completely changed our family and life. We've done it and so can you.⁣
⁣
Registration is closing soon for our newest tool to help you build an intentional life and business. ⁣