In 2018 I knew that 2019 was going to be the last year I led overseas art workshops for the foreseeable future. As much as I loved gathering, teaching and traveling it was the most deep knowing that it was time and I had complete peace about my decision. Then 2020 changed all of our worlds and I was not only grateful that I didn't have scheduled trips to cancel but it also was a reminder how much I had taken the gift and privilege of traveling for granted.
During lockdown and after, I was able to reflect on my past trips, the women that I have met along the way, what really made each place special, little things I had learned about different cultures, and of course the places I hoped to visit again.
Even though I plan to continue to travel as long as I am able, I also feel so good about my decision to not lead overseas workshops. I know my purpose and my focus and this is not a part of it anymore. When you truly know your purpose you are able to see the beauty that others are doing and not feel like it has to be for you or that you have to continue it even when you know your time has passed.
So, even though I will not be leading overseas workshops this wasn't going to stop me from gathering some of my favorite artists. Welcome to An Artist In series. In this series a different artist, that is intimate in different parts of the world, will share their insider tips for where to eat, stay, see the best art, sketch the best views, rest at their favorite cafes and more. You will be able to go out and adventure here in the US and abroad and feel like your best friend shared the best kept secrets about an area and you can explore with confidence.
The second in the series is An Artist in Tuscany. I have watched my friend Carolyn Peeler create intentional workshops in Italy for years and then I hear from so many creatives what a trip of a lifetime it was for them. Come and view Tuscany through Carolyn's eyes and before long you will be planning your trip to this gorgeous part of the world.
You can read episode one, An Artist in Florence HERE.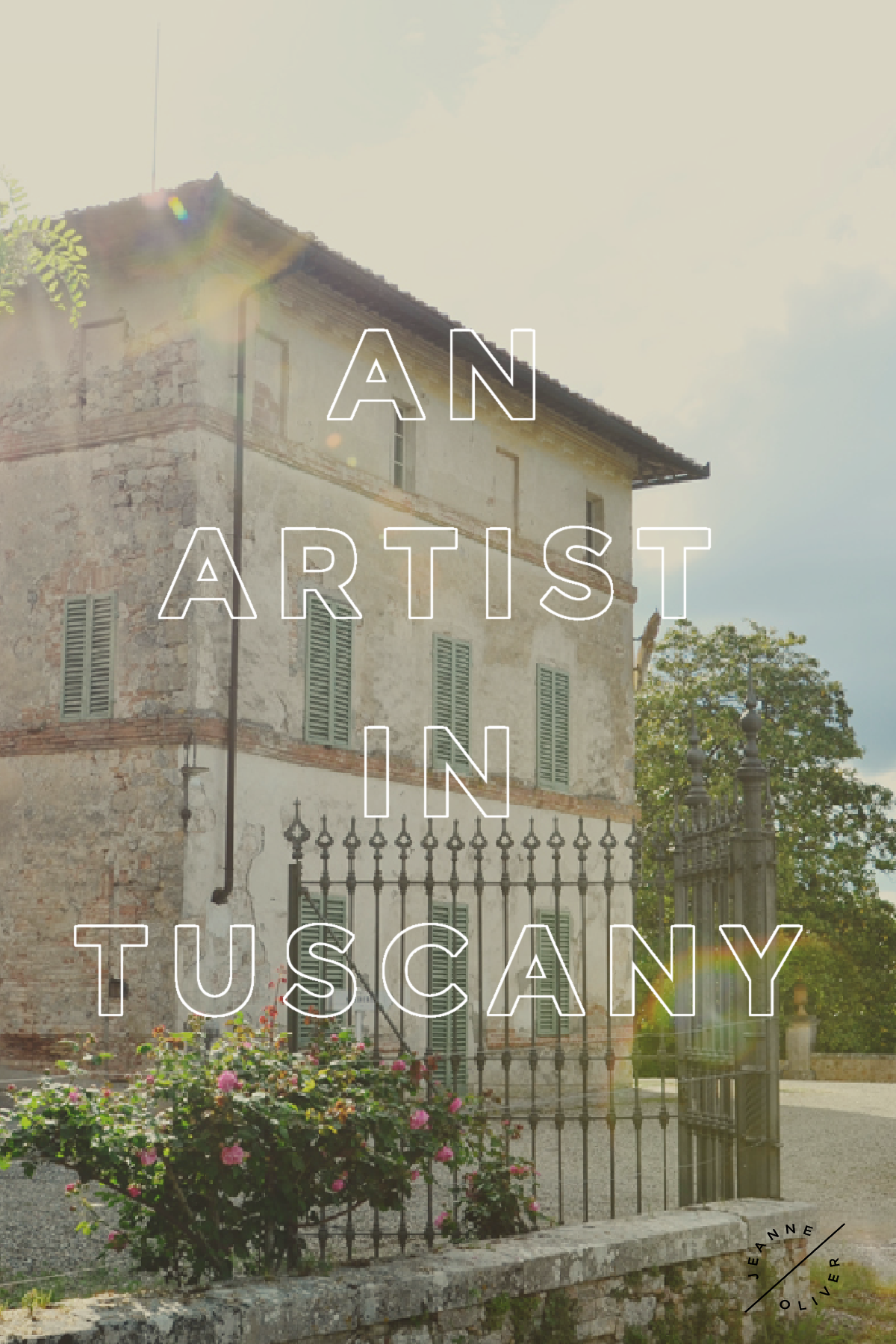 Cypress lined driveways, hundred year old olive groves, museums that stun, and ancient stone villas and farmhouses; these are the stereotypical views of Tuscany that have inspired creatives for centuries.
However, it is not just the pretty scenery where Tuscany excels. Every time I visit Italy I return home recommitted to being more intentional in dining and gathering with my people. In Italy food is sacred and the dinner table serves as a reminder that we are connected to each other and to life itself. It is a place where friends and family come together to laugh, cry, and above all, savour food the way it was meant to be eaten; naturally, with great passion.
Of course no place is all fantasy and fairytale, and Tuscany is facing a reckoning as many young people leave the countryside to head to the cities, commercialization and mass tourism has impacted independent local shops, and families are forced to abandon their historic homes when the maintenance costs become crushing. Yet even through these challenges Tuscany is a province that, with very little effort, can provide an escape that nurtures your creative spirit.
So, here's a list of activities and people in Tuscany who inspire me to slow down, enjoy the scenery, and whose magic has led me to create some of my greatest art. This list is centred in the Florence/Siena area.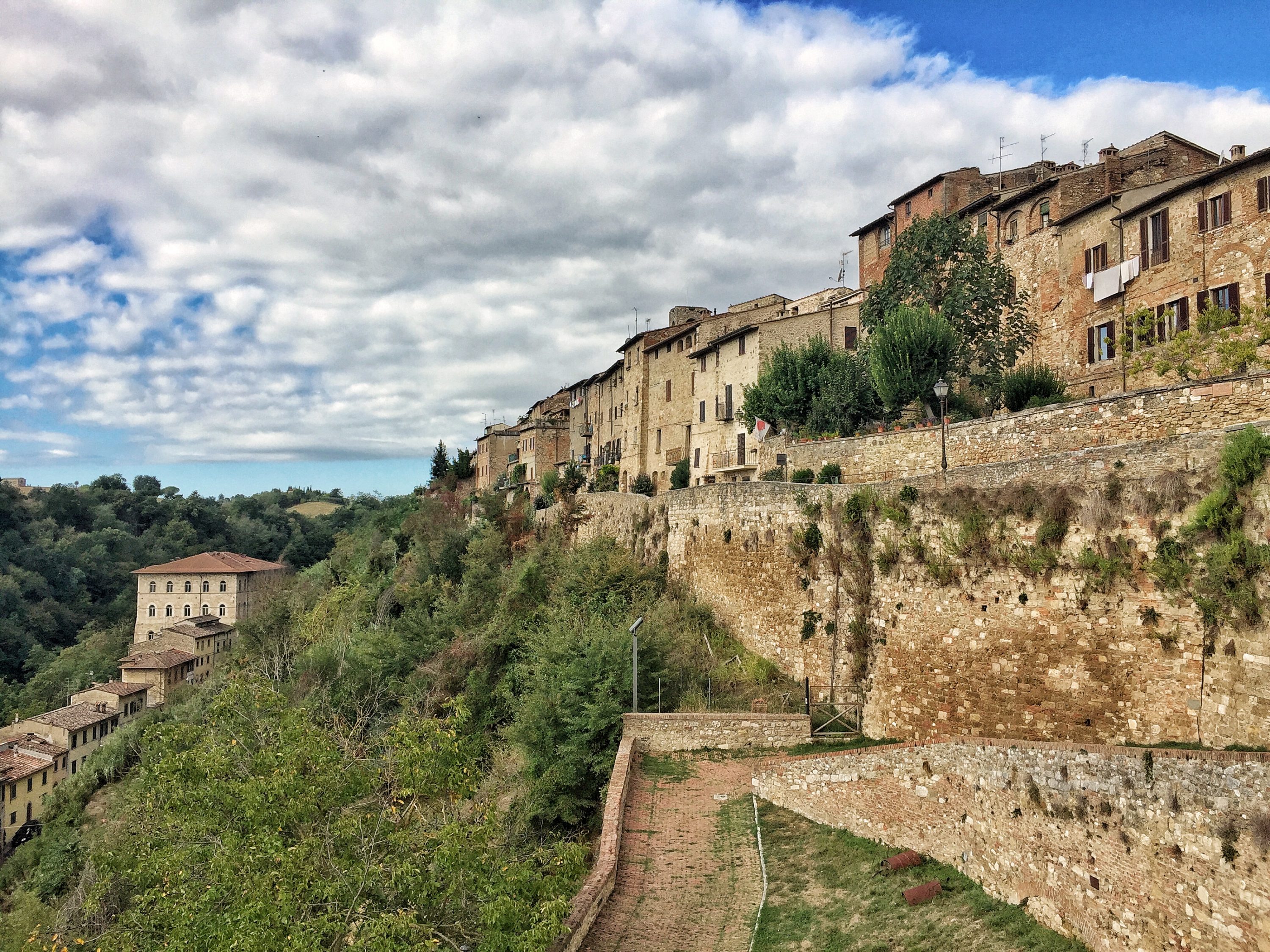 From antique linens to photography props and ephemera, antique markets fuel my creativity and are a passion. First thing I do for any trip to Europe is research the local antique markets, and try to plan my trip around the ones I'd like to attend. Here is a list of the notable ones in Tuscany: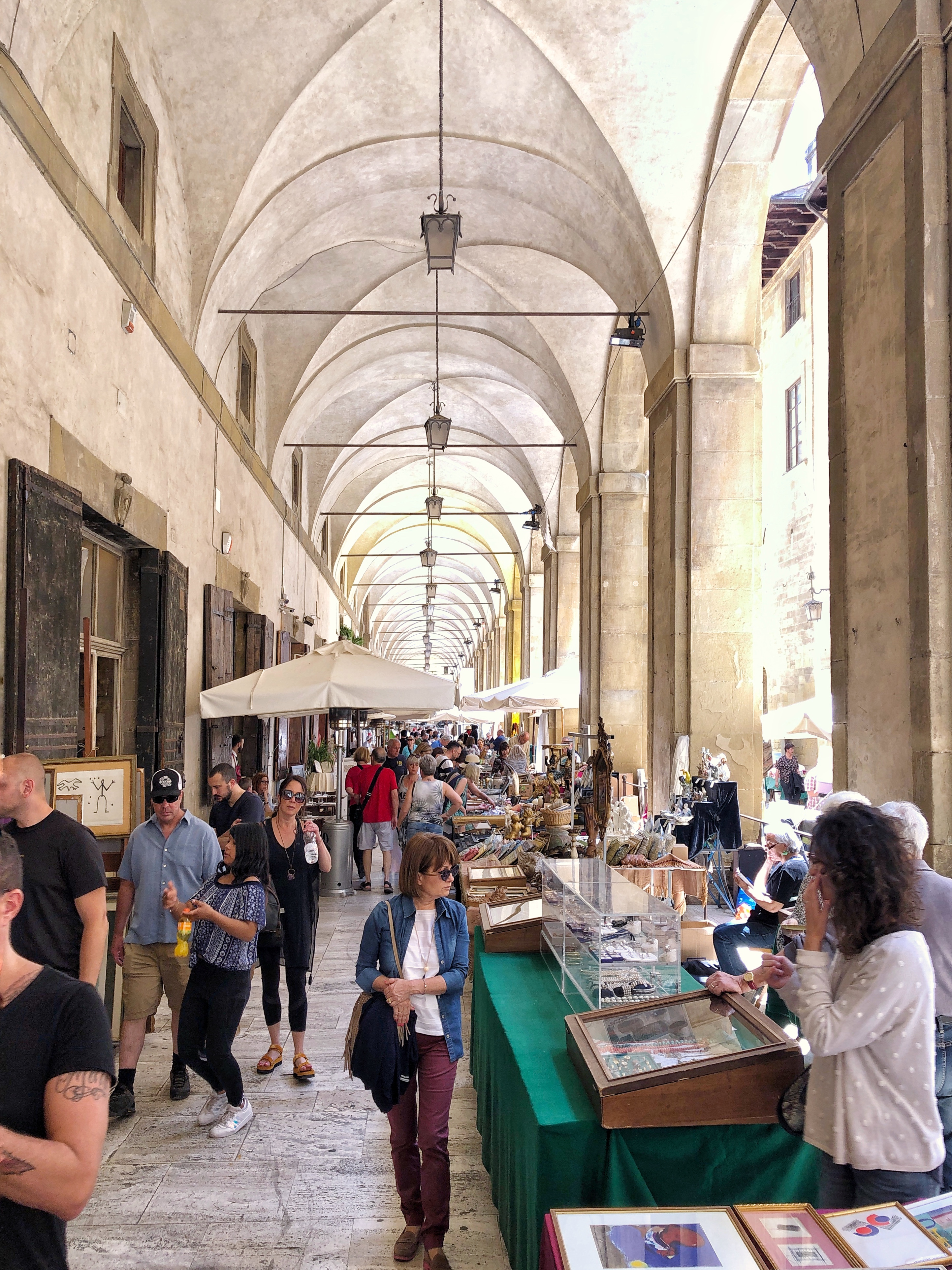 | Photo credit Paige Knudsen |
Antique Markets:
The antique markets of Tuscany happen each Sunday of the Month. The markets are in a different city each weekend. Some of the dealers will travel the circuit doing all the shows, but there will be several at each show who are specific to only that location.
Please note, the markets dates are decided by the SUNDAY not Saturday. Most of these markets happen on the Sunday and the Saturday preceding it. However, it is always good to do a double check online to check the market info before heading out.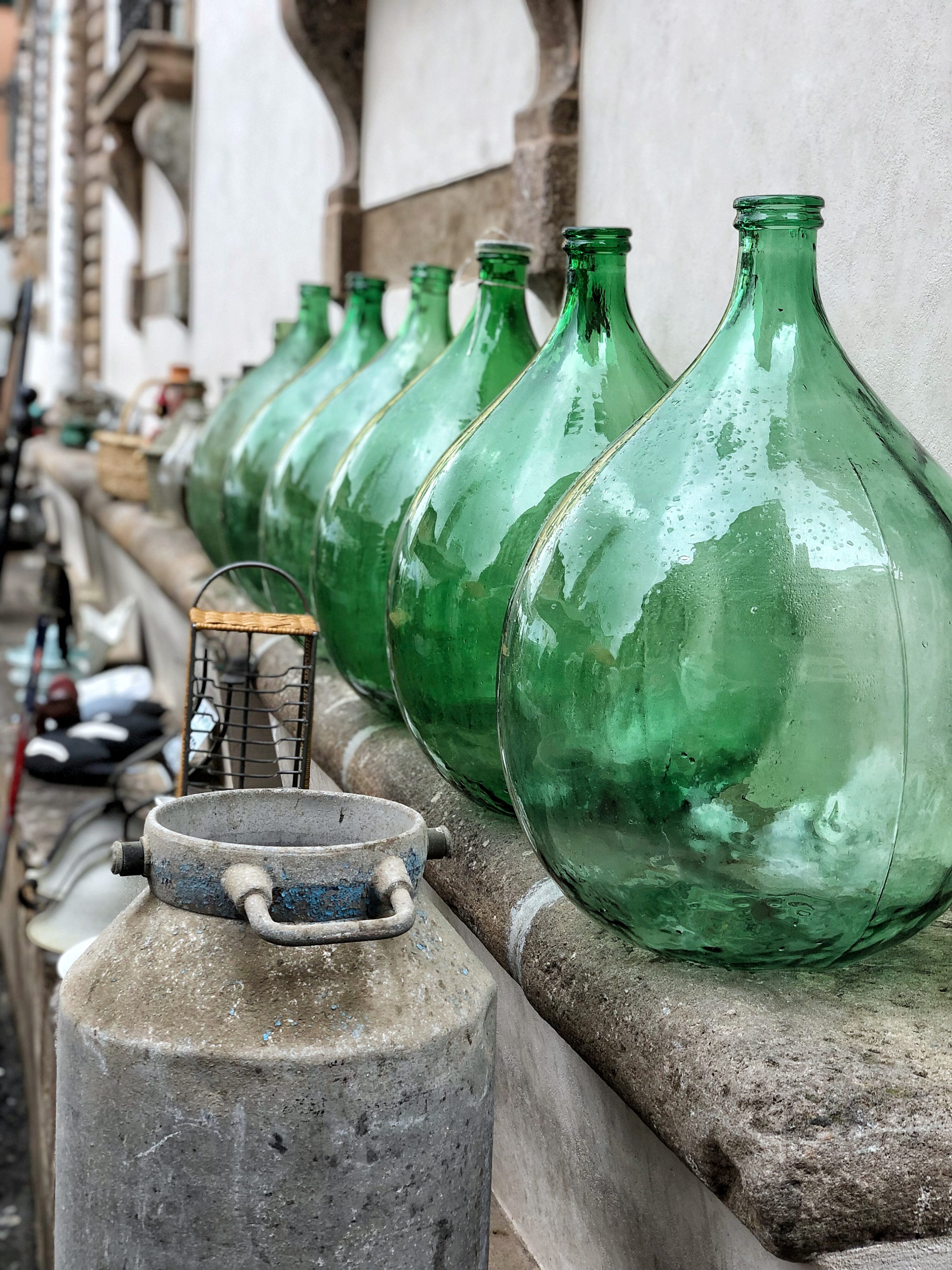 | Photo credit Paige Knudsen |
1st Sunday of the Month:
Arezzo Antique Market – Flowing throughout the old city centre, this market is the largest in all of Tuscany with approximately 500 dealers. Expect a mix of smalls and large furniture items. Best market in Tuscany for jewelry and linens. Outdoor.
2nd Sunday of the Month:
Santo Spirito Market in Florence – This market takes place in Santo Spirito square on the Oltarno area of the Florence city centre. Lots of smalls, not much in the way of large furniture. Outdoor.
Pistoia Market – Located in the ex-Breda Factory in Pistoia, this market is a fantastic one for smalls. Beware, linens here tended to be priced higher than at the other markets. Indoor.
3rd Sunday of the Month:
Lucca Antique Market: Tuscany's second largest market with approximately 230 dealers woven throughout the streets of the historic city center. This one has a little bit of everything, and Lucca itself is incredibly stunning and well worth a visit. Outdoor.
4th Sunday of the Month:
Cortona: Smaller in comparison to some of the other Tuscan markets, the Cortona market features about 50 dealers who sell a range of smalls with only a few large furniture pieces thrown into the mix. One of the strengths of this market is its beautiful setting. Cortona is particularly renown for being the city base of author Frances Mayes, "Under the Tuscan Sun". Outdoor.
Last Sunday of the Month: Largo Pietro Annigoni in Florence. This market is fairly large with booths spilling across the street into the outdoor area of the vegetable market. This market contains a good mix of items. Lots of smalls. Outdoor. It is also open every day by a small handful of vendors, although their opening hours are very hit or miss, so you never know how many booths will be open.
In addition, most villages will have a small food and clothing market once a week. Ask your accommodation when and where the closest one will be.
| Photo credit Paige Knudsen |
"You have to taste a culture to understand it." – Deborah Cater
Travel gives us the opportunity to get an in depth look at regional cuisine beyond the typical. For that reason, cooking lessons and food tours are always big on my list of must dos.
Culinary Workshops:
Una Antropologa in cucina (An Anthropologist in the Kitchen): If you're looking for a cooking lesson that combines fabulous food with deeper historical context, this is the one. Orsa Pellion di Persano, who did her doctorate in anthropology of food, combines her sarcastic wit with incredible knowledge of the history of the culinary traditions of Tuscany to lead you through a workshop that will give you knowledge and a full tummy. (While she cooks/teaches meat dishes, her husband is a vegetarian. So she would be the perfect choice for someone who is looking for a vegetarian specialist.) Based near Siena.
Links:
Instagram: https://www.instagram.com/una_antropologa_in_cucina/
Silvia Maccari, The Florence School of Olive Oil: Extra virgin olive oil is a staple of cooking in Tuscany. However, did you know that just like there are wine sommeliers, there are certified, licensed and registered olive oil testers? If learning all things olive oil is up your alley, then Silvia Maccari is your lady. One of the first female olive oil experts in Italy, her Florence school of Olive oil will turn you into an olive oil enthusiast. Honestly, this is the culinary lesson that you didn't know you needed. You'll thank me later. Based in Florence.
Links:
Website: http://www.florenceoliveoilschool.com/en/
Marta's Cooking Classes: As sweet as can be, Marta's passion for food was inspired by her Aunt who taught her traditional Tuscan dishes. She is now booked as a private chef and offers hands on culinary lessons combining her passion for fresh, seasonal ingredients and knowledge of technique and form. Based near Siena.
Links:
Website: https://www.martascookingclasses.com
Instagram: https://www.instagram.com/martascooking/
Giulia Scarpaleggia: a self taught Italian foodie, Giulia's enthusiasm for regional cuisine and her prolific output on social media and her podcast have long made her one of my favourite Tuscan culinary voices. Her adorable Italian accent and infectious smile make every lesson with her just as memorable as the food made in class.
Website: https://en.julskitchen.com
Instagram: https://instagram.com/julskitchen/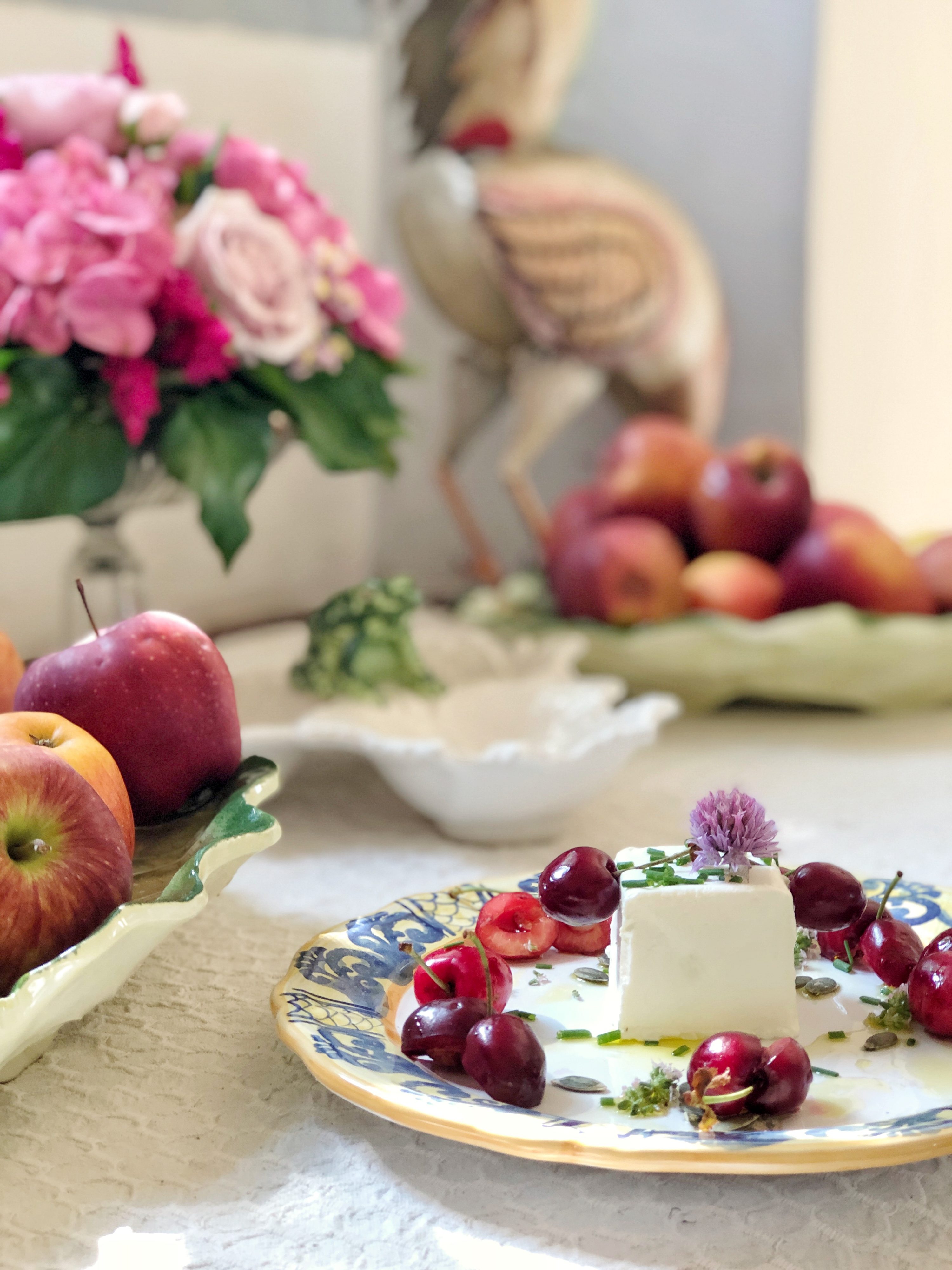 Dine/Gelato:
Dining out is a treat, yet one of the beauties of Tuscany is the reminder that simple ingredients prepared well are the best kinds of meals. Staying in the countryside, I like to book a few meals with my hosts taking advantage of their mastery of local dishes, and try to hit up the local farmer's markets to gather a group of fresh ingredients and dine al fresco in the courtyard of my argriturismo. But, when I want a memorable meal or treat, these are the places I return to again and again.
La Pergola Radicondoli: When I think of La Pergola, first I think of the amazing pizza I have eaten there over the years – all other pizza's are forever measured against it. What sets their pizza apart is Pizzaiolo Tommaso's masterful interpretations of traditional recipes, his dedication to 0km food, and his head and shoulders above the rest doughs, all of which use a living sourdough mother providing the best possible flavour and health/digestive benefits. It is no wonder that he has been awarded 3 slices (top marks) in Gambero Rosso's "Pizzerie D'Italia" guidebook.
Having good food is important, but the reason this restaurant is always on the "must do" lists that I share with friends is because, just as the name of the restaurant suggests, the restaurant contains an outdoor pergola dining area that overlooks a beautiful valley. Eating on the patio as the sun dips below the horizon is as close to perfection as you can get. Reservations are recommended and usually a must on weekends. If you'd like a table on the patio, be sure to mention that when you book.
Links:
Website: https://www.lapergoladiradicondoli.it/en/home/
Instagram: https://www.instagram.com/lapergoladiradicondoli/
Osteria da Rosolo: Tucked in a little square in the heart of Lucca, this restuarant is a favourite. They are always busy, but I always make time for a lunch there whenever I am in town for the antique market.
Website: http://www.osteriadarosolo.com
Instagram: https://www.instagram.com/osteriadarosolo/
La Leggenda dei Frati: Located in Villa Bardini high in the hills overlooking the beautiful city of Florence, this restaurant is owned by executive chef Filippo Saporito. In 2017 his establishment made its debut in the 2017 Michelin guide and he has retained his star since. The perfect stop after a day exploring Florence.
Website: https://laleggendadeifrati.it
Instagram: https://www.instagram.com/laleggendadeifratiofficial/
Il Masgalano: Located in the Siena city center, this small shop serves gelato the way it was meant to be made; naturally, with fresh, seasonal ingredients.
Instagram: https://www.instagram.com/gelateria_ilmasgalano_/
Any of the restaurants ringing Il Campo in the Siena City Center – or any city square in Tuscany: Generally you will find better food off the beaten path, but you're drinking/eating here for the ambiance. For those of us living a suburban existence, there is nothing like sitting in the main square of an ancient European village soaking in the ancient buildings and history. Outside of meal times feel free to sit and order a coffee or aperitivo instead of a full meal.
| Photo credit Paige Knudsen |
Artists workshops:
If you'd like to supplement your holiday with an afternoon with a local artist, here are three of Tuscany's best whose enthusiasm for their craft and teaching acumen will make for a memorable day.
Maria Giannini: If ever an industry or passion was in the blood, Maria is the walking embodiment of it. A sixth generation marbling and bookbinding artist, she is the steward of a great heritage. Her enthusiasm and passion is only matched by her outgoing personality. She offers private paper marbling workshops, by appointment, in her family's shop in the heart of Florence.
Links:
Website: https://www.giuliogiannini.com/en/
Instagram: https://www.instagram.com/giulio_giannini_e_figlio/
Margherita Pandolfini and Karl Jorns, M.K. Textile Atelier: From their sun drenched studio in the Florence city center, Margherita and Karl create stunning textiles featuring their unique hand painting or silk screened imagery. From limited edition collections for Bergdorf Goodman, to installations for a Saudi Prince their artwork is varied, yet always colourful and unique. Available for personal or small group workshops, by appointment.
Links:
Website: http://www.mktextileatelier.com/contact.html
Instagram: https://www.instagram.com/mktextileatelier/
Jaroslaw Pawlak: For those with a keen interest in photography, Jaroslaw's workshops are pure magic. With options from half day to week long courses, there is an option to fit most schedules. He is generous in sharing his knowledge and quick to offer his favourite shooting locations and tips.
Links:
Website: https://www.jaroslawpawlak.com
Instagram: https://www.instagram.com/pienzaphotographer/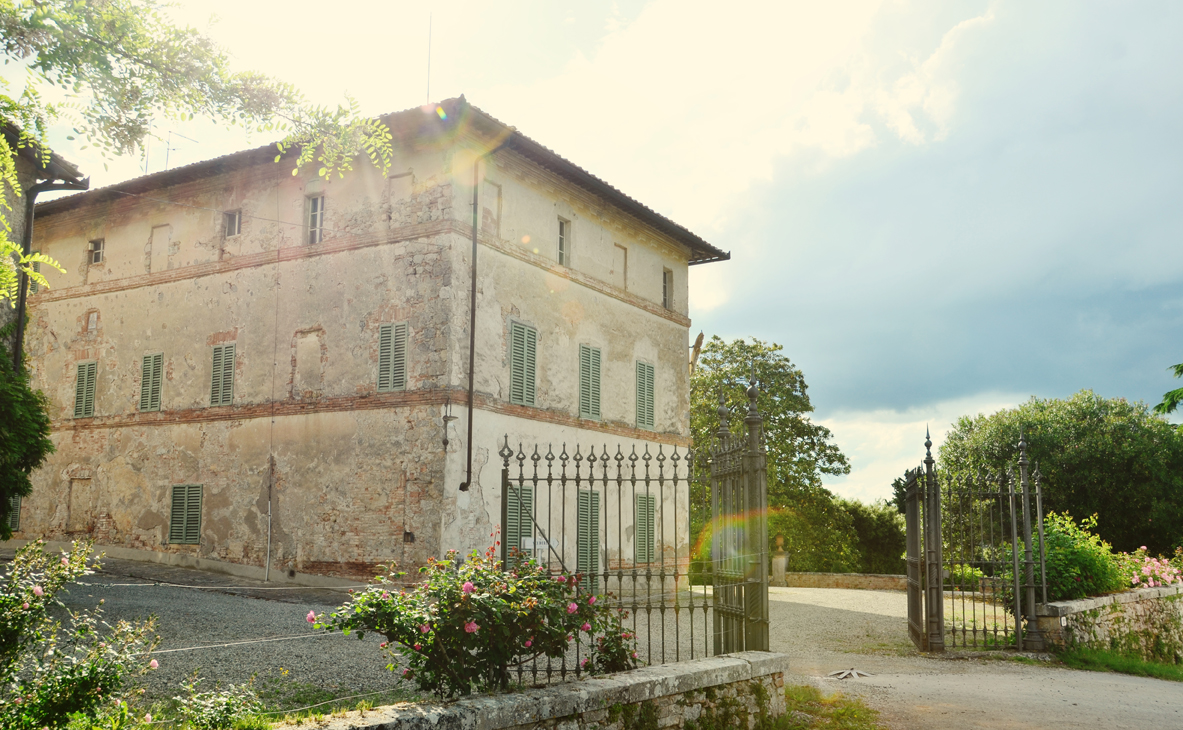 Stay:
Let me talk generally about the things to consider for your considering your stay in Tuscany.
Choose the kind of holiday you want. Do you want to wake up in a city, where you walk to the bar each morning to enjoy a fresh espresso and cornetto with locals? Or, do you want to be based in the countryside where your food will be provided by the host, or you will fix your own in an apartment? There are advantages to both, but consider what your goal is. If you want to slow down, enjoy nature and have a more relaxed pace, I highly recommend the countryside. If you want more hustle and bustle around you, then the city is where it's at.
Unless you plan to stay in the city, Tuscany is best visited with a rental car as those off the beaten track villages and agriturismos will not have train connections.
In the Tuscan countryside here are a few of my favourite agriturismos and hotels:
Castello Poggiarello: http://www.castellopoggiarello.it/index.html
Borgo Personatina: http://www.borgopersonatina.com
Bichi Borghesi: http://bichiborghesi.it/home-eng/
Vignmaggio: https://vignamaggio.com/accommodation
Villa Di Geggiano: website: http://www.villadigeggiano.com/guesthouse/
Finally, one of the best resources for finding a comprehensive list of the over 1,000 agriturismos in Tuscany is: https://www.agriturismo.it/en/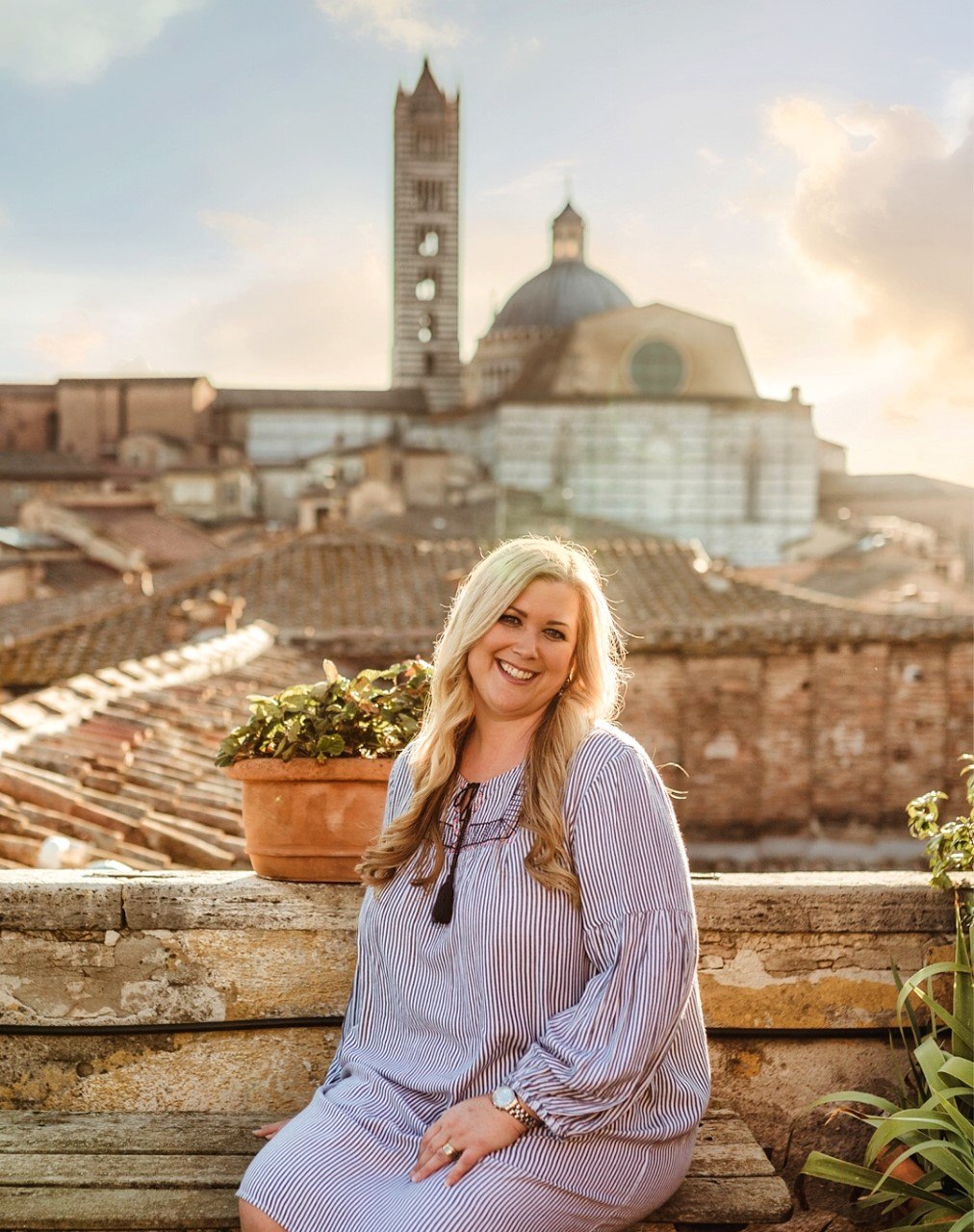 More than just a job, I consider Prone to Wander Retreats my calling. A calling to leverage my curiosity about other cultures and traditions, and extensive international travelling experience, into retreats that dive deeper into who we are, and how we can be inspired, as creative beings.
The journey to landing myself here was not a straight shot. Yet, looking back I can see how life experience (hello, high school band trip that gave me my first taste of trans-continental travel) and previous jobs (I'm looking at you, Creative Director gig) were all great training grounds for the business I now own.
Since 2013 I've offered retreats in Tuscany for creative souls, artists, culinary explorers and antique lovers from all over the world. Looking forward, I have big dreams for my business. I hope you'll join me for the adventure!