We are all beauty chasers in one way or another. My friend Timothy Willard often says that, "Beauty Defies Despair".  Do we have our eyes open to that beauty?  The beauty that is all around in people, nature, circumstances, love, forgiveness, faith, gathering, the work of our hands, the sound of laughter, the comfort of touch, the gifts of others and a million other moments of beauty that defy despair?
We are a small business, I love to purchase from other small businesses and I do consulting and workshops with small business owners. Often I will hear small business owners that are makers ask me how the work of their hands solves a problem in this world. Oh makers, the works of your hand make the day to day life for all of us more beautiful. The words of your book, the mug that our fingers are wrapped around, the sounds of your compositions, the inviting smells from your stove, the bounty from your garden, the marks of your brush that hang on our walls. Beauty in the little and big moments. Beauty that reminds us we are alive and can live with intention.
As you gather beauty to share with others this Christmas and holiday season I would love to remind you of the sweet things that you can give from YOUR own hands. Seeds harvested from your garden, your favorite recipes on recipe cards, playlists created special for each person, clippings from a thriving plant, fresh bread, a handwritten letter, make incense, anything sewn or stitched, or even a poem or song. When our children ask what I want for Christmas I always ask them for a handwritten letter or song. They are treasures for me. Sometimes we can overthink gift giving and we don't see the beauty of what we have to give ourselves.
I have gathered some beauty that we use in our life and some of the makers that make the day to day sweeter. For all of you small business owners and makers of this world never underestimate the power of the beauty you share. Thank you!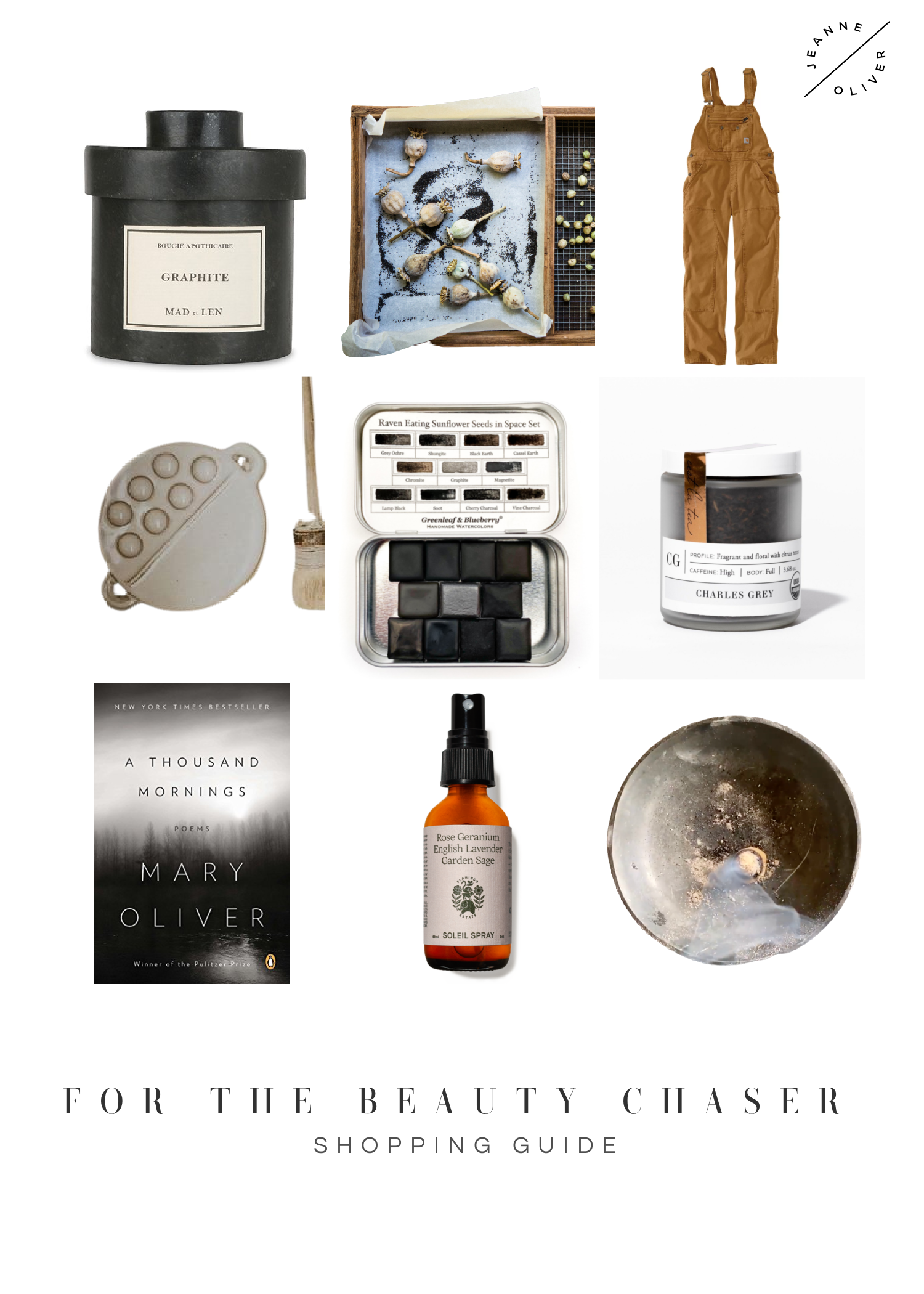 Mad et Len candle from Chad Dorsey | Harvested seeds from your own garden | Painted covered overalls | Pottery Palette | Hand Poured Watercolors | Loose Tea and Rituals | Books from small bookstores | Soleil Spray | Incense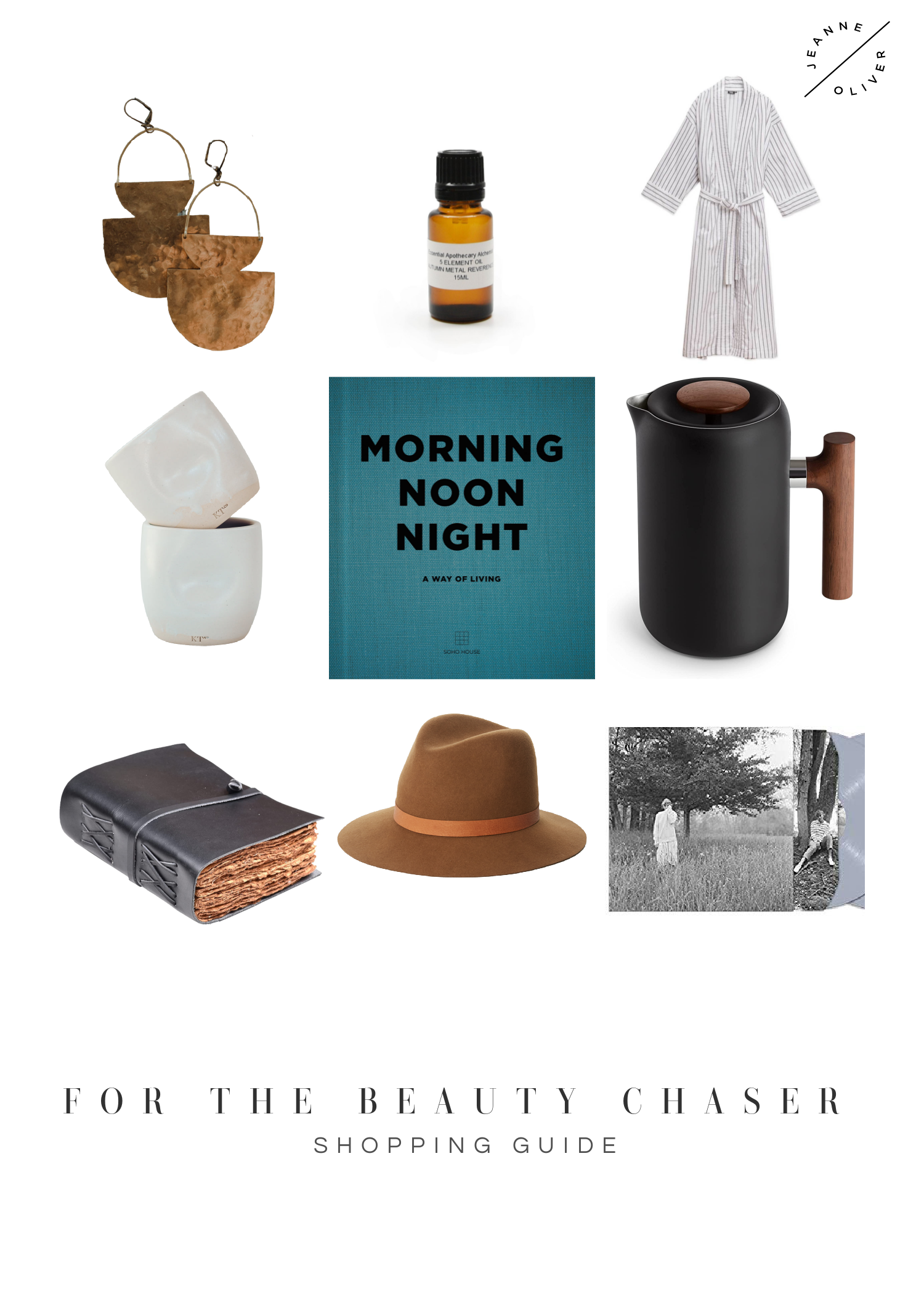 Earrings | Winter Essential Oil | Robe | Pottery Mugs | Beautiful Books | French Press | Leather Bound Journal | Felt Hat | Vinyl from a local store |
t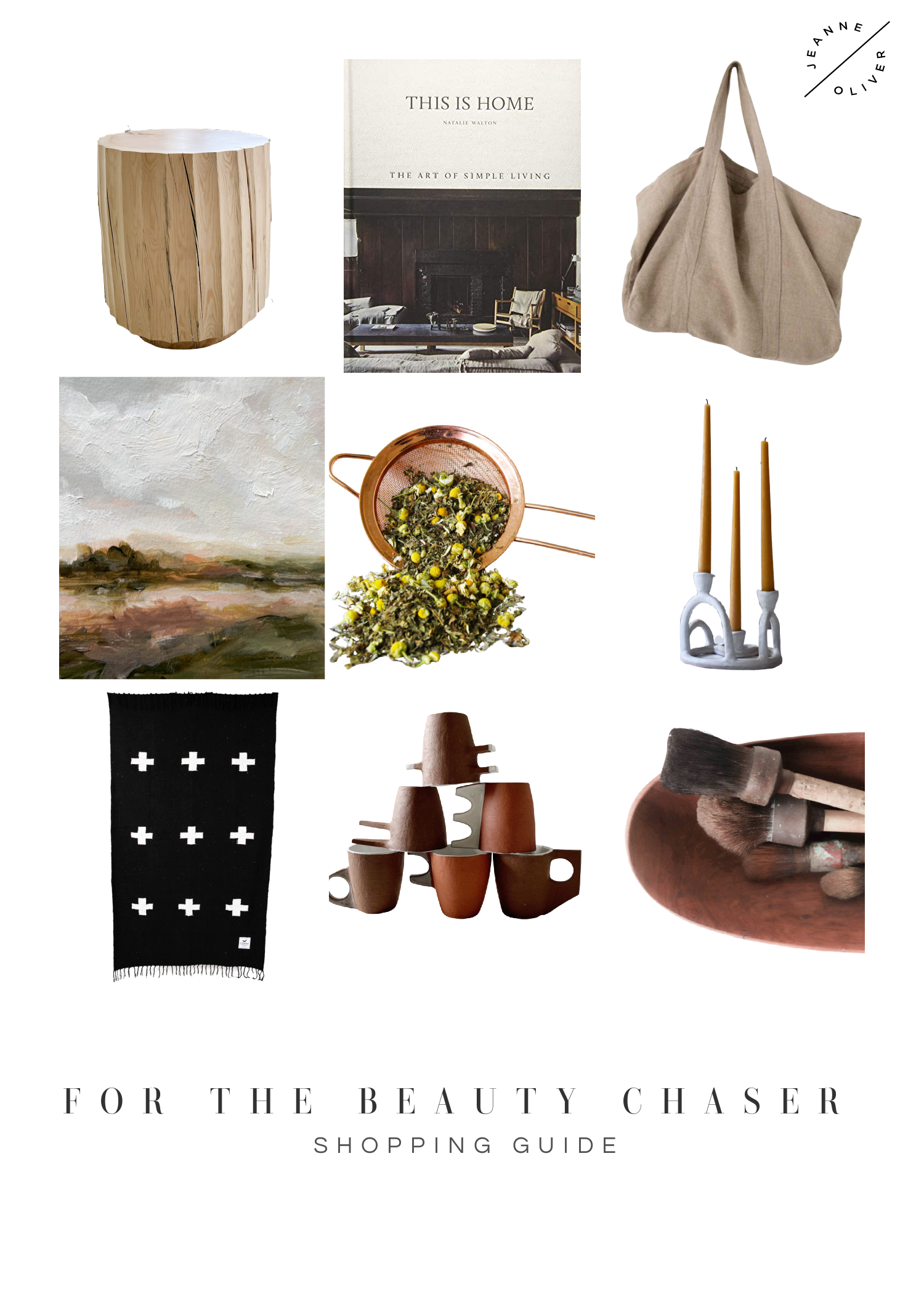 Hand-Carved Furniture |  Natalie Walton Book  | Linen Bag | Original Art | Loose Tea | Pottery Candleholder | Hand Woven Blanket | Pottery Mug | Vintage Products